Indulge in Culinary Excellence at The Edge Restaurant, Wintergreen Resort!
Looking for a dining experience that combines mouthwatering cuisine with breathtaking mountain views? Look no further than The Edge Restaurant at Wintergreen Resort.
Nestled in the heart of the resort, The Edge offers a casual and family-friendly atmosphere with a rustic mountain flare, perfectly complementing your winter getaway. As you step into the restaurant, you'll be greeted by warm hospitality and a cozy ambiance, inviting you to unwind and savor a memorable dining experience.
Prepare your taste buds for a culinary journey like no other. Their menu features a tantalizing array of options, carefully crafted to satisfy every palate. Start your meal with our duo of tempting appetizers. Indulge in the flavorful Loggers Tortilla Spring Rolls, filled with a delicious combination of chicken, pepper jack cheese, jalapeños, chili peppers, black beans, spinach, corn, cilantro, garlic, salsa, and sour cream. Or delight in the creamy and rich Crab Dip, served with hot Pita chips.
The Edge takes pride in offering a wide selection of seasonal salads, flavorful sandwiches, and hearty entrees that showcase the best of mountain cuisine. Choose from an assortment of salads bursting with fresh, local ingredients or opt for one of their signature sandwiches, packed with delectable flavors. And for those seeking a more substantial meal, their entrees are sure to satisfy. Sink your teeth into their mouthwatering Mushroom Swiss Burger, featuring juicy mushrooms, Swiss cheese, and demi-glace, and served on a fluffy brioche bun.
As you savor your meal, be sure to take in the breathtaking views of the mountain. The Edge's prime location right on the Wintergreen slopes ensures you can enjoy your dining experience while soaking in the natural beauty surrounding you. And when the sun sets, the energetic bar comes alive, offering a vibrant atmosphere and live music seasonally.
Make sure to save room for dessert, as The Edge is known for its delectable sweet treats. Indulge in the signature Black Rock Sundae, featuring a heavenly combination of hot fudge brownie, chocolate ice cream, whipped cream, toasted almonds, chocolate sauce, and topped with a cherry. It's the perfect finale to an extraordinary dining experience.
Whether you're on a family vacation, a romantic getaway, or simply seeking a delicious meal with a view, The Edge Restaurant at Wintergreen Resort is your ultimate culinary destination. Immerse yourself in the flavors of the mountain, surrounded by warm hospitality and breathtaking scenery.
Visit The Edge at Wintergreen Resort today and embark on a culinary journey you won't soon forget. For more information or to make a reservation, call (888) 329-5828 or visit www.wintergreenresort.com.
Experience culinary excellence at The Edge—where great food meets stunning views!
Wintergreen Resort is located in Virginia's Blue Ridge Mountains. It's a premier ski resort that makes a ski vacation the perfect retreat whether you go often or once in the season.
Skiing builds an appetite. Feed your appetite with the eats at Wintergreen's The Edge, a family dining and nightlight hotspot in one.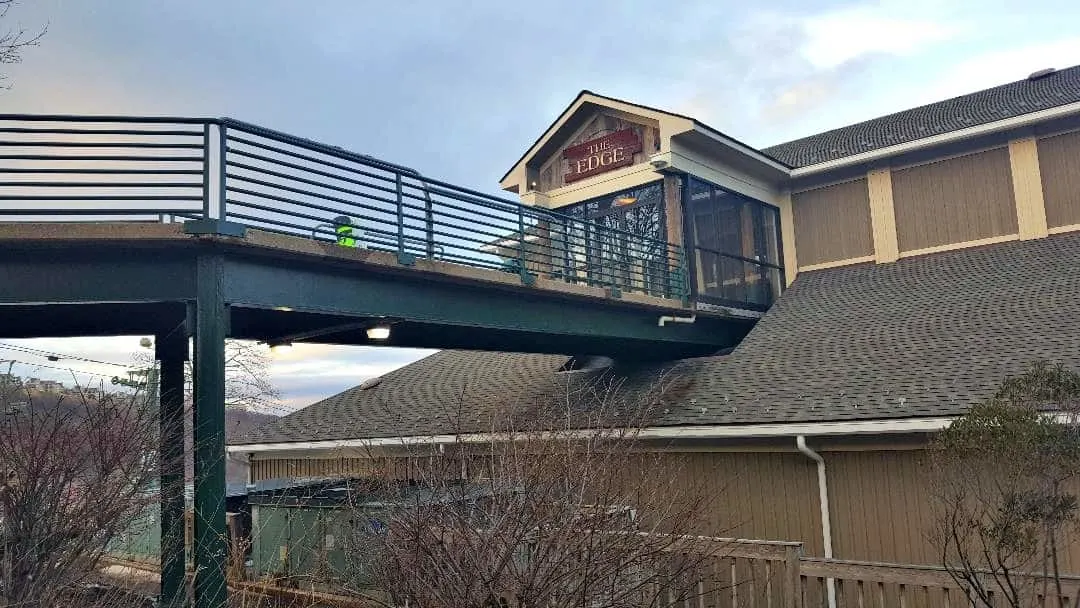 This casual and family-friendly restaurant offers dining with a rustic mountain flare.
Savor a complete menu of tempting appetizers, seasonal salads, flavorful sandwiches, and hearty entrees; all served with the best view of the mountain.
The energetic bar is the place to be when the sun sets with live music offered seasonally.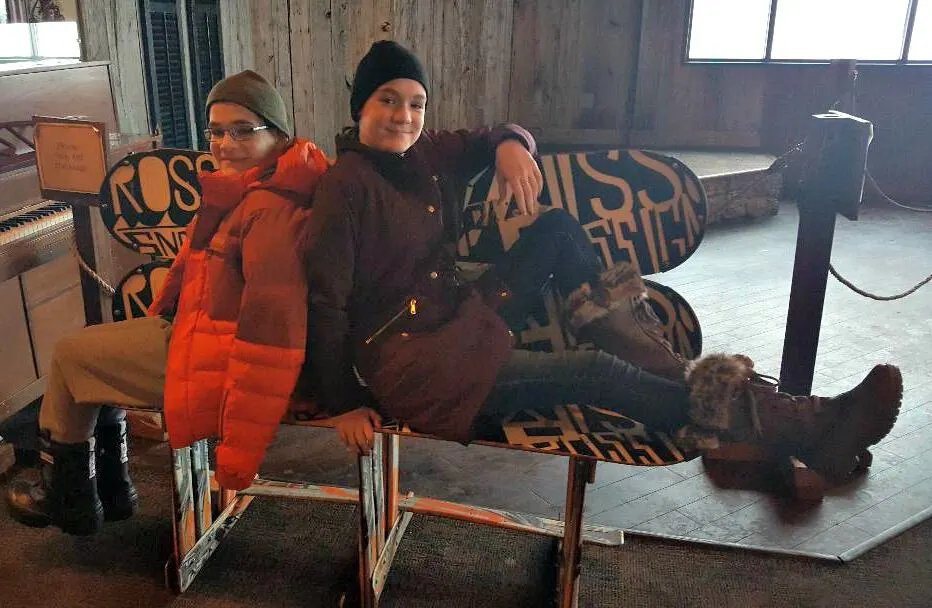 The kiddos loved the atmosphere and enjoyed the bench created from snowboards.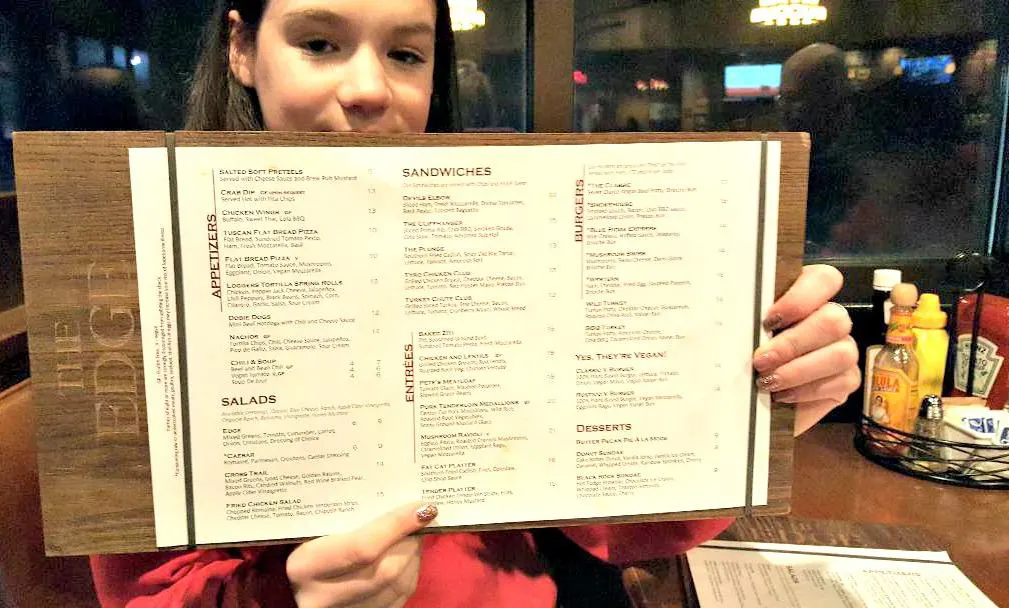 During our stay at Wintergreen Resort, we dined one evening at The Edge.
We started with tempting appetizers.
The Loggers Tortilla Spring Rolls. Created with chicken, pepper jack cheese, jalapeños, chili peppers, black beans, spinach, corn, cilantro, garlic, salsa, and sour cream.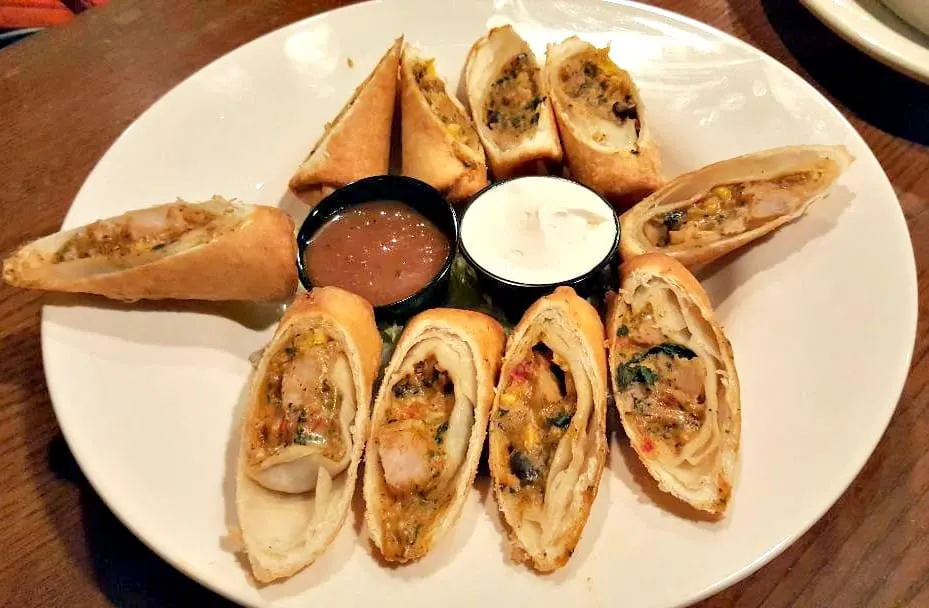 We also tried the Crab Dip served with hot Pita chips.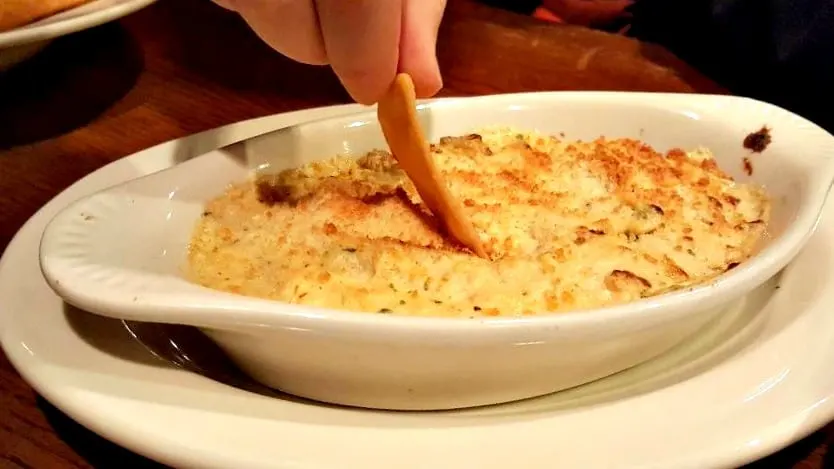 The chicken wings are smothered in the most delicious, finger-licking sauce.
These chicken wings are delicious in their sweet Thai sauce.
You can make a meal out of the Nachos.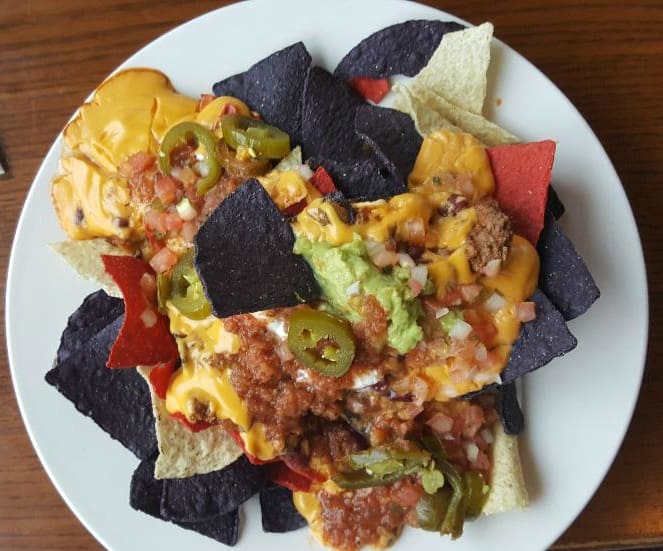 Tortilla Chips piled high with chili, cheese sauce, jalapeños, Pico de Gallo, salsa, guacamole, and sour cream.
We followed with American fare of burgers.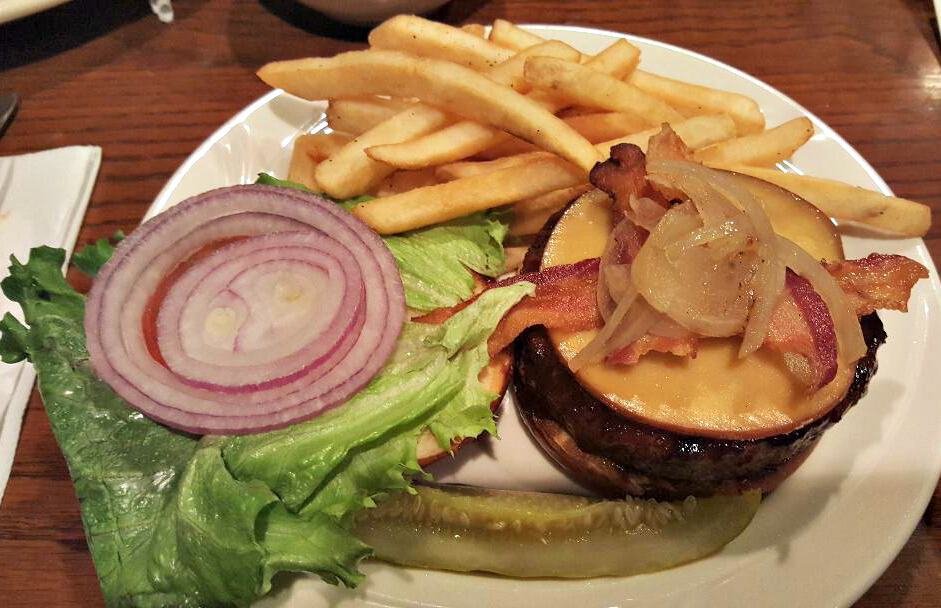 The Smoke House burger features smoked Gouda, bacon, Cola BBQ sauce, caramelized onion piled high on a Pretzel Bun.
It's served with french fries.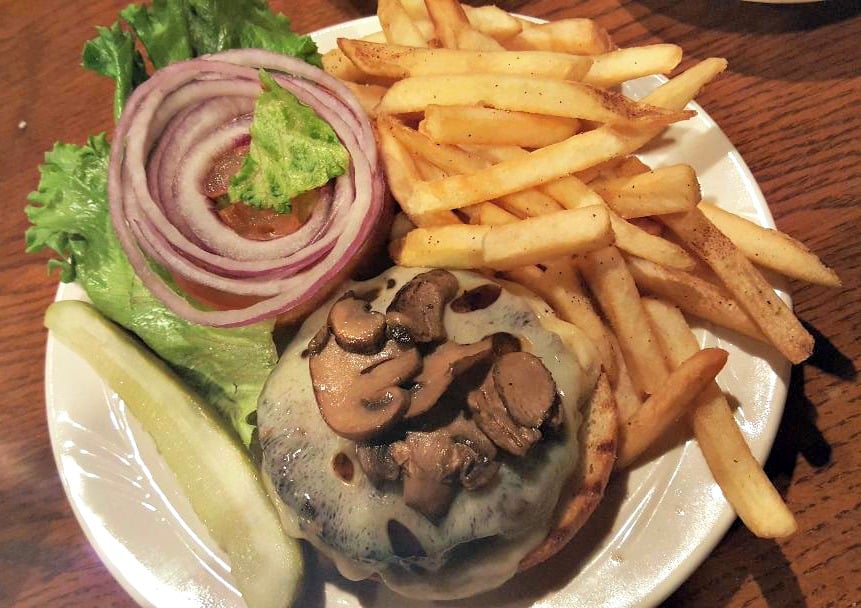 The Mushroom Swiss burger offers to tempt tastebuds with mushrooms, Swiss cheese, demi-glaze served on a Brioche Bun, also served with French Fries.
There are sandwiches galore.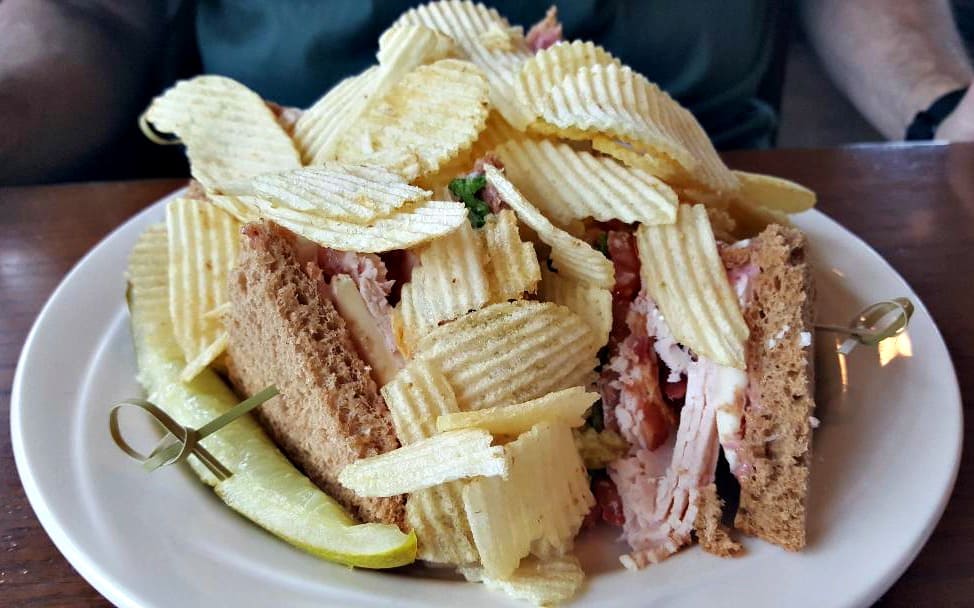 My husband loved the Turkey Chute Club.
It's grilled sliced turkey, brie cheese, bacon, lettuce, tomato, and a gourmet cranberry mayonnaise all nestled between wheat bread served with potato chips.
I'm a fan of the Cliffhanger sandwich.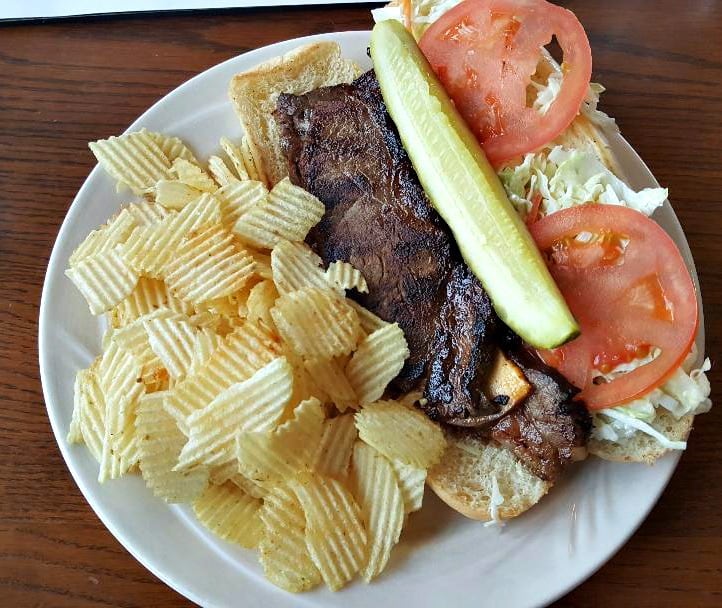 The Cliffhanger is a delicious sliced prime rib, cola BBQ, smoked Gouda cheese, coleslaw, and tomato all layered on an Amorosa Sub roll.
It's accompanied by a sliced pickle spear and potato chips.
The Edge also offers pasta.
We found the Baked Ziti to be a delicious choice.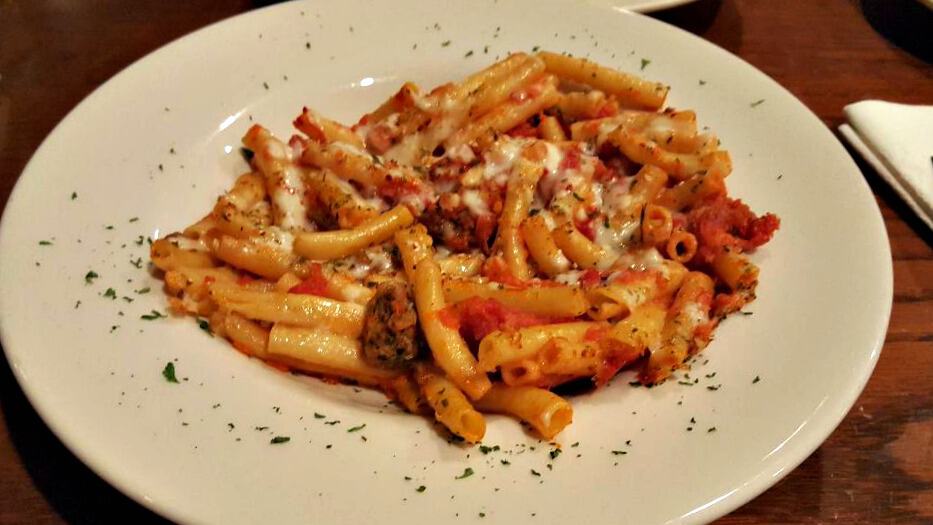 The Baked Ziti is filled with ziti, seasoned ground beef, sundried tomato pesto and topped with fresh mozzarella.
William will recommend the signature Black Rock Sundae.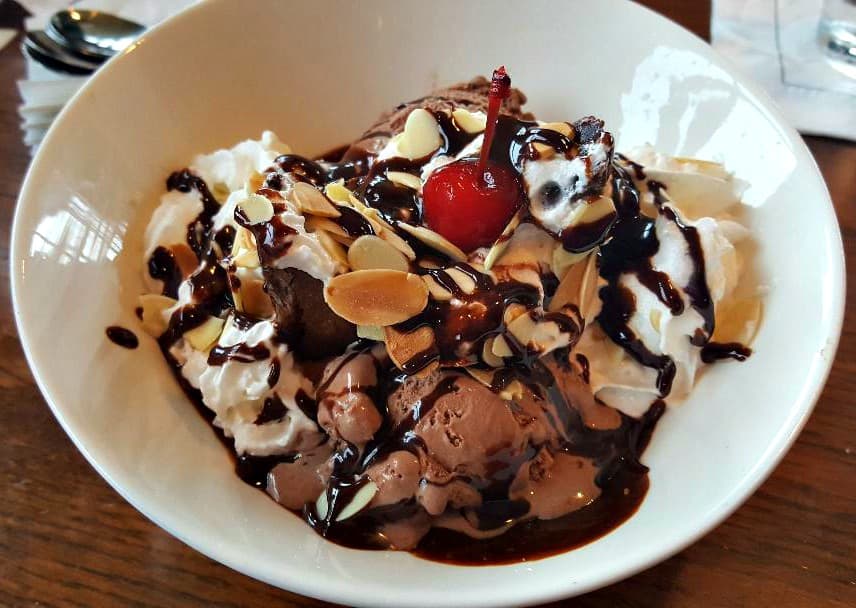 This sundae is rich with hot fudge brownie, chocolate ice cream, whipped cream, and toasted almonds, chocolate sauce all topped with a cherry!
MacKenzie will argue it's the Donut Sundae you should try.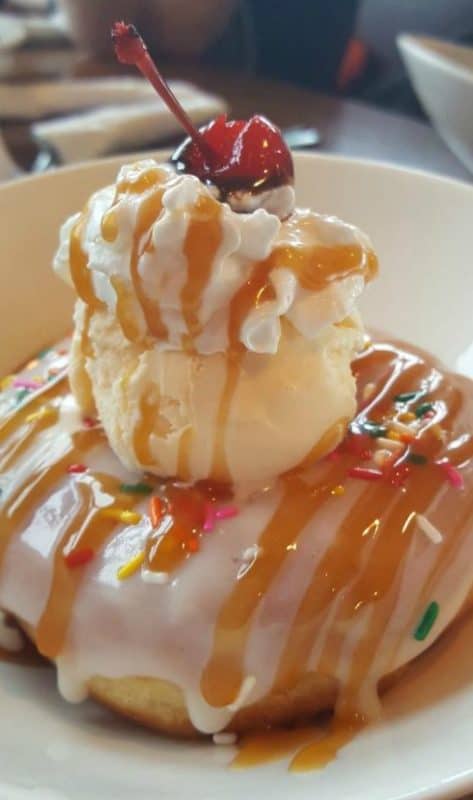 I may agree with MacKenzie. The Edge's Donut Sundae is a warm cake batter donut with vanilla icing, topped with vanilla ice cream, caramel, whipped cream, rainbow sprinkles, and a cherry!
The pricing is reasonable and the servings are hardy. The food is an excellent smorgasbord to fuel you after a day on the slopes.
Visit Wintergreen Resort and get your eat on at The Edge.
Wintergreen Resort also offers breakfast and Mediterranean menu choices at The Copper Mine.
About Winter Green Resort:
Wintergreen Ski Resort, located in Wintergreen, Virginia, is a premier destination for winter sports enthusiasts and outdoor adventurers. Nestled amidst the picturesque Blue Ridge Mountains, Wintergreen Ski Resort offers a thrilling alpine experience combined with breathtaking natural beauty.
With over 11,000 acres of skiable terrain, Wintergreen Ski Resort caters to all skill levels, from beginners to advanced riders. The resort boasts 26 slopes and trails, ranging from gentle, beginner-friendly slopes to challenging black diamond runs that will test the skills of even the most experienced skiers and snowboarders. Whether you're seeking groomed trails for carving or thrilling terrain parks for jumps and tricks, Wintergreen has something for everyone.
Wintergreen Ski Resort is known for its state-of-the-art snowmaking and grooming systems, ensuring optimal snow conditions throughout the season. Additionally, the resort offers night skiing and snowboarding, allowing guests to extend their time on the slopes well into the evening.
Not only does Wintergreen Ski Resort offer exceptional skiing and snowboarding, but it also provides a variety of other winter activities. Guests can enjoy snow tubing, where they can slide down specially designed lanes on inflated tubes, providing fun for all ages. The resort also offers cross-country skiing and snowshoeing trails, providing a tranquil way to explore the winter wonderland.
For those seeking a break from the slopes, Wintergreen Ski Resort provides a host of amenities and facilities. The Mountain Inn serves as the resort's central hub, offering comfortable accommodations, dining options, and après-ski activities. The resort also features a comprehensive ski school with expert instructors who can help beginners learn the basics or assist seasoned riders in refining their skills.
Beyond winter activities, Wintergreen Ski Resort offers year-round recreation opportunities. During the warmer months, guests can enjoy golfing at the championship golf courses, hiking along scenic trails, playing tennis, or relaxing at the spa. The resort also hosts events and festivals, providing entertainment and excitement for visitors of all ages.
Wintergreen Ski Resort truly encompasses the essence of a mountain getaway, combining thrilling winter sports, natural beauty, and a welcoming resort atmosphere. Whether you're a seasoned skier or a family looking for a memorable winter vacation, Wintergreen Ski Resort in Wintergreen, Virginia, is the perfect destination to create lasting memories in any season.
The resort is located adjacent to the Blue Ridge Parkway in beautiful central Virginia near Charlottesville, just 90 minutes from Richmond, Va., three hours from Washington, D.C. and Raleigh, N.C., five and a half hours from
Philadelphia
, and eight hours from Atlanta. For more information, guests can call 888-329-5828 or visit the resort's website at
www.wintergreenresort.com
.