Introducing Our Irresistible Chunky Guacamole!
Are you ready to experience the ultimate explosion of flavors? Look no further! Our Chunky Guacamole recipe is a tantalizing blend of fresh ingredients that will take your taste buds on a wild ride. With just the right amount of spice, tang, and creamy goodness, this guacamole will become an instant favorite at your table.
Preparation is a breeze, taking only 10 minutes from start to finish. Gather your ingredients and get ready for a guacamole sensation like no other!
This chunky guacamole is easy to make and the perfect dip or topping. You'll be wanting this chunky guacamole on everything. Dip away. Put it on tacos, tuck it in burritos, spread it on toast. We aren't judging. It starts with ripe avocados, mashed to a chunky consistency to ensure your scoops are loaded with flavor. We like this on everything, but it's especially good in burritos.

Chunky Guacamole Recipe
Makes: 3 cups
Prep Time: 10 minutes
Total Time:10 minutes

Here's what you'll need:
½ small onion, chopped
½ teaspoon chopped jalapeno
3 ripe tomatoes, cored and chopped
1 clove garlic, peeled and chopped
½ Tablespoon chopped cilantro
3 ripe avocados
½ teaspoon salt
¼ teaspoon pepper
½ lime, juiced (or 1 Tablespoon lime juice)

How to Make Chunky Guacamole
In just a few simple steps, you'll have a bowl of chunky goodness:
Mix the onion and jalapeno with the tomato, garlic, and cilantro in a medium mixing bowl, creating a symphony of flavors.
Halve the avocados lengthwise and scoop out the pits. Then, scrape the avocado pulp from the skin and add it to the bowl with the tantalizing tomato mixture.
Now, it's time to get hands-on! Use your hand or a spoon to mash the avocado while mixing in the other ingredients. Watch as the avocados transform into a coarse, thick mass, creating the perfect chunky texture.
Season your guacamole masterpiece with salt and add a squeeze of fresh lime juice for that tangy kick. Stir to blend all the flavors harmoniously.
For the finishing touch, cover the bowl with plastic wrap and let it rest in the refrigerator for 5 minutes. This allows the flavors to blend and intensify, creating an even more irresistible guacamole experience.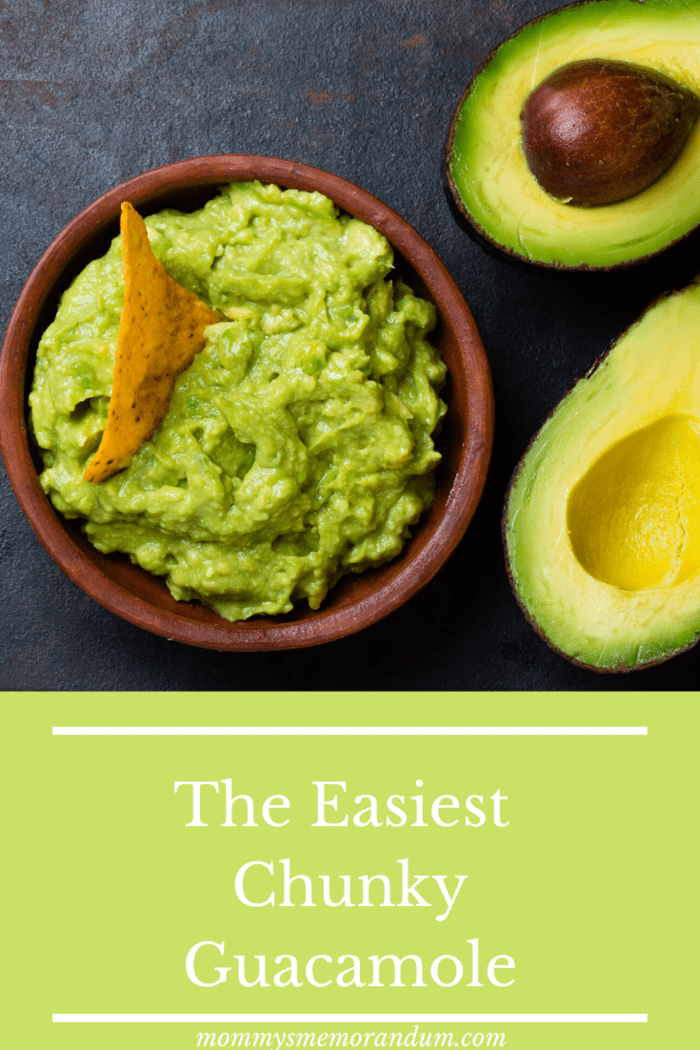 The result? A vibrant, chunky guacamole bursting with the essence of ripe avocados, zesty tomatoes, and a hint of jalapeno heat. Dip your favorite tortilla chips or veggies into this delectable creation, or spread it generously on your favorite dishes. Your taste buds will thank you!
So why wait? Elevate your snacking or add a burst of flavor to your meals with our Chunky Guacamole. It's the perfect companion for parties, gatherings, or any occasion that calls for a truly unforgettable culinary experience. Try it today and prepare to be amazed!
Note: This recipe yields 3 cups of mouthwatering Chunky Guacamole, ensuring there's plenty to share or indulge in all by yourself. Enjoy!
Frequently Asked Questions about Chunky Guacamole:
Q: Can I make this guacamole ahead of time? A: Absolutely! You can prepare this guacamole recipe in advance and store it in the refrigerator. Just cover the bowl with plastic wrap to prevent browning and flavor absorption. It's recommended to consume it within 24 hours for the freshest taste.
Q: How can I make this guacamole spicier? A: If you prefer a spicier guacamole, you can adjust the heat level by increasing the amount of chopped jalapeno. Add more jalapeno to your liking, but remember to taste and adjust as you go to find your perfect balance of flavors.
Q: Can I use canned tomatoes instead of fresh tomatoes? A: While fresh tomatoes are recommended for this recipe to achieve the best flavor and texture, you can use canned tomatoes as a substitute if fresh ones are not available. However, make sure to drain the canned tomatoes before chopping and adding them to the guacamole mixture.
Q: Can I customize this guacamole recipe with additional ingredients? A: Absolutely! Feel free to get creative and add your own personal touch to this chunky guacamole recipe. Some popular additions include diced bell peppers, corn, black beans, or even a touch of hot sauce for extra heat. Experiment with flavors and textures to create your own unique version.
Q: How can I prevent the guacamole from browning? A: Guacamole tends to oxidize and turn brown when exposed to air. To minimize browning, make sure to cover the guacamole tightly with plastic wrap, ensuring there is no air trapped inside the container. Squeezing some additional lime juice over the surface of the guacamole can also help slow down the browning process.
Q: Can I freeze leftover guacamole? A: Unfortunately, guacamole does not freeze well due to its high water content. Freezing can cause changes in texture and flavor, resulting in a less enjoyable experience. It's best to consume guacamole fresh or within a day or two of preparation.
Q: What can I serve with chunky guacamole? A: Chunky guacamole pairs beautifully with tortilla chips, crispy vegetable sticks, or even as a topping for tacos, quesadillas, or grilled meats. It adds a refreshing and creamy element to any Mexican-inspired dish or as a zesty dip for your favorite snacks.
Q: How can I adjust the consistency of the guacamole? A: If you prefer a smoother guacamole, you can mash the avocados more thoroughly using a fork or potato masher. Conversely, if you want it even chunkier, simply mash the avocados less and leave larger avocado pieces intact. Adjust the consistency to your preference by manipulating the mashing technique.
We hope these FAQs help you enjoy the chunky guacamole to the fullest. Feel free to experiment and make it your own. Happy guacamole-making!