Last year, I went to West Chester, Pennsylvania, to attend work training. While there, we had downtime, so we headed to Philadelphia for Philly's game against the Padres. On our way there, I suggested we head downtown to see the steps from the Rocky film. One of the girls said, "That's here?" I never want you to be in that situation, so here's ROCKY'S LEGENDARY PHILLY WEEKEND Inspired By Seven Rocky Films.
Let's face it, Rocky Balboa, though fictional, captivated the hearts of millions.
He is now returning to the big screen again with Creed, premiering just before Thanksgiving Day 2015.
Whether you're a Rocky fan or not, Philadelphia, the boxer's beloved city, which plays a key role in all of the films, is easy to explore thanks to this two-day, two-night itinerary available on visitphilly.com/rocky and feature highlights of the Academy-Award winning film and its six sequels: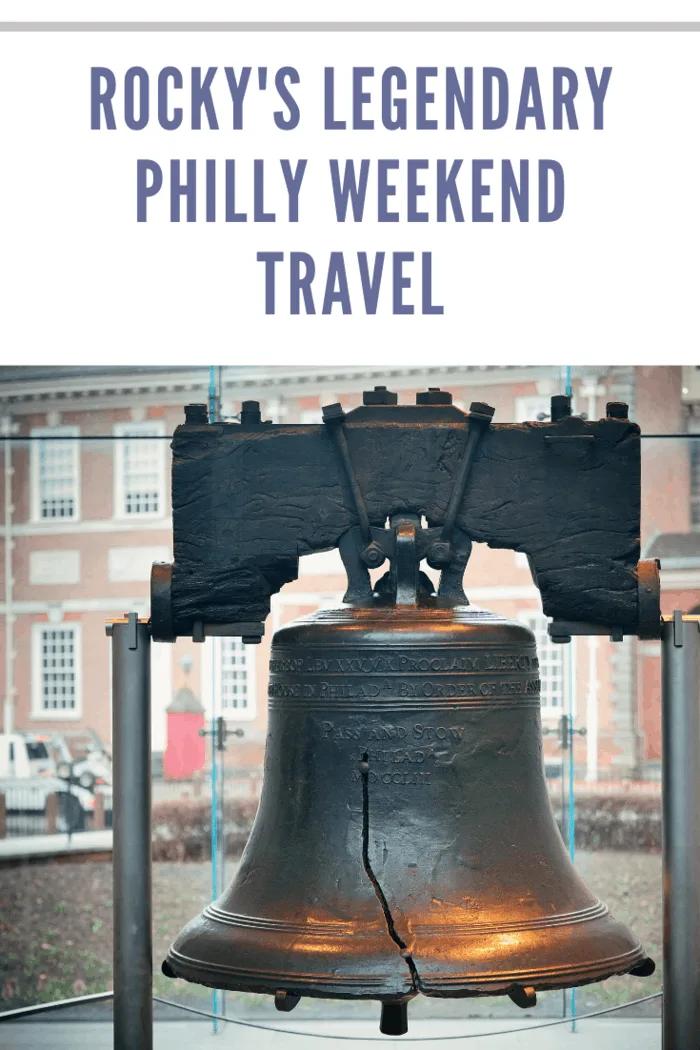 ROCKY'S LEGENDARY PHILLY WEEKEND NIGHT ONE:
Having fun and living like a legend is what this weekend is all about, right?
Why waste time getting the festivities started?
After checking into your hotel, walk or catch a cab to the Irish Pub in the Rittenhouse Square area.
The casual menu and convivial atmosphere will put you in a very social mood, just like it did for Rocky's son when he was hanging out with his buddies in Rocky Balboa, the sixth installment of the movie franchise.
If you' prefer to catch some live music instead, hit up the Electric Factory in Callowhill to see national acts, or venture into Fishtown to watch indie bands play the upstairs space at Johnny Brendas.
Bianca, Adonis Johnson's love interest in Creed, performs at both spots.
While at Johnny Brenda's, order a Philadelphia Brewing Company beer from the all-local beer list.
That's one of the brews Rocky serves at his fictional restaurant Adrian's, featured in the sixth film.
ROCKY'S LEGENDARY PHILLY WEEKEND DAY ONE:
Rocky knows how to have a good time, but he's also serious about staying in shape.
Start your day with a morning jog along the waterfront at Penn's Landing, which was on the route of Rocky's training runs.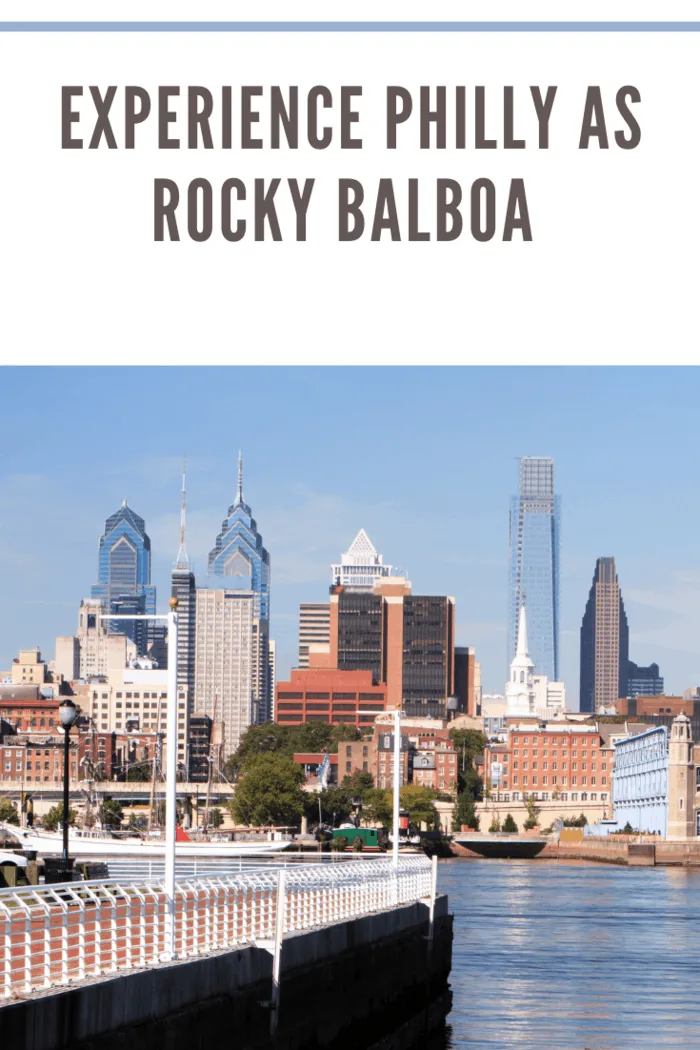 If the Independence Seaport Museum had been there during the original film, maybe Rocky would have taken up a whole new career.
You can spend hours watching the master boat builders handcraft wooden boats.
But don't linger too long!
Jog up Chestnut Street to Independence Hall, where the star boxer leaped across a Rocky II park bench.
For an alternate running route, consider a trek along the pedestrian path of the Benjamin Franklin Bridge.
The journey back across offers a glorious view of the Philadelphia skyline featured in Creed.
When it's time to refuel, head to the famous Italian Market.
Rocky was too focused on his training during the early flicks through the nation's oldest and largest working outdoor market to sample the homemade goodies, fresh produce, and flavorful cheeses.
Save room for Sabrina's Café, as the brunch menu featuring stuffed French toast, frittatas, and fresh-baked bread is a knockout.
Save room for dessert– Isgro's fresh-made cannolis will satisfy your sweet tooth as you stroll through the dozens of vendors and shops that line the street.
You won't be able to go back and use the hanging meats as punching bags as Rocky did.
Still, you'd be remiss not to stop into one of the neighborhood's famous butcher shops, including D'Angelo Bros., Cannuli's Quality Meats and Poultry, Esposito's, and Hollywood Meat Market, wonderful throwbacks to another time.
After brunch, pick up a City Pass at one of seven participating locations, then hop on a Philadelphia Trolley Works trolley (included in the pass) for a ride to the Philadelphia Zoo, the scene of Rocky and Adrian's engagement in Rocky II.
Here you can follow the apes, chimps, goats, and other animals as they roam the elevated open-air trail systems that wind through America's oldest zoo.
ROCKY'S LEGENDARY PHILLY WEEKEND NIGHT TWO:
Time for dinner! The Italian-inspired menu at the Victor Cafe in South Philly's heart, which makes an appearance in Rocky Balboa and Creed as Adrian's, our hero's restaurant, hits just the right note.
So does the waitstaff.
Many are classically trained singers who break out into operatic arias as the muse hits them.
Across the street is Green Eggs Café, which makes an appearance in Creed.
This spot draws big crowds for its breakfast, lunch, and brunch fare.
ROCKY'S LEGENDARY PHILLY WEEKEND DAY TWO:
This is the day!
Those famous steps are waiting for you.
You are going to need some energy to get through the challenges ahead.
Make your way to the Cira Centre, an architectural landmark where Rocky's son worked in Rocky Balboa.
Once there, pop by celebrity chef Jose Garces's place, Garces Trading Company Kiosk, for their freshly squeezed juices, smoothies, and light bites.
Now it's time for those steps.
As you make your way along the Benjamin Franklin Parkway, just as Rocky once did, to the Philadelphia Museum of Art, you'll pass The Academy of Natural Sciences of Drexel University, The Franklin Institute, the Barnes Foundation, and the Rodin Museum.
(Be sure to stop by these treasure-filled spots later.)
Right now, your eyes are on those steps.
Before making your dash to the top, snap a photo with the Rocky statue to the right of the steps.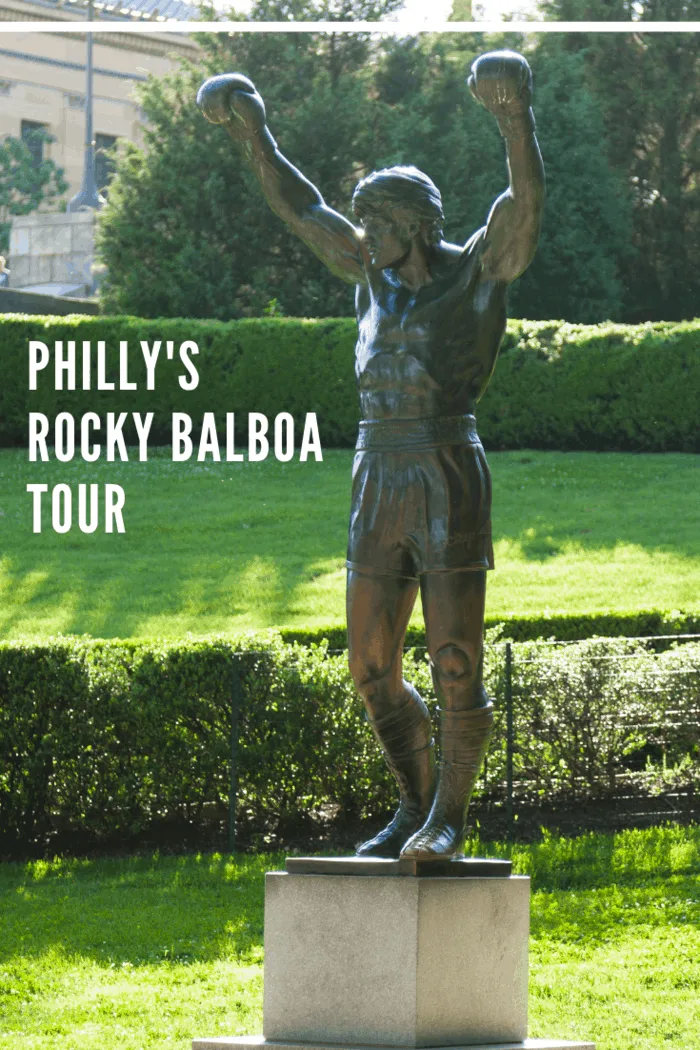 Then, the climb begins.
When you get to the top of the stairs, pump your fists in the air and take in the view.
The skyline has grown so much since the 1976 flick that you might not even recognize it.
Once you take in the view, step inside to admire one of the world's great art collections.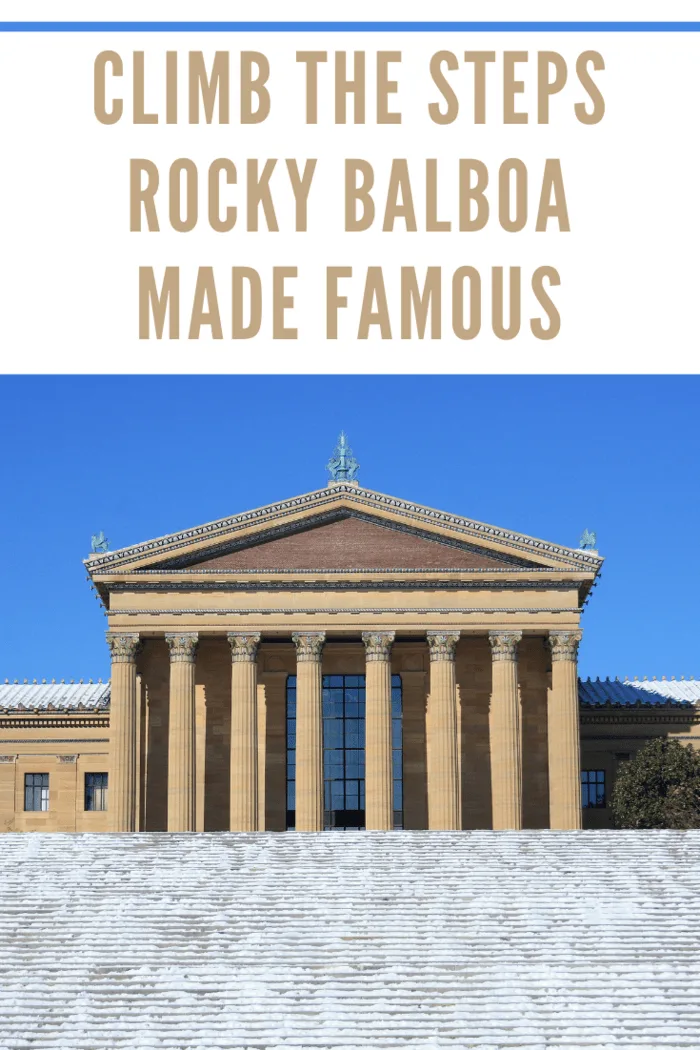 Then, head to Boathouse Row, shown in Rocky Balboa, for a stroll, bike, or blade down this active and beautiful stretch that borders the Schuylkill River.
On your way back, keep following the path to the Schuylkill Banks Boardwalk, where Adonis trains in Creed.
It opened in 2014 to rave reviews–the 15-foot-wide, 2,000-foot-long path juts out above the Schuylkill River, providing runners, bikers, and pedestrians with a trail connection between Locust Street and the South Street Bridge.
As you wind your way along Kelly Drive, you'll come to historic Laurel Hill Cemetery, the site of one of the series' most touching moments, when Rocky sits in a folding chair and visits Adrian''s grave in Rocky Balboa and Creed.
Although the headstone used in the film was just a prop, the elaborate mausoleums serve as the final resting place for many Philadelphia's wealthiest citizens and celebrities.
Tours occur on the fourth Friday of each month, and special events run year-round.
You have probably worked up an appetite; it's time for your reward.
Rocky couldn't resist a trip to Pat's King of Steaks for an authentic Philadelphia cheesesteak during his training, and neither should you.
The famous shop where the cheesesteak was invented more than 80 years ago makes a brief cameo in the original film.
In Creed, Adonis hits up Max's Steaks, located in the off-the-tourist-beaten-path neighborhood of North Philadelphia.
To order like a native, you need to tell the order taker what kind of cheese you want and if you want onions.
For example, if you want Cheez Whiz and onions, ask for a "Whiz with."
It's pretty much a mandatory part of any Rocky tribute in Philadelphia.
---
END ADDRESS BOOK
Irish Pub
2007 Walnut Street
irishpubphilly.com
Electric Factory
421 N. 7th Street
electricfactory.info
Johnny Brenda's
1201 N. Frankford Avenue
johnnybrendas.com
Philadelphia Brewing Company
2440 Frankford Avenue
philadelphiabrewing.com
Penn's Landing
Columbus Boulevard
delawareriverwaterfront.com
Independence Seaport Museum
211 S. Columbus Boulevard at Walnut Street
phillyseaport.org
Independence Hall
5th & Chestnut Streets
nps.gov/inde
Benjamin Franklin Bridge
5th & Race Streets
Italian Market
9th & Christian Streets
phillyitalianmarket.com
Sabrina's Cafe
910 Christian Street
sabrinascafe.com
Isgro Pasticceria
1009 Christian Street
bestcannoli.com
D'Angelo Bros.
909 S. 9th Street
dangelobros.com
Cannuli's Quality Meats and Poultry
937-39 S. 9th Street
cannulismeats.com
A. Esposito Inc.
1001 S. 9th Street
espositosmeats.com
Hollywood Meat Market
1039 S. 9th Street
hollywoodmeatmarket.com
City Pass
citypass.com
Philadelphia Zoo
3400 W. Girard Avenue
philadelphiazoo.org
Victor Cafe
1303 Dickinson Street
victorcafe.com
Green Eggs Café
1306 Dickinson Street
greeneggscafe.com
Cira Centre
2929 Arch Street
ciracentre.com
Garces Trading Company Kiosk
2929 Arch Street
jgdomestic.com
Philadelphia Museum of Art
26th Street & Benjamin Franklin Parkway
philamuseum.org
The Academy of Natural Sciences of Drexel University
1900 Benjamin Franklin Parkway
ansp.org
The Franklin Institute
222 N. 20th Street
fi.edu
Rodin Museum
2151 Benjamin Franklin Parkway
rodinmuseum.org
Rocky Statue
26th Street & the Benjamin Franklin Parkway
Boathouse Row
Kelly Drive
boathouserow.org
Schuylkill Banks Boardwalk
Schuylkill River (near 25th Street) at Locust Street
schuylkillbanks.org
Laurel Hill Cemetery
3822 Ridge Avenue
thelaurelhillcemetery.org
Pat's King of Steaks
1237 E. Passyunk Avenue
patskingofsteaks.com
Max's Steaks
3653 Germantown Ave
VISIT PHILADELPHIA® makes Philadelphia and The Countryside® a premier destination through marketing and image building that increases the number of visitors, the number of nights they stay, and the number of things they do in the five-county area.
On Greater Philadelphia's official visitor website and blog, visitphilly.com, visitors can explore things to do, upcoming events, themed itineraries, and hotel packages. Compelling photography and videos, interactive maps, and detailed visitor information make the site's effective trip-planning tool. Along with Visit Philly's social media channels, the online platforms communicate directly with consumers. Travelers can also call and stop at the Independence Visitor Center for additional information and tickets.