Start Your Day Right at Wintergreen Resort's Copper Mine Bistro!
Looking for the perfect spot to enjoy a delicious and fulfilling breakfast? Look no further than Wintergreen Resort's Copper Mine Bistro!
Our first morning at Wintergreen Resort, we woke up to ice. It's a southern thing and beautiful. It seemed like the crack of dawn but we were ready to indulge in a breakfast experience like no other. The talented culinary team crafted a mouthwatering menu that satisfies all your morning cravings.
Picture yourself savoring a steaming cup of freshly brewed coffee while enjoying breathtaking mountain views. Their cozy and inviting atmosphere sets the stage for a memorable start to your day.
But it's the food that truly steals the show! From fluffy pancakes drizzled with maple syrup to savory omelets bursting with flavor, their breakfast dishes are made with love and the finest ingredients. Whether you prefer classic breakfast favorites or crave something more adventurous, they have something to delight every palate.
At Copper Mine Bistro, they understand the importance of a hearty breakfast. It fuels your adventures and sets the tone for a day of exploration and excitement. That's why they go above and beyond to ensure every bite leaves you feeling energized and ready to take on whatever the day has in store.
So, whether you're a guest at Wintergreen Resort or a local looking for an extraordinary breakfast experience, we invite you to breakfast at Copper Mine Bistro. Their warm hospitality, breathtaking views, and mouthwatering breakfast options are waiting to welcome you.
Start your day right – make Copper Mine Bistro your go-to breakfast destination. Your taste buds will thank you!
In the heart of Wintergreen's Blackrock Village, gourmet dining is at its finest at The Copper Mine Bistro. From Pancakes to Shared Plates, The Copper Mine serves a traditional breakfast in the morning and a Mediterranean menu at dinner.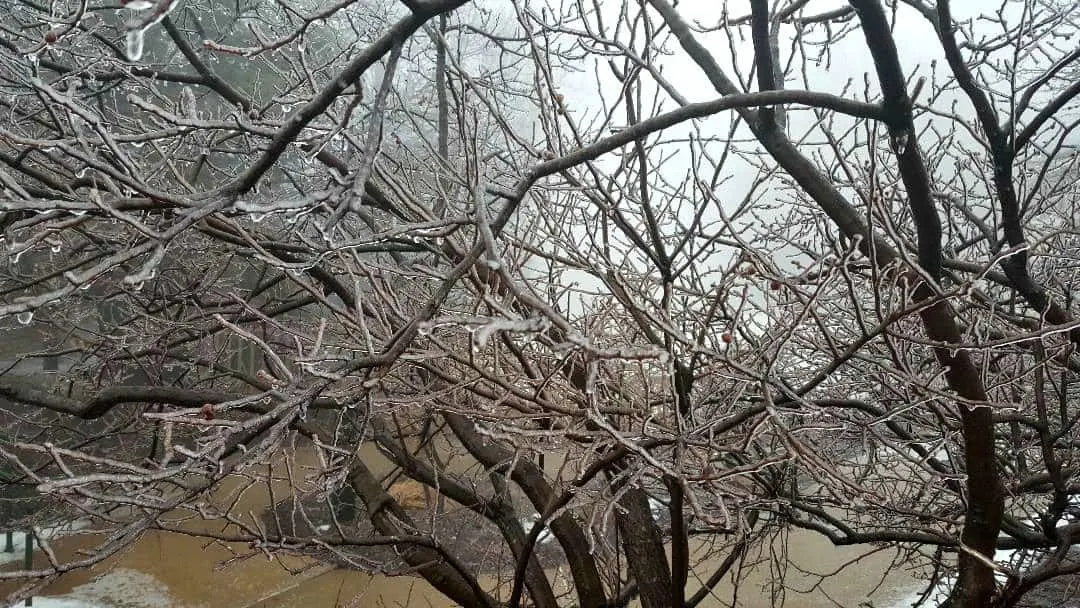 Experience Unforgettable Breakfast Moments at The Copper Mine!
No weather could deter the exceptional staff at The Copper Mine from providing an amazing breakfast experience.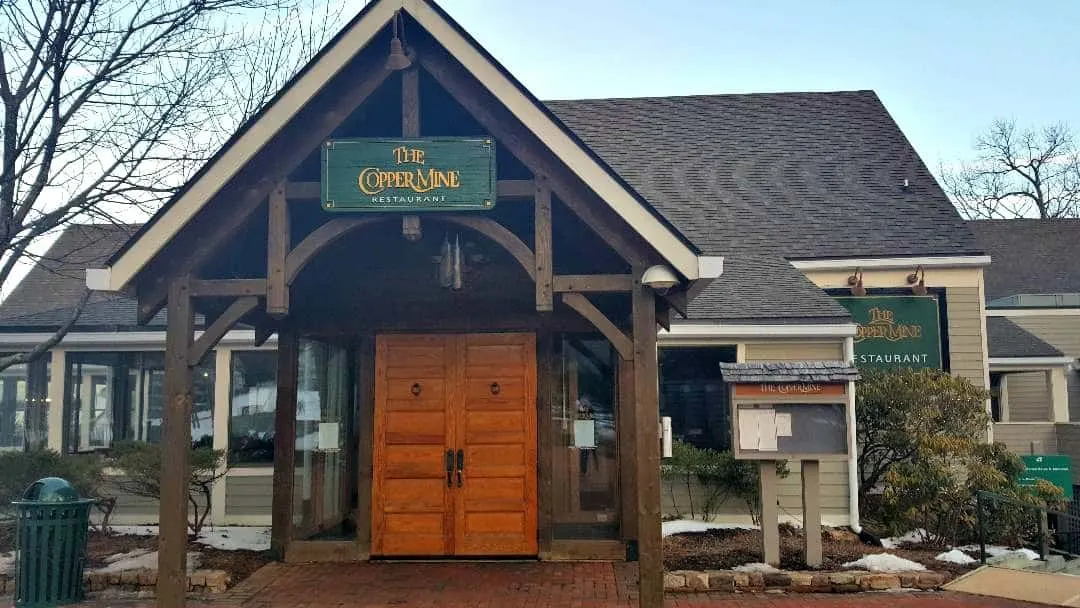 Hop on our convenient shuttle from your lodging to Blackrock Village and discover a beautiful restaurant adorned with elegant floral displays.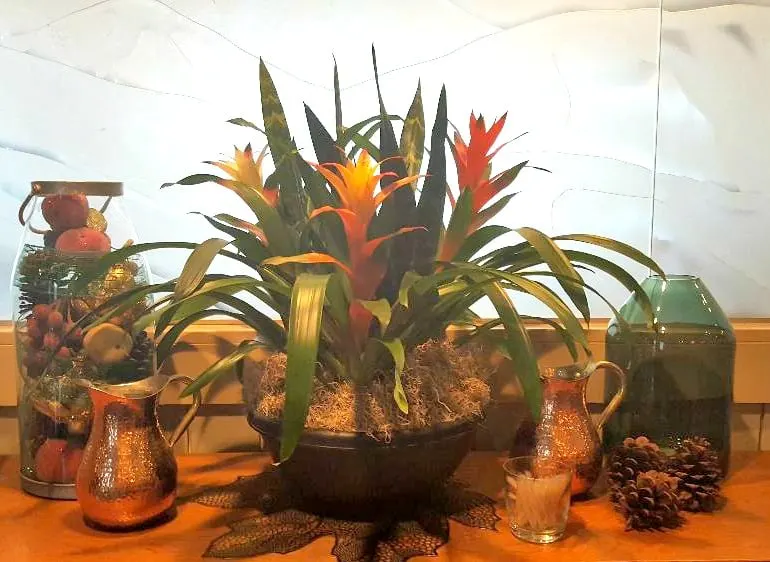 No matter the time of day, the atmosphere at The Copper Mine is always casual and comfortable, making it the perfect setting after a day on the links, courts, or slopes. Our menu boasts a variety of mouthwatering options that are sure to satisfy any craving.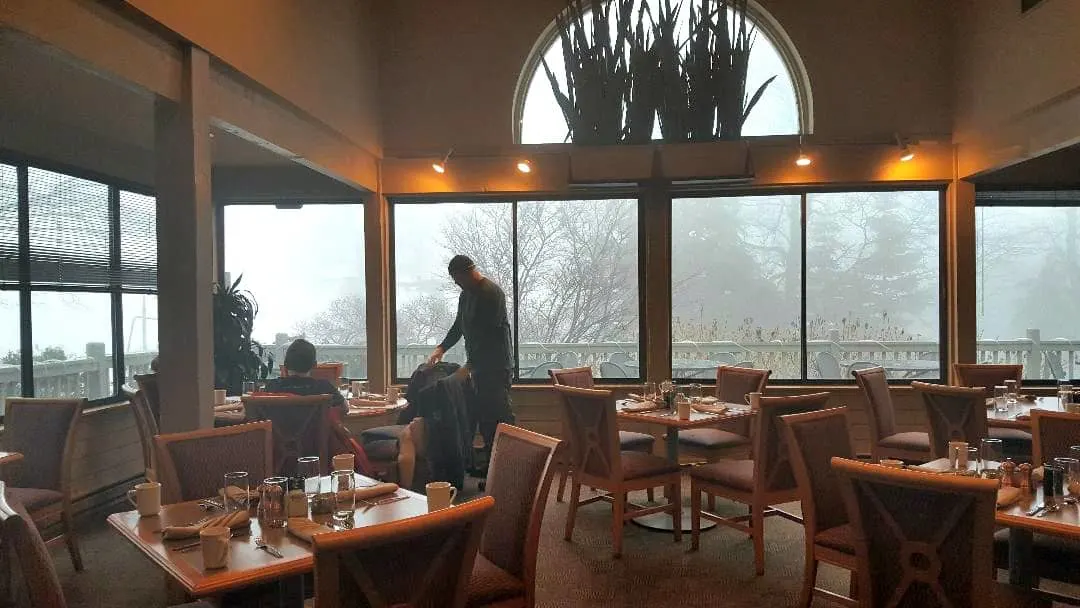 My husband ordered The Copper Mine Breakfast Bowl.
Indulge in The Copper Mine Breakfast Bowl, featuring two eggs prepared to your liking, sausage gravy, hash browns topped with melted cheese, and your choice of toast or biscuits. It's a generous and filling breakfast that will leave you completely satisfied.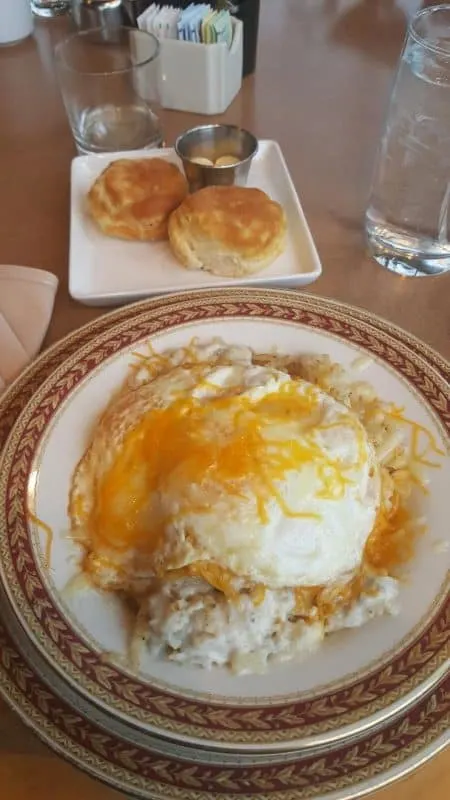 MacKenzie ordered the Berry Belgium Waffles.
If you have a sweet tooth, their Berry Belgian Waffles are a must-try.
Enjoy a warm berry compote served with maple syrup and whipped butter, creating a delightful blend of flavors.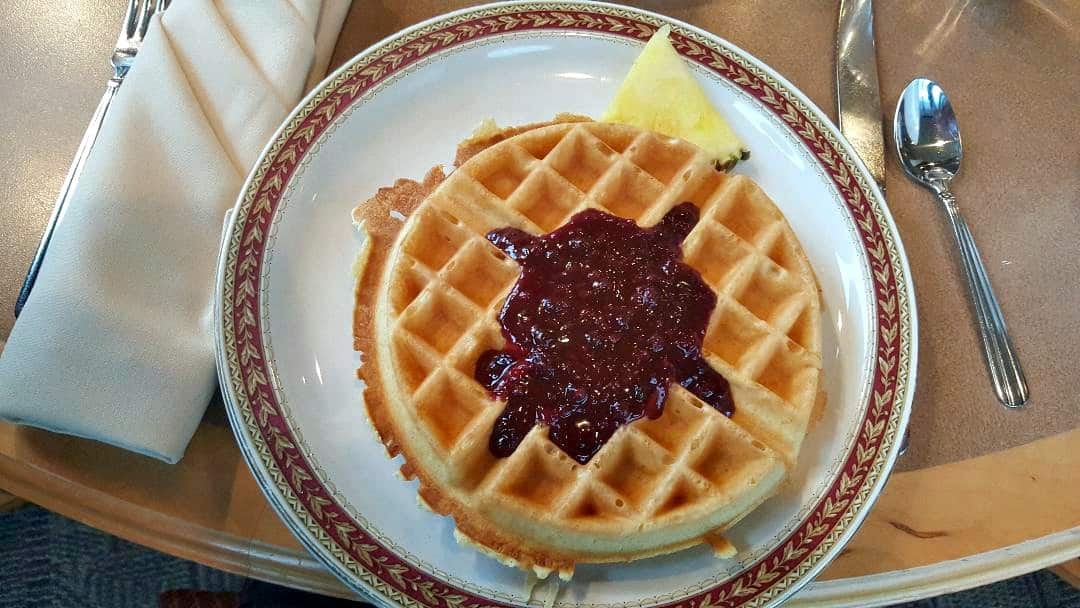 MacKenzie has a sweet tooth and ordered the Berry Belgium Waffles.
Mixed Berry Belgian Waffle has a warm berry compote served with maple syrup and whipped butter.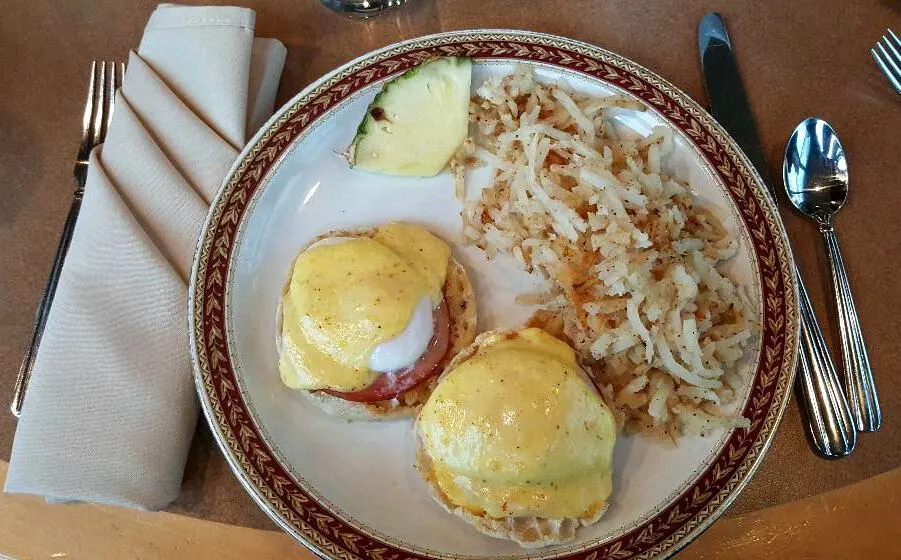 I ordered the Poached Eggs Benedict.
For a classic and satisfying choice, indulge in our Poached Eggs Benedict. Savor the combination of perfectly poached eggs, Canadian bacon, and hollandaise sauce, all served on a toasted English muffin with a side of hash browns.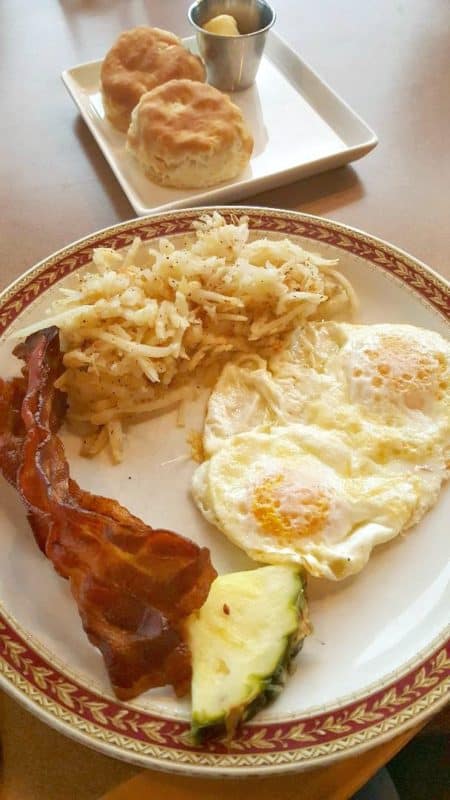 William went with the Copper Mine Breakfast.
If you prefer a signature dish, go for the Copper Mine Breakfast. It features two eggs cooked to your preference, hash browns, your choice of bacon or sausage, and toast or biscuits. It's a timeless favorite that never disappoints.
Final Thoughts
The food at The Copper Mine is not only delicious but also generously proportioned. And the service? Impeccable. Our staff goes above and beyond to ensure you have a memorable dining experience.
We understand that time is precious, especially when weather delays impact your schedule. That's why we took care of your ski lesson reservations, allowing you to enjoy your meal without feeling rushed.
Please note that The Copper Mine's hours may vary by season, so be sure to check "This Week at Wintergreen" for the most up-to-date information on our operating hours.
About Winter Green Resort:
Wintergreen Ski Resort, located in Wintergreen, Virginia, is a premier destination for winter sports enthusiasts and outdoor adventurers. Nestled amidst the picturesque Blue Ridge Mountains, Wintergreen Ski Resort offers a thrilling alpine experience combined with breathtaking natural beauty.
With over 11,000 acres of skiable terrain, Wintergreen Ski Resort caters to all skill levels, from beginners to advanced riders. The resort boasts 26 slopes and trails, ranging from gentle, beginner-friendly slopes to challenging black diamond runs that will test the skills of even the most experienced skiers and snowboarders. Whether you're seeking groomed trails for carving or thrilling terrain parks for jumps and tricks, Wintergreen has something for everyone.
Wintergreen Ski Resort is known for its state-of-the-art snowmaking and grooming systems, ensuring optimal snow conditions throughout the season. Additionally, the resort offers night skiing and snowboarding, allowing guests to extend their time on the slopes well into the evening.
Not only does Wintergreen Ski Resort offer exceptional skiing and snowboarding, but it also provides a variety of other winter activities. Guests can enjoy snow tubing, where they can slide down specially designed lanes on inflated tubes, providing fun for all ages. The resort also offers cross-country skiing and snowshoeing trails, providing a tranquil way to explore the winter wonderland.
For those seeking a break from the slopes, Wintergreen Ski Resort provides a host of amenities and facilities. The Mountain Inn serves as the resort's central hub, offering comfortable accommodations, dining options, and après-ski activities. The resort also features a comprehensive ski school with expert instructors who can help beginners learn the basics or assist seasoned riders in refining their skills.
Beyond winter activities, Wintergreen Ski Resort offers year-round recreation opportunities. During the warmer months, guests can enjoy golfing at the championship golf courses, hiking along scenic trails, playing tennis, or relaxing at the spa. The resort also hosts events and festivals, providing entertainment and excitement for visitors of all ages.
Wintergreen Ski Resort truly encompasses the essence of a mountain getaway, combining thrilling winter sports, natural beauty, and a welcoming resort atmosphere. Whether you're a seasoned skier or a family looking for a memorable winter vacation, Wintergreen Ski Resort in Wintergreen, Virginia, is the perfect destination to create lasting memories in any season.