We received a complimentary stay with Paw Passes at Great Wolf Lodge Williamsburg in exchange for this post. All opinions, and our love for travel and waterparks remain our own.
Great Wolf Lodge-Williamsburg has been at the top of my kiddos bucket list for five years.
The Summer Road Trip of 2018, changed it all.
We woke up early and hit the road for our three-hour-forty-seven-minute drive from the foothills of Virginia to Williamsburg.
One stop on the outskirts of Danville to fuel them, where they questioned why we were stopping.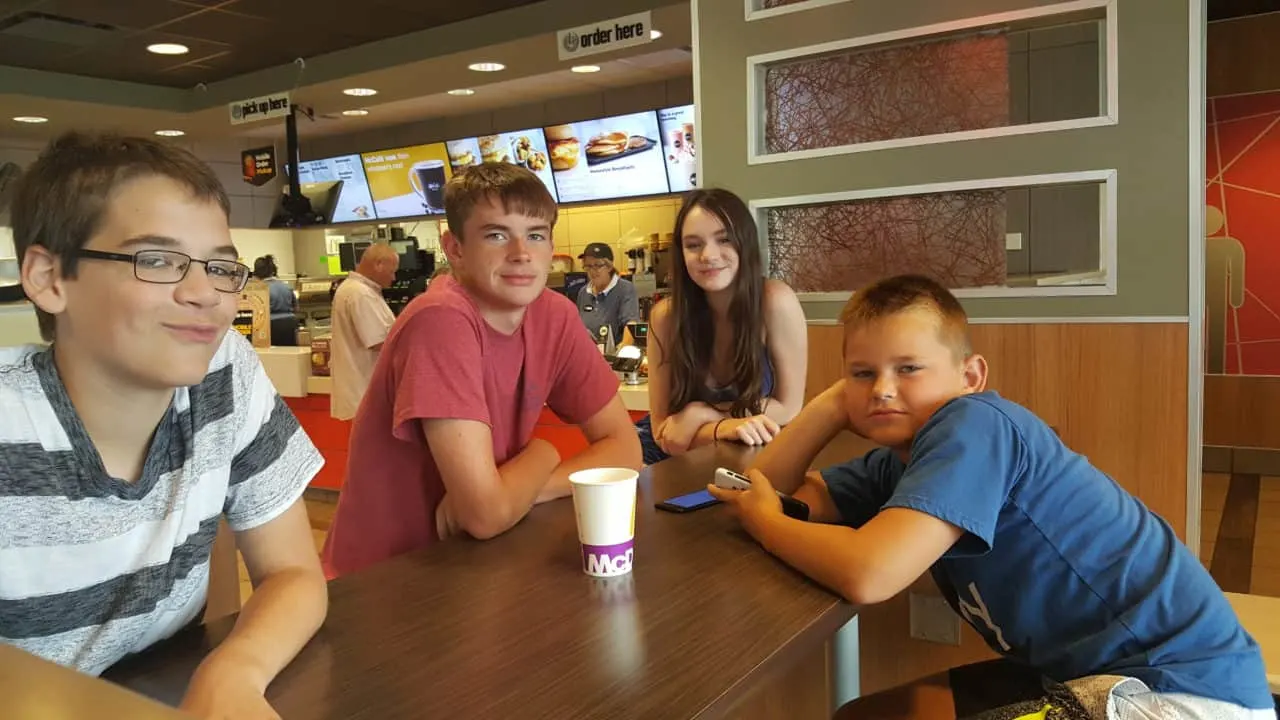 Then everyone piled back in the van, and we gave the ETA..1pm.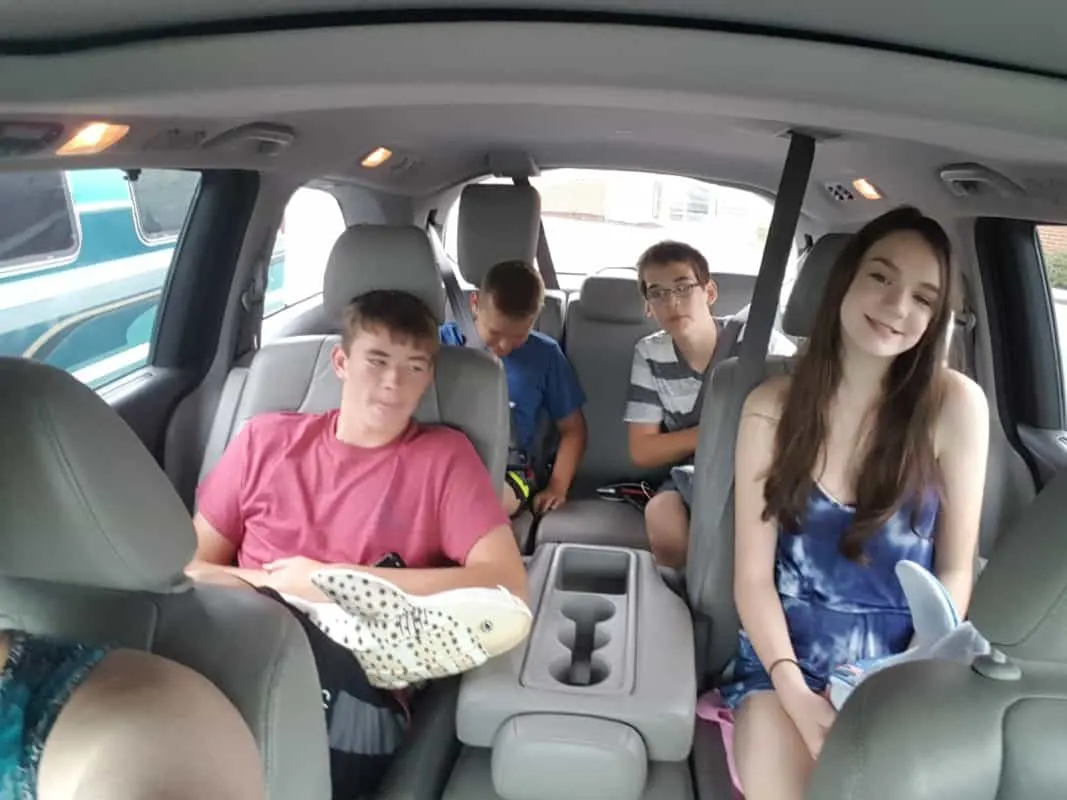 Almost the halfway mark, we stopped in Warfield, Virginia at a Rest Stop to stretch our legs. The kiddos were chattering about what they were going to do first when we arrived.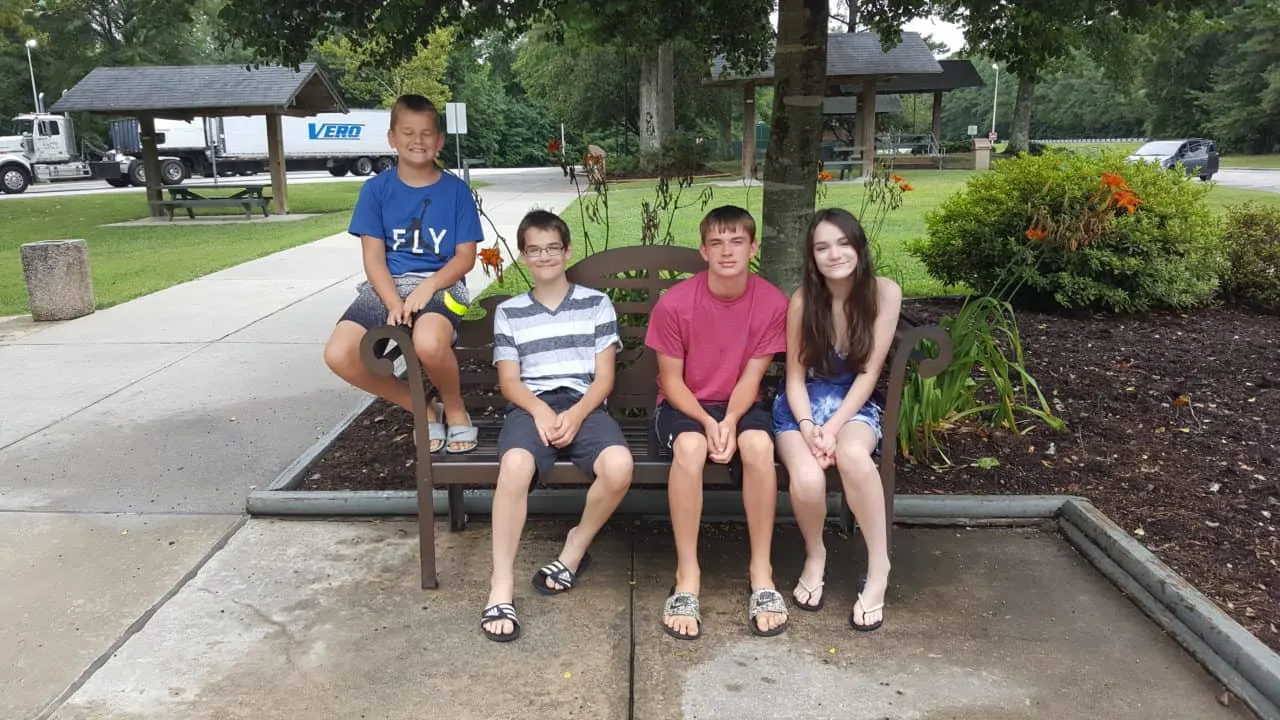 We arrived just before one o'clock, pulling into the parking lot. The kiddos shouted, "Follow the wolf prints!"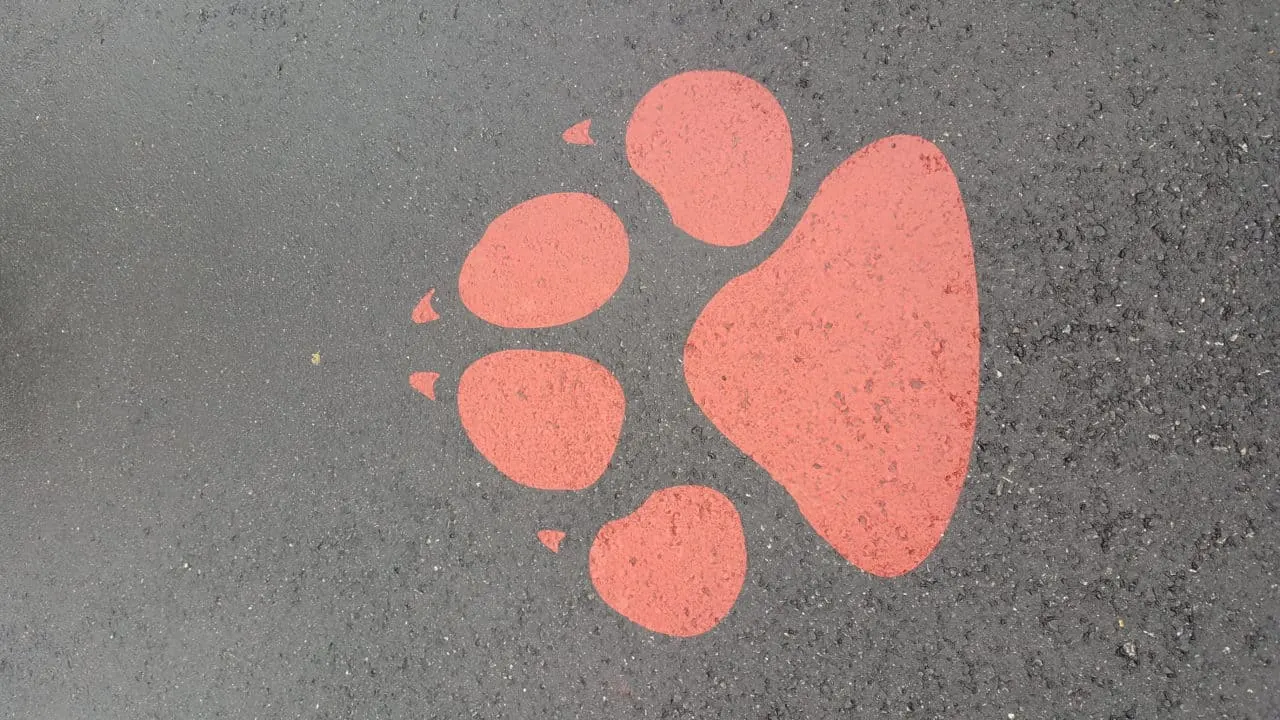 They cooed at the sight of the lodge. We had arrived! Great Wolf Lodge Williamsburg was about to be crossed off their bucket list.
The van still hadn't come to complete stop when the doors open, and it was like the kiddos were being shot out of a cannon. They ran for the giant Wolf Statues and posed for pictures.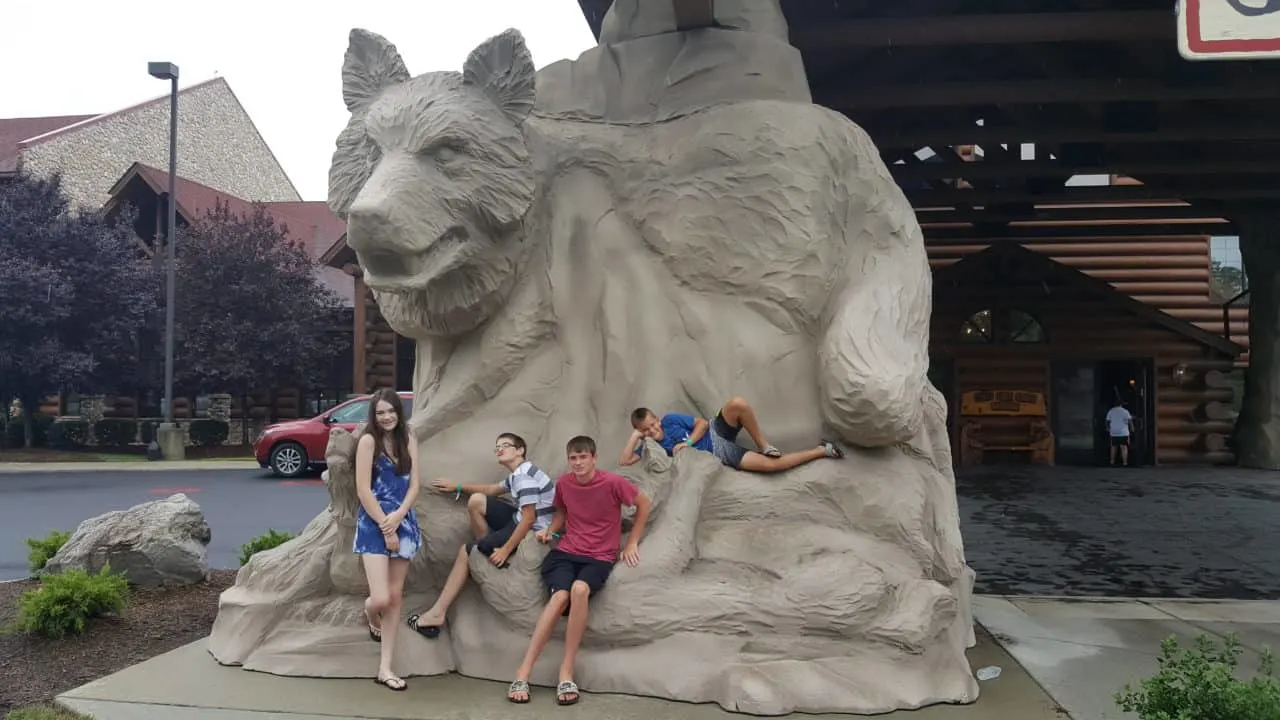 Everything is themed. It's an outdoor theme like staying in a cabin in the woods. From the log cabin look on the outside to the carved benches. We were giddy before even stepping inside.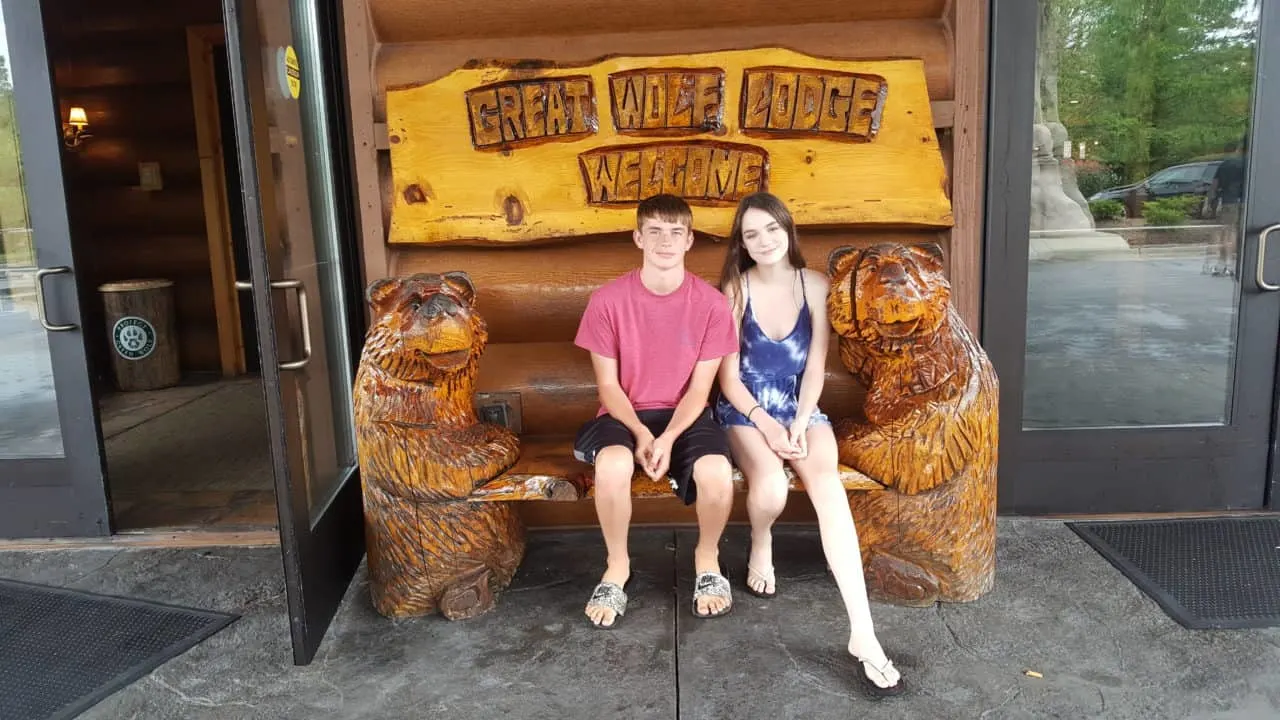 Inside was massive. Umbrellas hanging from the ceiling caught our eyes and the antler chandelier. There are stuffed wolfs howling on the massive rock fireplace. The kiddos stood in awe.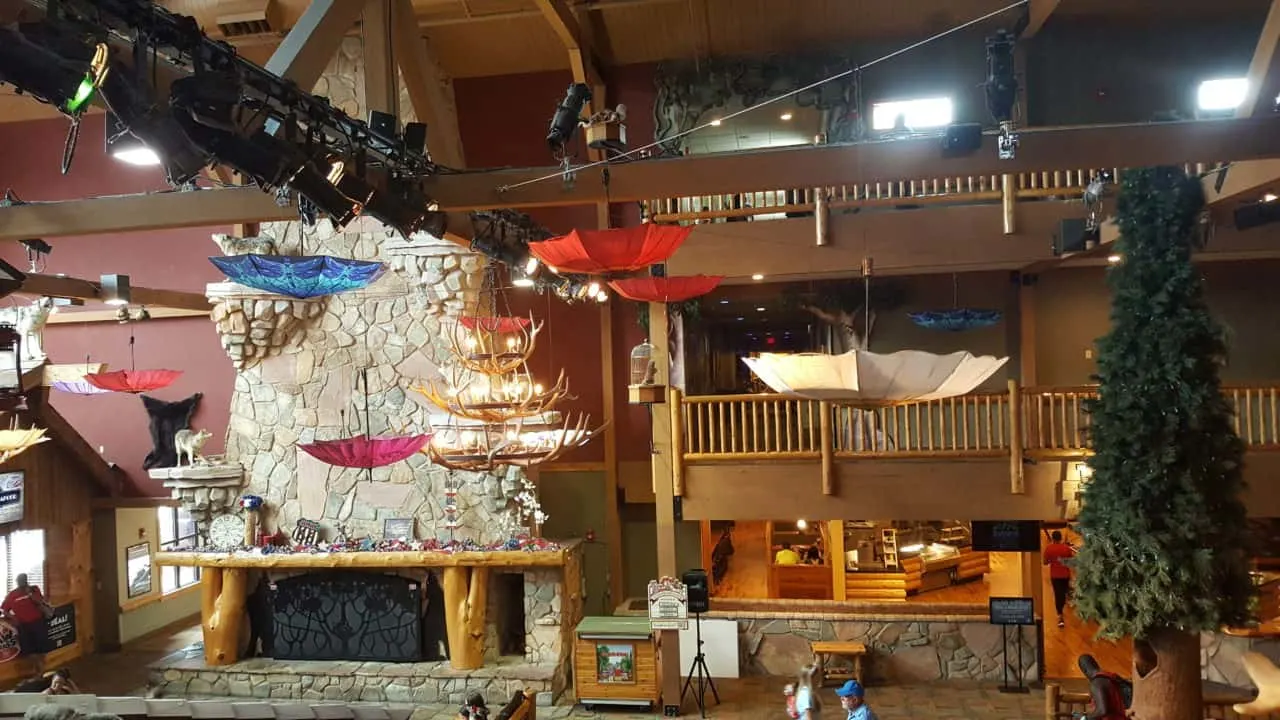 It was a sight to take in. Exposed beams are supporting the 50-foot high ceiling. The umbrellas are dangling, the large settlers' cabin with Pocahontas.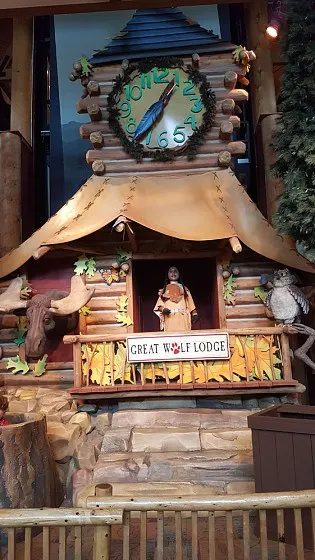 We stepped in line and within minutes we were speaking to our front desk attendant. She greeted us, gave us information about the room and amenities.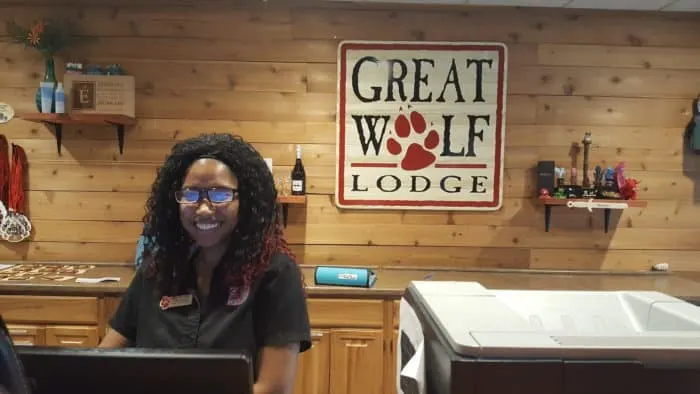 One of the great things about Great Wolf Lodge is that room check-in is at 4 PM, however, arrive early. You can maximize your park time with the pool being open to guests starting at 1 pm. The front desk will text you once your room is ready.
While we were checking in, the kiddos were playing Rock. Paper. Scissors to see who was taking their picture with Oliver, one of the many characters you'll find in the lobby at scheduled times for a meet and greet as well as photo opportunities.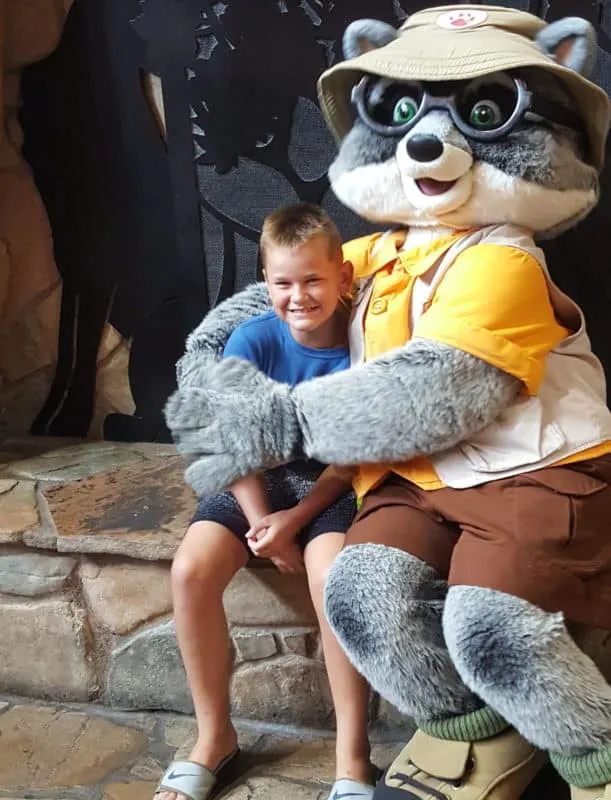 The kiddos changed into bathing suits, and we entered the indoor water park.
Front and center is Fort MacKenzie. A giant bucket perches atop the multi-level fort of fun.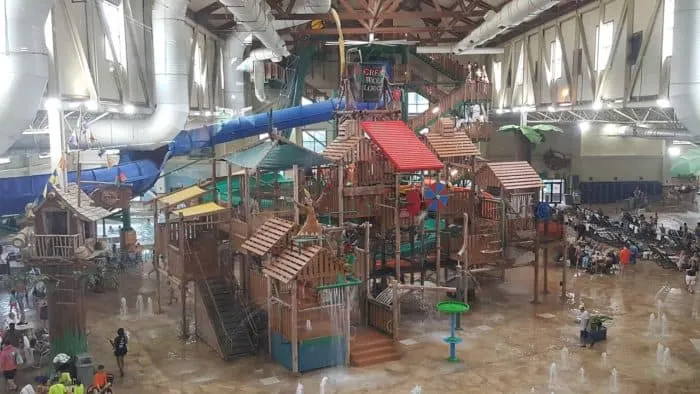 Every four minutes the bucket fills and dumps 1000 gallons of water (those gallons aren't a stretch of my imagination). The water rushes down the roof of Fort MacKenzie and onto the floor, and people below. There is spraying and splashing and cheers!
The kiddos climbed Fort MacKenzie.
They pulled on ropes, turned wheels, and more.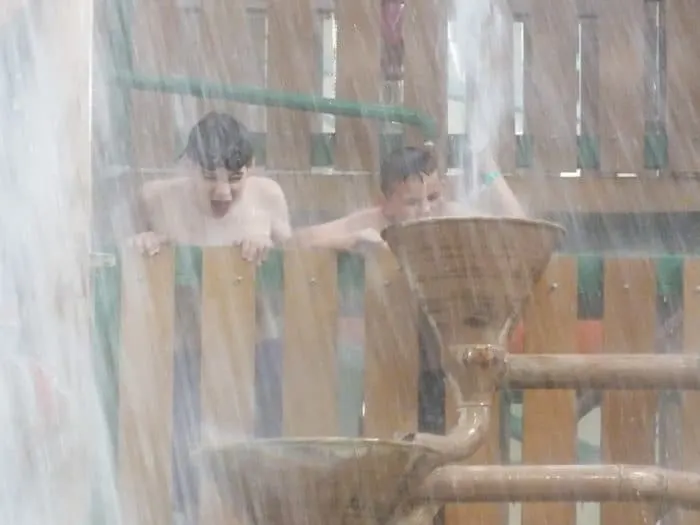 Then they made their escape by shooting down the Totem Towers water slides on the back!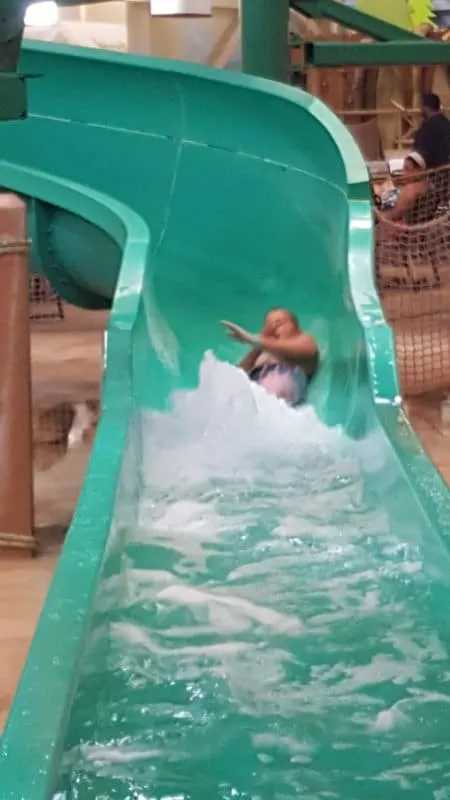 It was drizzling, so we stayed inside, but there is Racoon Lagoon an outdoor, zero-depth-entry paradise that offers a four-foot deep end, geysers, fountains, water basketball, water slides and plenty of poolside seating for soaking up the sun.
Then it was off to Big Foot Pass for the kiddos to test their skill of crossing giant lily pads in the water.
One kiddo of ours made it across in 19 seconds. His strategy? He dropped to his hands and knees and scurried across.
The next kiddo had her own strategy. She would use the cargo net above the lily pads.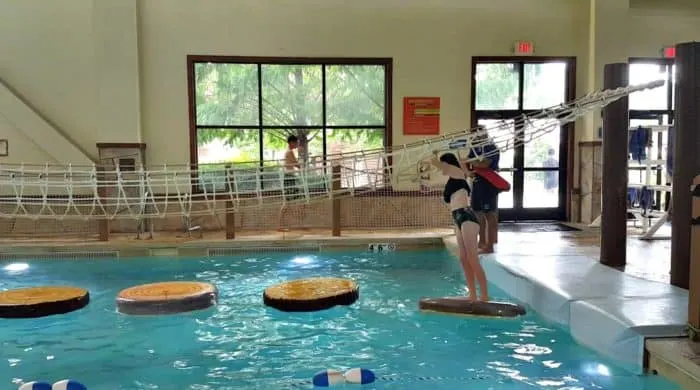 It ate up time before she realized, hands and knees were the way to go…she finished at 40-seconds.
All the kiddos met back up at Crooked Creek for a swim in the lazy river while they planned their next stop!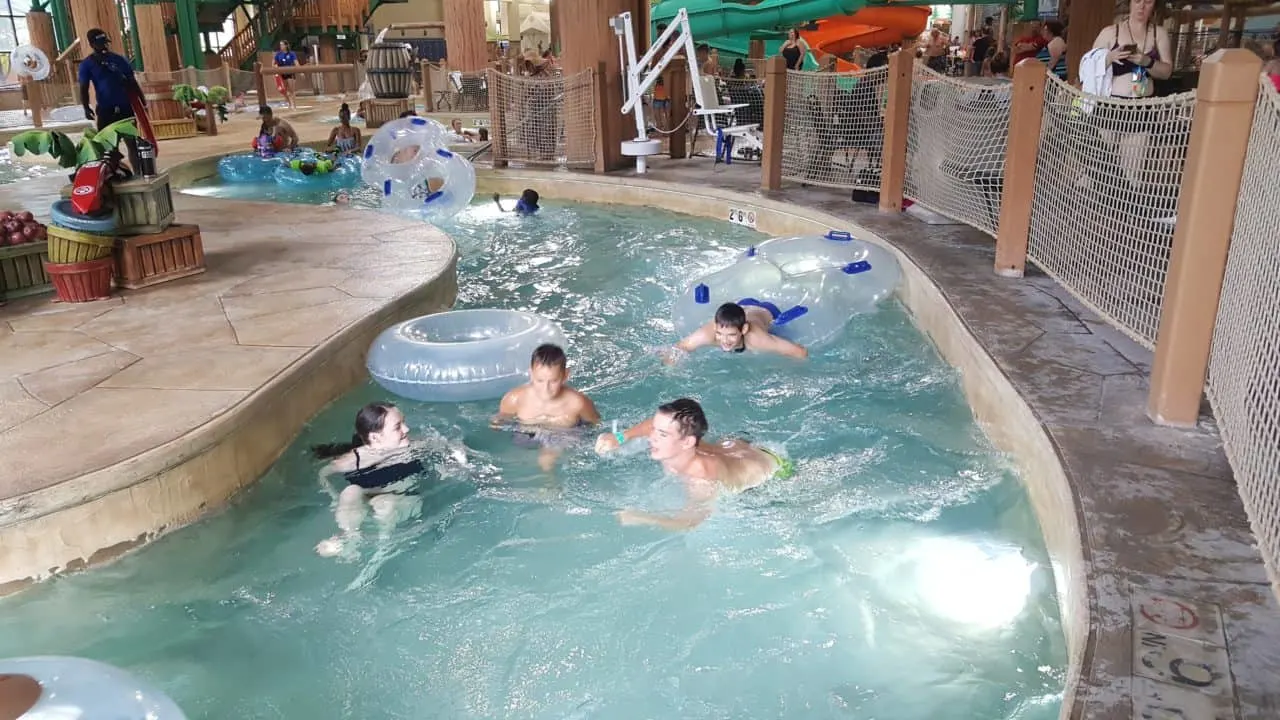 Thie kiddos decided to give the Howlin' Tornado slide a whirl. It is the largest and most thrilling. The raft is built for four, and the ride is filled with swiftly tilting twists and turns with a six-story funnel that shoots up the walls and out with an amazing splash!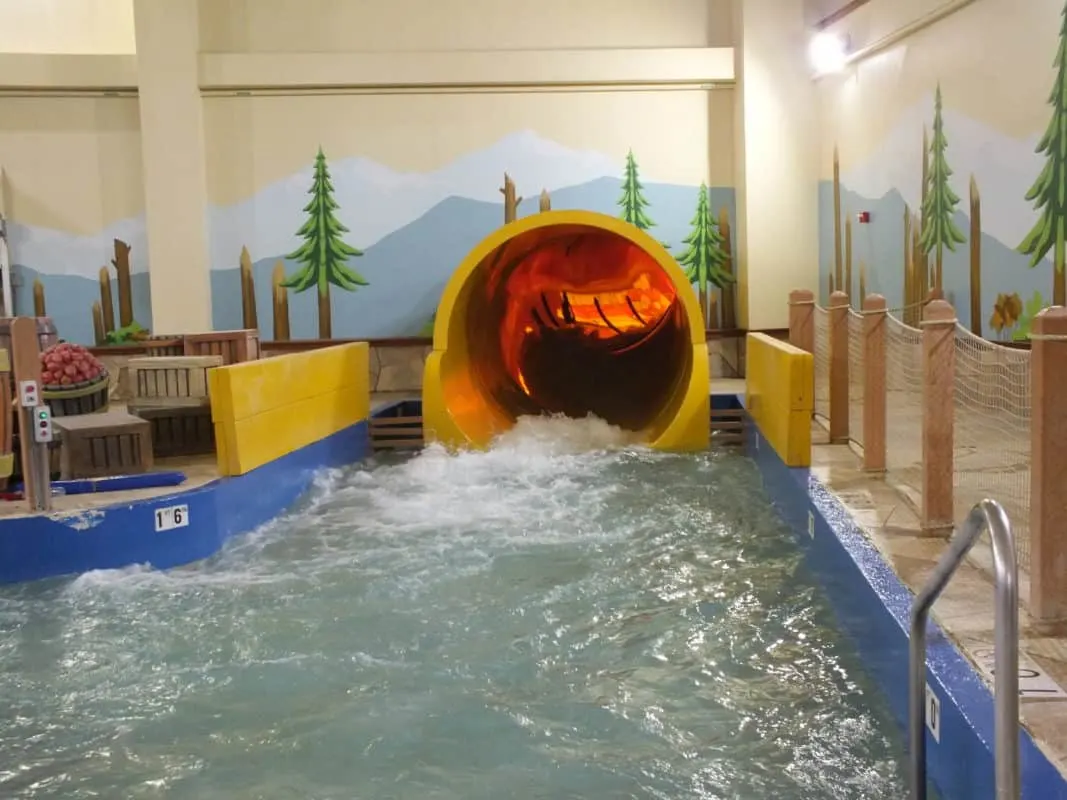 From here the kiddos discovered the Wolf Rider Wipeout. It has the fastest waves in the waterpark. It's an indoor surf simulator where you ride a kneeboard and test your surfing skills.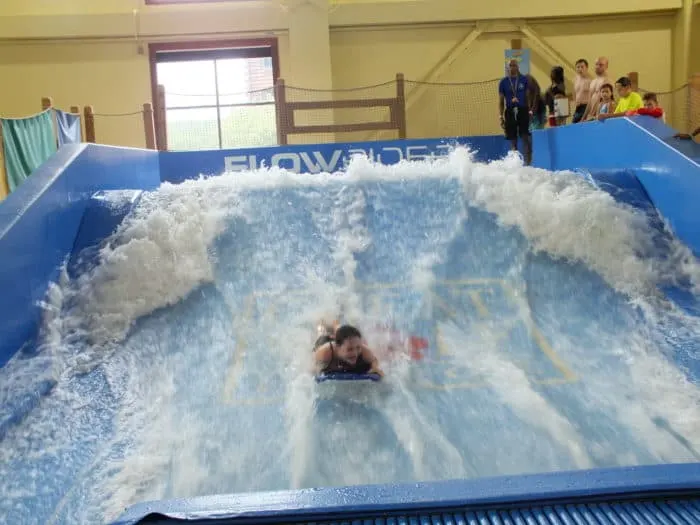 When the kiddos weren't riding or climbing, they were swimming and playing in Slap Tail Pond. You just can't go wrong with a wave pool!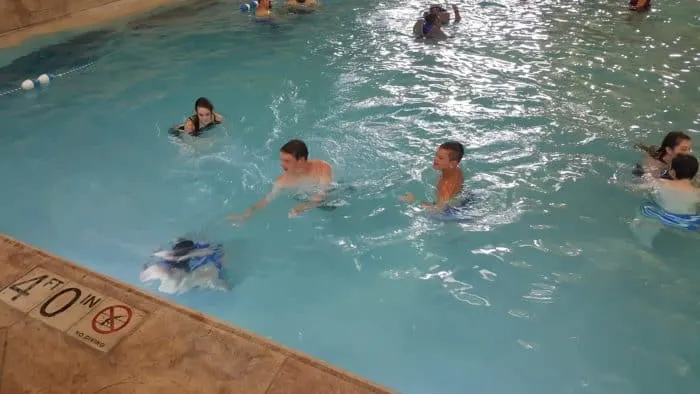 Great Wolf Lodge has trained lifeguards on duty throughout the park. They are trained for water safety with your family as their priority.
A text came through that our room was ready. Attention to detail makes a trip. When we walked into our room, it was dark, and we could hear a fire crackling. (They put a fire simulation on the television to welcome you!) It was so perfect and reminded us we weren't in the chaos of schedules to keep. We were here to relax and spend time as a family.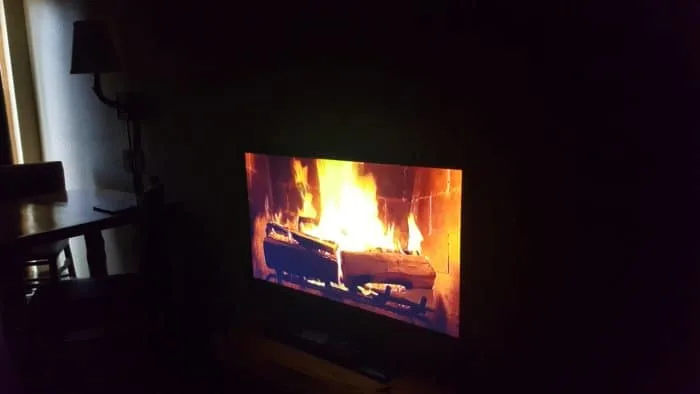 The room was very clean and carried the theme of an outdoor cabin. Each wristband is coded to open the door to your room. This was great because it made the room a great meeting place, without leaving anyone waiting in the hall.
Our room featured two queen size beds that were comfortable to sleep on with an assortment of pillows from soft to firm.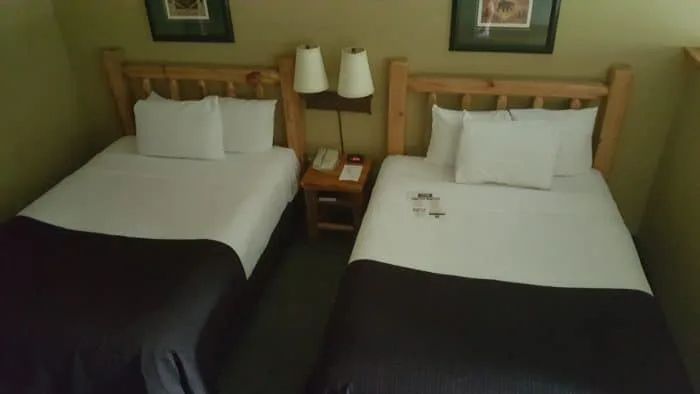 It also had a sitting area with a small table and two chairs and a couch that opened up into a double bed.
The room also has a full bathroom, safe to keep your valuables, a mini-fridge that includes two bottles of water. There is a small coffee maker and a balcony also.
While everyone showered, we read through the information book and planned our evening.
The waterpark is included with the room at Great Wolf Lodge Williamsburg. Every guest also receives Wolf Ears which, even my teenagers thought were fun.
The resort also offers "Pass" options that bundle more of the resorts' offerings for big savings on the fun.
We enjoyed the "Paw Pass". We found that it offered far more than we could complete during our stay and the variety meant that each of our four children found a favorite moment.
All of the activities, with the exception of the Howlers Peaks Ropes Course and MagiQuest, take place in the underground city or "Main Street".
For MacKenzie, her favorite was the Great Wolf Kids Character at Creation Station with Clubhouse Crew Adventure Game.
Each Paw Pass holder can select a plush character (they are the Characters your child will see around Great Wolf Lodge) to have stuffed with fluff.
There is a Character Crew Scavenger Hunt that is included with the Creation Character which leads you through the resort to different stations, each with a fun activity.
The character includes a branded Great Wolf Lodge backpack bag.
Then it's time to stuff the character. The kiddos said they filled theirs with "wishes and love" and then handed it off to the expert who added soft poly fill to plump the character plush to perfection!
My kiddos had so much fun picking out their character, naming it and watching it fill with fluff.
Great Wolf Lodge-Williamsburg also offers an interactive scavenger hunt called MagiQuest. It involves magic wands and quests through two entire floors of the lodge. This was William's Favorite.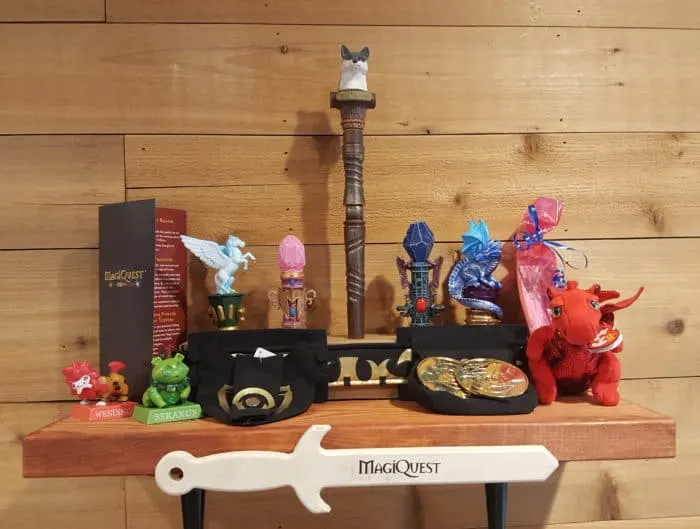 Allow me to share with you how this went. I thought my kiddos would be incredibly excited about MagiQuest. When we headed to pick out the wands, one of my kiddos said, "That game is lame!"
I told them they were playing anyway.
When the Great Wolf Lodge MagiQuest expert at the MagiQuest Marketplace shared that they could pick out a wand or a topper, the kiddo who told me this was lame, was enchanted by the toppers, so two of my kiddos teamed up with one getting a wand and the other a topper to combine the "powers".
Suddenly, this game might not be "that lame".
Once my kiddos started playing, they weren't giving up. They completed quests, teamed with other kids, and problem-solved the quest. They gathered crystals and treasures.
They opened treasure chests, found hidden coins and animated animals in the lobby. Two of my kiddos even beat the Goblin.
I should mention that at night, MagiQuest is like a giant slumber party. There are kiddos and parents playing. The game closes down about 10 pm so everyone can rest!
When the kiddos came back to the room that night, the kiddo that told me how lame MagiQuest was going to be, said, "I'm sorry I called your game lame. It was really fun."
That same kiddo, was the first one out the door the next morning with his wand to complete more quests!
Back to our Main Street adventures!
Cooper's favorite was Ten Paw Alley. Imagine bowling with a small ball and shorter lane.
This game was fun and fast-paced.
The kiddos watched the action before deciding they were ready.
Once they started bowling they became crazy competitive. They were cheering each other on…watching the scores and perfecting their form.
Colby loved the Northern Lights Arcade. There are plenty of games for small and older children to enjoy!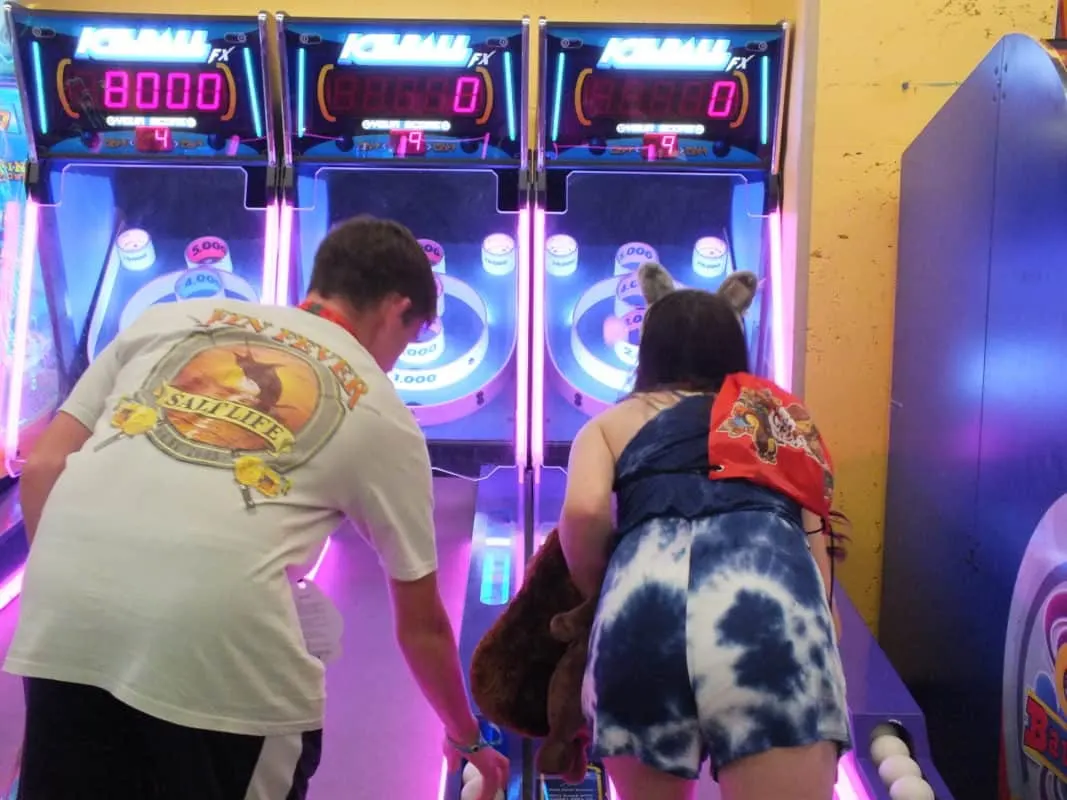 Our plan was to stop in at Buckets Incredible Craveables for their signature Tipping Bucket, a family-sized treat layered with ice cream, brownies, cookies, candy, chocolate sauce and whipped cream! We played too long and they closed by the time the kiddos were ready.
Not to worry, we got ice cream and dipping dots from Bear Paws Sweets and Eats.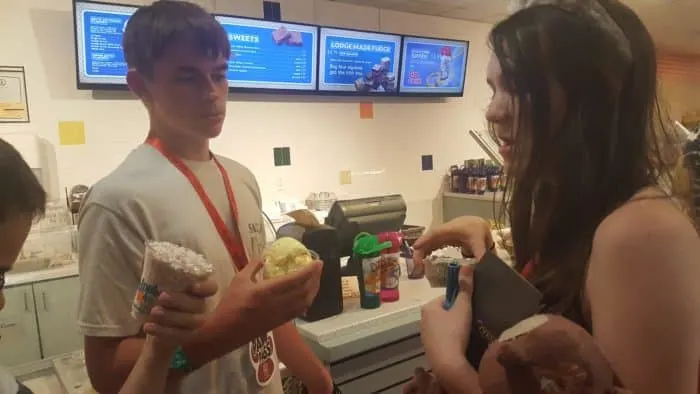 Bear Paws Sweets and Eats has so many delicious choices!
The kiddos stayed out and played MagiQuest.
You can take advantage of this time with Food and Wine Pairings. Together with The Wine Group, Great Wolf Lodge has developed a delicious food and wine pairing menu—featuring both sweet and savory culinary treats complemented by specially selected varietals, to enjoy in the comfort of your suite.
The kiddos finally decided they'd had all the fun they could handle. They came back to the room. It was quiet and they enjoyed chattering about their day.
Then everyone slowly migrated to their own area.
And then it was lights out.
The next morning, while the kiddos slept, we did some shopping at the Buckhorn Exchange Gift Shop and picked up coffee and a dozen donuts from the lobby at everyone's favorite, Dunkin' Donuts.
The kiddos were back out having fun and checking off activities from their Paw Pass.
They stopped in at The Great Wolf Candy Company.
They each filled a cup with all the candy they could fit into it.
There were a lot of different strategies and all of them worked out sweetly.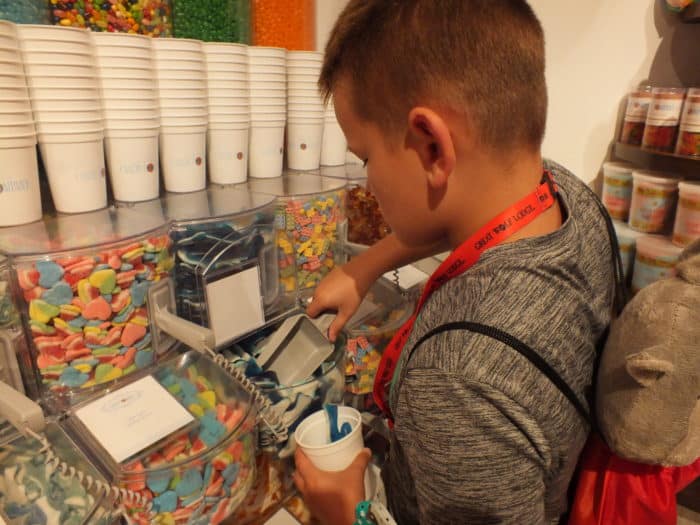 We headed back down to the Great Wolf Kids Store for Glitter Glitz Tattoos.
Once they picked out their tattoo they sat in a chair and picked out their glitter colors.
Then the tattoo art began!
Everyone loved how their tattoo turned out!
Our last stop was The Name Shop for a personalized bracelet.
The kiddos didn't know what to expect. All but one of them have unique names that aren't always easy to find while traveling: MacKenzie, Cooper, Colby.
On the way to The Name Shop the kiddos were talking about how they wouldn't have their name, or it wouldn't be spelled correctly.
Little did they know, The Name Shop customizes right on the spot.
The kiddos told them their name and spelling and it was etched on leather bracelets for them.
It was so awesome, William, my ordinary named kiddos, opted to have his middle name etched.
Check out is at 11 a.m., but guests are free to use the water park and facilities all day.
We still had so much to do, but it was time to get back in the van and head home.
And while the kiddos did get to cross Great Wolf Lodge Williamsburg off their bucket list, they've added it again, because they want to go back.
Great Wolf Lodge
549 East Rochambeau Dr., Williamsburg, VA
www.greatwolf.com/williamsburg