Most children these days begin playing with a "balance bike" or "kick bike."
Balance bikes have no training wheels and are thought to be able to encourage children to gain their balance and make the transition to a pedal bike an easier one.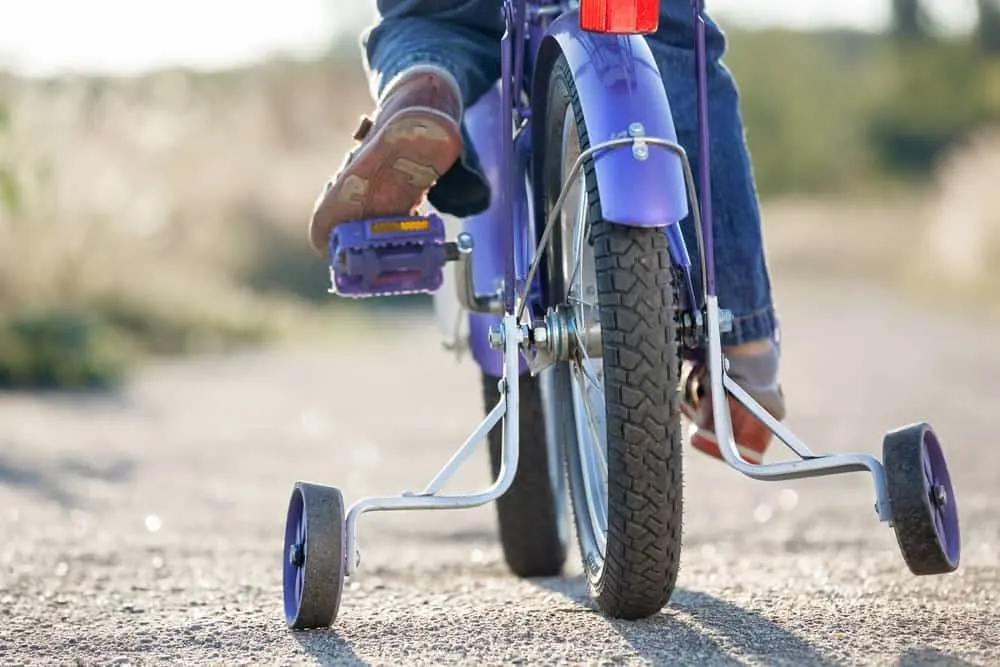 How To Buy And Install 24-Inch Training Wheels For A Bike
Studies on the matter are limited, but according to consumer garage, balance bikes may not greatly enhance a child's ability to ride, or the age at which they begin riding a pedal bike.
Anecdotally, some kids love their kick bikes.
They ride them everywhere, all the time.
And coast downhill.
This frequent use of a balance bike and the time they spend coasting does seem to improve their balance, and I've noticed that some of these children do seem to perform better when they transition to a pedal bike.
A good example of this is over at Dave's Cheap Bikes, where Dave Henly covers some of the new trends in BMX and mountain biking events that introduce tiny kids to obstacle course riding while at a very young age.
These kids eat it up and seem to transition to pedaling at an early age.
But, quite just, something about the pedaling motion is hard to capture.
You have to fight through it until the brain finally comprehends what is happening.
You will want to support your child by learning to ride.
Pressure from their parent is not likely to help them learn the pedal bike any faster.
Each child is going to move to the next level of skill when they are ready.
Take your time when teaching a child to ride a bike.
For some, that will be when they are five years old.
For others, they might be 10.
And some adults have never learned how to ride a bike.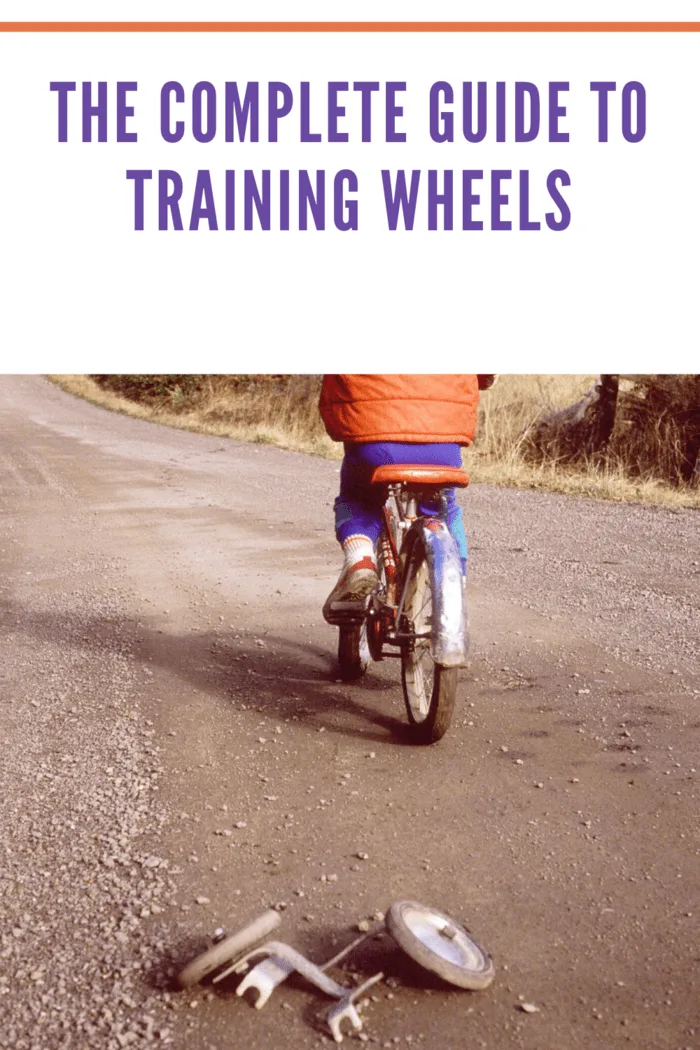 How Do You Help The Taller Child Learn To Ride A Bike
In most cases, when a child has outgrown their 16-inch bike, they will have learned how to pedal it without training wheels.
Then, they can progress to a 20-inch bicycle with no training wheels.
Learning to ride without training wheels often gets pushed off until they have a 20-inch bike.
This works out well.
Sometimes, by the time a child is old enough to ride a 20-inch bicycle, their cognitive development is better to progress, and they can more quickly gain the confidence required to ride.
Training wheels for 20-inch bikes are very common.
The next size up is the 24-inch bike.
In some unique circumstances, a child (or adult) may wish to have training wheels.
There are some development challenges that require children to use training wheels on a permanent basis.
Additionally, many children have not had exposure to bicycles until they are older and need the training wheels at this later stage.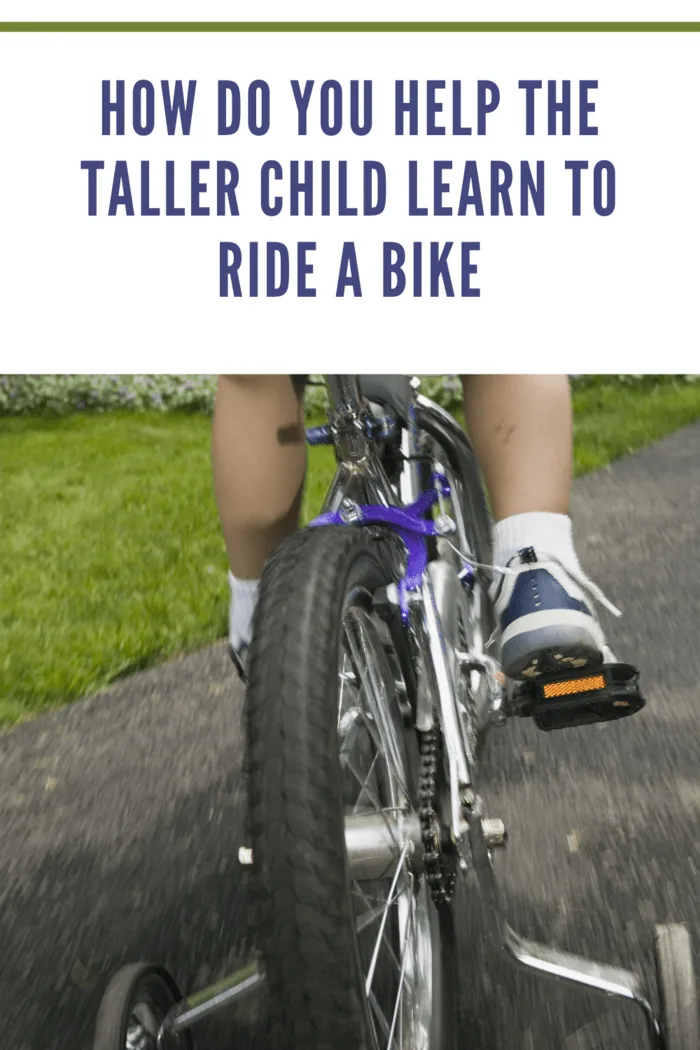 What To Look For in 24-Inch Training Wheels
These bicycles are more challenging to find training wheels for, and there are a few good reasons.
For one, both the rider and the bike are heavier.
This requires the training wheels to be made of more durable materials and to use extra bracing to ensure that they don't fail while cornering.
Cheaply made training wheels are known to fail and can cause accidents when the metals bend.
Secondly, the distance that the training wheel needs to extend to the ground is farther since the wheel size is taller.
The taller bike size also means that the training wheel needs to extend further away from the bike to provide better support for the higher center of gravity.
These greater distances also require thicker material and better support.
One of the clever ways that this is being handled is to use larger wheels as the "trainers."
These larger wheels provide better support and a more stable foundation.
As you shop for 24-inch bike training wheels, remember these additional requirements.
It is possible to buy cheap ones, but their failure rate is extremely high; spend little extra money and buy a set designed to last.
Installing Training Wheels for a 24 Inch Bike
The installation process is very similar to a 20-inch bike with training wheels.
You will likely want to attach one side at a time.
Installation requires you to unscrew the nut holding the wheel and insert the training wheel apparatus over the wheel bolt before screwing it all back together.
The key thing to remember is that you need to keep proper tension on the wheel when re-attaching it so that it rides straight in the dropouts.
Watch closely for proper wheel alignment during the retightening process to ensure that the wheel will not rub on the brakes or the side of the bike once reassembled.
The entire process is quite easy and only takes about 20 minutes to get to your 24-inch bike with training wheels.
Freedom For Any Age
Whatever your goal in shopping for 24-inch training wheels, they do exist and are extremely easy to use.
This larger size extends the joy of bike riding to any age and any skill level.
Your effort in setting them up will translate into a life-changing event for your loved one.