"I participated in a campaign on behalf of Mom Central Consulting for Dunkin' Donuts. I received a Dunkin' Donuts Party Kit to facilitate my review and a promotional item as a thank you for participating."
Welcome to the delightful world of Dunkin's Spring Flavors! As the seasons change and the vibrant beauty of spring unfolds, Dunkin is thrilled to bring you a symphony of delectable coffee creations that capture the essence of this blooming season. Introducing the Triple Berry, Coconut, and Strawberry Shortcake coffees, these delightful blends are specially crafted to invigorate your taste buds and transport you to a blissful paradise of flavors.
Embrace the refreshing burst of spring with our Triple Berry coffee, a medley of succulent berries dancing harmoniously with our signature coffee. This blend boasts the lusciousness of ripe strawberries, blueberries, and raspberries, intertwining with the smooth richness of Dunkin's coffee to create a truly enchanting experience.
Indulge in the tropical charm of our Coconut coffee, where the silky essence of coconut meets the familiar warmth of coffee, taking you on a journey to sandy shores and swaying palm trees. Each sip is an escape to a sun-kissed oasis, perfect for those moments when you need a little vacation in your day.
For the lovers of classic desserts, our Strawberry Shortcake coffee is a heavenly delight that captures the sweetness of ripe strawberries melded with the nostalgic flavor of a velvety cake. This harmonious combination embodies the essence of a beloved springtime treat, ensuring every cup is a cherished experience.
Whether you're an avid coffee connoisseur or simply looking for a delightful way to savor the season, Dunkin's Spring Flavors have something to offer for everyone. So, take a sip and let these exquisite blends transport you to a world of taste and pleasure as you embrace the enchanting flavors of spring. Hurry in and savor these limited-time offerings, as the beauty of spring and these extraordinary coffees won't last forever.
Our Dunkin' Donuts Spring Flavors Kick Up the Season Review
Coffee seems to speak the universal language. Most of us have our favorite brand, and two of our five guests crave Dunkin Donuts coffee. It's the only brand they buy. Now with the weather getting warmer, Dunkin' Donuts is launching some"great flavors of the season to heat up the forecast like Coconut, Triple Berry, and Strawberry Shortcake.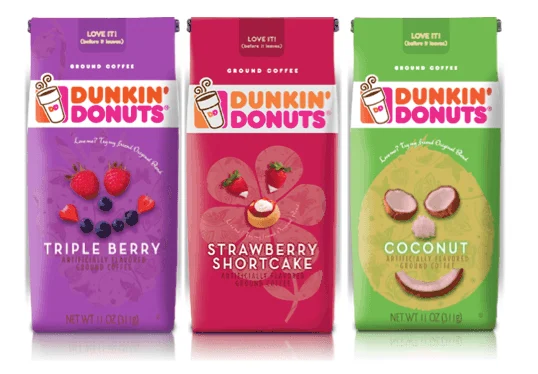 Whether it's the morning cup that calls, an evening cup of relaxation, or ingredients for the Fudge Espresso Ultimate Brownies recipe these delicious flavors are waiting in the local grocery aisle. Stock up on your favorite flavors because they'll only be around for a limited time!
Dunkin' Donuts shares our love of coffee by making it easy to brew, hot or iced, at home or in the office to enjoy and share alone or with friends and family. We brewed the new flavors up recently and discovered they are incredibly tasty. A pot of Strawberry Shortcake disappeared, while coconut stepped up as my personal favorite! The triple berry was good but not as tempting as the Strawberry Shortcake or the Coconut flavor.
Strawberry Shortcake
Indulge in the pure bliss of Dunkin's Strawberry Shortcake coffee, where every sip is an invitation to savor the sweet nostalgia of a cherished dessert. Inspired by the beloved classic, this coffee creation captures the essence of a luscious strawberry shortcake, carefully blended to perfection.
Imagine a delicate balance of fresh, ripe strawberries mingling with the comforting warmth of Dunkin's premium coffee beans. With each sip, you'll be transported to a world of decadence, reminiscent of sunny afternoons spent enjoying a slice of homemade strawberry shortcake with loved ones.
The aroma alone is enough to awaken your senses and transport you back to a time when life was simpler and dessert was an everyday celebration. As you take that first sip, the flavors dance on your palate, delighting you with the harmonious combination of juicy strawberries and rich, velvety coffee. The natural sweetness of the strawberries complements the coffee's subtle bitterness, creating a symphony of taste that is both delightful and soothing.
The Strawberry Shortcake coffee is a testament to Dunkin's commitment to crafting beverages that are more than just drinks – they are experiences. Each batch is carefully prepared by expert baristas who infuse their passion into every cup, ensuring that you get the perfect balance of flavors in every serving.
Whether you're starting your day with a smile or treating yourself to a well-deserved afternoon pick-me-up, this delectable coffee will elevate your mood and make every moment a delightful celebration. So, sit back, relax, and let Dunkin's Strawberry Shortcake coffee transport you to a world of indulgence and sweet memories.
But remember, like the fleeting days of spring, this seasonal delight won't be here forever. So, hurry in and experience the joy of sipping on Dunkin's Strawberry Shortcake coffee, because, with just one taste, you'll be convinced that dessert should indeed come first.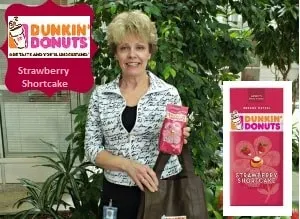 Coconut
Discover the exotic allure of Dunkin's Fresh Coconut coffee flavor, a captivating blend that will transport your taste buds to a tropical paradise. There are moments when you crave a taste that transcends the ordinary, and with Dunkin's Coconut coffee, you'll experience a symphony of flavors that truly elevates your coffee experience.
Picture yourself on a sun-drenched beach, the gentle sea breeze carrying the aroma of freshly cracked coconuts. With every sip of Dunkin's Coconut coffee, you'll be whisked away to this dreamy island escape, indulging in the mesmerizing fusion of real coconut essence and Dunkin's premium coffee beans. It's a sensory journey that invigorates your senses and leaves you yearning for more.
Our skilled baristas have mastered the art of infusing the essence of fresh coconuts into each batch, ensuring that you get a harmonious balance of coconut's natural sweetness and the robust, full-bodied flavor of Dunkin's coffee. From the moment the steam rises from your cup, the delightful aroma will envelop you, hinting at the tropical adventure awaiting your taste buds.
The creaminess of coconut perfectly complements the smoothness of our coffee, delivering a luxurious mouthfeel that is both satisfying and refreshing. Whether you enjoy it hot or iced, each sip unveils a paradise of taste, making every coffee break a delightful escape from the ordinary.
Life is all about embracing the moments that stir your soul, and Dunkin's Coconut coffee is the embodiment of that philosophy. It's the perfect pick-me-up for those days when you need a little taste of vacation, even if you can't physically be on a sandy shore.
So, the next time you find yourself yearning for a coffee experience beyond compare, heed the call of Dunkin's Fresh Coconut flavor. Because sometimes, you deserve to treat yourself to something extraordinary, and with this tropical masterpiece, you'll realize that your coffee can be so much more than just a beverage—it can be a blissful journey to paradise. Don't resist the temptation; surrender to the allure of Dunkin's Coconut coffee and let your taste buds embark on an unforgettable voyage to the tropics.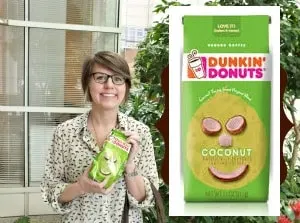 Triple Berry
You know what they say, "Three berries are better than one." That's a saying, right?
And when it comes to Dunkin's Triple Berry coffee, the saying couldn't be truer. Indulge in the captivating medley of not one, not two, but three succulent berries, harmoniously blended with Dunkin's exceptional coffee, to create a taste experience like no other.
Imagine the burst of flavor that arises from ripe strawberries, plump blueberries, and juicy raspberries dancing together in perfect harmony. With each sip, you'll be treated to a symphony of sweet and tangy notes that awaken your taste buds and brighten your day.
Our baristas take great care in handcrafting every cup of Triple Berry coffee, ensuring that the natural essence of each berry is infused into the coffee beans, creating a delightful fusion of flavors. The strawberries bring their luscious sweetness, the blueberries lend their deep richness, and the raspberries contribute their vibrant tanginess, all combining to create a taste sensation that lingers on your palate.
As the inviting aroma wafts from your cup, you'll find yourself transported to a lush berry patch, basking in the sun's warmth, surrounded by nature's bounty. It's a coffee experience that captures the essence of spring, evoking memories of berry-picking adventures and lazy afternoons spent savoring homemade berry desserts.
Whether you prefer it hot and comforting on a cool morning or delightfully iced to quench your thirst on a sunny day, Dunkin's Triple Berry coffee is the perfect companion for any occasion. It's a reminder that life is better when we embrace variety and savor the richness of nature's bounty.
So, next time you're in the mood for a coffee adventure, remember the saying: "Three berries are better than one." Head to Dunkin and treat yourself to the magic of Triple Berry coffee. Let the symphony of flavors delight your senses and reaffirm that sometimes, the best things in life come in threes. Don't wait too long though, because like the fleeting beauty of a spring bloom, this delectable coffee is a limited-time offering that you won't want to miss!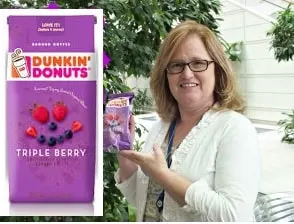 There's nothing quite like the irresistible allure of Dunkin' Donuts Arabic coffee, and now, the excitement reaches new heights with the introduction of three delightful flavors that promise to take your coffee experience to a whole new level. Indulge in a symphony of tastes as you brew up a cup of Joe with added flavor and enjoy a delightful journey of sips and smiles.
The love affair begins with Dunkin's Triple Berry coffee, where the sweetness of strawberries, blueberries, and raspberries entwine with the smooth richness of Arabic coffee. Each sip is a celebration of nature's bounty, a burst of freshness that invigorates your senses and transports you to a blooming berry patch on a sunny day.
When the weather embraces the warmth of spring, it's time to savor the magic of Dunkin's Coconut coffee. As the creamy essence of coconut dances with the boldness of Arabic coffee, you'll be whisked away to a tropical paradise where palm trees sway and the ocean beckons. It's the perfect companion for those moments when you want to kick your feet up and relax in the soothing embrace of paradise.
And let's not forget the enchanting aroma of Dunkin's Strawberry Shortcake coffee. The marriage of ripe strawberries and velvety Arabic coffee creates a symphony of flavors that evoke memories of cherished desserts and carefree spring days. It's a cup of comfort that will leave you yearning for more.
As the days grow warmer, the iced coffee season beckons, and Dunkin's new flavors are the ultimate companions for this refreshing experience. Brew up a batch of iced Triple Berry coffee, and the tangy berry goodness will dance on your tongue with every cool sip. Or perhaps you crave a tropical escape with a glass of iced Coconut coffee, where the creaminess and coffee come together to keep you refreshed and delighted.
And when you need that comforting yet refreshing indulgence, reach for the iced Strawberry Shortcake coffee, where the sweetness of strawberries is amplified when chilled, creating an extraordinary treat that will become your go-to beverage for sunny afternoons.
So, get ready to elevate your coffee routine with Dunkin's Arabic coffee and these delightful new flavors. Embrace the joy of sipping your favorite brew with added flavor and let the enchantment of spring infuse every cup. Whether you choose hot or iced, each coffee experience will be a moment to cherish and a chance to savor the simple pleasures of life. With Dunkin's new flavors, you're in for a treat that will leave you smiling with each sip. So, brew, sip, and enjoy the journey of flavors that await you!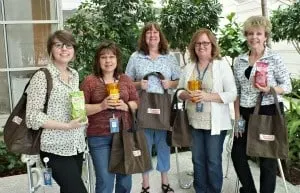 After all, doesn't this recipe sound delicious:
Dunkin Donuts Iced Coffee Recipe:
Makes 4 servings
Prep Time: 10-minutes
Ingredients:
3/4 cup of your favorite ground Dunkin' Donuts Coffee
3 cups cold water, divided
1/3 cup sugar
1/2 cup half-and-half
Whipped Cream (optional)
Directions:
Brew coffee in coffee maker using 3/4 cup ground coffee and 1-1/2 cups cold water.
Combine hot brewed coffee, sugar and half-and-half in pitcher. Stir until sugar is completely dissolved. Blend in 1-1/2 cups cold water. Chill until ready to serve.
Pour over ice in tall glasses or cafe mugs. Top with whipped cream, if desired. Serve immediately.
In the meantime, I'm enjoying the warm cup of coffee while it rains…and rains…and rains and celebrating friendships.