Welcome to the delightful world of culinary creativity, where we bring you a refreshing twist on a classic favorite – the Easy Sangria Jelly Recipe! Bursting with the vibrant flavors of summer fruits and the alluring essence of your favorite red wine, this sweet and tangy jelly is a delightful treat that will surely tantalize your taste buds.
Inspired by the iconic Spanish drink, Sangria, this innovative jelly offers a playful combination of juicy berries, succulent oranges, and luscious grapes, all immersed in the rich essence of red wine. Perfect for gatherings, picnics, or just a quiet afternoon indulgence, this recipe promises to infuse your moments with a touch of sophistication and bliss.
Whether you're an experienced chef or a novice in the kitchen, this Easy Sangria Jelly Recipe is crafted with simplicity in mind. So, grab your apron and a glass of wine, and let's embark on a culinary journey that celebrates the spirit of summer in every delectable spoonful. Get ready to impress your friends and family with this delightful creation, and let the flavors dance on your palate like a joyous fiesta! Let's raise a toast to the art of jelly-making with our delightful twist on Sangria – a true taste of the season, bottled in perfection. Cheers to the sweetness of life!
Spreadable Sangria!
Today's Best Recipe is Easy Sangria Jelly.
This Sangria jelly is just like drinking a sangria–only it's spreadable.
It's sangria's sweet and spicy taste with every bite, whether you spread it or serve it.
This Sangria jelly is quick and easy to make and is always appreciated as a gift.
This is a soft jelly.
You don't have to wait for the fruit to be in season…wine is always in season, right?!
Some people like to drink a bottle of wine, some prefer to make jelly with it, and still, some of us like the benefits of sipping the wine while making the jelly.
Dust off the cutting board and make an amazing cheese board with a side of this Sangria Jelly.
How to Make a Cheese Board:
Start with a large cutting board or serving platter.
You'll want a variety of cured meats such as salami, prosciutto, and pepperoni.
Next, choose your selection of soft and hard cheeses.
Select a variety of cheese milk types and colors to bring the flavor.
Some cheese choices include Brie, Gouda, Havarti, Monterrey Jack, Mozzarella, Provolone, Blue Cheese, and gourmet cheeses.
Add Olives, colorful antipasto, and things such as artichoke hearts, pickled onions, and vegetables.
Dried fruit such as grapes, berries, bananas, and apricots are a great addition.
Add some texture with nuts such as Brazilian, pistachios, pignoli, almonds, macadamia, and hazelnuts.
Use small containers for mustards and jellies, such as this Sangria Jam.
Finally, add finishing touches with pieces of bread and crackers to spread and top with the board's selections.
What is Sangria?
Sangria is one of the most popular drinks in Spanish cuisine.
Sangria means "bloodletting" in Spanish.
Traditionally, Sangria is a punch that uses a base of red wine, with chopped fruit and other ingredients added in for additional flavor.
It's fruity, spicy, and just the right amount of sweet.
Sangria Jelly
Like traditional Sangria, this Sangria Jelly is fruity and spicy, though maybe a little sweeter than the traditional beverage.
It's a unique and tasty spread that's easy to make and sure to be enjoyed.
I love this Sangria Jelly on crackers with cream cheese.
It makes amazing peanut butter and jelly sandwich.
It's delightful in thumbprint cookies. Really, I could eat it with the spoon out of the jar!
You can learn all about the history of sangria on vinepair.com, or start making the jelly!
It's up to you!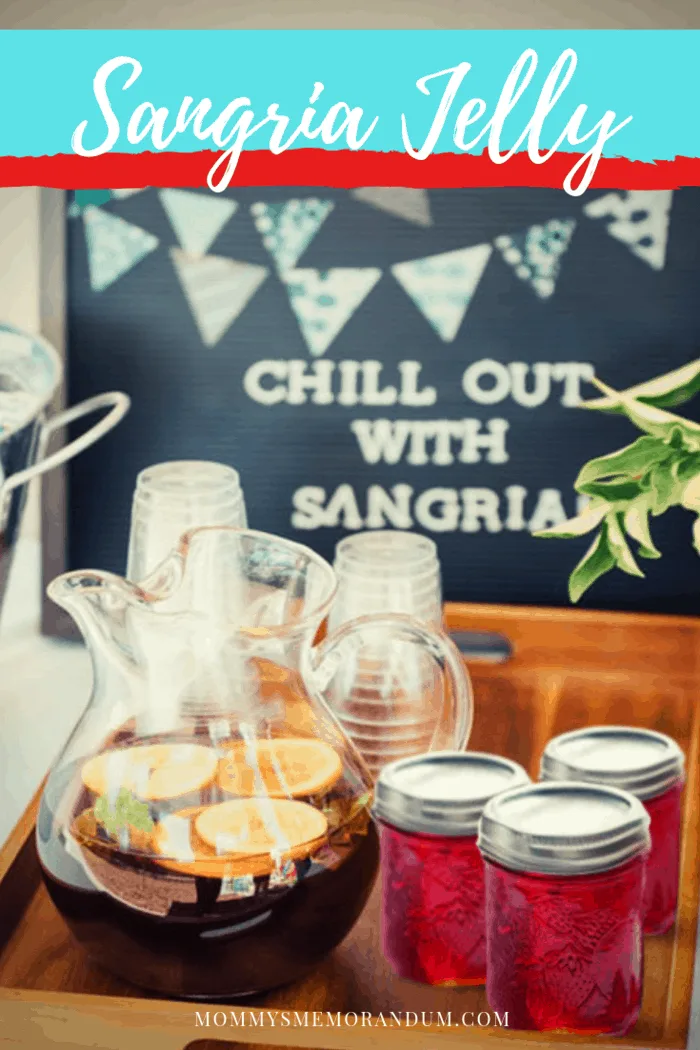 Sip & Savor – Easy Sangria Jelly
Servings: Approximately 5 cups of Sangria Jelly
Preparation Time: 10 minutes
Cooking Time: 10 minutes
Setting Time: 4 hours
Ingredients:
3 1/2 cups sangria
1/2 cup lemon juice (or try orange juice for a citrusy twist)
1 box Sure-Jell (pectin, not gelatin)
4 1/2 cups granulated sugar*
1 cinnamon stick (optional)
Equipment:
Large saucepan
Stirring spoon
Jelly jars with lids
How to Make Sangria Jelly
Prepare the Equipment: Before you start, make sure your jelly jars are clean and sterilized. You can wash them with hot soapy water and rinse thoroughly. Place the lids and jars in a pot of boiling water for a few minutes, then carefully remove and let them air dry.
Combine Ingredients: In a large saucepan, pour in the sangria, lemon juice, and add the optional cinnamon stick for extra warmth and spice.
Add the Pectin: Sprinkle the Sure-Jell pectin over the liquid and stir well to ensure it is evenly distributed.
Bring to a Boil: Over medium-high heat, bring the mixture to a boil, stirring frequently to prevent the pectin from clumping. Once it starts boiling, you'll notice a delightful aroma wafting through the air.
Incorporate the Sugar: Gradually add the granulated sugar to the saucepan, stirring continuously until it is completely dissolved. This will add sweetness and help the jelly set properly.
Reach a Rolling Boil: Increase the heat to high and bring the mixture to a rolling boil. Continue stirring constantly to avoid sticking or burning.
Boil Hard for 1 Minute: Once the rolling boil is achieved, set the timer for 1 minute. Keep boiling the mixture vigorously while stirring constantly. This step is crucial for activating the pectin's gelling properties.
Remove from Heat: After 1 minute of boiling, turn off the heat and carefully remove the saucepan from the stove.
Skim Foam (if necessary): If any foam has formed on the surface, use a spoon to gently skim it off. This will give your jelly a smoother texture.
Jar the Jelly: Carefully ladle the hot Sangria Jelly into the prepared jelly jars, leaving about 1/4 inch of headspace at the top. Wipe any spills around the jar rim to ensure a proper seal.
Seal the Jars: Place the sterilized lids on the jars and screw them on tightly.
Cool and Set: Allow the jelly to cool at room temperature for about an hour before transferring them to the refrigerator. Let them set for at least 4 hours or overnight for the best results.
Serve and Enjoy: Your Sangria Jelly is now ready to be savored! Spread it on toast, use it as a glaze for meats, or offer it as a delightful accompaniment to cheese and crackers. Savor the essence of Sangria in a delightful jelly form!
Note:
*Adjust sugar quantity according to your taste preferences. You can use less sugar if you prefer a less sweet jelly. However, keep in mind that reducing sugar might affect the jelly's consistency and shelf life.
Enjoy the burst of fruity flavors and the hint of wine in this Easy Sangria Jelly recipe. Cheers to the simple joy of turning a beloved beverage into a delightful spread that can elevate your meals and gatherings to a whole new level!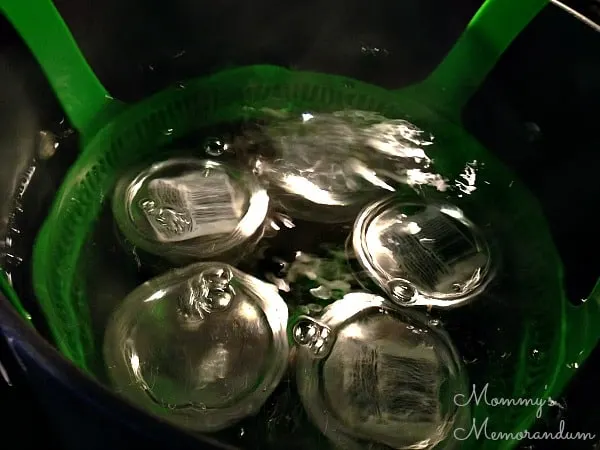 Ladle hot jelly into hot, sterilized jars, leaving 1/2 inch head space. Tighten 2-piece lids—process for 5 minutes in a boiling water bath.
Use to make the BEST peanut butter and WINE sandwich EVER!!!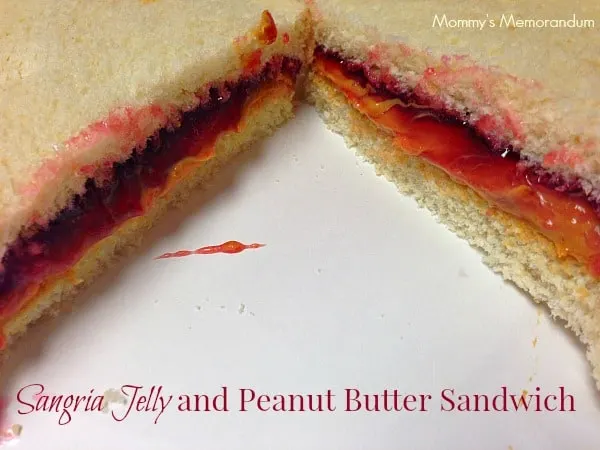 *Don't use less sugar than the recipe calls for. Pectin requires both sugar and acid to set. If you try and adjust the recipe to use less sugar, you'll end up with liquid instead of jelly.
Frequently Asked Questions (FAQs) – Easy Sangria Jelly
1. Can I use a different type of wine for this Sangria Jelly? Absolutely! While the recipe calls for sangria, you can experiment with various red wines or even white wines to create your unique twist. Keep in mind that different wines will impart distinct flavors to the jelly, so choose one that complements your taste preferences.
2. Can I make this jelly without alcohol? Yes, you can! If you prefer a non-alcoholic version, simply substitute the sangria with grape juice or any other fruit juice of your choice. The result will still be a delicious fruit jelly, but without the wine's alcoholic content.
3. How long will the Sangria Jelly stay fresh? Properly sealed and refrigerated, this Sangria Jelly can stay fresh for up to 3 to 4 weeks. However, to enjoy its best taste and texture, it is recommended to consume it within the first 2 weeks after preparation.
4. Can I use gelatin instead of pectin for this recipe? No, gelatin cannot be used as a substitute for pectin in this recipe. Pectin is essential for creating the jelly's gel-like consistency, while gelatin is not suitable for jelly making. Stick to Sure-Jell or any other pectin brand to ensure the proper setting of your Sangria Jelly.
5. How can I test if the jelly has set properly? To check if the jelly has set properly, you can perform the "wrinkle test." Place a small plate in the freezer before you start making the jelly. Once you think the jelly is ready, drop a small amount of hot jelly onto the chilled plate. Let it cool for a moment, then push it gently with your finger. If the surface wrinkles, the jelly has set. If not, continue boiling for another minute and retest.
6. Can I adjust the sweetness of the Sangria Jelly? Yes, you can adjust the sweetness according to your taste preferences. If you prefer a less sweet jelly, you can reduce the amount of sugar slightly. However, keep in mind that altering the sugar quantity may affect the jelly's consistency and shelf life.
7. Can I add other fruits to the jelly? Absolutely! Feel free to get creative and add your favorite fruits to the Sangria Jelly. Chopped strawberries, blueberries, or raspberries can make excellent additions, enhancing the jelly's texture and flavor profile.
8. How can I serve the Sangria Jelly? There are countless delicious ways to enjoy this Sangria Jelly! Spread it on toast or muffins, use it as a glaze for meats like chicken or pork, or pair it with cheeses and crackers for a delightful appetizer. The options are limited only by your imagination!
9. Can I double the recipe to make a larger batch? Yes, you can double or even triple the recipe to make a larger batch of Sangria Jelly. Just ensure you have a large enough saucepan and enough jelly jars to accommodate the increased quantity.
10. Can I freeze the Sangria Jelly for long-term storage? While it is possible to freeze the jelly, the texture may change slightly upon thawing. It is best to store the jelly in the refrigerator and consume it within a few weeks for optimal taste and quality. If you have excess jelly, consider gifting some to friends and family to share the deliciousness!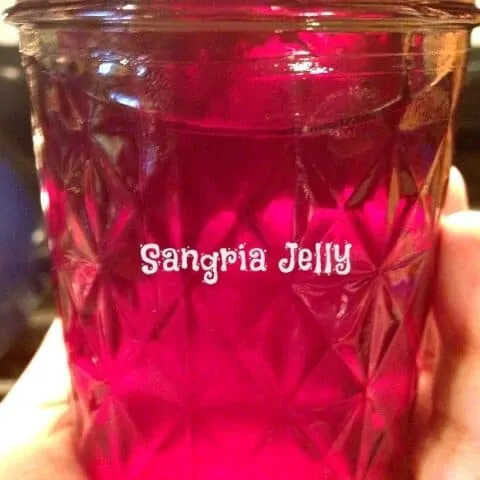 Easy Sangria Jelly Recipe-Spreadable Sangria!
Yield:
approximately 8 cups
This Sangria jelly is just like drinking a sangria! Try serving it on a cheese plate or make peanut butter and sangria jelly sandwiches.
Ingredients
3 1/2 cups sangria
1/2 cup lemon juice (or try orange juice)
1 box Sure-Jell (it's pectin–not gelatin)
4 1/2 cups granulated sugar*
1 cinnamon stick, optional
Instructions
Combine wine, lemon juice, cinnamon stick, if using, and pectin in a large saucepan.
Bring to a boil, stirring frequently.
Add sugar, stirring until dissolved.
Return to a rolling boil.
Boil hard 1 minute, stirring constantly.
Remove from heat.
Skim foam off the top, if necessary.
Nutrition Information:
Yield:

128
Serving Size:

1
Amount Per Serving:
Calories:

32
Total Fat:

0g
Saturated Fat:

0g
Trans Fat:

0g
Unsaturated Fat:

0g
Cholesterol:

0mg
Sodium:

1mg
Carbohydrates:

8g
Fiber:

0g
Sugar:

7g
Protein:

0g
The Nutritional Information may not be accurate.