This post and recipe for Partridge in a Pear Pie Salted Caramel Pear Pie is brought to you by Sweet'N Low®.
The holidays have arrived, which means sweets are everywhere. Let's start the season off with this delicious Partridge in a Pear Pie-Salted Caramel Pear Pie Recipe!
I know. I know! It can be challenging to keep our waistlines in check or watch our blood sugar during this time of year.
This is where Sweet'N Low® comes in handy to provide sweetness without the calories.
Sweet'N Low® is a zero-calorie sweetener and a great alternative to sugar when cooking and baking.
You can use only a fraction of Sweet'N Low® compared to the amount of sugar you would normally use, allowing you to cut the calories but keep the flavor.
Sugar has 16 calories per single teaspoon. American consumes more sugar than any other country.
The average American consumes 19.5 teaspoons (82 grams) every day., 1
That translates into about 66 pounds of added sugar consumed each year per person.2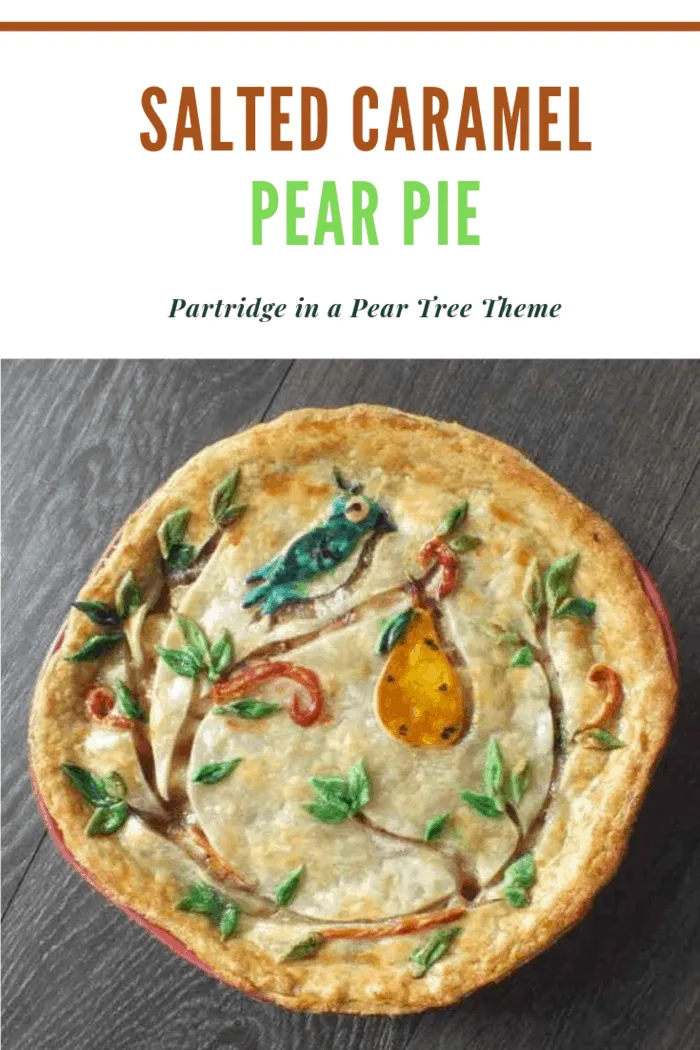 As I bake this holiday season, I'm using Sweet'N Low® to save on calories while still making the traditional holiday recipes that my guests have come to expect.
Sugar provides three important functions in baking beyond the addition of sweetness: volume, moisture, and browning.
Below, you can find some tips on using Sweet'N Low® in your recipes to create delicious-tasting baked goods with perfect texture:
Sweet'N Low® recommends keeping ½ of the sugar in the recipe to ensure proper volume, texture, and browning.
One packet of Sweet'N Low® is as sweet as two teaspoons of sugar, helping reduce sugar and calories.
8 teaspoons of Sweet'N Low® are equivalent to one cup of sugar and can reduce sugar and calories in your favorite recipes.
I've partnered with Sweet'N Low® for their "12 Days of Christmas" campaign and am kicking it off with a Caramel Pear Pie recipe inspired by the first day in the classic holiday song when the gift from your True Love is a "Partridge in a Pear Tree."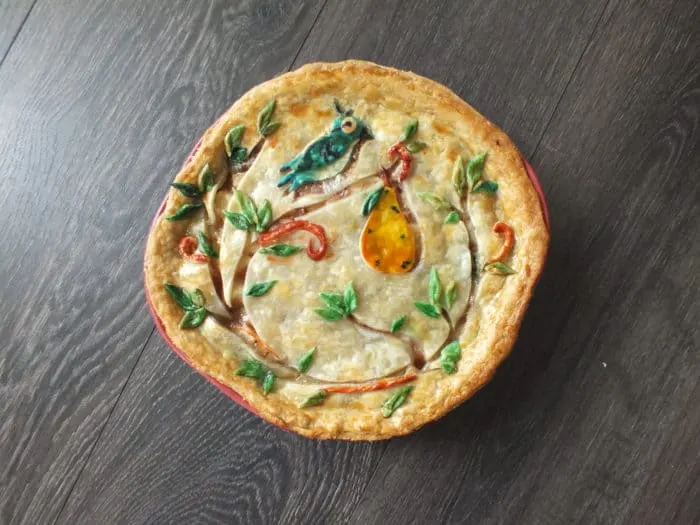 This pie is easy. It offers a holiday flavor that you'll want to experience every holiday.
We created the scene using pie crust cutouts.
The Partridge was then washed with teal food coloring, and details were added with black gel.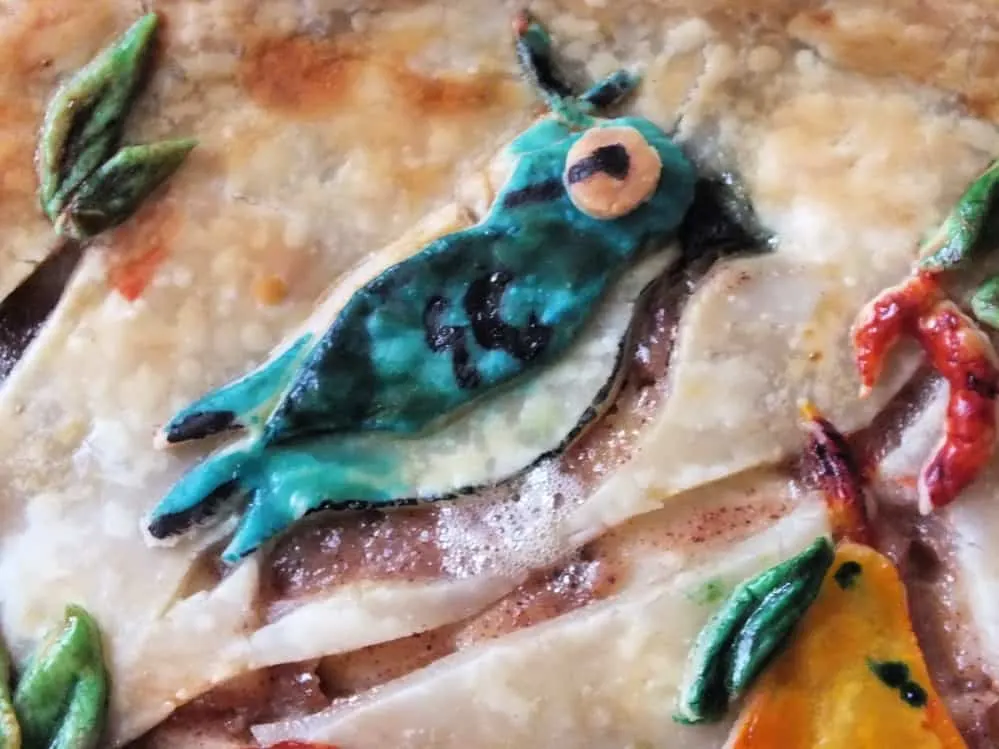 The pear was painted a golden yellow, with concentrated gel coloring on the base and right side to give it some dimension.
A green leaf and copper-painted stem added the finishing details.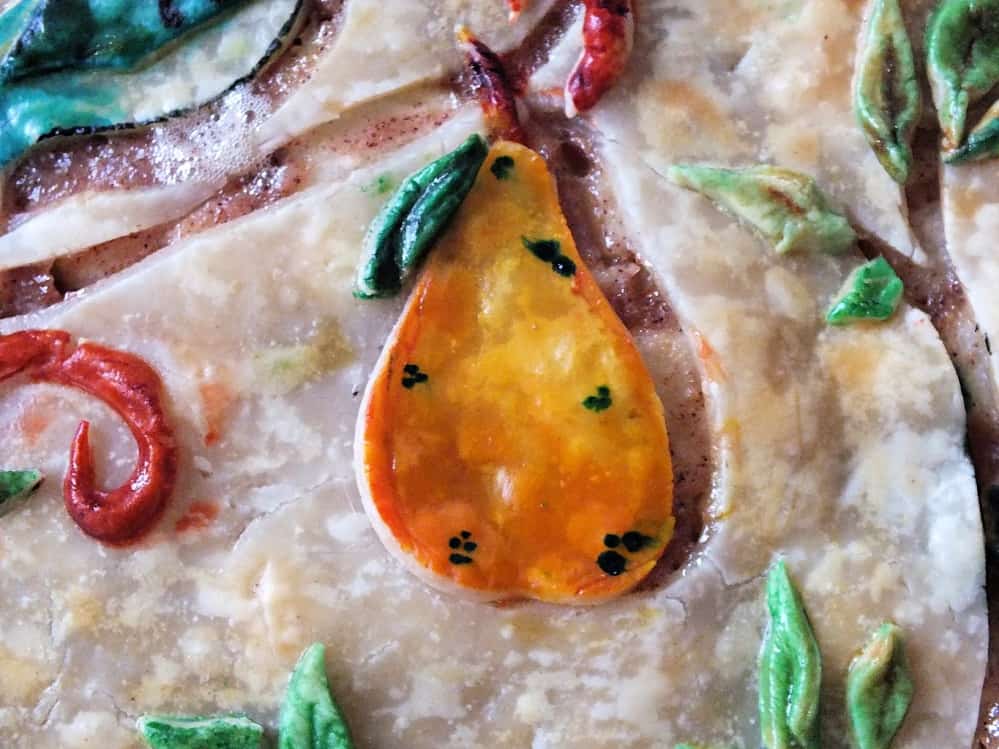 Like all pie, this one begins with the foundation—a perfectly flaky crust.
I was a baker once intimidated by the pie crust.
I watched Charlotte the Great make it effortlessly, adding decorative touches to her pies with latticework, special edging, and more.
Don't be intimidated.
Once you have the crust, we'll fill the pie with delicious pears coated in a mixture of cinnamon and deliciousness.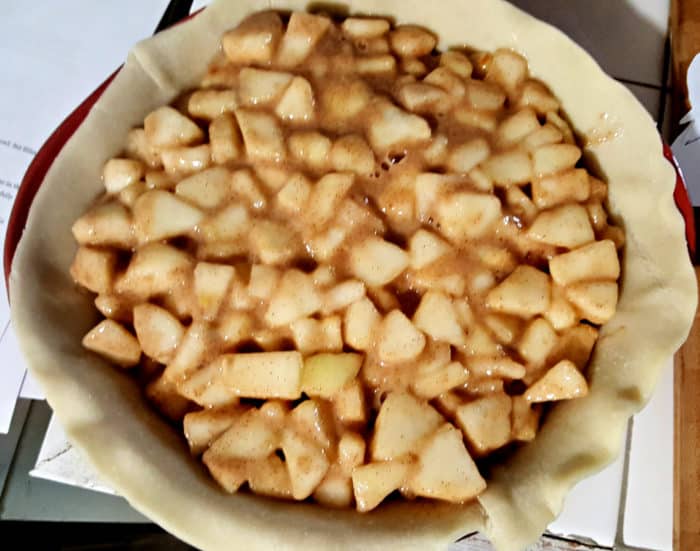 For this recipe, I use a combination of pears, red, Anjou, Bartlett, and Bosc.
It works with one variety or a combination. I select pears that are firm to the touch for this pie for the best results.
Note: You can use a regular top crust or lattice for this pie, rather than the partridge in a pear tree scene.
Just make sure you have "vents" sliced into the top crust to give the filling an outlet.
Let's get started.
How to Make the Salted Carmel Pear Pie
Pie Ingredients:
Homemade Pie Crust
6 pears, peeled and cut into 1/2-inch pieces
1/4 cup sugar
6 packets of Sweet'N Low® or 1 ½ teaspoon. Sweet'N Low® 8 oz. Box
1/4 cup all-purpose flour (use a spoon and level for accurate measuring, rather than scooping with the measuring cup.)
1 tsp. ground cinnamon
1 Tblsp. Lemon Juice
1 cup salted caramel sauce
Egg wash: 1 large egg + 1 Tbsp. milk whisked together
Optional: food coloring to "paint" crust cutouts
Caramel Pear Pie Directions:
Preheat Oven:
Set oven to 400 degrees Fahrenheit to preheat.
Prepare Crust.
Divide in half for one top crust and one bottom crust.
Make the Filling:
Add pears, sugar + Sweet'N Low®, flour, cinnamon, and lemon juice to a medium mixing bowl.
Stir until the pears are well coated—cover bowl and place filling refrigerator.
Roll Out Dough:
Lightly flour your work surface. Roll out half the pie crust to a 12-inch in-diameter circle.
Carefully place in the bottom of a 9-inch x 2-inch pie dish. Make sure it is smooth.
Add Filling:
Spoon the filling into the pie dish, leaving any excess liquid in the bowl (discard it as this will make your pie soggy).
Drizzle 1/2 cup caramel evenly across the top.
Cover the pie dish with plastic wrap and place it back in the refrigerator while you make your top crust.
Arrange the Partridge in the Pear Tree:
Using the other half of the prepared pie dough, roll it into a 12-inch diameter circle.
Using a sharp knife, cut out your branches, pear, and partridge (set aside cut-outs).
I marked the edge of my pie with a dotted line on my crust to begin my template.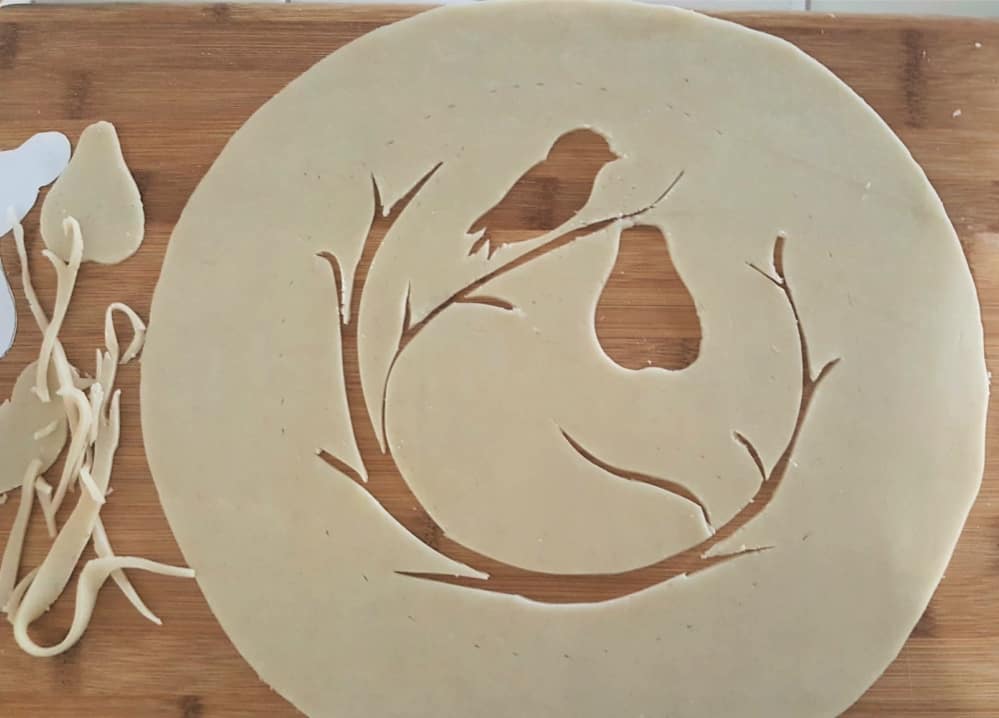 Using a large rolling pin, gently roll the pie crust onto the rolling pin.
Remove the pie dish from the refrigerator and unroll the pie crust over the filling, centering the cutouts.
Using a sharp knife, remove excess crust from around the pie dish and crimp edges.
Place back in the refrigerator to finish cut-outs.
Paint Pie Crust Cut-Outs:
Using the excess pie crust removed from the edge of the pie dish, create swirls by rolling long "ropes" and curling them into a spiral.
Cut out leaves (I cut triangles, cut about 1/4 from the "Point' down the center, and pinch at the bottom to create a leaf shape).
Once you have your pieces, use food coloring or gel to paint the pieces.
I find it easiest to use full strength (a little dab will do you) and then dip my paintbrush in water and "wash" over the coloring.
Finish Crust:
Remove the pie dish from the refrigerator and add painted crust pieces.
I placed the pear and partridge over the cutout, off-setting to leave a "vent" for the filling to breathe as it baked.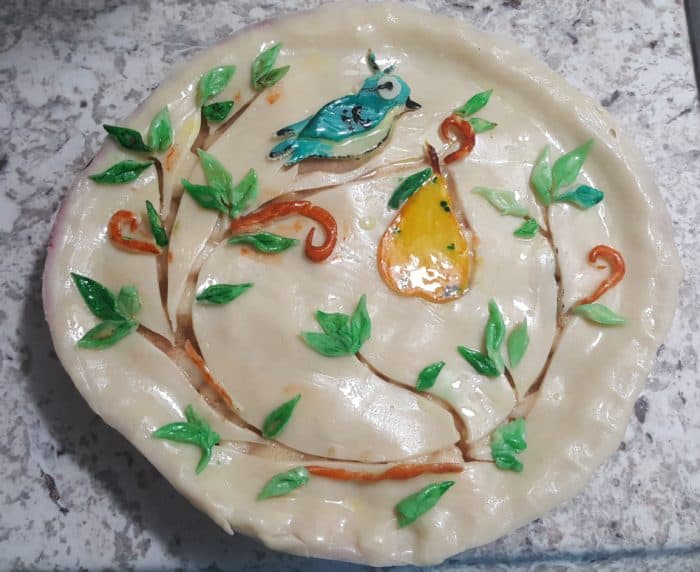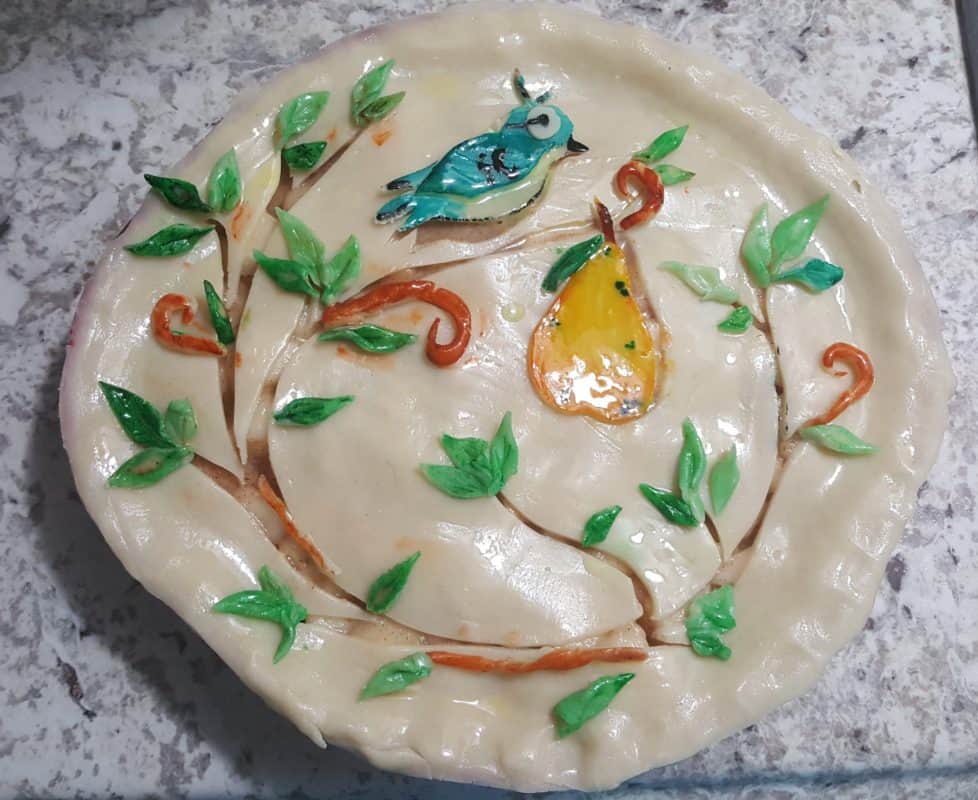 Egg Wash:
Lightly brush the top of the pie crust with the egg wash mixture and sprinkle with sugar.
Bake:
Place pie onto a large baking sheet and bake for 20 minutes.
When the timer goes off, keep the pie in the oven and add a pie crust shield (or place strips of aluminum foil over edges to prevent over-browning), reduce the temperature to 350 degrees and bake an additional 35 minutes.
Cool:
Allow the pie to cool for 3 hours at room temperature before serving.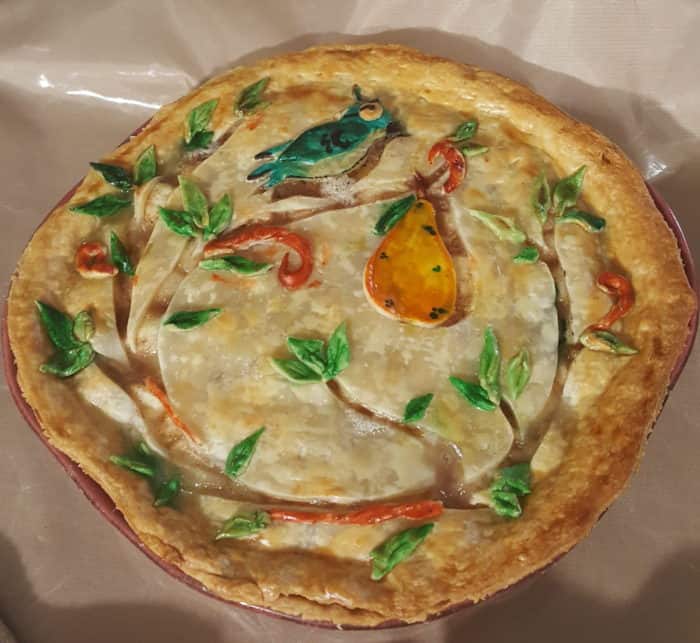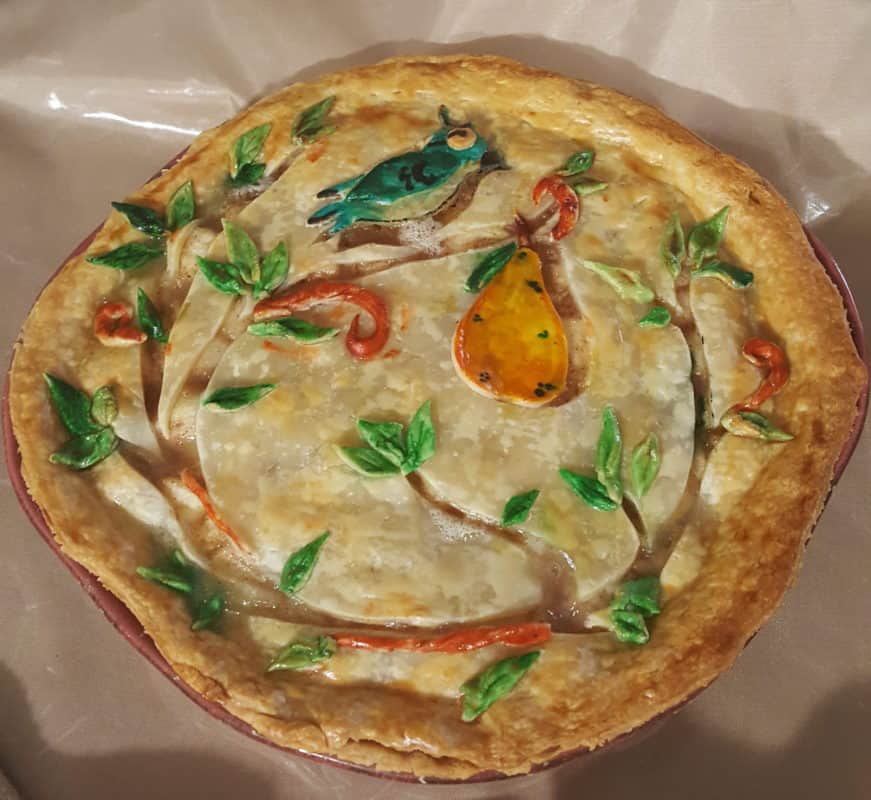 Serve:
Drizzle caramel over the top of the pie or each slice and serve.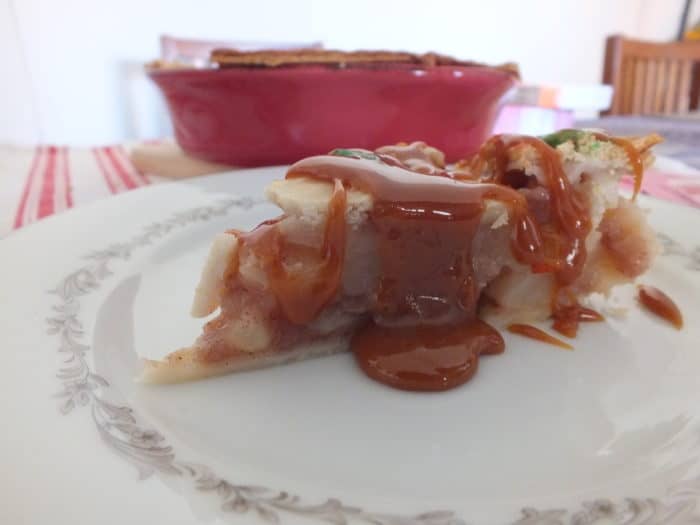 Leftovers:
Cover leftover pie with aluminum foil and store in the refrigerator for up to 5 days.
This pie is sure to please all taste buds and is the perfect blend of holiday flavors wrapped in a festive crust.
Adding Sweet'N Low® helps keep blood sugar in check and trim some calories out of the equation.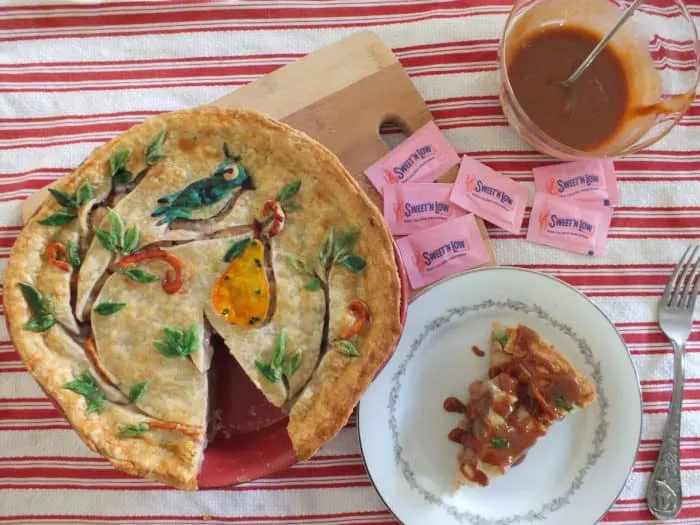 Learn more about Sweet'N Low® and find great recipes using this sugar substitute, and don't forget to be social with the brand on their social media channels.
Be sure to check back here daily for recipe inspiration from additional Sweet'N Low® bloggers for the 12 Days of Christmas!
Day 1: Partridge In A Pear Tree Pie — Mommy's Memorandum
Day 2: Turtle Cheesecake — Words of Deliciousness
Day 3: French Butter Cookies — Grandma's Briefs
Day 4: 4 Calling Bird Cupcakes-Simply Southern Mom
Day 5: Apple Fritter Rings-Belly Full
Day 6: Easy Chocolate Mousse Parfait – From Val's Kitchen
Day 7: Swan Profiteroles–Mom's Koop
Day 8: Ginger Salted Caramel Pots de Crème –Hungry Couple
Day 9: Cranberry Orange Dream Bars-365 Days of Baking and More
Day 10: Earl Grey Chocolate Truffles – Lowcarb-ology
Day 11: Christmas Tree Meringues-Staying Close to Home
Day 12: Mini Cheesecake Drum-Thrifty Jinxy
More Caramel Recipes:
EASY Homemade Caramel Sauce Recipe
Molten Caramel Cake Recipe
Instant Pot Salted Caramel Cheesecake Recipe
Pressure Cooker Dulce de Leche (Caramel Sauce)
Vanilla Caramel Corn Crunch Recipe
Copycat Starbucks Salted Caramel Pumpkin Spice Frozen Coffee Recipe>
Caramel Macchiato Forte Recipe
Caramel Monkey Bread Recipe
M&M Caramel Bites Recipe
Copy Cat: Starbucks Salted Caramel Mocha Recipe
EASY Caramel Apples
Easy Caramel Apple Tart Recipe
Caramel Peanut Brittle Recipe
—–