My heart is shattered.
Charlotte the Great moved to Heaven on Mother's Day (5.12.19). (It's a beautiful thing–my Grandpa passed on a Father's Day many years ago.)
This post will be long. My grandma was my best friend and my world.
Charlotte the Great was born to Paul and Elsie Diefendorf on October 7, 1926, in Yuma, Colorado.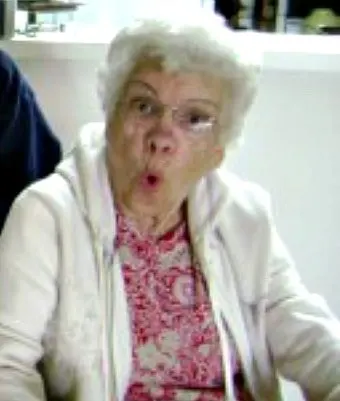 She was the youngest of four girls.
She earned the name "Charlotte the Great" when William was a wee little thing, trying to figure out why he had SO many grandma's, and I told him who belonged to who. He said, "And Grandma Charlotte?" I said, "She is my mommy's mommy. My grandma. Your GREAT grandma". About that time, she pulled into the driveway, and he answered the door and hollered, "Charlotte the Great is here!"
She had three children, six grandchildren, and 14 Great Grandchildren (when I told her Lauralee was expecting Clara (grandbaby #13), she said, "Tell her to send that order back! It ruins my numbers! (I told her she could say she had a baker's dozen) And then Brandon and Kiery had a baby, and her numbers went out the window!
I'm sure when I arrived in her life in 1969, neither of us knew that the universe would align and we'd be the very BEST of friends.
Neither of us was born with the sense of smell. We used to laugh so hard because neither one of us could smell the potatoes or bread burning on Thanksgiving.
I bought a house I hated so that I could be close to her (across the street and two doors up).
Those would be the best seven years of all of our lives. We had coffee every morning. We'd make runs to Stan's Market to buy Sauerkraut to smother hot dogs for lunch. She nominated me for PTA President while I was at work. We were co-leaders in every Cub Scout age group in our Pack together. We chased criminals together.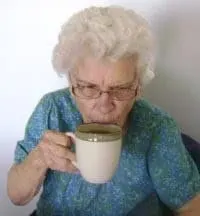 We did cross-walk duty together. She stayed on the sidewalk, saying, "Cars can't see me. I'm too little. You step out there with the sign. I hope they stop!"
She took tremendous joy in writing her sisters and telling them of all our shenanigans.
We had "Breakfast at Tiffany's together." She tried on the Prized Tiffany Diamond (see Forbes), and it barely went down her finger; she told the gentleman, "It fits perfectly." When he told her how much it costs, she replied, "I'm worth it."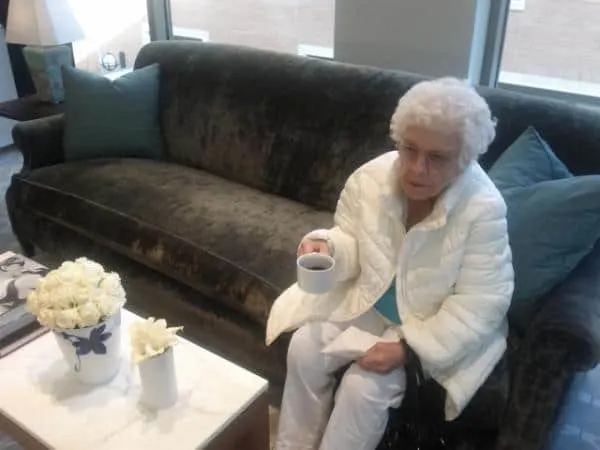 She was my partner in crime. I was usually the one thinking up the crazy.
One of my favorite memories was when she was 80. I told her, "Grandma, let's dress you up like Lady Gaga and take pictures."
She agreed. I told her when HuffPost shared it, and Lady Gaga tweeted it. She told me to "Buy all the newspapers. I need to send one to all my friends."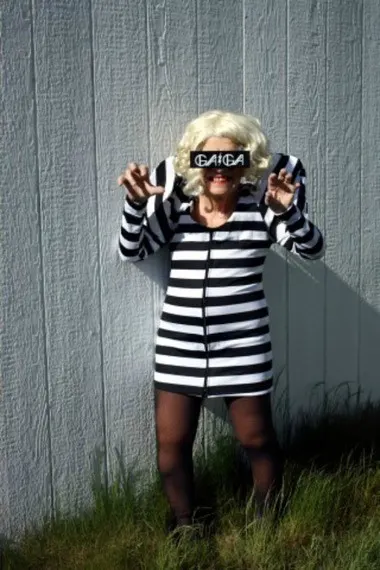 She shared with the children her story about Pretty Boy Floyd, the most historical event of her lifetime, she'd say.
One by one, she got us all loving Peanut Butter and Pickle sandwiches. She'd make the sandwich as she told us the story of being a young girl working in a soda shop. A young soldier came in and asked for a Peanut Butter and Pickle sandwich, and she replied, "Ewww." The soldier told her, "don't knock it til you try it." It turns out they're pretty great!
She could do this crazy thing with her lips that made us all giggle…and she probably taught The Rock that thing he does with his eyebrow…because she's been doing that my ENTIRE life.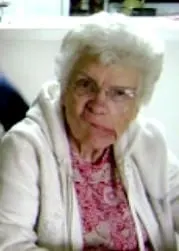 I asked her once if she was wild growing up. She said, "Yes," and smiled coyly.
I leaned in and whispered, "Tell me what you did."
She said, "I painted my nails and lips bright red."
She was 4 foot 8 inches. She would tell you she was 4'9″ (but I was with her at the doctors' appointments when they measured her.) Every one of us was so excited when we were taller than her!
The woman could cook. Oh! The lima beans. The pies. The sticky buns. She made these amazing hot rolls..and when she was 75, she went to Missouri to hang out with her sisters. She was so excited when she came back because they showed her a "trick" to that 8 generation bread recipe. My most prominent food memory of her is her canning pickles, followed by when I was 10 or 11, and she made us ribeyes that were so big they flopped off the plate!
One time, as a line pushed us further back in line, my grandmother and I befriended the woman behind us. Charlotte the Great said they'd have my back if I spoke up. If you know me, you know I was willing…It caused a semi-riot, and when I looked over for backup, Charlotte the Great was standing in line, looking at the sky and whistling!
She didn't follow sports, but the year the Eagles played the Steelers in the Super Bowl, she came to my house telling me she hadn't slept because she didn't know who to cheer for. I said, "You don't watch football!"
She said, "I know. Pat (her sister) was so proud of Bruce (Pat's son), and those were the two teams he played on."
I said, "I think his dream was to play for the Steelers, so cheer for them."
We would laugh until we cried.
We would cry until we laughed.
She loved beer.
When I turned 16, I went to her house to show her my license. She and her friend Virginia told me to go to the store and buy them a case of beer. I explained I wasn't old enough, but they gathered up all the neighbor kids, piled them in my car, and told me it wouldn't be a problem. I went into the store, and all those kids followed, and I was hollering for them to "stop touching, put that back,"…and we left with beer.
We talked about everything.
She knew all my secrets, and I still know all of hers.
She loved my kids.
When Jake and Zac first met her, we had driven across the country. We all went to the Great Salt Lake. We were in the visitor center, and there was a candy dish with saltwater taffy and a sign that read, "Free. Try one." Jake told her it was stealing. He was four. She loved remembering that story.
I hope my cousin, Brandon, has made it this far. She loved you. You were her baby. She always talked about you. She wanted the world to be yours. She was proud of you. I remember when you took your son to meet her. She was so tickled.
I saw her last just shy of a year ago.
My soul is heavy. My tears are many.
I miss her so much already, and forever I will carry a hole in my heart without her.
I love you, Grammy!