This Salted Caramel Cheesecake is a creamy New York Style texture with a rich, buttery crust, topped with an irresistible dulce de leche (caramel sauce). It's worth the wait!
This was MacKenzie's first cheesecake attempt on her own. Prior to this, she made an Instant Pot Chocolate Cheesecake and Instant Pot Mini Cheesecakes with me.
She made this Instant Pot Salted Cheesecake as part of a celebration for a milestone with her boyfriend. He had two pieces for dessert and when she sent the rest home with him, he didn't want to share!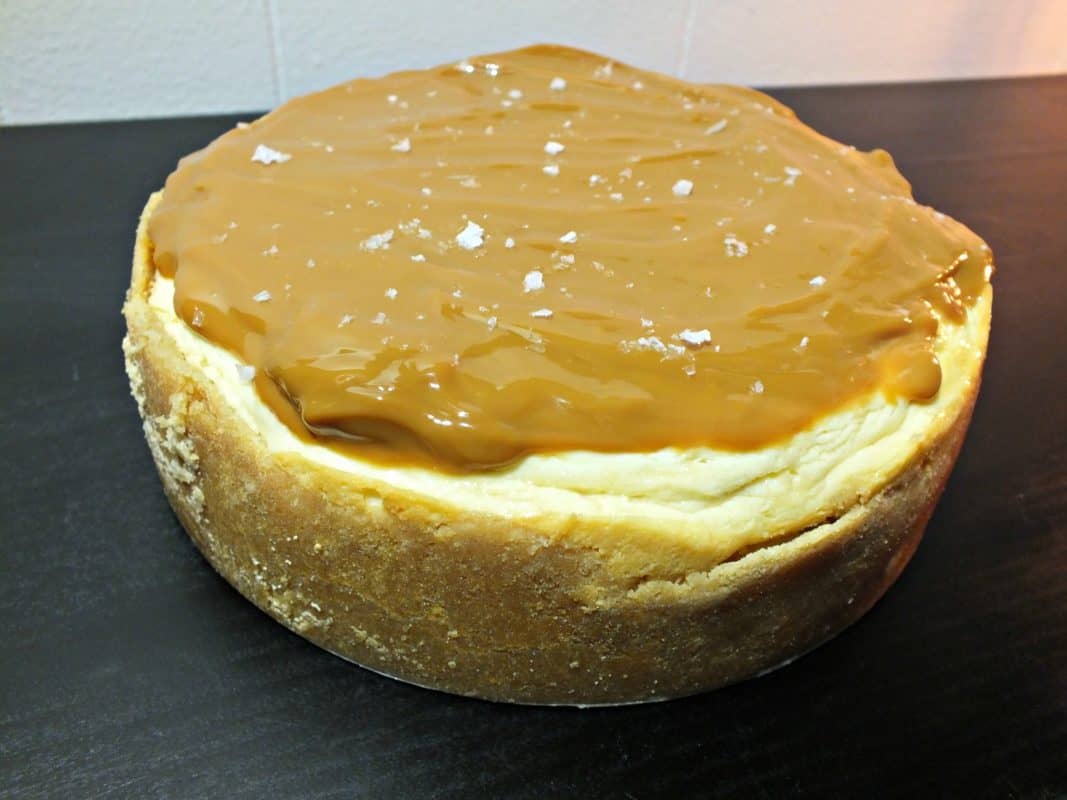 Serves 8
Prep Time: 10 minutes
Function and Time: Manual or Pressure Cook 35-minutes
Cook Time: 45 minutes
Release Method + Time: Natural Pressure Release 20 minutes
Total Time: 5 hours 15 minutes
Instant Pot Salted Caramel Cheesecake Recipe Ingredients:
2 sleeves of Butter Crackers, crushed
4 Tbsp. butter, melted
2 Tbsp. sugar
16 ounces cream cheese, room temperature
1/2 cup light brown sugar
1/4 cup sour cream
1 Tbsp. flour
1/2 tsp. salt
2 tsp vanilla
2 eggs, room temperature
1 Tbsp. Caramel Syrup, optional
Carmel Sauce
1 tsp. sea salt flakes, optional

Instant Pot Salted Caramel Cheesecake Recipe Directions:
Prepare the Instant Pot: Pour 2 cups of water into the bottom of the Instant Pot and place the trivet in the bottom.
Prepare the Springform Pan: Grease a 7-inch springform pan. I recommend placing a piece of parchment paper on the bottom and greasing this as well.
Prepare the crust. In a large mixing bowl combine the crackers, butter and sugar and mix until moist. Pour the mixture into the springform pan and press firmly to the bottom and up the sides about 2-inches.
Prepare the batter. In a large mixing bowl add the cream cheese and sugar and beat until creamy. Add the sour cream and mix, scraping the sides of the bowl. Add flour, salt, and vanilla and stir to combine. Add eggs one at a time, stirring just until incorporated; do not overbeat. Pour mixture into prepared crust. Cover pan with a paper towel and then aluminum foil. Using a sling lower pan into Instant Pot and on to trivet.
Lock Lid and Set Time. Lock the lid into place. Set the valve to the "sealing" position. Press Manual or Pressure Cook and set the time for 35 minutes.
Natural Pressure Release. When timer beeps, allow a natural pressure release for 20 minutes. Quick release any remaining pressure and using the sling, lift the pan out of the Instant Pot.
Let Rest. Allow the cheesecake to cool on a baking rack to room temperature and then place in the refrigerator, with the foil cover at least 4-hours.
Garnish. Just before serving, spread top of cheesecake with homemade dulce de leche or your favorite caramel sauce and sprinkle with sea salt flakes, if using.