This Molten Caramel Cake Recipe creates delicious oozing caramel cakes that are impressive from the first bite to the last.
Impressive single-size desserts, oozing with rich, delicious caramel. It is everything dessert should be. You can even spoon caramel sauce and coarse sea salt over each cake for a truly elegant dessert.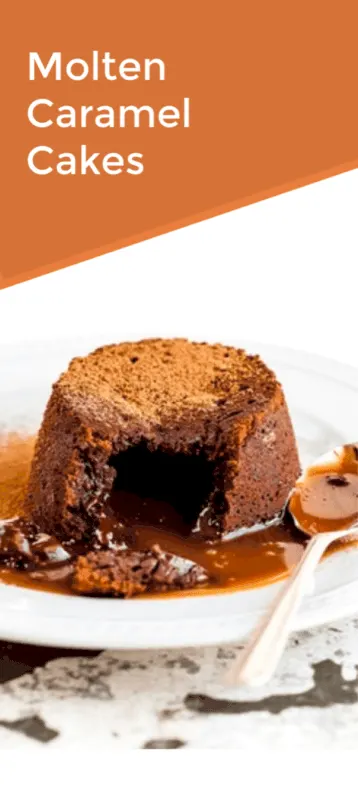 You may want to mix and match with these delicious Molten Nutella Pudding Cakes.
Molten Caramel Cake Ingredients
1/2 cup all-purpose flour
1/2 cup unsweetened cocoa
1/2 teaspoon baking powder
4 ounces semisweet chocolate, finely chopped
8 tablespoons (1 stick) unsalted butter, cut into pieces
4 large eggs
1 teaspoon vanilla extract
1 cup sugar
1/4 teaspoon salt
6 tablespoons Caramel Sauce (or try homemade dulce de leche from Today's Best Recipe)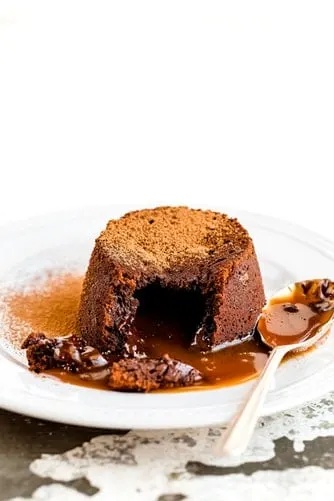 Molten Caramel Cake Directions
1. Preheat oven to 350ºF. Mist 6 6-oz. Ramekins with cooking spray. Place a roasting pan in the oven; pour in 1/2 inch of hot water. In a bowl, whisk flour, cocoa, and baking powder.
2. Combine chocolate and butter in a microwave-safe bowl; cook on high, stirring once or twice, until almost melted, 1 to 2 minutes. Whisk until smooth.
3. In a bowl, with an electric mixer on medium-high speed, beat eggs, vanilla, sugar, and salt until pale yellow, about 5 minutes. Beat in the melted chocolate mixture. Stir in flour mixture. Spoon half of the batter into ramekins. Drop 1 Tbsp. of Caramel into the center of each. Cover with remaining batter.
4. Transfer ramekins to a roasting pan. Bake until cakes have risen and are cracked on top, about 30 minutes. Let cool for 5 minutes.
Serve warm.
What Can I Use In Place of a Ramekin?
Use any oven-safe, cook and serve mugs and teacups, baking dishes and muffin tins, small bowls, custard cups or glass jars are all good ramekin substitutes. For this recipe, you'll want one with low edges to be able to invert to get the cake out for serving.