This root beer buttercream recipe is not just easy. It's that old-fashioned root beer flavor you crave! It's an amazing addition to any cupcake, cake, or whatever you want root beer frosting on!
On a whim, one day while talking with Charlotte The Great about her time as a young woman, working in the back of a pharmacy at the "Float Counter" where she served soldiers Peanut Butter and Pickle sandwiches and Root Beer Floats, we made our favorite root beer cupcake recipe and topped them with the most delicious, smooth root beer float buttercream.
The root beer float cupcakes are moist and have just the right amount of root beer flavor.
It was literally "the icing on the cake" that elevated their taste with this yummy homemade root beer flavored buttercream frosting.
It is the perfect combination of flavors, not overwhelming, just like a can of root beer.
I had HUGE plans to fill the root beer cupcakes before icing them and turning them into "root beer floats".
The problem with that was to fill them, I had to core them, and I could NOT bring myself to remove the yummy cake to put a filling in there.
Root Beer Fun Fact:
J. Wisner, owner of Colorado's Cripple Creek Brewing, created the first root beer float on Aug. 19, 1893.
The once-in-a-lifetime idea was born when Wisner noticed that the snowy peaks on Colorado's Cow Mountain looked like ice cream floating in soda. … Of course, nowadays it's known as the root beer float.
The only thing missing from this rootbeer buttercream frosting, it doesn't fizz and bubble, like when you add the vanilla ice cream to the rootbeer for your float.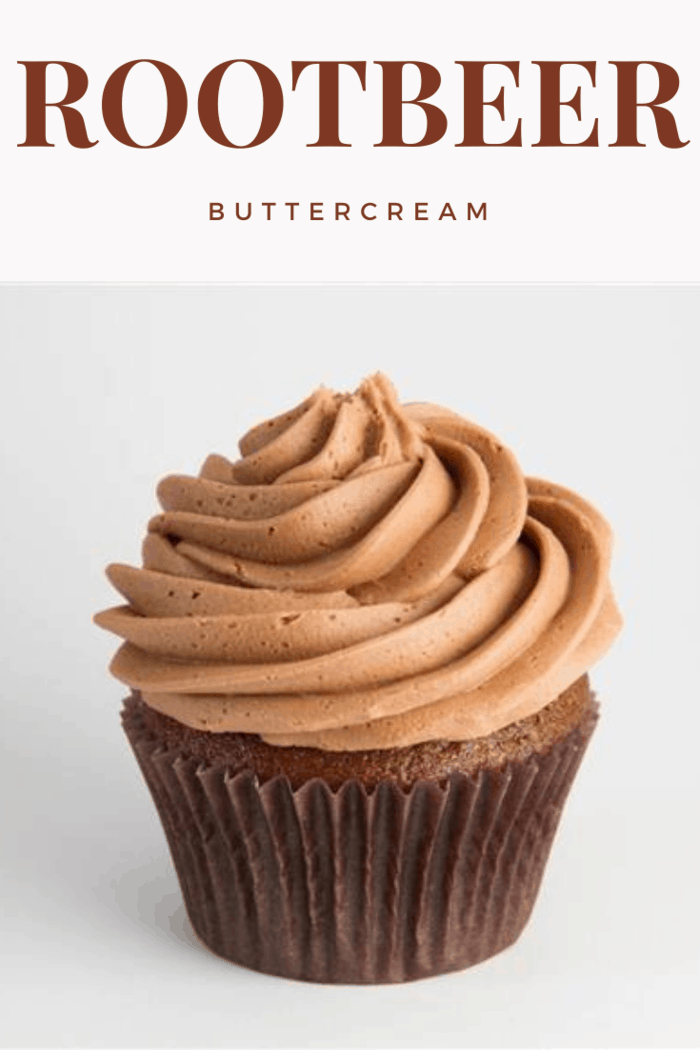 We debated the filling as I started making a vanilla buttercream- but before I knew what I was going to do- I had the root beer concentrate in my hands, and I was thinking, "the more, the merrier," as I poured the root beer syrup.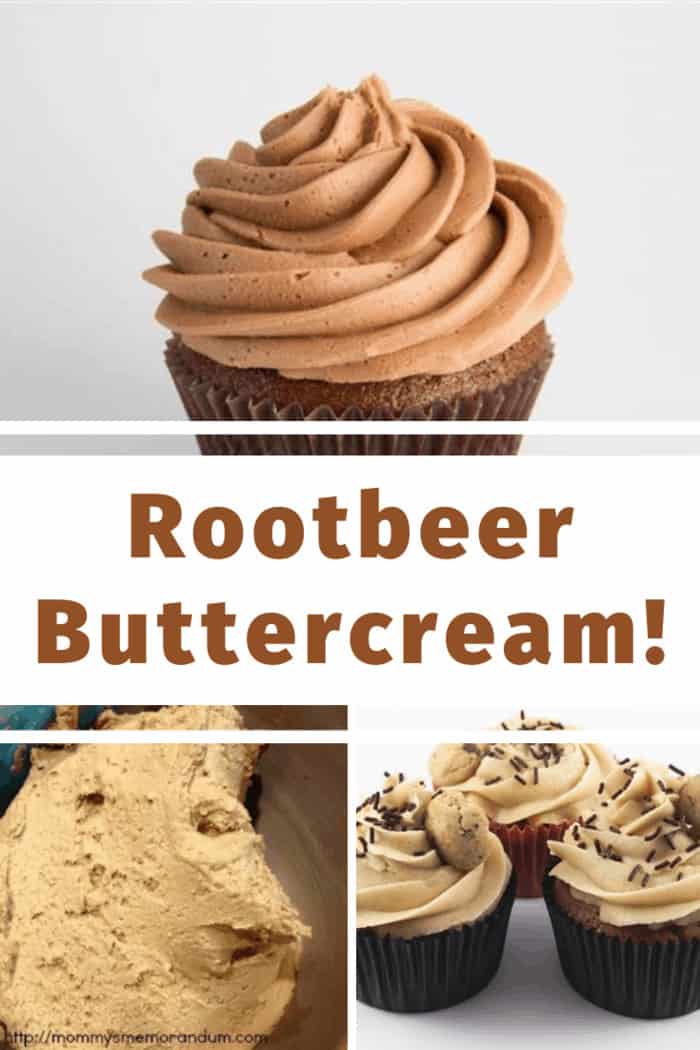 It turned out so great I thought I'd share this delicious recipe for Rootbeer Buttercream.
Use it on your favorite cake or cupcakes, even as a filling.
It's delicious!
It tastes like all the creamy root beer floats you had as a kid.
We didn't even miss the filling.
How do you make Root Beer Buttercream?
I'm glad you asked.
Let's get started!
Rootbeer Buttercream Ingredients
2 sticks (1 cup) of butter (real butter- do NOT skimp out and use wimpy margarine here…)
5 cups of powdered sugar
3 Tablespoons heavy whipping cream
3 Tablespoons vanilla extract
1 Tablespoon root beer concentrate (you can find this at most grocery stores near the spices and vanilla)
How to Make Root Beer Buttercream:
Cream butter in a large bowl of an electric mixer on medium speed.
It will be easier if the butter is at room temperature.
If using a hand mixer, start on medium low and increase speed.
Slowly add powdered sugar.
The mixture will be crumbly and dry.
While continuing to mix, gradually add heavy cream, vanilla, and root beer flavoring concentrate.
Mix until fluffy.
Add a splash of milk or heavy whipping cream if it is too thick.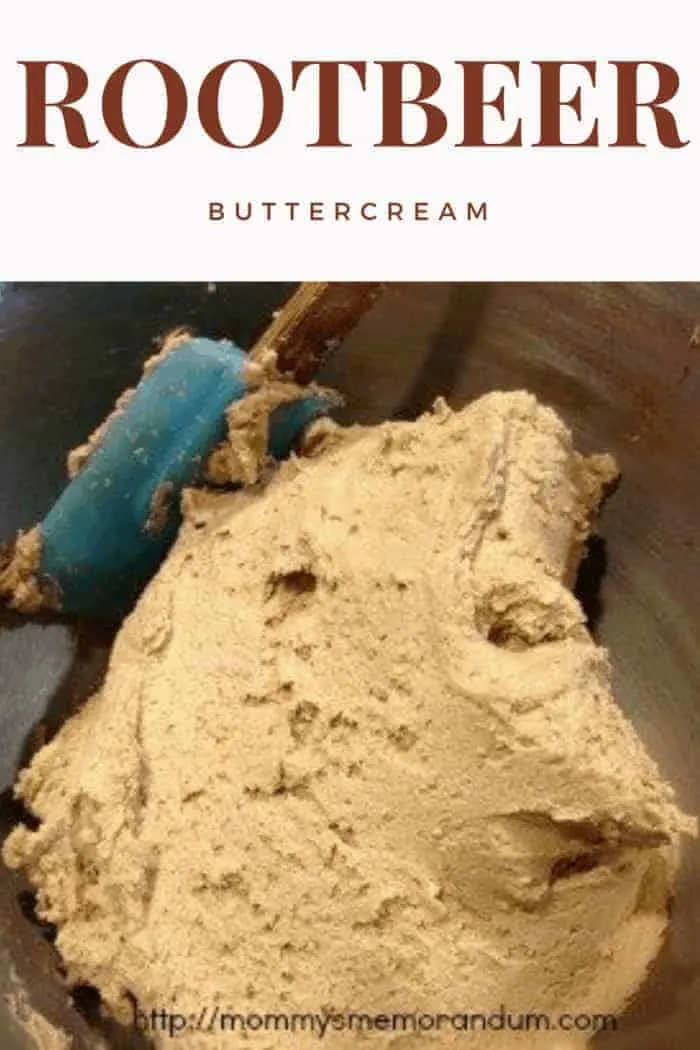 Transfer to a piping bag using a rubber spatula, and have fun!!
It is also fun to use an ice cream scoop and scoop the rootbeer buttercream icing on top of the cupcake to give the impression of a scoop of ice cream!
We decorated these with chocolate sprinkles and miniature cookies, but you could top with root beer barrels or maraschino cherries!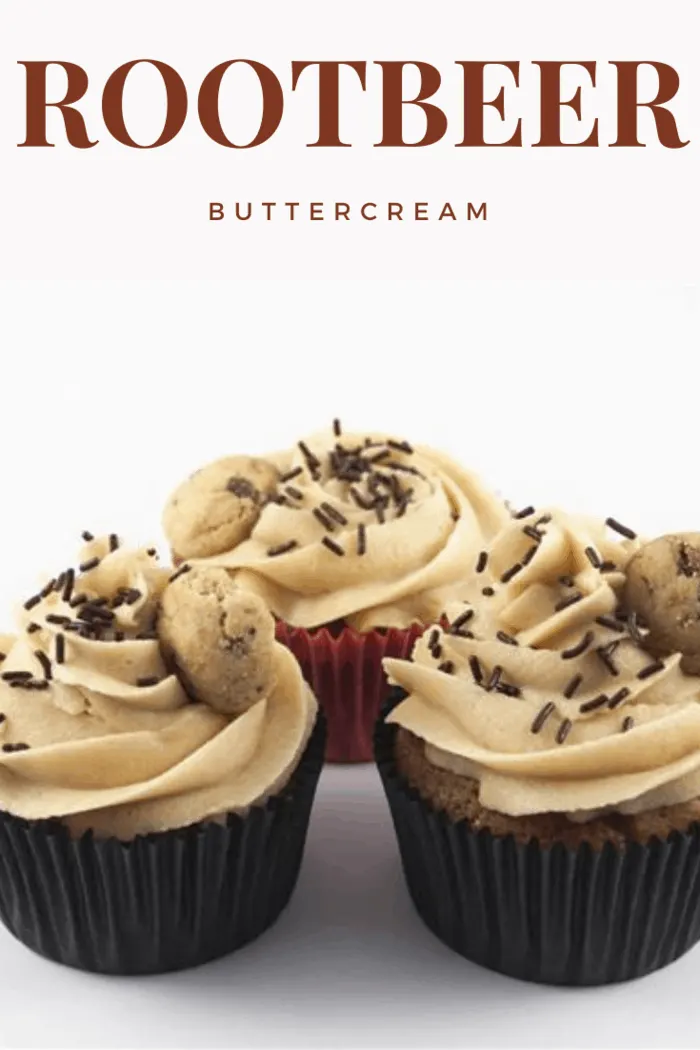 This root beer buttercream is full of everyone's favorite flavor.
It will surely bring back memories of summer or time spent drinking rootbeer floats.
Whip up a batch of this root beer buttercream icing and focus on life's simple treasures.
The best part, and my favorite part, is this frosting tastes just like yummy root beer!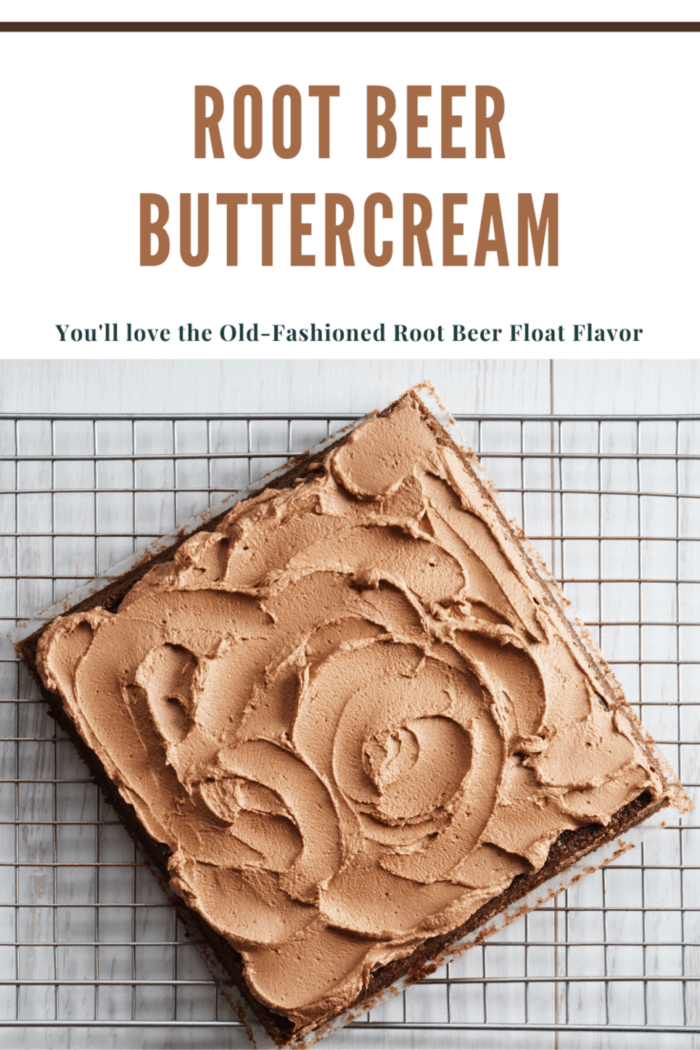 A little about Buttercream:
This Rootbeer buttercream frosting is an American Buttercream–also known as a "simple buttercream".
Other types of buttercream include meringue-based buttercream, French buttercream, custard-based buttercream, and rolled buttercream.
American Buttercream is a type of frosting that is made by mixing together fat (usually butter, but sometimes margarine or shortening–or a combination), confectioner's sugar, and milk or cream until the mixture is fluffy and smooth.
The ratio is typically twice as much sugar as fat.
You can use either salted or unsalted butter to make buttercream frosting.
A high-quality butter with a higher fat and lower water content will produce the best buttercream your tastebuds will ever know.
The naturally whitest butter is a gourmet butter called Plugra.
Land O'Lakes unsalted butter, made with sweet cream, has a creamy texture and mild flavor that complements other ingredients in baked goods and other recipes.
Wüthrich (pronounced we-trek) from Grassland, a Wisconsin butter made in the European style, has whopping 83 percent butterfat, which is the highest fat I could find.
Other Frosting Recipes you may Like:
Easy Strawberry Frosting Recipe–JUST 3 Ingredients
Bailey's Irish Cream Frosting Recipe
Orange Dreamsicle Buttercream Frosting Recipe
Pink Champagne Buttercream Icing Recipe
Tutorials for Frosting:
How to Do a Basket Weave with Frosting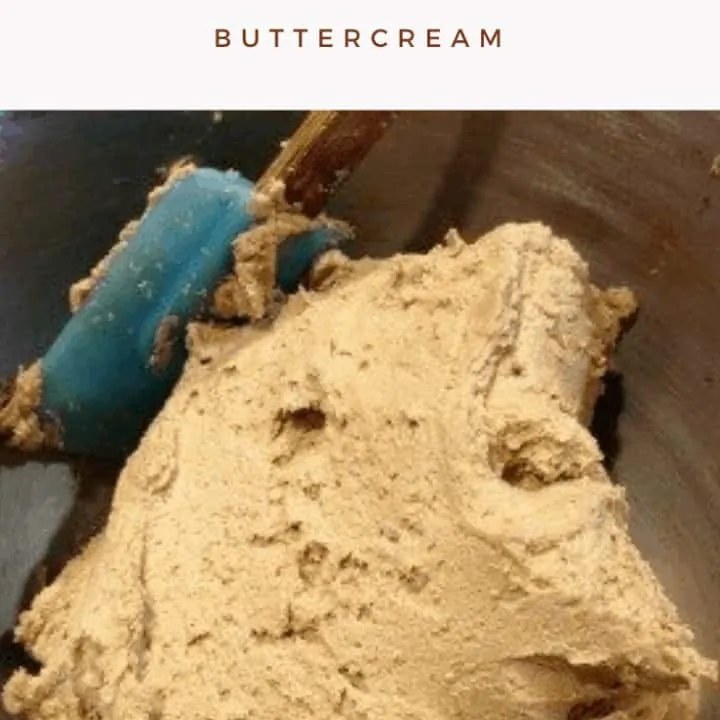 Root Beer Buttercream Icing Recipe
Yield:
enough for 24 cupcakes
On-bowl, ready in minutes, root beer buttercream has old-fashioned root beer flavor that tastes great on cupcakes, brownies, or a layer cake.
Ingredients
2 sticks (1 cup) of butter (real butter- do NOT skimp out and use wimpy margarine here...)
5 cups of powdered sugar
3 Tablespoons heavy whipping cream
3 Tablespoons vanilla
1 Tablespoons root beer concentrate
Instructions
Cream butter in mixer.
Slowly add powdered sugar. The mixture will be crumbly and dry.
While continuing to mix, gradually add heavy cream, vanilla, and root beer concentrate.
Mix until fluffy.
Using a rubber spatula, transfer to a piping bag and have fun!!
Nutrition Information:
Yield:

24
Serving Size:

1
Amount Per Serving:
Calories:

109
Total Fat:

2g
Saturated Fat:

1g
Trans Fat:

0g
Unsaturated Fat:

0g
Cholesterol:

5mg
Sodium:

9mg
Carbohydrates:

23g
Fiber:

0g
Sugar:

23g
Protein:

0g
Nutritional information may not be accurate