Welcome to the delightful world of confectionery, where a harmonious blend of classic flavors awaits you. Today, we embark on a sweet adventure that combines the nostalgia of a beloved beverage with the lusciousness of a velvety frosting. Behold the enchanting creation of Root Beer Buttercream!
Imagine the effervescence of root beer, a timeless soda cherished by generations, artfully transformed into a delectable frosting. This recipe promises to whisk you away to a world of indulgence, where the comforting notes of vanilla, sassafras, and spices meld effortlessly with the rich creaminess of buttercream. The result is a symphony of taste and texture, appealing to both the young and the young at heart.
In this enticing fusion, the familiar flavors of root beer meet the airy lightness of a perfectly whipped buttercream, a match made in culinary heaven. Each bite is a celebration of contrasts – the subtle sweetness dancing with a hint of earthiness, the smoothness of butter against the playful bubbles of root beer.
Whether you're preparing a show-stopping cake for a special occasion, delightful cupcakes to share with friends, or simply looking to elevate your baking skills, this Root Beer Buttercream recipe will undoubtedly become your new go-to.
So, don your apron and get ready to create a symphony of flavors. Let's dive into this enchanting recipe and unlock the secrets of Root Beer Buttercream, a confection that bridges the gap between a cherished beverage and a luscious frosting. Get ready to savor every blissful moment, as we whip up a treat that will leave your taste buds tingling with delight!
EASY Root Beer Buttercream
This root beer buttercream recipe is not just easy. It's that old-fashioned root beer flavor you crave! It's an amazing addition to any cupcake, cake, or whatever you want root beer frosting on!
On a whim, one day while talking with Charlotte The Great about her time as a young woman, working in the back of a pharmacy at the "Float Counter" where she served soldiers Peanut Butter and Pickle sandwiches and Root Beer Floats, we made our favorite root beer cupcake recipe and topped them with the most delicious, smooth root beer float buttercream.
The root beer float cupcakes are moist and have just the right amount of root beer flavor.
It was literally "the icing on the cake" that elevated their taste with this yummy homemade root beer flavored buttercream frosting.
It is the perfect combination of flavors, not overwhelming, just like a can of root beer.
I had HUGE plans to fill the root beer cupcakes before icing them and turning them into "root beer floats".
The problem with that was to fill them, I had to core them, and I could NOT bring myself to remove the yummy cake to put a filling in there.
Root Beer Fun Fact:
Delve into the fascinating history of the beloved root beer float, a delightful concoction that has captured the hearts and taste buds of soda enthusiasts for well over a century! According to historical accounts from Spoon University, we owe this ingenious creation to the creative mind of J. Wisner, the ingenious owner of Colorado's Cripple Creek Brewing, who first brought the root beer float to life on a memorable summer day – August 19, 1893.
It all began with an awe-inspiring moment of inspiration as Wisner gazed upon the picturesque landscape of Colorado's Cow Mountain. The snow-capped peaks, standing tall and majestic, bore a striking resemblance to scoops of creamy vanilla ice cream seemingly floating amidst the sparkling soda. In that instant, Wisner's imagination took flight, and he realized he could replicate this delightful sight with the effervescent fizz of root beer and the velvety allure of ice cream.
With unwavering enthusiasm and a stroke of culinary brilliance, Wisner embarked on a culinary experiment that would change soda history forever. He carefully poured the root beer over a mound of sumptuous vanilla ice cream, witnessing the magical fusion of flavors and textures firsthand. The effervescence of the root beer mingled harmoniously with the creamy sweetness of the ice cream, creating a symphony of taste sensations that left Wisner astounded.
Word of this extraordinary treat spread like wildfire, captivating the hearts and taste buds of soda enthusiasts far and wide. The concoction became an instant sensation, captivating people with its delightful combination of soda's bubbly zest and the indulgence of ice cream. In no time, this once-in-a-lifetime idea gained immense popularity, and the delectable creation affectionately became known as the "root beer float."
Fast forward to the present day, and the root beer float continues to be a beloved classic, cherished by young and old alike. Its timeless allure lies in the perfect harmony of flavors, reminiscent of those snow-capped peaks that inspired J. Wisner all those years ago. Today, it is a treat enjoyed in countless variations, adapting to different palates and preferences.
Now, as we embrace the delightful concept of Root Beer Buttercream frosting, we pay homage to this soda fountain classic. Though it may lack the effervescent fizz and bubbly magic of the root beer float when you add vanilla ice cream to the soda, its taste is no less enchanting. The Root Beer Buttercream invites you to savor the nostalgia of root beer's signature flavor while indulging in the luxurious creaminess of buttercream frosting. It's a delightful journey that marries the best of both worlds, offering a scrumptious experience that will have you yearning for more with each blissful bite. So, prepare to embark on a culinary adventure that celebrates the legacy of the root beer float, all while enjoying the delightful nuances of Root Beer Buttercream frosting – a treat that beautifully blends the past and the present, one spoonful at a time.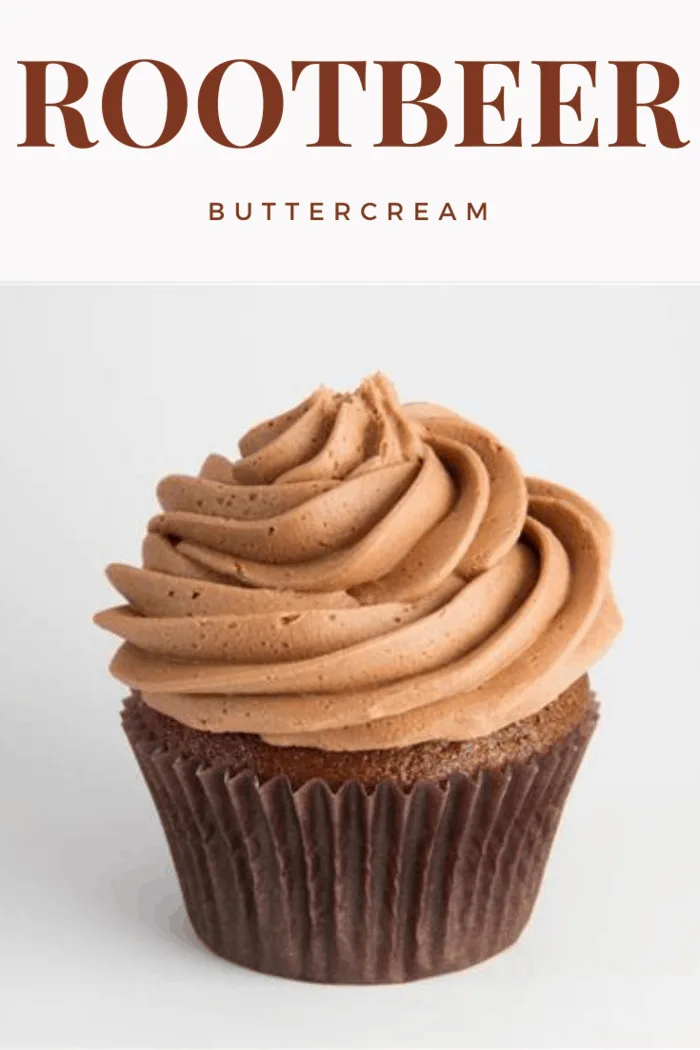 We debated the filling as I started making a vanilla buttercream- but before I knew what I was going to do- I had the root beer concentrate in my hands, and I was thinking, "the more, the merrier," as I poured the root beer syrup.
It turned out so great I thought I'd share this delicious recipe for Rootbeer Buttercream.
Use it on your favorite cake or cupcakes, even as a filling.
It's delicious!
It tastes like all the creamy root beer floats you had as a kid.
We didn't even miss the filling.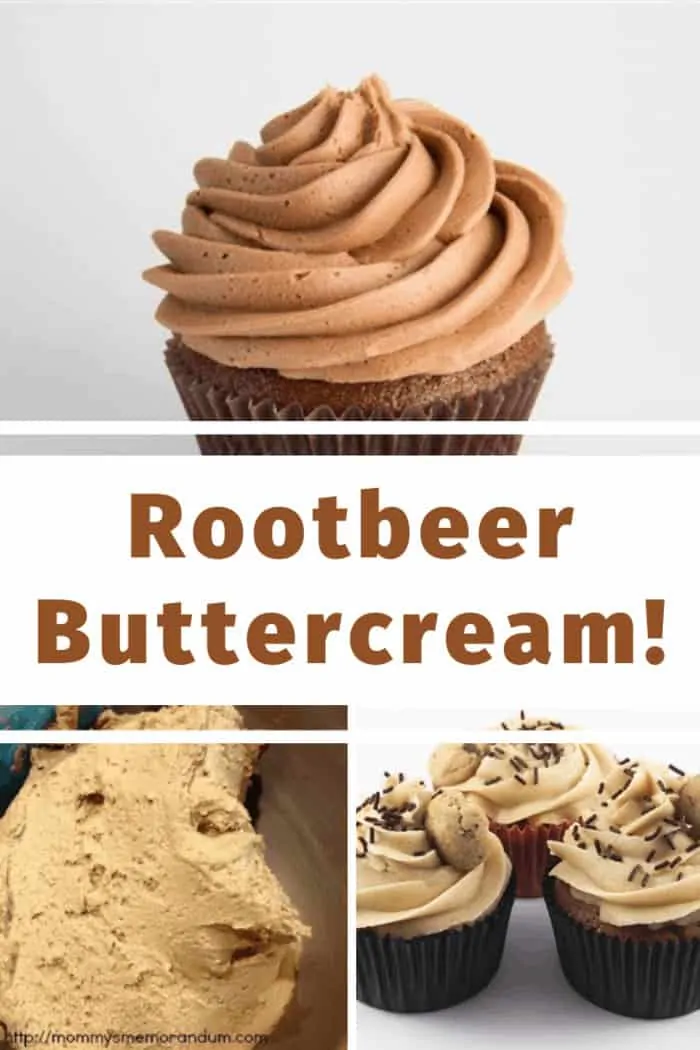 How do you make Root Beer Buttercream?
I'm glad you asked.
Let's get started!
Root Beer Buttercream
Servings: Approximately 12 cupcakes or enough to frost a 9-inch layer cake
Prep Time: 15 minutes
Total Time: 15 minutes
Ingredients:
2 sticks (1 cup) of unsalted butter, at room temperature
5 cups of powdered sugar
3 tablespoons heavy whipping cream
3 tablespoons vanilla extract
1 tablespoon root beer concentrate (available at most grocery stores near the spices and vanilla)
How to Make Root Beer Buttercream
In the bowl of an electric mixer, cream the room temperature butter on medium speed until smooth and fluffy. If using a hand mixer, start on medium-low and increase the speed gradually.
Slowly add the powdered sugar to the butter while continuing to mix. The mixture will initially be crumbly and dry.
While the mixer is still running, add the heavy whipping cream, vanilla extract, and root beer concentrate gradually. Mix until all the ingredients are fully incorporated, and the frosting reaches a fluffy, spreadable consistency.
If the frosting appears too thick, you can add a splash of milk or more heavy whipping cream to achieve the desired consistency.
Transfer the Root Beer Buttercream to a piping bag using a rubber spatula. Alternatively, use an ice cream scoop to create a whimsical "scoop of ice cream" effect when frosting cupcakes or cakes.
Have fun decorating! You can adorn the cupcakes or cake with chocolate sprinkles, miniature cookies, root beer barrels, maraschino cherries, or any other creative toppings you desire.
Enjoy your delightful Root Beer Buttercream creations, relishing the harmonious blend of root beer flavor and creamy butter goodness in every delectable bite. This frosting is sure to evoke feelings of nostalgia and joy, reminiscent of the classic root beer float in a delightful new form! Whether you're celebrating a special occasion or simply indulging in sweet moments, this unique and scrumptious frosting recipe is bound to become a favorite in your repertoire. Happy baking!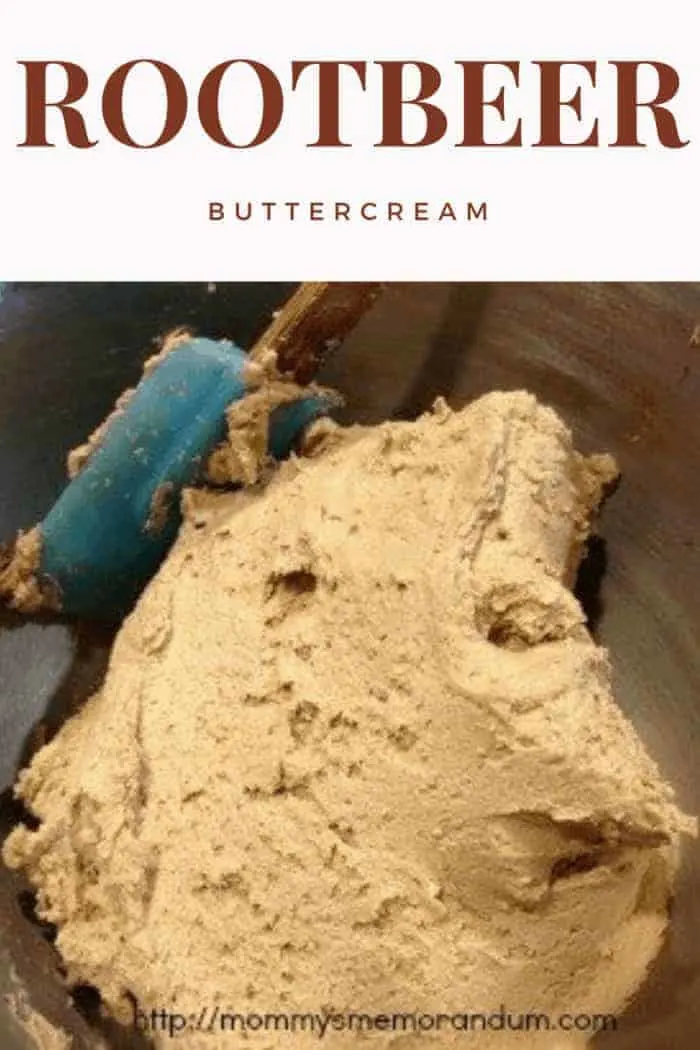 FAQs for Root Beer Buttercream Recipe:
Q1: Can I use salted butter instead of unsalted butter? A: It is recommended to use unsalted butter in this recipe to have better control over the salt content. If you only have salted butter, you can use it, but consider reducing or omitting the additional salt in the recipe.
Q2: Can I substitute root beer concentrate with root beer soda? A: While root beer soda can add some flavor, it may also increase the liquid content of the frosting, affecting its texture. For the best results and a stronger root beer flavor, it's recommended to use root beer concentrate specifically.
Q3: How can I store the Root Beer Buttercream? A: Store any leftover buttercream in an airtight container in the refrigerator. It should keep well for up to 1 week. When ready to use, let it come to room temperature and give it a quick whisk to restore its creamy consistency.
Q4: Can I freeze the frosting? A: Yes, you can freeze the buttercream. Place it in a freezer-safe container, ensuring there's minimal air exposure, and it should remain good for up to 2 months. Thaw it overnight in the refrigerator and re-whip it before using.
Q5: My frosting turned out too runny. How can I fix it? A: If the frosting is too runny, you can try adding more powdered sugar, a few tablespoons at a time, until it thickens to the desired consistency. Be cautious not to overdo it, as it might become too sweet.
Q6: Can I use this buttercream to frost a layered cake? A: Absolutely! This Root Beer Buttercream is perfect for frosting cupcakes, layer cakes, or even as a filling between cake layers. It spreads easily and holds its shape well when piped.
Q7: Can I make this buttercream in advance? A: Yes, you can prepare the buttercream a day in advance and store it in the refrigerator. Just remember to bring it back to room temperature before using, and give it a good mix to make it fluffy again.
Q8: I don't have a piping bag. Can I use a regular zip-top bag for piping? A: Yes, you can use a sturdy zip-top bag and cut off a small corner to use it as a makeshift piping bag. It will work just fine for simple decorations.
Q9: How long will the frosted cupcakes or cake stay fresh? A: Frosted cupcakes or cake should stay fresh at room temperature for about 2-3 days. After that, it's best to refrigerate them to prolong their freshness.
Q10: Can I tint the frosting with food coloring? A: Absolutely! Feel free to add a few drops of food coloring to achieve the desired color for your frosting. Gel-based food colors are recommended, as they won't dilute the frosting like liquid colors might.
Enjoy your Root Beer Buttercream adventure, and may your baking endeavors be filled with joy and deliciousness! If you have any more questions or need further assistance, don't hesitate to reach out. Happy baking!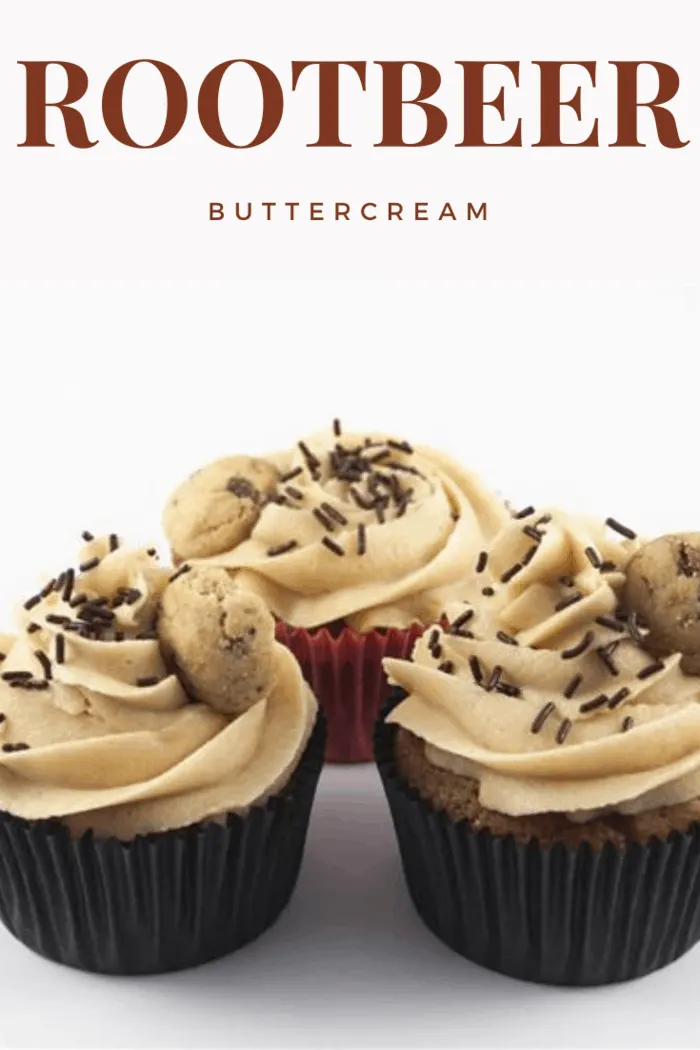 This root beer buttercream is full of everyone's favorite flavor.
It will surely bring back memories of summer or time spent drinking rootbeer floats.
Whip up a batch of this root beer buttercream icing and focus on life's simple treasures.
The best part, and my favorite part, is this frosting tastes just like yummy root beer!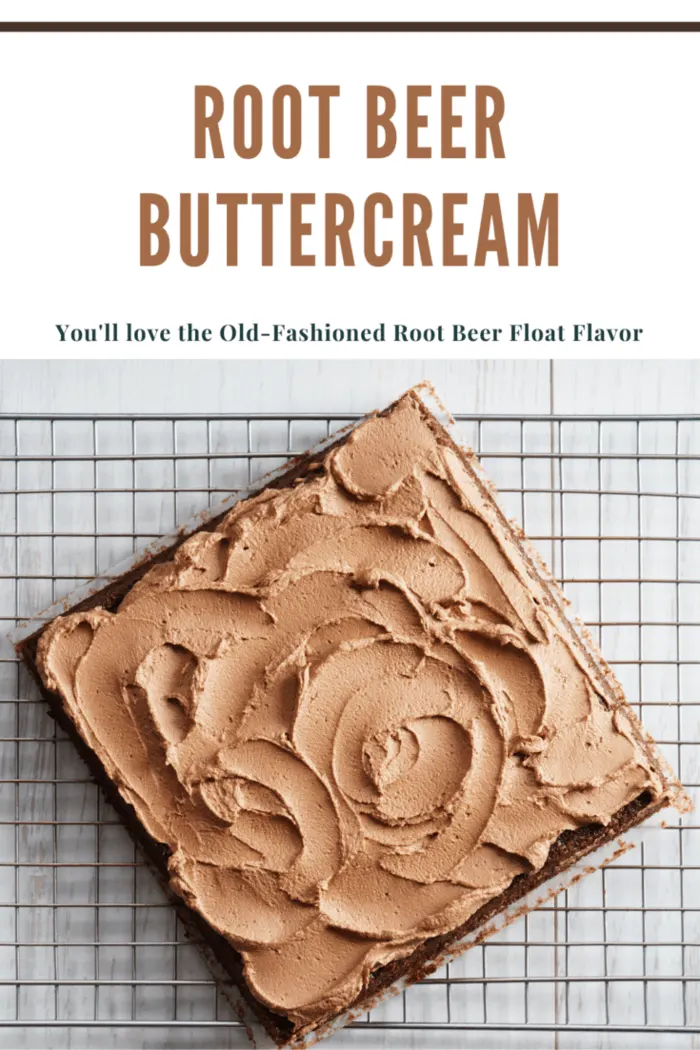 A little about Buttercream:
This Rootbeer buttercream frosting is an American Buttercream–also known as a "simple buttercream".
Other types of buttercream include meringue-based buttercream, French buttercream, custard-based buttercream, and rolled buttercream.
American Buttercream is a type of frosting that is made by mixing together fat (usually butter, but sometimes margarine or shortening–or a combination), confectioner's sugar, and milk or cream until the mixture is fluffy and smooth.
The ratio is typically twice as much sugar as fat.
You can use either salted or unsalted butter to make buttercream frosting.
A high-quality butter with a higher fat and lower water content will produce the best buttercream your tastebuds will ever know.
The naturally whitest butter is a gourmet butter called Plugra.
Land O'Lakes unsalted butter, made with sweet cream, has a creamy texture and mild flavor that complements other ingredients in baked goods and other recipes.
Wüthrich (pronounced we-trek) from Grassland, a Wisconsin butter made in the European style, has whopping 83 percent butterfat, which is the highest fat I could find.
Other Frosting Recipes you may Like:
Easy Strawberry Frosting Recipe–JUST 3 Ingredients
Bailey's Irish Cream Frosting Recipe
Orange Dreamsicle Buttercream Frosting Recipe
Pink Champagne Buttercream Icing Recipe
Tutorials for Frosting:
How to Do a Basket Weave with Frosting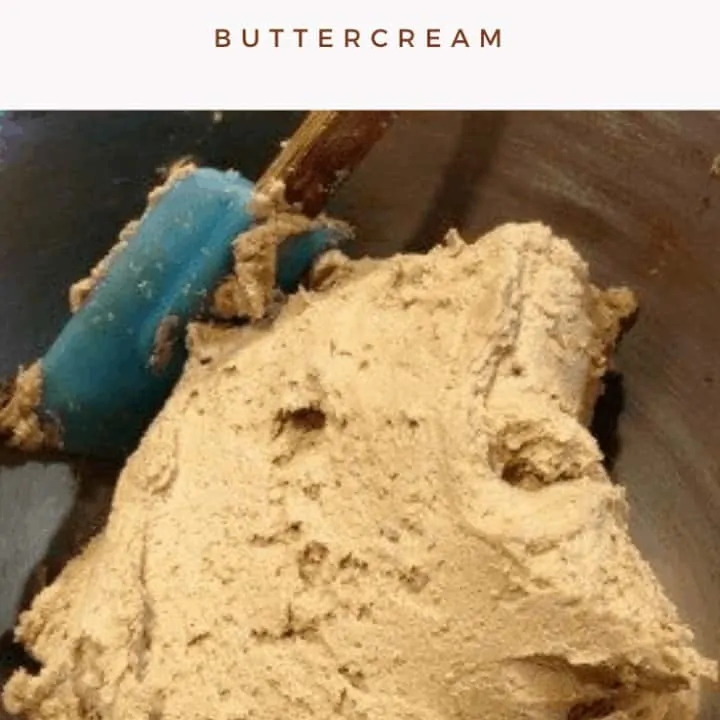 Root Beer Buttercream Icing Recipe
Yield:
enough for 24 cupcakes
On-bowl, ready in minutes, root beer buttercream has old-fashioned root beer flavor that tastes great on cupcakes, brownies, or a layer cake.
Ingredients
2 sticks (1 cup) of butter (real butter- do NOT skimp out and use wimpy margarine here...)
5 cups of powdered sugar
3 Tablespoons heavy whipping cream
3 Tablespoons vanilla
1 Tablespoons root beer concentrate
Instructions
Cream butter in mixer.
Slowly add powdered sugar. The mixture will be crumbly and dry.
While continuing to mix, gradually add heavy cream, vanilla, and root beer concentrate.
Mix until fluffy.
Using a rubber spatula, transfer to a piping bag and have fun!!
Nutrition Information:
Yield:

24
Serving Size:

1
Amount Per Serving:
Calories:

109
Total Fat:

2g
Saturated Fat:

1g
Trans Fat:

0g
Unsaturated Fat:

0g
Cholesterol:

5mg
Sodium:

9mg
Carbohydrates:

23g
Fiber:

0g
Sugar:

23g
Protein:

0g
Nutritional information may not be accurate