Indulge in the exquisite delight of our Pink Champagne Buttercream Icing Recipe – a luxurious treat that will elevate your taste buds to new heights of bliss! Unlike traditional champagne buttercream recipes that require a champagne reduction, this version ensures a hassle-free preparation, making it an anytime favorite without the need to wait for special occasions.
Imagine a buttercream so smooth and light, it practically glides on your palate, leaving behind a creamy symphony of flavors that linger and captivate. This is buttercream frosting perfected, elevated to an unmatched level of sophistication by the addition of pink champagne.
Every delectable spoonful is a celebration of sweet vanilla undertones, beautifully complemented by a tantalizing hint of tang, courtesy of the pink champagne. The marriage of these flavors creates a harmonious fusion that guarantees to leave a lasting impression on those lucky enough to savor it.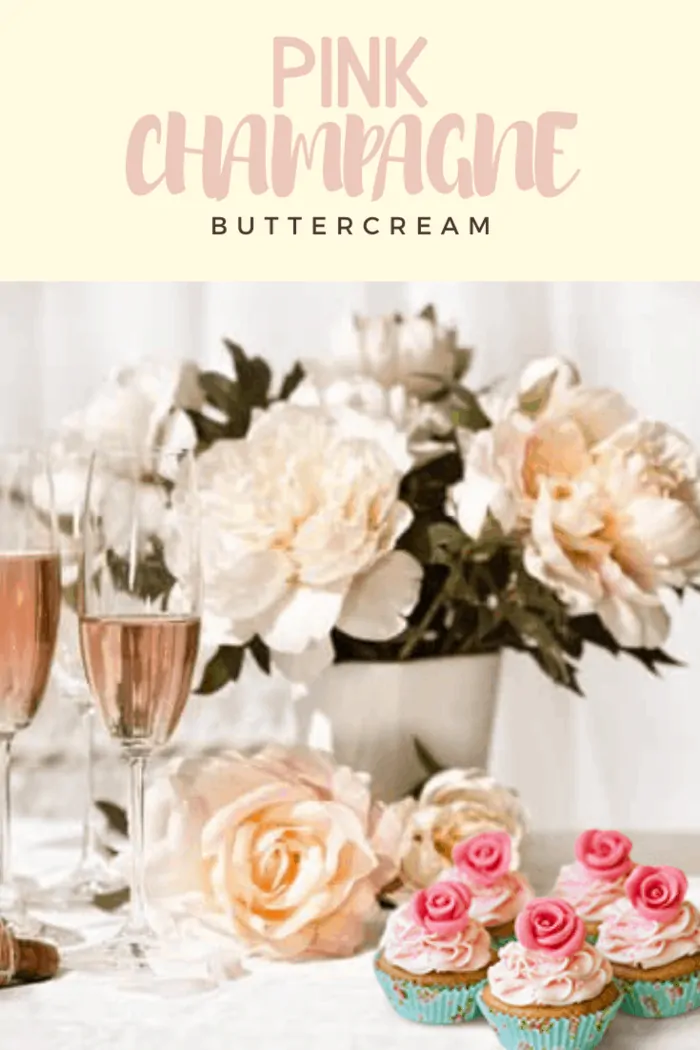 Whether you're adorning a batch of freshly baked cupcakes, decadent layer cakes, or simply seeking a spoonful of heaven to satisfy your sweet cravings, this Pink Champagne Buttercream Icing is the epitome of elegance and taste. Embrace the decadence and take your desserts to the next level with this irresistible pink champagne-infused delight. So, why wait for a special moment? Treat yourself and your loved ones to this delightful creation and let every day be a celebration of sweetness and luxury!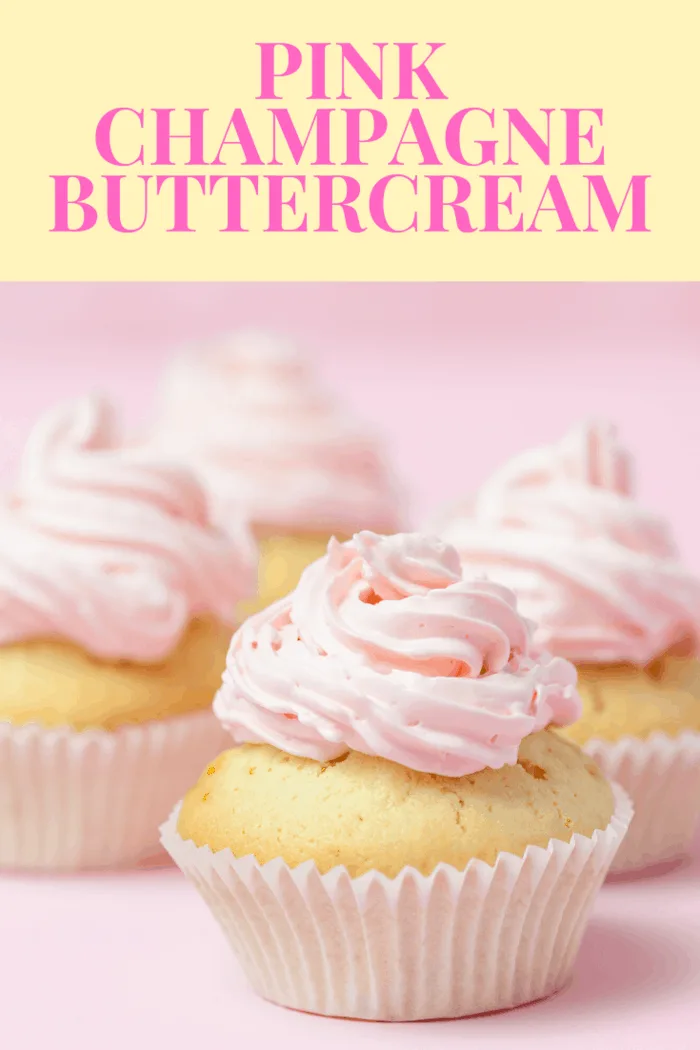 Let's Talk a little about Pink Champagne
Step into the captivating world of Pink Champagne, a delightful sparkling white wine that effortlessly exudes elegance and sophistication, shares Town and Country. Hailing from the renowned Champagne district of France, this effervescent wonder is truly a celebration in a glass.
One of the most intriguing aspects of Pink Champagne lies in its alluring pink hue, which adds an enchanting touch to any occasion. The origins of this rosy coloration can be traced back to the winemaking process, where the grape skins work their magic during fermentation or, in some cases, a splash of red wine is artfully introduced just before the second fermentation, creating a mesmerizing blush.
A fascinating tidbit that sets Champagne apart from other wine regions is its unique allowance for blending red and white wines to craft the mesmerizing rosé. This exclusive privilege is a testament to the artistry and skill of Champagne winemakers, who can artfully blend the three permitted grape varieties: Chardonnay, Pinot Noir, and Pinot Meunier. Notably, the latter two are distinct red grape varieties, contributing to the wine's characteristic depth and complexity.
As you pour yourself a glass of Pink Champagne, the effervescence dances playfully, releasing an enticing bouquet of aromas that tantalize the senses. With each sip, you'll experience a symphony of flavors, ranging from delicate floral notes to hints of ripe fruits, all culminating in a harmonious balance that leaves a lasting impression.
Whether you're toasting to a joyous occasion, indulging in a romantic evening, or simply treating yourself to life's pleasures, Pink Champagne is the epitome of refined taste and sophistication. So, raise your glass to this charming elixir, and let its effervescence transport you to a world of luxury and indulgence. Cheers!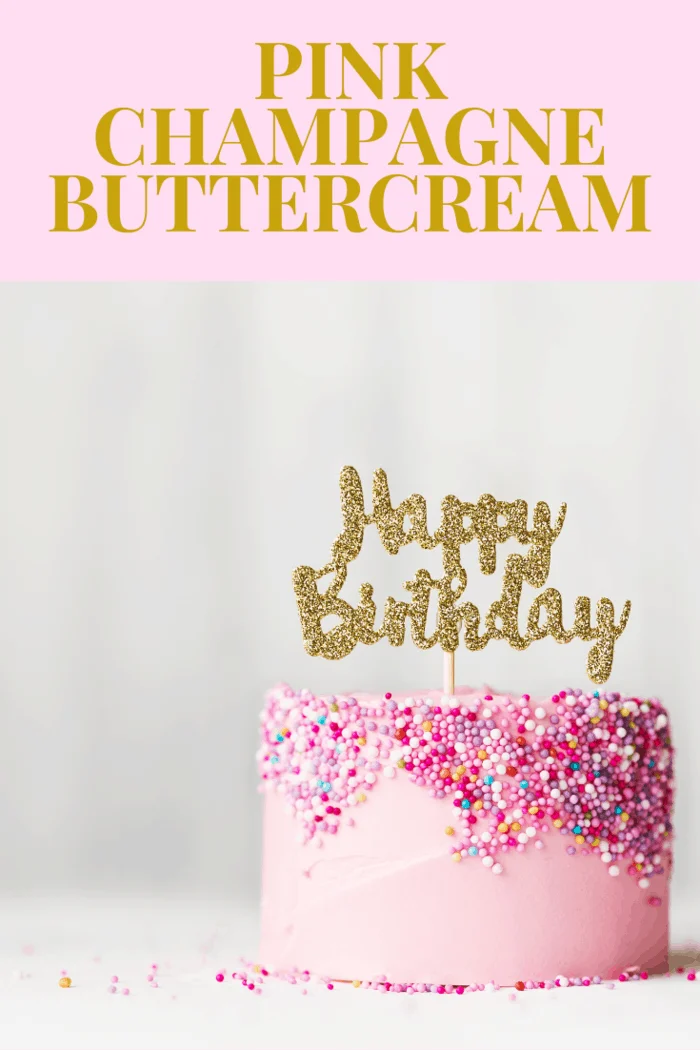 Why Wait for Special Occasions? Make this Pink Champagne Buttercream
Life's too short to resist the allure of extraordinary flavors.
Indulge in the decadent delight of our Pink Champagne Buttercream, destined to elevate your cakes and cupcakes to a whole new level of bliss. No longer reserved solely for birthdays, anniversaries, or holidays, this buttercream is a luxurious treat perfect for everyday baking too!
Have a penchant for exquisite cupcakes? Try our Pink Champagne Cupcakes, adorned with this luscious buttercream, and experience a taste of pure enchantment.
For this delectable creation, we chose the delightful Barefoot Moscato Pink Champagne – an affordable option that still imparts a touch of elegance. However, the beauty of this recipe lies in its versatility. Feel free to select your favorite pink champagne to add your own personal flair and elevate the experience even further.
Prepare to be amazed, for this is not your average buttercream. It boasts a tantalizing balance of flavors that will have you reaching for seconds (and maybe even thirds!). The silky texture and luxurious taste make it utterly irresistible; you'll find yourself sneakily indulging in spoonfuls of this heaven-sent creation.
Now, you might wonder about the perfect pink hue. Fear not! While the buttercream itself might not have a vibrant color, we've got a delightful solution. A dash of food coloring, whether pale or bold, will infuse it with the stunning pink shade that complements any occasion. Personally, I recommend food coloring pastes for their concentrated richness – dip a toothpick into the small container and add the desired color. If you need guidance, The Kitchn offers a fantastic food coloring guide to help you make the perfect choice.
And here's the best part – it's a breeze to whip up! With minimal time and effort, you'll have a batch of Pink Champagne Buttercream ready to grace your delightful creations. The results are nothing short of impressive, promising smiles and admiration from anyone lucky enough to savor this heavenly treat.
So, what are you waiting for? Treat yourself and your loved ones to this divine pink champagne-infused indulgence. Celebrate life's simple pleasures with each velvety bite. Don't miss out on greatness; seize the moment and savor the sweetness of this Pink Champagne Buttercream today!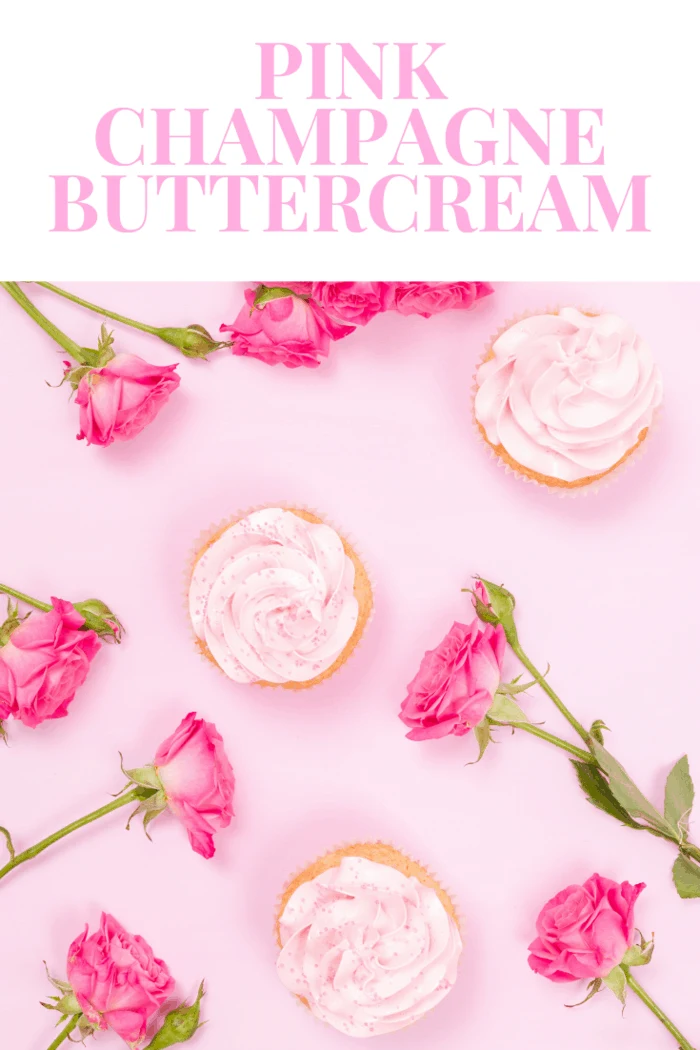 Whip up a Batch of this Pink Champagne Buttercream
Servings: Makes about 2 cups of buttercream
Prep Time: 15 minutes
Ingredients:
1 cup unsalted butter, softened
4 cups powdered sugar (confectioners' sugar)
1/4 cup pink champagne (choose your favorite brand or opt for Barefoot Moscato Pink Champagne)
1 teaspoon pure vanilla extract
A pinch of salt
Pink food coloring paste (optional, for desired color)
How to Make Pink Champagne Buttercream
In a large mixing bowl, beat the softened butter using an electric mixer on medium speed until smooth and creamy.
Gradually add the powdered sugar to the butter, one cup at a time, and continue mixing on low speed. Scrape down the sides of the bowl as needed to ensure even mixing.
Pour in the pink champagne and add the pure vanilla extract and a pinch of salt to the bowl. Beat the mixture on medium speed until all the ingredients are well combined and the buttercream reaches a fluffy, light texture.
At this point, taste the buttercream to ensure the sweetness and flavor are to your liking. If needed, adjust by adding more powdered sugar for sweetness or a dash more champagne for a pronounced champagne taste.
If you desire a vibrant pink hue, incorporate a small amount of pink food coloring paste. Remember that the color will intensify as you add more, so start with a small amount and gradually increase until you achieve your desired shade.
Continue mixing until the food coloring is evenly distributed, and the buttercream takes on the beautiful pink color.
Your Pink Champagne Buttercream is now ready to be used! Spread it generously on cakes, cupcakes, or any baked goods of your choice.
Tips:
For a silky and light texture, make sure the butter is softened at room temperature before starting.
If you prefer a subtler champagne flavor, reduce the amount of champagne slightly, but remember that it may alter the consistency.
Use high-quality pink champagne to enhance the flavor and aroma of the buttercream.
Play around with the amount of food coloring to create varying shades of pink, making your treats even more visually appealing.
Note:
Leftover buttercream can be stored in an airtight container in the refrigerator for up to a week. Before using, allow it to come to room temperature and re-whip for a smooth consistency.
Enjoy the delectable elegance of Pink Champagne Buttercream on any occasion!
FAQs – Pink Champagne Buttercream Recipe
1. Can I use a different type of champagne for this buttercream? Absolutely! While we used Barefoot Moscato Pink Champagne for this recipe, you can choose your favorite pink champagne or sparkling wine to suit your taste. Experimenting with different champagne varieties can add unique flavor profiles to your buttercream.
2. Can I make this buttercream in advance? Yes, you can prepare the Pink Champagne Buttercream in advance. Store it in an airtight container in the refrigerator for up to a week. When you're ready to use it, allow the buttercream to come to room temperature and give it a quick re-whip to restore its smooth consistency.
3. Does the alcohol in the champagne cook off during preparation? Since the champagne is added to the buttercream without cooking, the alcohol content will not evaporate or cook off. As a result, the buttercream may have a subtle champagne flavor. If you prefer to omit the alcohol entirely, you can try using a non-alcoholic sparkling pink grape juice or a champagne-flavored extract instead.
4. Can I freeze the Pink Champagne Buttercream? Yes, you can freeze the buttercream for longer storage. Place it in an airtight container or a freezer-safe bag, removing as much air as possible before sealing. It should stay good for up to three months in the freezer. Thaw the frozen buttercream in the refrigerator overnight and then re-whip it to restore its texture before use.
5. How can I adjust the sweetness of the buttercream to my liking? If you find the buttercream too sweet for your taste, you can reduce the amount of powdered sugar. However, keep in mind that the sugar also helps stabilize the buttercream's structure, so make sure not to eliminate it entirely. You can also balance the sweetness by adding a bit more champagne, as it complements the sugar with a delightful tang.
6. Can I use this buttercream to frost a layer cake? Absolutely! Pink Champagne Buttercream is a fantastic choice for frosting layer cakes. Once you've baked and cooled your cake layers, spread a generous amount of the buttercream between the layers, stacking them on top of each other. Then, apply a thin layer of buttercream all over the cake to create a smooth base, followed by additional swirls or decorations as desired.
7. Can I make this buttercream without using food coloring? Yes, you can omit the food coloring if you prefer a more natural-looking buttercream. The color of the buttercream will be a creamy off-white shade due to the champagne's influence. Feel free to customize the appearance based on your preferences.
8. Is this buttercream suitable for piping and decorating cupcakes? Absolutely! Pink Champagne Buttercream is perfect for piping and decorating cupcakes. Fill a piping bag fitted with your preferred decorating tip and create beautiful swirls or other designs on top of your cupcakes. The smooth and light consistency of the buttercream makes it ideal for various decorative styles.
9. Can I halve or double the recipe? Yes, you can adjust the quantities in this recipe to make a smaller or larger batch of buttercream. If halving or doubling, remember to maintain the ratio of ingredients to ensure the best flavor and consistency.
10. Is this buttercream suitable for individuals with dietary restrictions? This particular recipe uses standard ingredients, including butter and powdered sugar, making it a classic buttercream. Unfortunately, it is not suitable for those with dairy or sugar-related dietary restrictions. If you require a dairy-free or sugar-free version, consider exploring alternative recipes using non-dairy substitutes or sugar alternatives.
Enjoy the delightful Pink Champagne Buttercream and savor the luxury it brings to your baked treats!
Other Frosting Recipes you may Like:
Bailey's Irish Cream Frosting Recipe
Orange Dreamsicle Buttercream Frosting Recipe
Root Beer Buttercream Icing Recipe
Tutorials for Frosting:
How to Do a Basket Weave with Frosting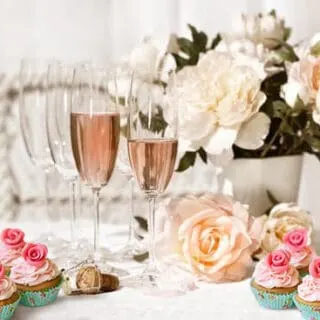 Pink Champagne Buttercream Icing Recipe
This pink champagne buttercream is silky and light with a creamy taste and texture. It's buttercream frosting as it should be with the taste of affluence is credited to pink champagne.
Ingredients
2 cups butter
5 cups powdered sugar
6 Tablespoons Pink Champagne
2 Tablespoons Strawberry Daiquiri drink mixer
½ teaspoon of Karo syrup
Instructions
Beat butter on high speed with an electric mixer for 5 minutes until creamy.
With an electric mixer on low speed, slowly add powdered sugar in small batches until sugar is incorporated with the butter.
Add the pink champagne, drink mix, and Karo syrup (to add a glossy sheen and help the icing set up) and continue whipping on high speed until light and fluffy.
Transfer to a piping bag with a large star tip and frost cupcakes.
Nutrition Information:
Yield:

24
Serving Size:

1
Amount Per Serving:
Calories:

229
Total Fat:

15g
Saturated Fat:

10g
Trans Fat:

1g
Unsaturated Fat:

5g
Cholesterol:

41mg
Sodium:

122mg
Carbohydrates:

23g
Fiber:

0g
Sugar:

23g
Protein:

0g
The Nutritional Information may not be accurate.