Sharing is caring!
The secret to a perfectly frosted cake is to crumb coat the cake. Some people call it, "dirty icing a cake." It's an easy process that will help your frosting look perfect.
A crumb coating is a thin layer of frosting that is spread onto the cake to lock the crumbs in place. It is an added step to the frosting process, but if you've ever battled stubborn crumbs while frosting a cake, you'll agree it's worth the effort. Think of it as two layers of frosting spread on a cake. One to "crumb coat" the second to add glam to the deliciousness!
Crumb coating makes it so no crumbs can get into the second layer of icing and make your cake look rough and unpolished. You can then add the second coat to give it a nice uniform look.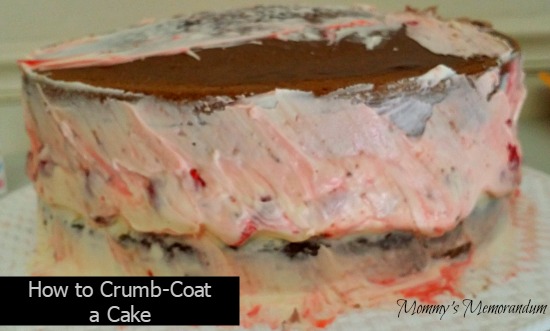 How to Crumb Coat a Cake
After the cake is filled, stacked or ready to frost, use a small offset spatula to gently spread a thin layer of icing on the top of the cake and around the sides of the cake. It is okay for crumbs to release from the cake and mix with the icing at this point.
Place the cake in the refrigerator and let the crumb coating firm up before attempting to ice the cake.
The pressure the spatula places on the cake can cause the layer to slip, so use the fingertips of your free hand to support the cake on the opposite side while crumb-coating.