Welcome to the delightful world of Pineapple Frosting, where a burst of tropical sweetness meets velvety perfection! If you're a fan of luscious tropical flavors and crave a touch of fruity goodness in your desserts, then this tantalizing frosting is sure to be a mouthwatering treat for your taste buds.
Pineapple frosting is a delightful and versatile topping that brings a unique twist to your favorite cakes, cupcakes, pastries, and more. With its smooth and creamy texture, it spreads like a dream, effortlessly transforming any baked creation into a tropical paradise. Whether you're planning a summer soirée, a birthday celebration, or simply looking to elevate your everyday desserts, this pineapple-infused delight is the perfect choice.
The natural sweetness of the pineapple blends harmoniously with the rich, buttery undertones, creating a balance that is both refreshing and indulgent. Each bite bursts with the unmistakable essence of fresh pineapples, making it a refreshing alternative to traditional frosting flavors.
So, get ready to embark on a journey of taste and texture with our delectable pineapple frosting. Whether you choose to frost a classic carrot cake, a zesty lemon cupcake, or even a velvety smooth cheesecake, this tropical delight is certain to add a burst of sunshine to every bite. Get ready to tantalize your senses and experience the joy of Pineapple Frosting!
Pineapple Frosting.
It has so many possibilities.
This easy pineapple frosting recipe is tasty, fluffy and gives a taste of the tropics.
Make it per the directions, or add drained crushed pineapple for a different but fun texture!
The recipe makes light and creamy frosting, perfect for yellow cake, 7-Up cake, pound cake, and more!
We recommend this frosting on Pina Colada Cupcakes.
About Pineapples:
Pineapple stands tall as one of the planet's healthiest delights, boasting a fascinating secret that sets it apart from other fruits. While commonly referred to as a "fruit," the pineapple is a fascinating amalgamation of individual berries, closely clustered together and fused around the central stalk. This intriguing arrangement is why the iconic pineapple bears its lush crown of leaves on top.
Beyond their delicious taste and numerous health benefits, pineapples possess an enigmatic growth pattern. The leaves adorning the crown are not merely decorative but a living testament to the plant's ongoing journey. They represent the continuation of the stalk's growth, extending beyond the point where the berries are attached, showcasing nature's ingenuity in its design.
Interestingly, when it comes to cultivation, pineapples are not propagated from seeds. This unique aspect of their reproduction involves a different approach, adding to the allure of this tropical wonder.
So, the next time you savor the delectable sweetness of a pineapple, take a moment to appreciate the wonders of nature encapsulated within this seemingly ordinary "fruit." Its extraordinary blend of taste, texture, and growth intricacies truly make the pineapple a marvel to behold.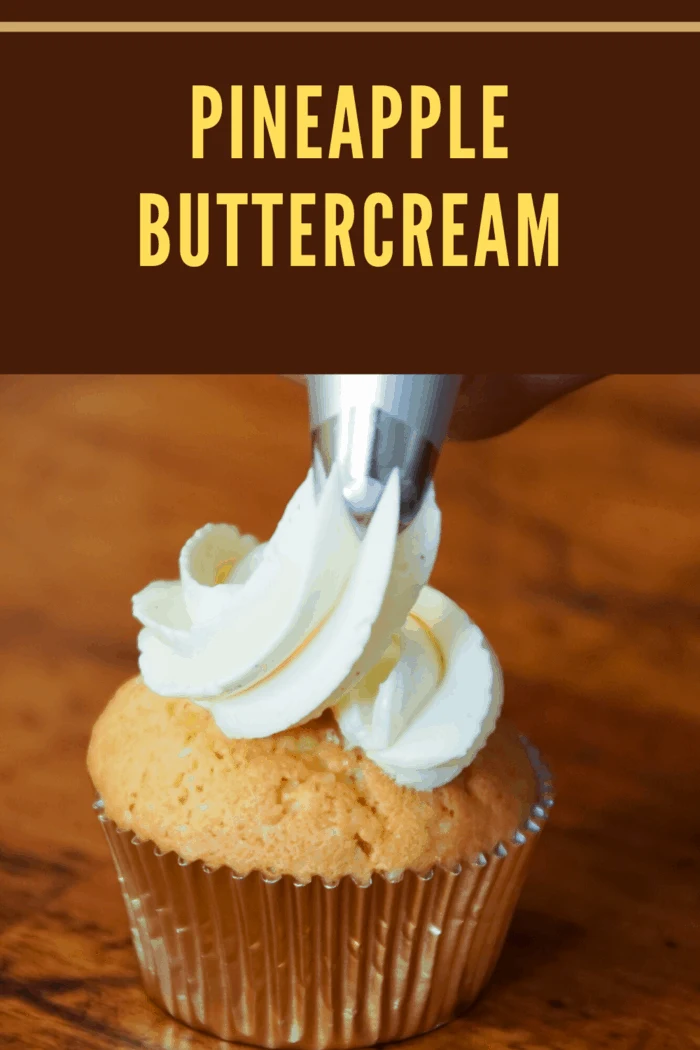 This pineapple frosting won't have many colors.
If you want to add color, a few drops of food coloring will do ya!
We've added rum to ours to accompany our pina-colada cupcakes; however, it's booze is optional.
If you want it thicker, add more powdered sugar.
If you want it thicker but not sweeter, use cornstarch–only up to 2 Tablespoons.
If you want it thicker after adding the 2 Tablespoons of cornstarch, you'll need to add more powdered sugar.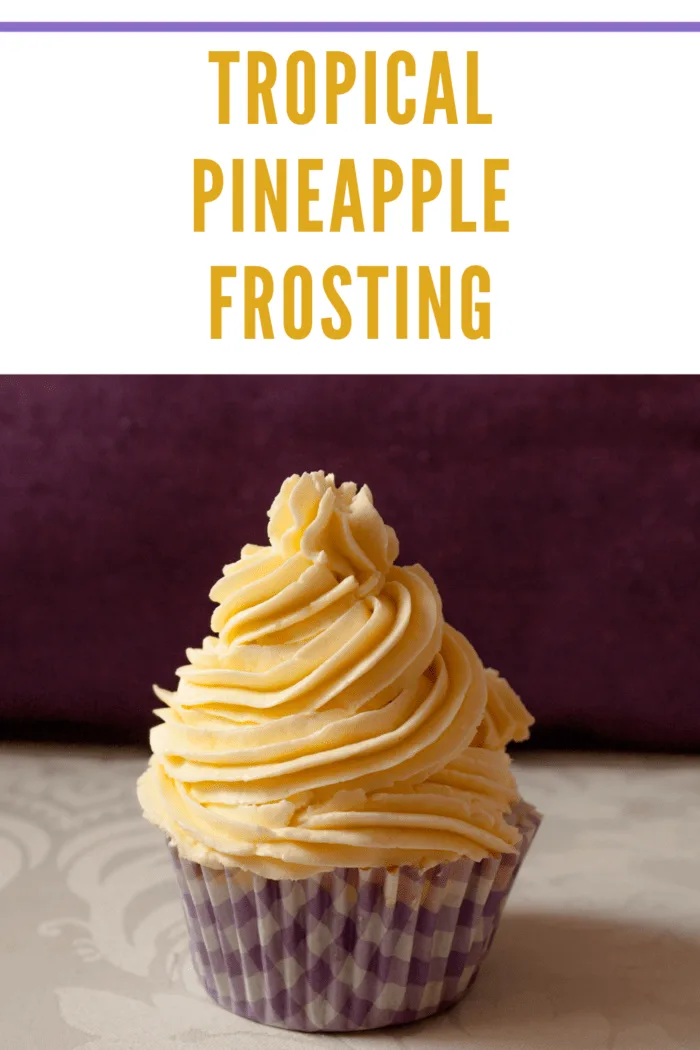 Paradise Pineapple Frosting
Servings: Approximately 24 cupcakes
Prep Time: 15 minutes
Ingredients:
1 tub (8 oz) pineapple cream cheese, softened
1/2 cup (1 stick) unsalted butter, softened
4 cups powdered sugar
6 tablespoons rum (optional, for a delightful twist)
Equipment:
Electric mixer
Large mixing bowl
Piping bag with a large round tip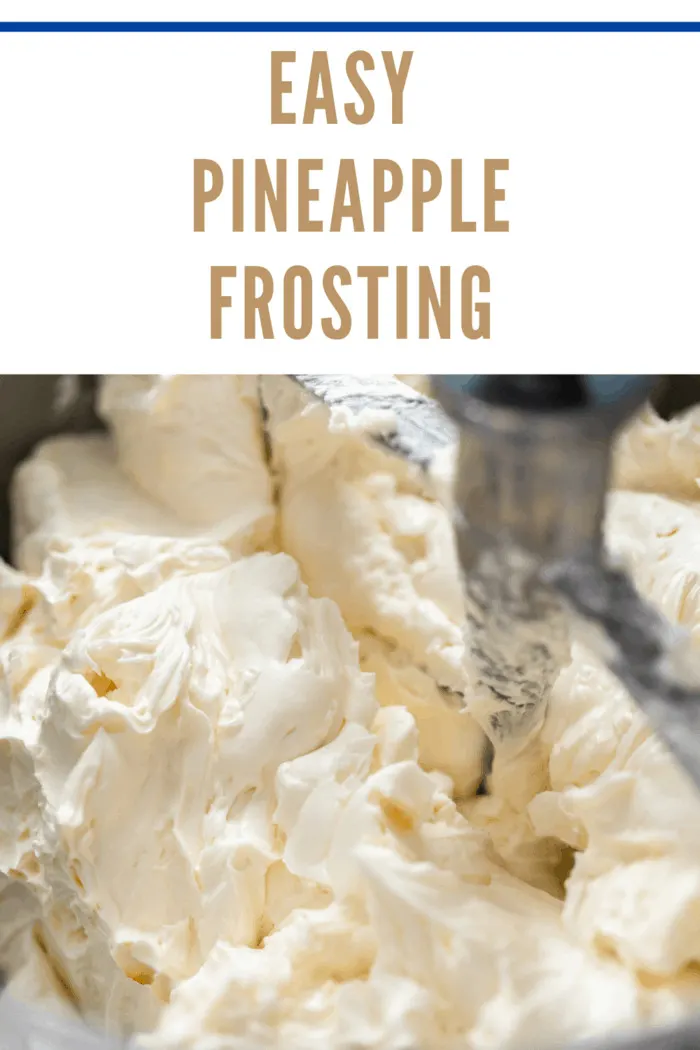 How to Make Pineapple Frosting
Whip the Cream Cheese and Butter: In a large mixing bowl, combine the softened pineapple cream cheese and butter. Using an electric mixer, beat them on high speed for approximately 5 minutes. This step ensures a smooth and creamy base for your delightful frosting.
Incorporate the Powdered Sugar: Reduce the mixer speed to low and gradually add the powdered sugar to the cream cheese and butter mixture. Continue mixing until the powdered sugar is fully incorporated. This will give your frosting the perfect sweetness and texture.
Optional Rum Infusion: For a touch of tropical elegance, you can add rum to the frosting. With the mixer still on low speed, pour in the rum and blend until it's well combined. The rum adds a unique depth of flavor, elevating your Pineapple Paradise Frosting to a whole new level.
Whip to Fluffy Perfection: Once the rum (if using) is incorporated, increase the mixer speed to high again. Whip the frosting for an additional few minutes until it becomes light, fluffy, and irresistibly smooth. This step ensures that the frosting achieves the ideal consistency for piping and spreading.
Frosting your Cupcakes: To achieve a bakery-worthy presentation, transfer the Pineapple Paradise Frosting to a piping bag fitted with a large round tip. Gently squeeze the frosting onto the cupcakes in a circular motion, starting from the outer edge and working your way to the center. Feel free to experiment with different piping techniques to create your own unique designs.
Serve and Enjoy: Now that your cupcakes are beautifully adorned with the Pineapple Paradise Frosting, it's time to indulge in the tropical goodness! Serve the cupcakes immediately or store them in an airtight container for later enjoyment.
Chef's Tip:
If you prefer a more intense pineapple flavor, consider adding a small amount of pineapple juice to the frosting during Step 3.
For a non-alcoholic version, omit the rum and replace it with 1 teaspoon of pure vanilla extract to maintain the delightful pineapple essence without the alcohol content.
With this Pineapple Paradise Frosting recipe, you can effortlessly elevate your cupcakes to a tropical treat that will have everyone reaching for seconds. Whether you're hosting a summertime gathering, celebrating a special occasion, or simply craving a taste of the exotic, this luscious frosting is sure to transport you to a pineapple paradise with every delectable bite. Enjoy!
Frequently Asked Questions (FAQs) – Paradise Pineapple Frosting
1. Can I use regular cream cheese instead of pineapple cream cheese?
Absolutely! While pineapple cream cheese adds a delightful tropical twist to the frosting, you can use regular cream cheese as a substitute if you prefer a more subtle pineapple flavor or if pineapple cream cheese is not available.
2. Is the rum necessary for the recipe, and can I use a non-alcoholic alternative?
The rum is optional and can be omitted if you prefer a non-alcoholic version of the frosting. You can replace the rum with 1 teaspoon of pure vanilla extract to maintain a delicious flavor without the alcohol content.
3. How should I store leftover Pineapple Paradise Frosted cupcakes?
To keep the frosted cupcakes fresh, store them in an airtight container in the refrigerator. Properly stored, they should stay fresh for up to 3-4 days. Before serving, you can allow them to come to room temperature for the best taste and texture.
4. Can I freeze Pineapple Paradise Frosting?
While the frosting is best enjoyed fresh, you can freeze any leftover frosting if needed. Transfer it to an airtight container and place it in the freezer for up to 1 month. When ready to use, thaw the frosting in the refrigerator overnight and then rewhip it to restore its fluffy texture.
5. Can I use this frosting for cakes and other desserts besides cupcakes?
Absolutely! This versatile frosting works wonderfully for cakes, cookies, and other desserts too. Spread it between cake layers, use it to frost a whole cake, or even dollop it on top of cookies for a tropical twist.
6. Can I adjust the sweetness of the frosting?
Yes, you can adjust the sweetness of the frosting to your liking. If you prefer a less sweet frosting, reduce the amount of powdered sugar used. On the other hand, if you have a sweet tooth, you can add a bit more powdered sugar for extra sweetness.
7. Can I pipe the frosting in different designs?
Definitely! The frosting can be piped in various designs using different piping tips. Experiment with star tips, petal tips, or any other decorative tips to create unique patterns and make your cupcakes even more visually appealing.
8. Can I add pineapple chunks or other fruit to the frosting?
While this recipe focuses on the pineapple cream cheese as the primary flavor, you can certainly get creative and add small pineapple chunks or other diced fruit to the frosting if you desire additional texture and bursts of fruitiness.
9. Is the frosting suitable for those with dietary restrictions?
The frosting contains dairy (cream cheese and butter) and powdered sugar, so it may not be suitable for those with lactose intolerance or dairy allergies. Additionally, the rum version is not suitable for individuals avoiding alcohol. However, you can explore dairy-free alternatives or make adjustments to accommodate specific dietary needs.
10. Can I make the frosting ahead of time?
Yes, you can prepare the frosting ahead of time. Once whipped to perfection, you can store it in the refrigerator in an airtight container for up to 2-3 days before using. Remember to rewhip the frosting briefly before using it to maintain its fluffy texture.
Other Frosting Recipes you may Like:
Easy Strawberry Frosting Recipe–JUST 3 Ingredients
Bailey's Irish Cream Frosting Recipe
Orange Dreamsicle Buttercream Frosting Recipe
Pink Champagne Buttercream Icing Recipe
Root Beer Buttercream Icing Recipe
Tutorials for Frosting:
How to Do a Basket Weave with Frosting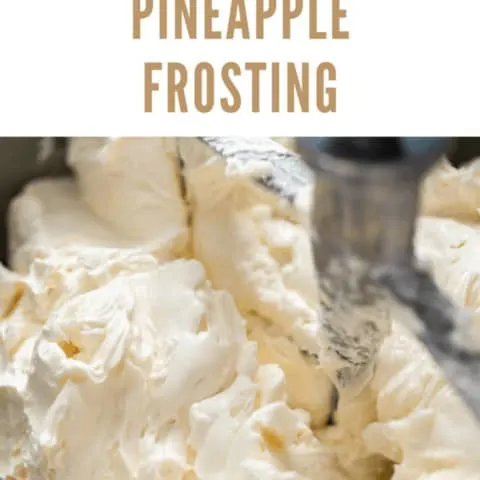 Pineapple Frosting Recipe
This pineapple frosting recipe makes frosting that's light and creamy, perfect for yellow cake, 7-Up cake, pound cake, and more!
Ingredients
1 tub pineapple cream cheese
1/2 cup butter
4 cups powdered sugar
6 Tablespoons Rum (optional)
Instructions
Beat cream cheese and butter on high-speed w/electric mixer for 5 minutes.
Slowly (while on low-speed) add powdered sugar until incorporated.
Add rum and continue whipping on high speed until light and fluffy.
Transfer to a piping bag with a large round tip and frost cupcakes.
Nutrition Information:
Yield:

24
Serving Size:

1
Amount Per Serving:
Calories:

119
Total Fat:

4g
Saturated Fat:

3g
Trans Fat:

0g
Unsaturated Fat:

1g
Cholesterol:

11mg
Sodium:

35mg
Carbohydrates:

19g
Fiber:

0g
Sugar:

19g
Protein:

0g
The Nutritional Information may not be accurate.