When it comes to frosting, it doesn't get much simpler than this Easy Strawberry Frosting recipe. It uses just 3-ingredients.
You probably already have them in your home!
It's a softer frosting than buttercream.
It's light.
It's fluffy.
It's pink.
It's delicious!
It can be used on cakes, cupcakes, and as a filling.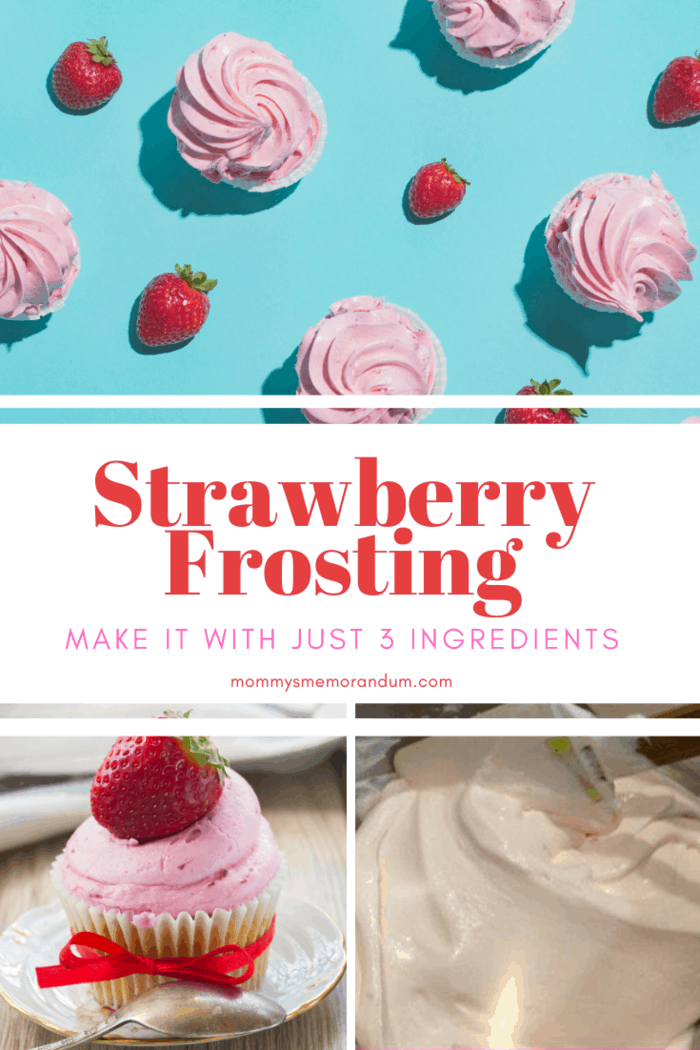 This Strawberry frosting is made with three ingredients: cool whip, milk, and strawberry jello mix.
You can make it either in a stand mixer with a whisk attachment or in a large bowl with a hand mixer.
This whipped strawberry frosting is best served the day it's made.
I think it's perfect for chocolate cupcakes or cake. What a match made in heaven–strawberries and chocolate.
If you're a purist, you can always add a fourth ingredient, chunks of fresh strawberries!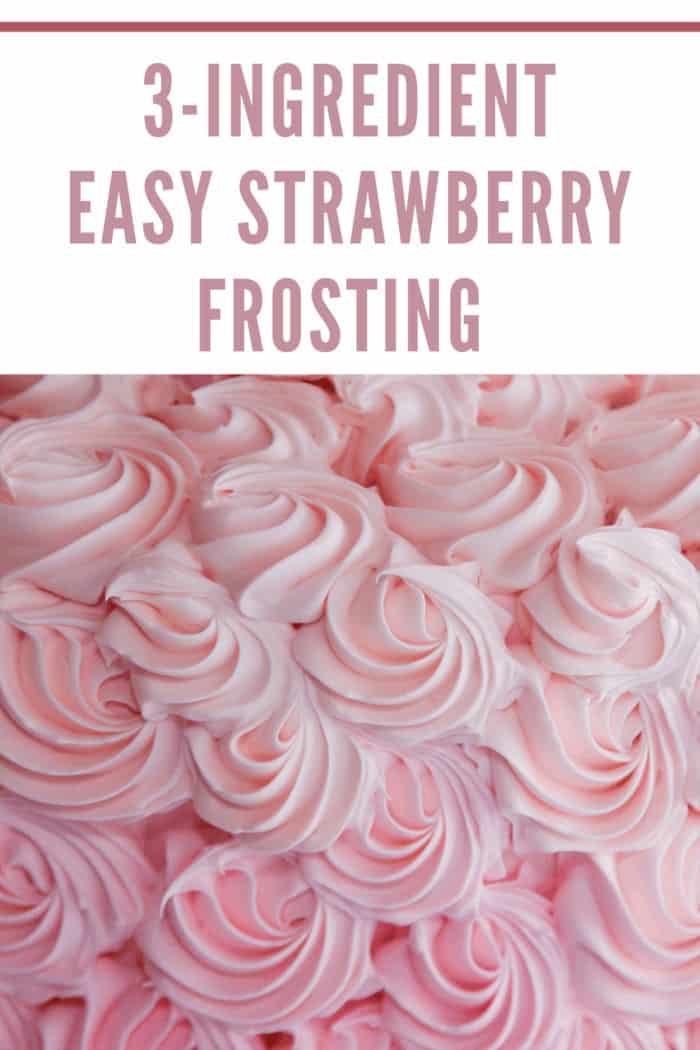 If you're short on time, or just inherently lazy, like me, this easy 3-ingredient strawberry frosting is the fluffy, stable whipped dream you've been searching for!
Again, just three ingredients. Strawberry pudding, Cool Whip, and milk.
That's it.
I get it.
Jello in your frosting sounds weird.
Consider this: with the sweetness and bright color of Jell-O changes both its taste and appearance.
The other selling point here is that you aren't just limited to an easy strawberry frosting!
Using Jell-O as a base flavor means that your frosting flavors are only limited by the varieties of Jello on the shelves.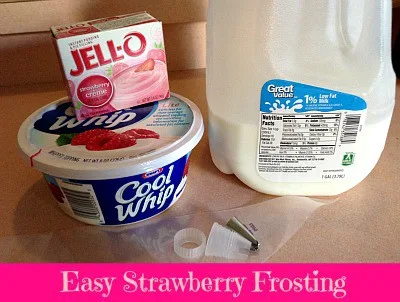 One more time, in case you blinked.
Easy Strawberry Frosting Ingredients:
-One box of strawberry pudding
-1 cup milk
-1 tub of cool whip
The directions are just as easy!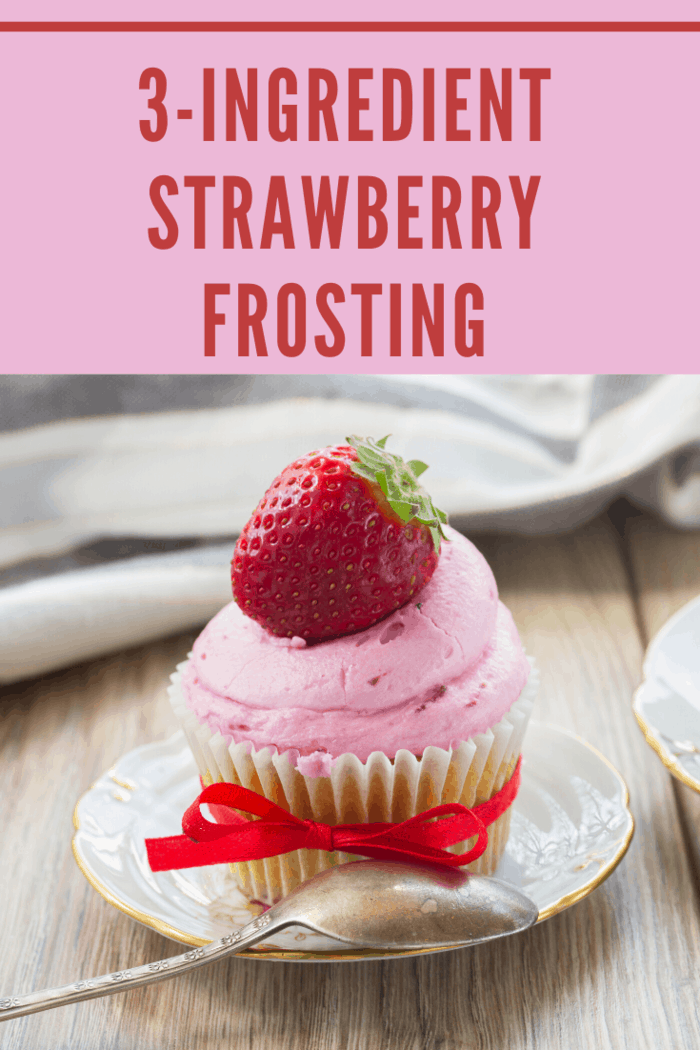 Easy Strawberry Frosting Directions:
Mix the pudding with milk until dissolved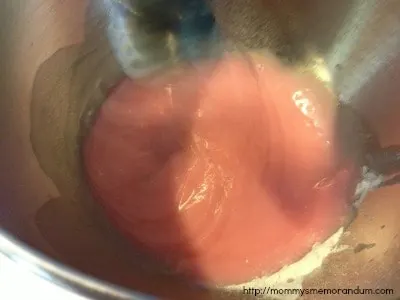 Whip in cool whip.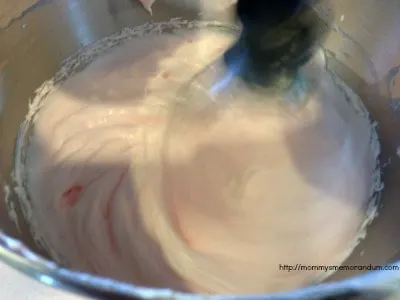 Transfer to a piping bag and have fun!!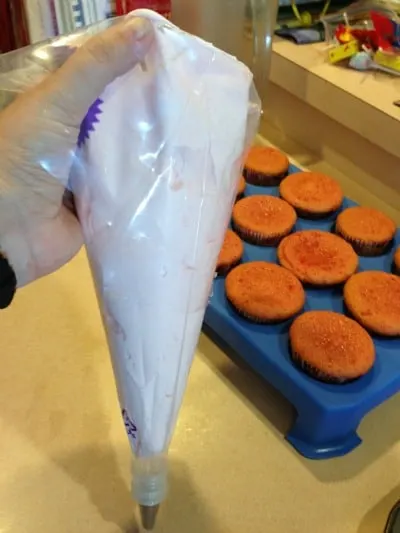 Easy Strawberry Frosting Tip;
Place a metal mixing bowl and beaters in the freezer for about 15 minutes.
This step isn't necessary.
In fact, you can skip it.
But…
By placing the bowl and beaters in the freezer, it produces a frosting with stiffer peaks.
The downside–it will take a little longer for your milk to dissolve the jello.
If you aren't opposed to an extra dish to wash, try transferring the dissolved jello mixture to your chilled bowl.
Ready. Set. Decorate!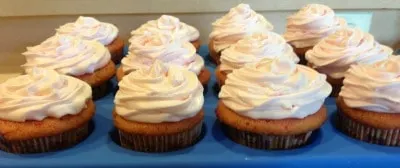 And while this Strawberry frosting recipe is a couple more than 3-ingredients, it might be one you want to try.
It's a little more luxurious.
It takes a little longer.
Consider it a bonus if one day you have a little more time and want to try it.
Side note: If you are planning on doing beautiful piping–the Jello Strawberry Frosting recipe below is perfect, but you'll need to work quickly as this will become firm, unlike the recipe above.
Jello Strawberry Frosting Ingredients
3-ounce package of Jell-O
2/3 cup granulateded sugar
1 egg white*
1 teaspoon vanilla extract
½ cup boiling water
*Raw egg white. I hear you, but if you follow the directions, the boiling water will be killed in the egg white due to the prolonged exposure.
Jello Strawberry Frosting Directions
Please all ingredients, EXCEPT the boiling water in a large bowl.
Slowly add the boiling water while using a mixer (hand or stand will work) on medium.
Mix for five minutes on high once all the water has been added.
Let's Get to Eating!
I recommend the cupcake sandwich eating method: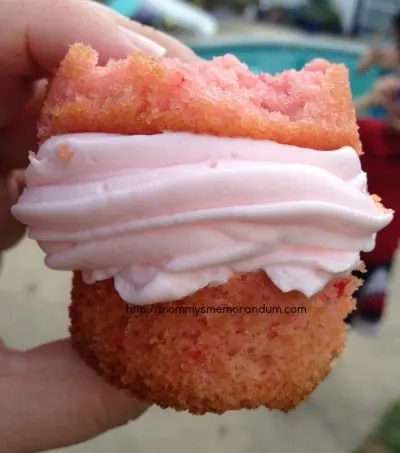 Other Frosting Recipes you may Like;
Bailey's Irish Cream Frosting Recipe
Orange Dreamsicle Buttercream Frosting Recipe
Pink Champagne Buttercream Icing Recipe
Root Beer Buttercream Icing Recipe
Tutorials for Frosting:
How to Do a Basket Weave with Frosting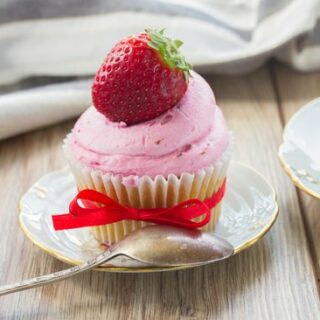 Easy Strawberry Frosting Recipe--JUST 3 Ingredients
It doesn't get much simpler than this easy strawberry frosting recipe with just 3-ingredients.
Ingredients
One box of strawberry pudding
1 cup milk
1 tub of cool whip
Instructions
Mix the pudding with milk until dissolved
Whip in cool whip
Transfer to a piping bag and have fun!!
Notes
Best when used the same day it is made
Nutrition Information:
Yield:

6 cups
Serving Size:

1
Amount Per Serving:
Calories:

52
Total Fat:

2g
Saturated Fat:

1g
Trans Fat:

0g
Unsaturated Fat:

1g
Cholesterol:

13mg
Sodium:

34mg
Carbohydrates:

7g
Fiber:

0g
Sugar:

5g
Protein:

2g
Nutritional Information may not be accurate
Great love to Briana for the pictures and recipe!