Indulge in the tantalizing delight of Orange Dreamsicle Buttercream, a sumptuous and creamy confection that takes your taste buds on a blissful journey. Inspired by the classic ice cream treat that has captivated generations, this luscious buttercream boasts a harmonious fusion of zesty oranges and velvety vanilla, bringing together the best of both worlds.
Immerse yourself in the captivating citrus aroma that emanates from the freshly zested oranges, infusing each spoonful with a burst of tangy brightness. As you savor the first velvety mouthful, the creamy texture dances on your palate, leaving a trail of pure bliss with every delectable bite.
Our skilled bakers meticulously craft this Orange Dreamsicle Buttercream using the finest natural ingredients, ensuring an authentic and pure taste. The high-quality butter, combined with a hint of sweet vanilla, creates an irresistibly smooth and dreamy consistency that is perfect for spreading, piping, or simply enjoying by the spoonful.
Versatility is the essence of this delectable creation. Whether adorning a fluffy cupcake, filling a decadent layer cake, or enhancing the allure of a freshly baked scone, Orange Dreamsicle Buttercream elevates every dessert to new heights of tasteful indulgence. Try it on our Orange Creamsicle Cupcakes.
Not merely limited to traditional applications, this velvety buttercream also serves as an inspired topping for waffles, pancakes, and crepes, introducing a burst of fruity vibrancy to your breakfast rituals. Its versatility extends beyond desserts, as it harmonizes splendidly with various sweet treats and baked goods, making it an enchanting addition to your culinary repertoire.
Experience the enchantment of Orange Dreamsicle Buttercream, where the nostalgic allure of childhood meets the refined elegance of gourmet craftsmanship. A symphony of flavors awaits, inviting you to embark on a delightful sensory journey that will leave you craving more with each captivating spoonful. Unleash your culinary creativity and elevate your desserts to new heights with this delightful, zesty masterpiece.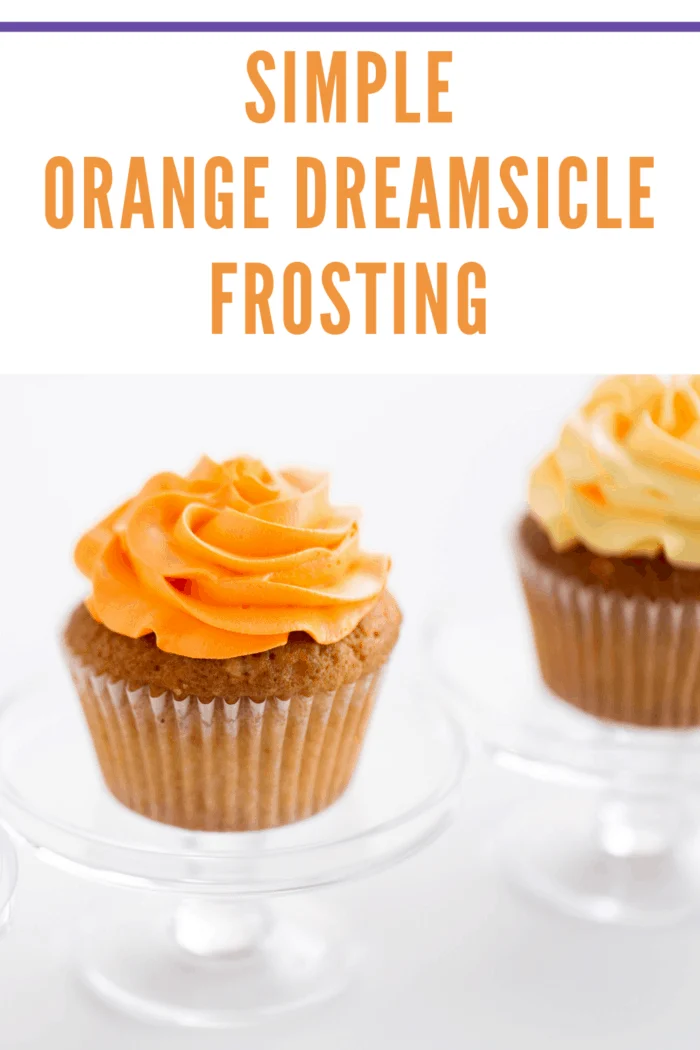 Delicious Orange Dreamsicle Buttercream
Prep Time: 15 minutes
Servings: 24 cupcakes
Ingredients:
2 cups butter, at room temperature
5 cups powdered sugar
1 tablespoon vanilla extract
6 tablespoons TGIFridays Orange Dream drink mixer
11 drops yellow food coloring
4 drops red food coloring
For Decoration:
Orange sugar
Sprinkles
Chocolate swirls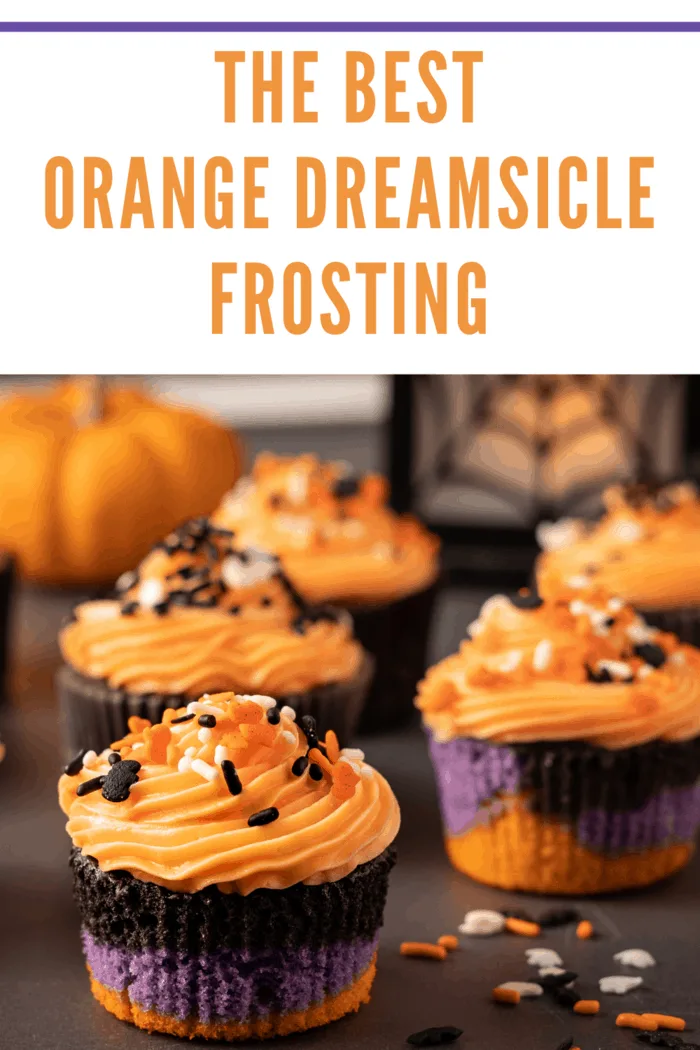 How to Make Orange Dreamsicle Buttercream
In a large mixing bowl, beat the room-temperature butter on high speed using an electric mixer for about 5 minutes until it becomes light and fluffy.
While the mixer is on low speed, gradually add the powdered sugar to the whipped butter until fully incorporated. Scrape down the sides of the bowl with a spatula as needed.
Add the vanilla extract and the TGIFridays Orange Dream drink mixer to the butter-sugar mixture. For a bright zing of color, carefully add 11 drops of yellow food coloring and 4 drops of red food coloring. Continue whipping the mixture on high speed until the buttercream achieves a smooth and creamy texture.
Prepare a piping bag fitted with a round tip and transfer the Orange Dreamsicle Buttercream into the bag.
Frost your cupcakes with the Orange Dreamsicle Buttercream, starting from the center and swirling outwards in a circular motion.
For a delightful finishing touch, garnish the cupcakes with orange sugar, sprinkles, and chocolate swirls.
Serve and enjoy these delectable Orange Dreamsicle Buttercream cupcakes! Store any leftover frosted cupcakes in an airtight container in the refrigerator for up to 3 days.
Note: The Orange Dreamsicle Buttercream can also be used to frost cakes, cookies, or other baked goods. Feel free to get creative with the decorations to suit your taste and occasion.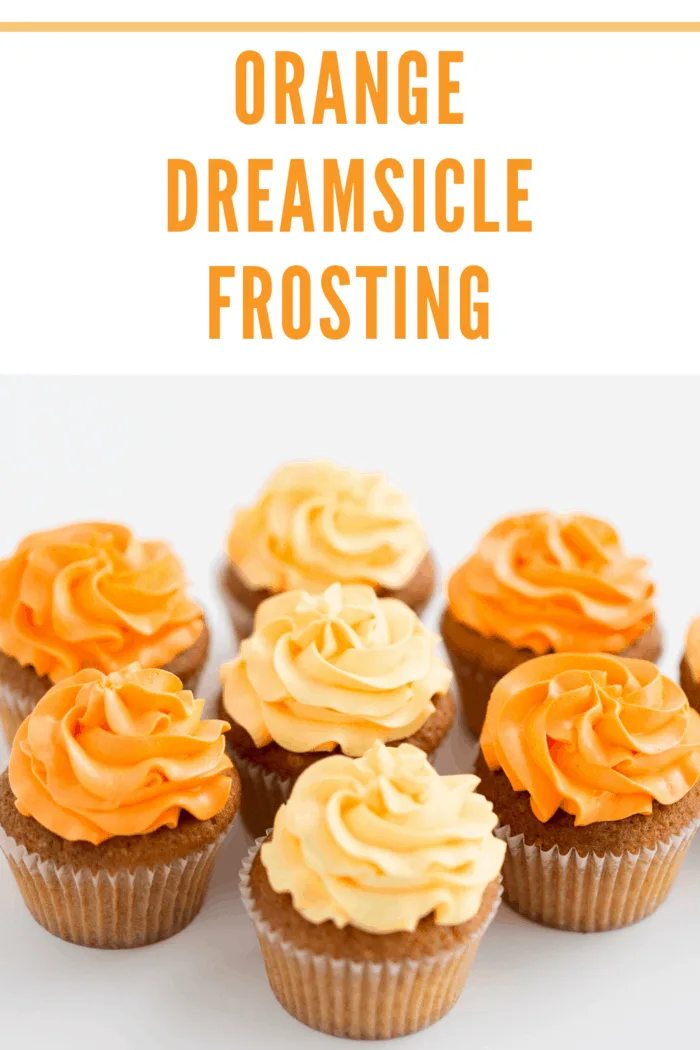 Frequently Asked Questions (FAQs) about Orange Dreamsicle Buttercream Cupcakes:
1. Can I use unsalted butter instead of salted butter for the buttercream? Yes, you can use unsalted butter instead of salted butter. If you opt for unsalted butter, consider adding a pinch of salt to the buttercream to enhance the flavor.
2. Is it possible to make the Orange Dreamsicle Buttercream in advance? Absolutely! You can prepare the buttercream in advance and store it in an airtight container in the refrigerator for up to one week. Make sure to bring it back to room temperature and give it a quick whip with the electric mixer before using.
3. Can I use a different brand of orange drink mixer for the recipe? Yes, you can use a different brand of orange drink mixer if you can't find the TGIFridays Orange Dream drink mixer. Just ensure that it is of good quality and has a delicious orange flavor that pairs well with the buttercream.
4. Can I adjust the sweetness of the buttercream to my liking? Certainly! If you find the buttercream too sweet for your taste, you can reduce the amount of powdered sugar. Start by adding 1/4 cup less powdered sugar and adjust according to your preference.
5. How do I achieve the perfect piping consistency for the buttercream? If the buttercream is too soft for piping, you can place it in the refrigerator for about 15-20 minutes to firm up slightly. Conversely, if it's too stiff, you can add a splash of milk or cream and mix until you reach the desired consistency.
6. Can I freeze the Orange Dreamsicle Buttercream? Yes, you can freeze the buttercream for up to 2-3 months. Transfer it to an airtight container or freezer-safe bag, removing as much air as possible. Thaw it in the refrigerator overnight before using, and give it a quick mix before frosting.
7. How many cupcakes will this recipe frost? This recipe yields enough Orange Dreamsicle Buttercream to frost approximately 24 standard-sized cupcakes, depending on how generously you pipe the frosting.
8. Can I use natural food coloring instead of artificial food coloring? Yes, you can use natural food coloring made from fruits and vegetables if you prefer to avoid artificial food dyes. Adjust the amount to achieve your desired hue.
9. Can I use this buttercream to fill cakes instead of just frosting cupcakes? Absolutely! The Orange Dreamsicle Buttercream works wonderfully as a cake filling as well. Spread a generous layer between cake layers for a delightful burst of flavor.
10. Are there any allergen concerns with this recipe? This recipe contains dairy (butter) and may not be suitable for individuals with dairy allergies. For those with gluten allergies or sensitivities, ensure that all ingredients, including the drink mixer, are gluten-free. Always check for allergen information on product labels if unsure.
Other Frosting Recipes you may Like:
Easy Strawberry Frosting Recipe–JUST 3 Ingredients
Bailey's Irish Cream Frosting Recipe
Pink Champagne Buttercream Icing Recipe
Root Beer Buttercream Icing Recipe
Tutorials for Frosting:
How to Do a Basket Weave with Frosting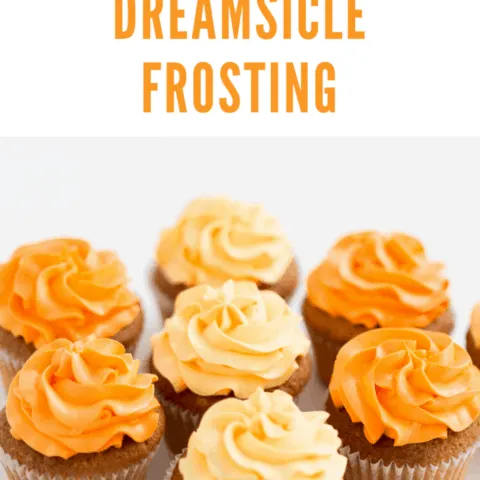 Orange Dreamsicle Buttercream Frosting Recipe
This incredibly scrumptious, smooth, and fluffy orange dreamsicle buttercream icing that tastes like the perfect orange dreamsicle. #buttercream #orangedreamsiclebuttercream
Ingredients
2 cups butter (room temperature)
5 cups powdered sugar
1 Tablespoon vanilla
6 Tablespoon TGIFridays Orange Dream drink mixer
(I also added 11 drops yellow and 4 drops of red food coloring to give it a bright zing of color)
Instructions
Beat butter on high-speed w/electric mixer for 5 minutes. Slowly (while on low-speed) add powdered sugar until incorporated. Add vanilla, drink mix (and food coloring), and continue whipping on high speed until light and fluffy.
Transfer to a piping bag with a round tip and frost cupcakes.
Sprinkle with orange sugar…or garnish with sprinkles, chocolate swirls.
Nutrition Information:
Yield:

24
Serving Size:

1
Amount Per Serving:
Calories:

228
Total Fat:

15g
Saturated Fat:

10g
Trans Fat:

1g
Unsaturated Fat:

5g
Cholesterol:

41mg
Sodium:

122mg
Carbohydrates:

23g
Fiber:

0g
Sugar:

23g
Protein:

0g
The Nutritional Information may not be accurate.