Using a freezer bag as a pastry bag for this recipe, makes it a SUPER example of a "crappy little kitchen" recipe, using not only gourmet recipe expertise, but crappy little kitchen knowledge as well. This sauce is Spicy Pomodoro. Literally translated "golden apple", its meant to be quick, while tasting as though it took all day.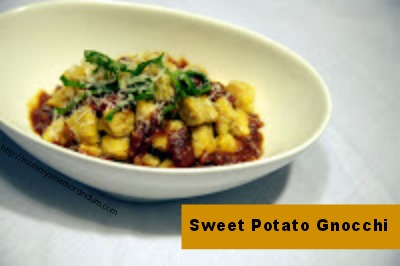 Ingredients:
Sweet potatoes, medium 2 or 1 lb
Sea salt to taste
All purpose flour ½ c
Parmesan cheese, freshly grated ½ c (save some for garnish)
Egg yolk 1
Extra virgin olive oil ¼ c + ¼
Shallot, chopped ½ c
Garlic cloves, minced 2
Sea salt to taste
Black pepper to taste
Baby roma tomatoes, quartered 2 c
Red pepper flake 2 tsp
Fresh basil leaves, sliced thinly 10 (save some for garnish)
Directions:
1. Preheat your oven to 350°. Rub the sweet potato with olive oil and put them on a baking sheet and in the oven. They should roast about 30 minutes. Bring your sweet potatoes out of the oven using a kitchen towel (they will be hot). Carefully cut a slit running the length of the sweet potatoes and squeeze their contents into a medium sized bowl.
2. Use your whisk to mash any lumps out of the roasted sweet potatoes. Fold in the flour and Parmesan cheese. Season to your tastes with salt and pepper, and then mix in the egg yolk. Refrigerate for an hour to chill and set up to a firmer texture.
3. Place your 12-quart stockpot over a high heat and fill it half way with water. When the water begins to boil, add 1 tablespoon of sea salt.
4. Place your 8-inch sauté pan over a medium heat and add the olive oil. When it heats slightly add the shallot and garlic, cooking until softened and lightly browned. Season lightly with salt and pepper.
5. Carefully slide in the tomatoes and red pepper flake, allowing it to come to a boil. Move to a back burner on a very low heat while it cooks for 20 minutes.
6. Place your 12-inch sauté pan onto a medium high heat. Pull your gnocchi dough out of the refrigerator and put into the bottom of a freezer bag. Push all of the contents into a bottom corner and cut a centimeter sized whole into that corner.
7. Over the boiling water in the 12-quart stockpot, squeeze lightly on the freezer bag to force out 1 centimeter of dumpling. Use your knife to cut each dumpling making it fall into the simmering water. Use half of the bag of dough in this fashion.
8. When those dumplings begin to float in the boiling water. Add 1/4 cup of olive oil to the 12-inch sauté pan. Carefully, strain the gnocchi from the stock pot, allowing all of the water to drain out. Pour them into the sauté pan being VERY careful to pour them in AWAY from yourself. Move them around slightly to make sure they brown evenly. When golden brown, transfer them to your serving platter.
9. Repeat step 7 and 8 with the dough remaining in the freezer bag. Taste your pomodoro sauce at this point to see if it needs any more seasoning. Toss the fresh basil through the sauce to cook for 1 minute before topping your gnocchi.
10. Whenever garnishing a gourmet plate, be certain to use flavor profiles that are present in the dish. Garnish the plate with extra sliced basil from the sauce and grated Parmesan cheese from the gnocchi.
Copyright 2008-2010. Jennifer Schaertl. All rights reserved.