Indulge in the warm and comforting flavors of this delectable Sweet Potato Casserole with a delightful Pecan Crunch and gooey Marshmallow topping. Perfect for family gatherings or holiday feasts, this recipe combines the richness of sweet potatoes with a satisfying crunch and sweetness that will leave everyone wanting seconds.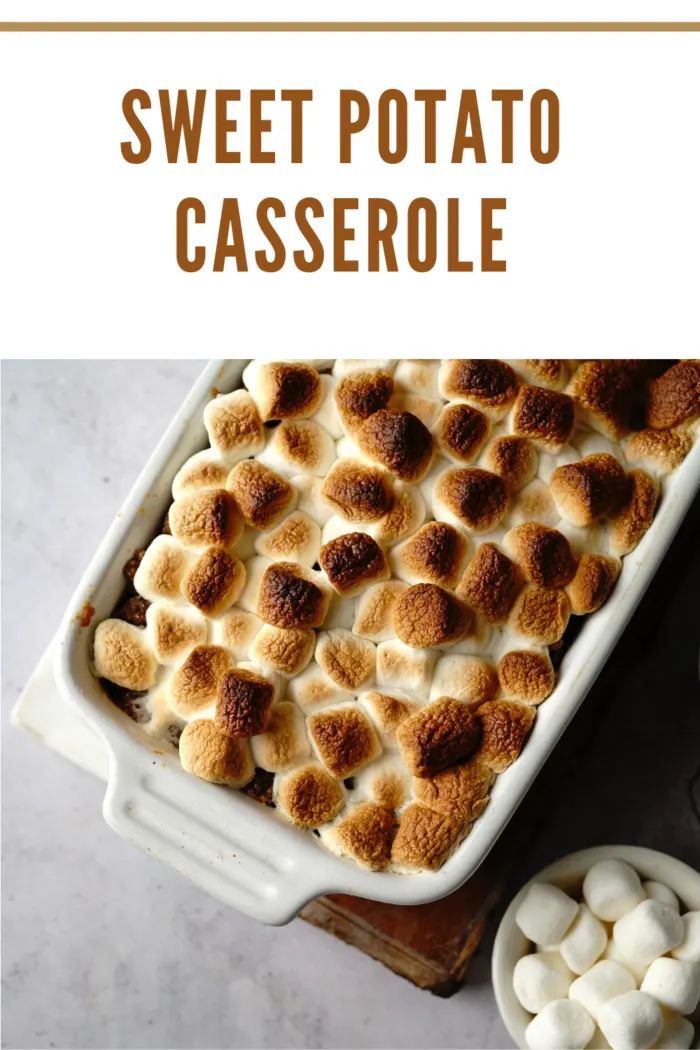 Sweet Potato Casserole with Pecan Crunch and Marshmallow Topping
Prep Time: 20 minutes
Cooking Time: 1 hour and 40 minutes
Servings: 8-10
Ingredients:
Sweet Potato Base:

4 1/2 pounds (2.04 kg) sweet potatoes
1 cup (200 g) granulated sugar
1/2 cup (113 g) butter, softened, plus 1 tablespoon (14 g) melted, divided
1/4 cup (60 ml) milk
2 large eggs
1 teaspoon (5 ml) vanilla extract
1/4 teaspoon (1.25 g) salt

Pecan Crunch Topping:

1 1/4 cups (31.25 g) cornflake cereal, crushed
1/4 cup (30 g) pecans, chopped
1 tablespoon (12.5 g) brown sugar

Marshmallow Topping:

1 1/2 cups (180 g) miniature marshmallows
How to Make Sweet Potato Casserole with Pecan Crunch and Marshmallow Topping
Step 1 – Preheat and Prepare: Preheat the oven to 400°F (200°C). Grease a 7×11-inch (18×28 cm) baking dish.
Step 2 – Roast Sweet Potatoes: Bake the sweet potatoes in the preheated oven until tender, approximately 1 hour. Allow them to cool for about 20 minutes or until safe to handle.
Step 3 – Mash Sweet Potatoes: Peel and mash the sweet potatoes. Reduce the oven temperature to 350°F (175°C).
Step 4 – Prepare Base Mixture: In a bowl, combine the mashed sweet potatoes, granulated sugar, 1/2 cup of softened butter, milk, eggs, vanilla extract, and salt. Beat the mixture with an electric mixer on medium speed until smooth.
Step 5 – Assemble Casserole: Spoon the sweet potato mixture into the prepared baking dish.
Step 6 – Prepare Pecan Crunch: In a small bowl, mix the crushed cereal, chopped pecans, brown sugar, and the remaining melted butter. Sprinkle this mixture over the casserole in diagonal rows, maintaining a 2-inch gap between rows.
Step 7 – Bake: Bake the casserole for 30 minutes.
Step 8 – Add Marshmallows: After removing the casserole from the oven, let it stand for 10 minutes. Sprinkle the marshmallows in the spaces between the cereal rows.
Step 9 – Final Bake: Bake until the marshmallows are melted and browning on top, approximately 10 minutes.
Step 10 – Rest and Serve: Allow the casserole to stand for an additional 10 minutes before serving.
Expert Tips:
For an extra layer of flavor, consider adding a pinch of cinnamon or nutmeg to the sweet potato mixture.
Customize the pecan crunch by incorporating other nuts like walnuts or almonds for added texture.
Recipe FAQs:
Can I prepare this dish in advance? Yes, you can assemble the casserole up to a day in advance and refrigerate it. Bake it just before serving for the best results.
Can I use marshmallow fluff instead of miniature marshmallows? Certainly! Adjust the quantity to your liking, and spread marshmallow fluff evenly over the casserole before the final bake.