OUTLAST the Germs with Outlast Hand Sanitizer.
I have children.
They taunt each other with "Cooties".
As a mom, I realize the reality of this taunt.
They are lured to the community train set when we are out.
They touch EVERYTHING and waste no time eating snacks without washing their meat paws.
It's gross!
My husband is far more disgusted by the world of our contaminated children.
He has stocked our car and bags with hand sanitizers.
It's routine for us to douse the hands immediately out of a store.
Thanks to MomSelect, we were able to review OUTLAST and host a party to help other parents get on the sanitary wagon.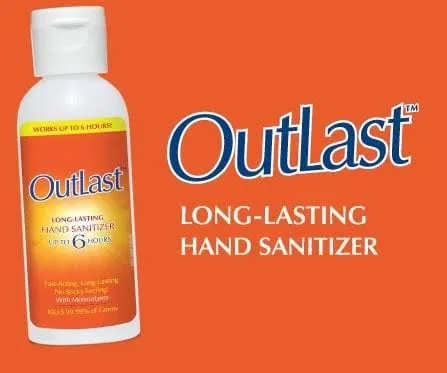 Did you know that while some germs can live on surfaces for more than two hours and most alcohol-based hand sanitizers only work for two minutes?
Outlast Hand Sanitizer works for up to six hours!
Take that germs!
From an Outlast Press Release:
•While some germs can live on surfaces for more than two hours, most alcohol-based hand sanitizers only work for 2 minutes.
• OutLastTM Long-Lasting Hand Sanitizer it works for up to 6 hours.
Leading hand sanitizers only lasts two minutes.
•OutLast Long-Lasting Hand Sanitizer is alcohol-based, so it kills 99.99% of germs instantly.
•OutLast Long-Lasting Hand Sanitizer has a patented formula developed by researchers at Columbia University Medical School.
•Surgeons and other healthcare professionals have used the OutLast Long-Lasting Hand Sanitizer formula in hospitals for years.
•You might think that a hand sanitizer used in hospitals may be rough on your kids' hands, but OutLast Long-Lasting Hand Sanitizer has moisturizers and leaves hands feeling silky and not sticky.
•Other hand sanitizers may end up costing more in the long run because they only last 2 minutes.
•Healthcare specialists agree that hand washing is the single most effective way to prevent the transmission of disease.
When soap and water are not available, use an alcohol-based hand sanitizer.
We've tried many different hand sanitizers.
Outlast doesn't foam and it's relatively thin compared to other hand sanitizers we have used.
Outlast is easy to use and rubs into hands quickly. It dries with no residual stickiness or wetness. Not once have my children complained that it wreaks of alcohol. Outlast contains moisturizers so it's not drying your hands out while it's defending you against those pesky germs.
Outlast is not intended for children under two years of age.
I received this product from MomSelect as compensation for this post. I received no other compensation. The opinions expressed are my own and were in no way influenced by the sponsor. Others experience may vary.