Introducing Weight Watchers' sensational Blackberry-Sweet Potato Salad Recipe! Are you ready to savor the perfect blend of flavors and nourish your body with wholesome goodness? Look no further, as this recipe will revolutionize your mealtime with a burst of tangy sweetness and nutritious ingredients.
Imagine a delectable combination of luscious blackberries, tender sweet potatoes, and a medley of vibrant veggies, all beautifully intertwined to create a colorful masterpiece. This salad is not only a treat for your taste buds but also a smart choice for your well-being.
Weight Watchers understands the importance of a balanced and enjoyable diet. That's why this Blackberry-Sweet Potato Salad Recipe is designed to be both satisfying and healthy, with a focus on portion control and wholesome ingredients. We believe in empowering you to make informed choices while still indulging in delicious flavors.
What sets this recipe apart is the harmonious blend of contrasting textures and tastes. Picture biting into succulent blackberries that burst with juicy sweetness, complemented by the natural earthiness of roasted sweet potatoes. Add to that a delightful mix of crunchy greens, crisp cucumbers, and zesty red onions, all lightly dressed with a tangy vinaigrette that ties the flavors together.
With Weight Watchers, you can enjoy this Blackberry-Sweet Potato Salad guilt-free, as our SmartPoints system helps you track and manage your food choices. We believe in making wellness a lifestyle, one that's both enjoyable and sustainable.
Whether you're striving for a healthier you or simply seeking to diversify your culinary repertoire, our Blackberry-Sweet Potato Salad Recipe is a must-try. It's an ideal addition to your lunch or dinner table, be it a light summer meal, a refreshing side dish, or a standalone satisfying salad.
Don't miss out on this sensational recipe that brings together the best of both worlds: taste and nutrition. Head over to our website or visit your nearest Weight Watchers center to discover the complete recipe and embark on a delicious journey towards a healthier you.
Weight Watchers' Blackberry-Sweet Potato Salad Recipe—because healthy eating should never compromise on flavor!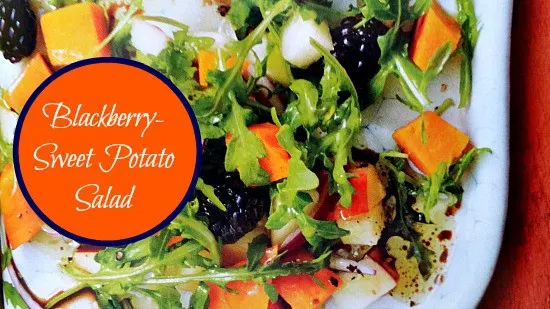 A delicious blend of colors, textures and flavors make this a salad you'll go to again and again.
Blackberry-Sweet Potato Salad Recipe
Author:
Ingredients
2 cups arugula
1 sweet potato, cooked, sliced and peeled
1 Gala Applie, sliced
1/2 cup blackberries
1/4 red onion, thinly sliced
1-1/2 Tbsp balsamic vinaigrette dressing, low-fat
Instructions
Mix all ingredients together.
FAQs
Here are some frequently asked questions about Weight Watchers' Blackberry-Sweet Potato Salad Recipe:
How many SmartPoints does the Blackberry-Sweet Potato Salad have?

The SmartPoints value of the salad can vary depending on the specific ingredients and quantities used. To calculate the SmartPoints for this recipe, you can refer to the Weight Watchers website or mobile app, which provides a comprehensive database of ingredients and their corresponding SmartPoints values.

Can I customize the recipe to suit my preferences?

Absolutely! Weight Watchers encourages personalization and flexibility. Feel free to adjust the ingredients or quantities to align with your taste preferences or dietary needs. Just remember to consider the SmartPoints values of any substitutions or additions you make.

How can I find the complete recipe for the Blackberry-Sweet Potato Salad?

You can find the full recipe for the Blackberry-Sweet Potato Salad on the Weight Watchers website or mobile app. The recipe will provide you with a list of ingredients, step-by-step instructions, and any additional tips or variations.

Are there any alternative ingredients I can use?

Yes, you can experiment with various alternatives to suit your dietary preferences or any ingredient restrictions you may have. For example, if you're following a vegan or vegetarian diet, you can replace animal-based ingredients with plant-based options. Be mindful of the SmartPoints values of the substitutions you choose.

Can I make the salad ahead of time?

Yes, you can prepare the salad in advance. However, it's best to wait until just before serving to add the dressing. This will help maintain the salad's freshness and prevent it from becoming soggy.

Can I use frozen blackberries or sweet potatoes?

Fresh ingredients are recommended for the best flavor and texture. However, if fresh blackberries or sweet potatoes are not available, you can use frozen ones as a substitute. Just make sure to thaw and drain them properly before incorporating them into the salad.
Remember, if you have specific dietary concerns or require personalized guidance, it's always best to consult with a healthcare professional or a registered dietitian. Enjoy your journey of healthy eating with Weight Watchers' Blackberry-Sweet Potato Salad Recipe!
3/4 cup= 2 points