Growing up, there was salt on the table. We lived in Utah, not far from where they mine salt. I thought that was the extent of salt. One salt does it all. Then, I grew up and learned quality ingredients make a quality meal, and the flavor doesn't have to be isolated to one generic label, like "salt."
In my cooking, I love to use a variety of flavors and textures. Salt is a great way to do this. Premium salt products from Selina Naturally elevate an ordinary dish beyond the table salt I grew up knowing.
For starters, there is Celtic Sea Salt. This salt is unrefined, sustainably harvested, kosher sea salt. I received Light Grey Celtic and Pink Sea Salt. It is also available in Fine Ground, Flower of the Ocean, and a gourmet finishing salt.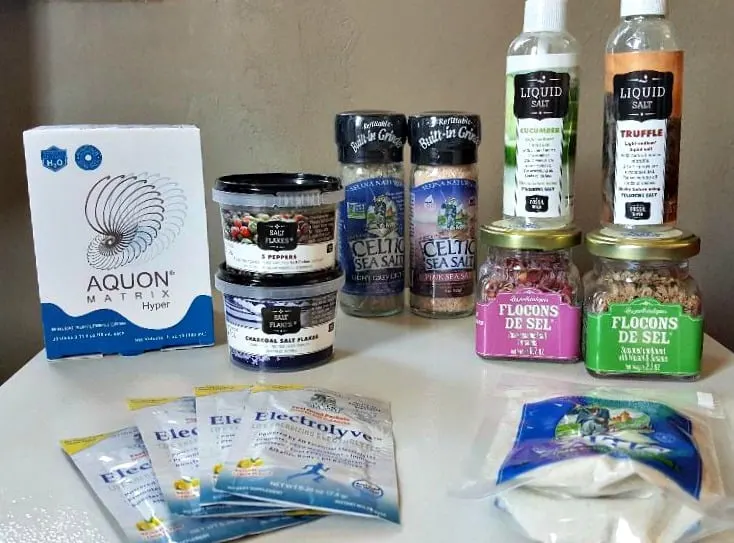 Celtic Sea Salt has been the World's Most Recommended Brand since 1976. Each harvest is carefully inspected to ensure the salt meets the brand's uncompromising standards of mineral content, taste, texture, smell, color, and crystal integrity.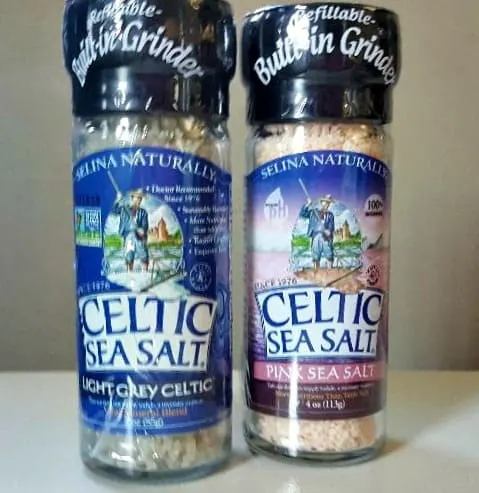 The Light Grey Celtic is a whole crystal salt that is coarse and moist. It gets its light grey hue from the pure clay lining of the salt beds from which it is harvested. It can be ground with a mortar and pestle or salt grinder. This salt is great for cooking, the crystals dissolve with heat and moisture and enhancing food with assertive flavor.
The Celtic Pink Sea Salt is harvested directly from the sea. Its pink color is derived from natural red clay lined with salt ponds. It's unrefined and sustainably harvested, not mined. It naturally contains essential trace minerals. This salt is semi-coarse and dissolves easily. It offers an exquisite, bright taste.
The refillable Celtic Sea Salt grinders are easy to use, and the coarse salts are available in bulk packages, making it economical and eco-friendly to use freshly ground salts.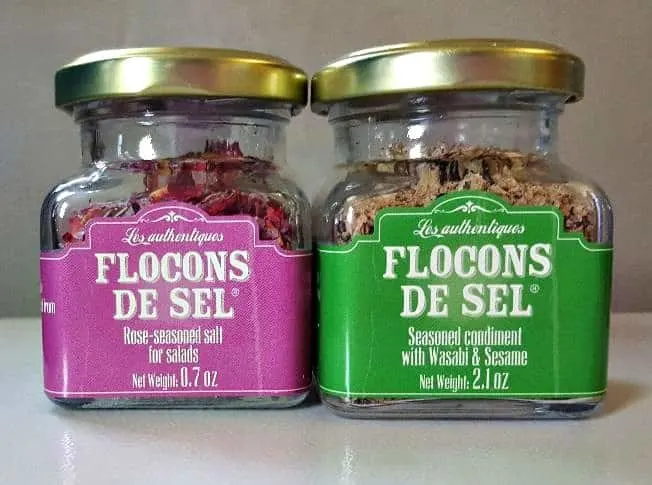 The Celtic Sea Salt Flocons de Sel Gourmet River Salt Flakes are delicate and subtly-flavored salt flakes harvested from the surface layer of the salt fields from the subterranean rivers of Villena Alicante (Spain). It's available in a variety of flavors: Nutty Smoked, With Wasabi & Sesame, Rose Petal, With Seaweed, and Szechuan Pepper.
We received Rose Petal and Wasabi & Sesame.
The Celtic Sea Salt Flocons De Sel Gourmet River Rose Petal Sea Salt is delicate and subtle. The flakes are gently combined with rose petals, rosemary, and Priorat wine. It pairs deliciously with quiche, salads, and soups.
The Celtic Sea Salt Flocons De Sel Gourmet River Wasabi & Sesame Sea Salt is also delicately flavored. A fusion of your favorite Asian flavors. We love this with Mongolian Beef.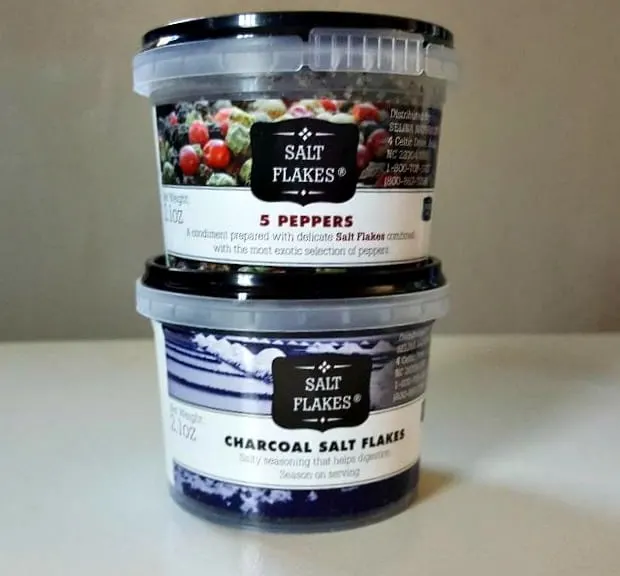 The Celtic Sea Salt Flakes are the newest addition to Celtic Sea Salts' most exotic salts. This is a different salt, crunchy, delicate, and so fine that it dissolves when it touches the lips. The Salt Flakes are created by means of artisanal extraction from subterranean rivers and dried by the sun and wind. Never any bleaches or additives, the salt retains all its original minerals and trace elements, making it worthy of its reputation.
The Celtic Sea Salt Flakes are available with Balsamic Vinegar, for Grilled Meat, With Aromatic Herbs (All-purpose), five peppers, and Activated Charcoal.
We received the Celtic Sea Salt Flakes 5 Peppers and Celtic Sea Salt Flakes Activated Charcoal.
The 5 Peppers is a delicate crunchy mineral salt flake with the finest selection of five exotic peppers. It is suitable for all types of dishes, especially sauces and barbecues. It's flakes of crystallized salt, white pepper, black pepper, green pepper, pink peppercorns, and allspice. I love this with my Clam Chowder recipe.
The Celtic Sea Salt Activated Charcoal Flakes are delicate, crunchy mineral salt flakes with charcoal. It's a seasoning that aids digestion. You can use this in all kinds of dishes.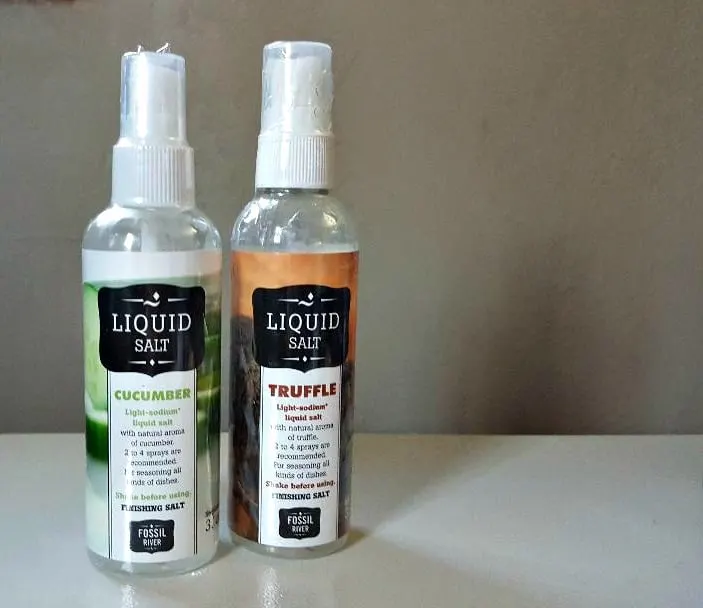 Celtic Sea Salt Liquid Low Sodium Spray Salts my family found to be the most unique. All Celtic Sea Salt Liquid Sprays are extracted from underground springs and naturally low in sodium liquid salt (17% sodium chloride, 6% potassium chloride). These liquid sprays are designed for flavoring salads plus enhancing cooked vegetable dishes and carpaccio.
The sprayer allows the salt to be dispensed evenly, reducing the overall amount used.
Celtic Sea Salt Liquid Sprays are available in Plain, Cucumber, Truffle, Mediterranean, and Garlic.
We received the Cucumber and Truffle.
The Celtic Sea Salt Liquid Cucumber Spray is a low-sodium salt with a natural extract of cucumber. Just add 2 to 4 sprays to all types of plates as a finishing salt.
The Celtic Sea Salt Liquid Truffle Spray is a low-sodium liquid spring salt with a natural truffle extract. It also requires just 2 to 4 sprays for delicious flavor.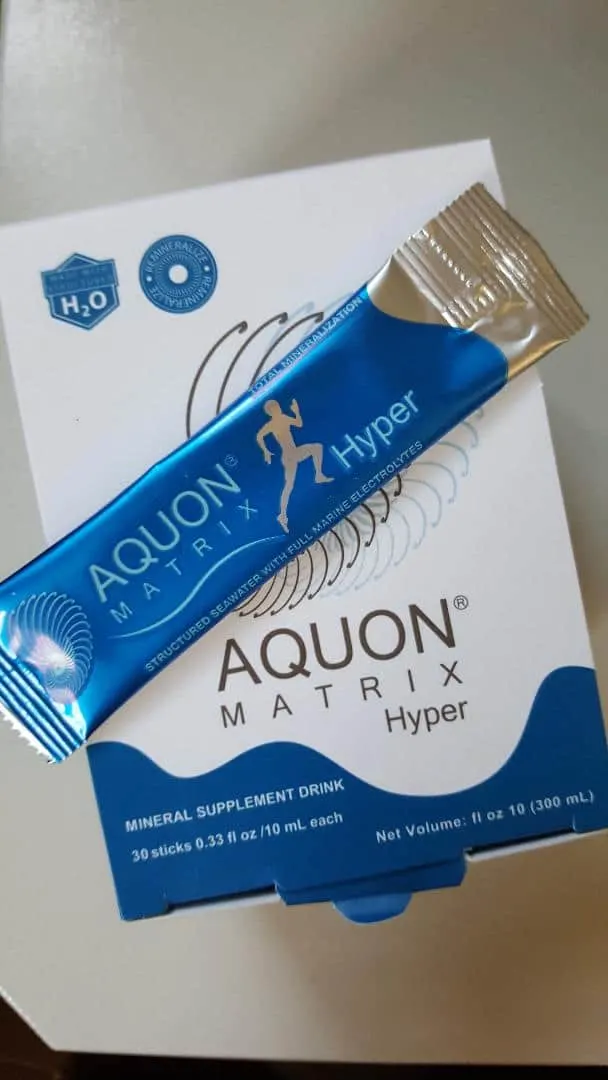 I am most fascinated by the Celtic Sea Salt AQUON Matrix.
I received the Hyper. It is also available in ISO.
The AQUON Matrix is the first hexagonally structured seawater, micro-filtered in cold temperatures to supplement essential minerals and biogenic elements to the body.
These single-serving packets help promote deep hydration, mineralization, and cell revitalization. It strengthens the immune system, boosts metabolic efficiency, improves physical and mental performance, and revives the mind and body from symptoms such as fatigue and exhaustion.
I used the AQUON Matrix Hyper to help me combat the flu. Rich phytoplankton seawater is double micro-filtered, preserving its abundance of organic and bioavailable minerals, and then passed through a proprietary system creating its unique hexagonal structure.
It's recommended you drink 1-4 sticks daily, preferably on an empty stomach. You dispense the liquid in the mouth and hold it under the tongue for 1 minute. Then swish before swallowing.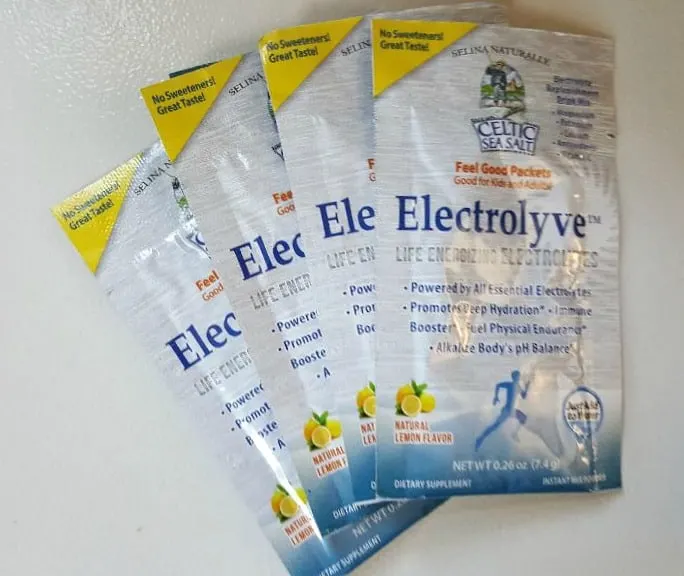 New to the product line is the Electrolyte. It's the ultimate electrolyte replenishment packet for both adults and kids.
This electrolyte drink powder mix has no added sweetener, color, or artificial flavor.
It's a delicious and refreshing flavor from real lemons.
It's practical and convenient in single-serve packets. It's powerfully hydrating.
Jacques Delangre originally founded the Grain and Salt Society in 1976. In 2007, the company became the present-day Selina Naturally, with Selina Delangre as the CEO. It is an interesting read on the people behind this brand and their drive to develop these healthful and natural products. I encourage you to read about them and learn about the brand through the Selina Naturally website.
All products mentioned in this post and health, beauty, books, and other items are available through Selina Naturally.
Celtic Sea Salt products are available for purchase at retailers near you.