Today's Best Recipe is Egg Wash. Learn about the different types of egg wash and how they affect baked goods.
Many recipes call for egg wash.
It's a mixture of an egg and a liquid.
It is commonly used on a pastry or bread before it goes into the oven to bake.
It is used to seal pastry, add sheen, and produce golden color.
Egg wash is pretty general as there are several types of egg wash, each creating its own result.
The ratio is usually no more than 1 tbsp liquid per egg, but recipes do vary, so always follow the recipe's directions.
Why Use an Egg Wash?
Egg wash is used for several reasons in cooking:
Appearance: Egg wash gives a beautiful golden or shiny finish to baked goods, enhancing their visual appeal. It helps create an attractive crust on pastries, bread, and other baked items, making them more enticing and appetizing.
Browning: When exposed to heat in the oven, the proteins and sugars present in the egg wash undergo a Maillard reaction, resulting in a desirable golden-brown color. This browning adds depth of flavor and improves the overall appearance of the dish.
Crust Texture: The proteins in the egg wash can contribute to the formation of a crisp and slightly glossy crust on pastries and bread. This creates a pleasant contrast with the soft interior of the baked goods.
Sealing and Binding: When making stuffed pastries or sealing the edges of pie crusts, an egg wash acts as an adhesive, helping to seal the layers together. It prevents the filling from leaking out during baking and helps maintain the shape of the baked item.
Breading Adhesion: For recipes that involve coating food items with breadcrumbs or flour, an egg wash acts as a binding agent. It helps the breading adhere to the surface of the food, ensuring a more even and crispy coating when frying or baking.
Flavor Enhancement: Egg wash can add a subtle richness and flavor to certain dishes, complementing the other ingredients used. Additionally, you can customize the egg wash by adding spices, herbs, or other seasonings to infuse the baked goods with additional taste.
It's important to note that while egg wash is commonly used, it's not essential for every recipe. Depending on dietary restrictions or personal preferences, alternative options like milk, non-dairy milk, or specialized egg substitutes can be used as substitutes for egg wash in certain recipes.
What is an Egg Wash?
In cooking, an egg wash refers to a mixture of beaten eggs that is used as a glaze or coating for various baked goods. It is commonly used to enhance the appearance, texture, and flavor of pastries, bread, and other dishes.
To make an egg wash, you typically beat one or more eggs together until the yolks and whites are well combined. Sometimes, a small amount of water, milk, cream, or other liquids may be added to the beaten eggs to thin out the mixture or adjust the consistency.
Egg wash serves multiple purposes depending on the desired outcome:
Glazing: When brushed onto baked goods before they go into the oven, egg wash creates a shiny, golden-brown crust. This is particularly common for pastries like pie crusts, bread rolls, and croissants.
Binding: Egg wash can act as an adhesive to help ingredients stick together. For example, when making stuffed pastries, the edges can be brushed with egg wash to seal them shut.
Coating: Some recipes call for dipping food items, such as chicken or fish, in egg wash before coating them in breadcrumbs or flour. This helps the breading adhere to the food and promotes even browning during frying or baking.
Additionally, egg wash can be flavored or enhanced with other ingredients, such as salt, sugar, spices, or herbs, to add extra taste or visual appeal to the finished product.
It's important to note that people with dietary restrictions or allergies to eggs should avoid using egg wash and can explore alternative options like milk, non-dairy milk, or specialized egg substitutes, depending on the recipe.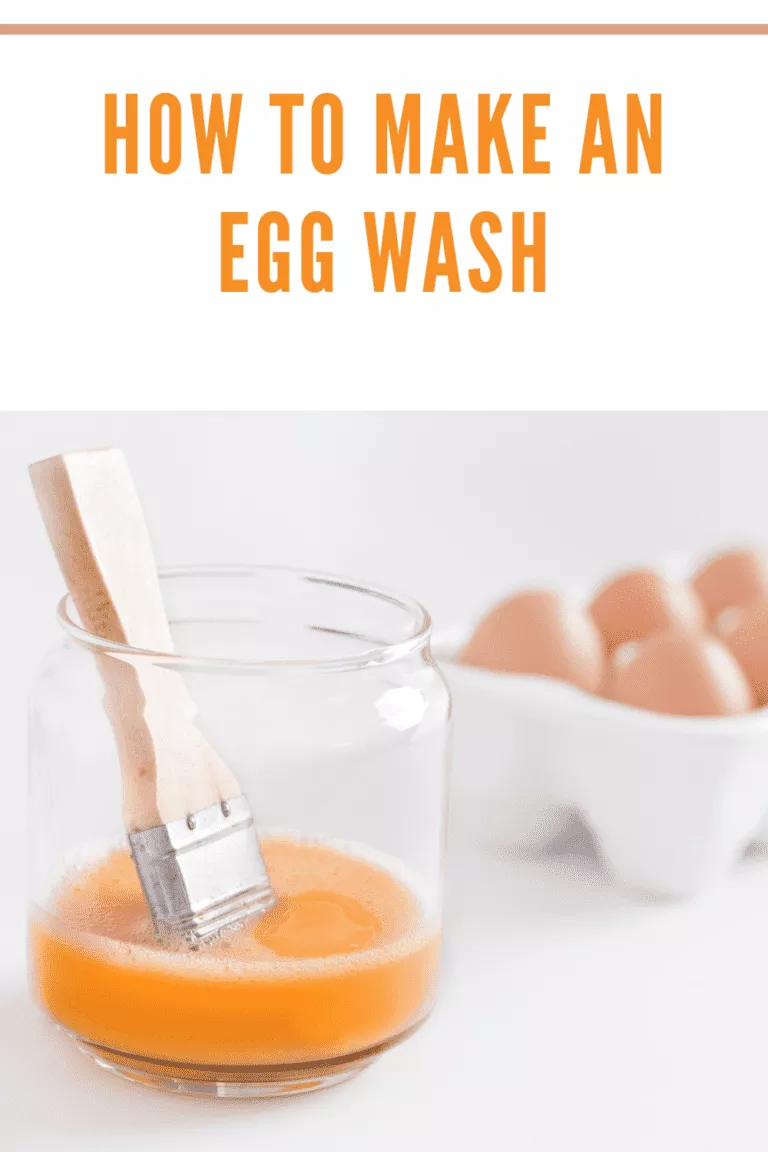 Egg Wash Types:
The egg will be the star ingredient no matter which type of egg wash, but the amount of egg or the liquid it is mixed with will yield different results.
Basic egg wash recipe:
Crack an egg into a small bowl and beat it thoroughly with a fork.
Add 1 tablespoon of water and 1/8 teaspoon salt. Whisk until combined.
Brush the egg wash onto the surface of your pastry.
Other Egg Wash Recipes
The Only Egg:
Whisk one egg to create the darkest golden brown with a medium sheen.
If you want to avoid a dark color, apply 10 minutes before you remove the baked good from the oven.
The Only Yolk:
Separate the egg white from the yolk and then whisk the yolk. This will produce a deep golden brown with a good sheen.
Apply this one 10 minutes before you remove the baked good from the oven to avoid browning it too much.