Honeyed Fig Pie Pops are a great holiday treat! Fig and Cheese is a delectable combination. With the holidays approaching, figs are popular and who doesn't love cheese? This recipe combines both flavors, takes the figs out of the traditional tart, and bakes them up in a pie. The crust is sweet enough to pull it off. After this recipe, you may not turn your nose up to the fig again!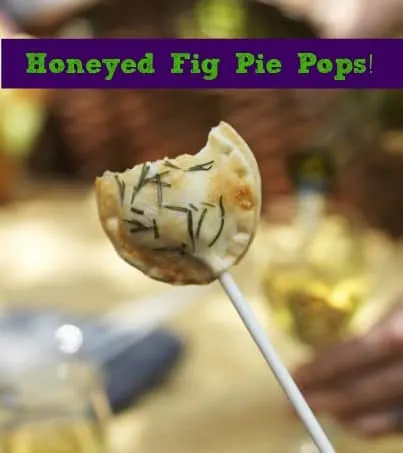 Honeyed Fig Pie Pops Recipe Ingredients:
Pie crust (either your favorite recipe or 4-unbaked store-bought or homemade 9′ Pie crust
Fig & Cheese Filling
1/2 cup cream cheese, softened
1/2 cup whipping cream
1 large egg
1/2 cup brown sugar
1/4 cup all-purpose flour
1/4 tsp salt
1/4 cup honey
5 cups brown or black figs, chopped small
Olive oil, for garnish
Fresh Rosemary for garnish
Honeyed Fig Pie Pops Recipe Directions:
Preheat the oven to 350 F.
Grease and flour a large baking sheet.
To prepare the Honeyed Fig Pie Pops Recipe Filling:
Mix the cream cheese, cream, egg, brown sugar, flour, salt, and honey in a large bowl.
Toss in the chopped figs and stir.
Pour into a 9-inch diameter pie dish.
Bake for 20-25 minutes.
Allow cooling to room temperature before using in pie pops.
Increase oven temperature to 375 degrees F.
To assemble the Honeyed Fig Pie Pops:
Flour both sides of the pie crusts, then roll flat with a rolling pin.
Using a 3-inch round cookie cutter, cut out twenty-four rounds from the dough. Twelve for the bottom crust and twelve for the top crust.
Lay out the twelve bottom crusts on the prepared baking sheet.
Brush each bottom crust with egg white using a silicone basting brush.
Press an 8-inch long cookie stick firmly on top of the center of each bottom crust.
Dispense a 1-1/2 inch fig mixture in the center of each bottom crust.
Place a top crust over each bottom crust and press firmly around the sides only, sealing the filling inside.
Create a cookie stick dowel by cutting a 1″ long piece at the end of an 8″ long cookie stick
Use this dowel to crimp the sealed edges of the pie pop by pressing firmly on each side of the stick first, then moving counterclockwise around the edges. This will keep the stick from moving around once the pie pop is baked.
After each pop is sealed and pressed, brush olive oil on each top crust and sprinkle with fresh rosemary.
Bake the sheet on the center rack of the oven for 15-18 minutes until the crust is nice and golden.
Place the individual pops on a cooling rack and let cool for at least 15 minutes before serving.
Recipe from EASY AS PIE POP by Andrea Smetona
Page Street Publishing/November 2013