Today's Best Recipe is 5 Ingredient Sloppy Joes with just five ingredients.
Easy recipes are a must for busy weeknight dinners, and this easy sloppy joe recipe is a quick meal the whole family will enjoy.
What is a Sloppy Joe?
It's a simple recipe for a hot, messy sandwich.
A Sloppy Joe is a sandwich made with ground beef, ketchup, and Worcestershire Sauce.
You can saute chopped onions, as they are a common ingredient.
The meat is then sandwiched on a hamburger bun.
This is NOT the Canned Sloppy Joe:
My children will eat almost anything.
The night I decided canned sloppy joe was an easy dinner recipe was the night we ended up ordering pizza.
No one would eat it.
If I make easy homemade sloppy joes, they gather and feast!
Five simple ingredients for delicious flavors!
We like to serve ours with sweet potato fries, potato chips, or a simple green veggie.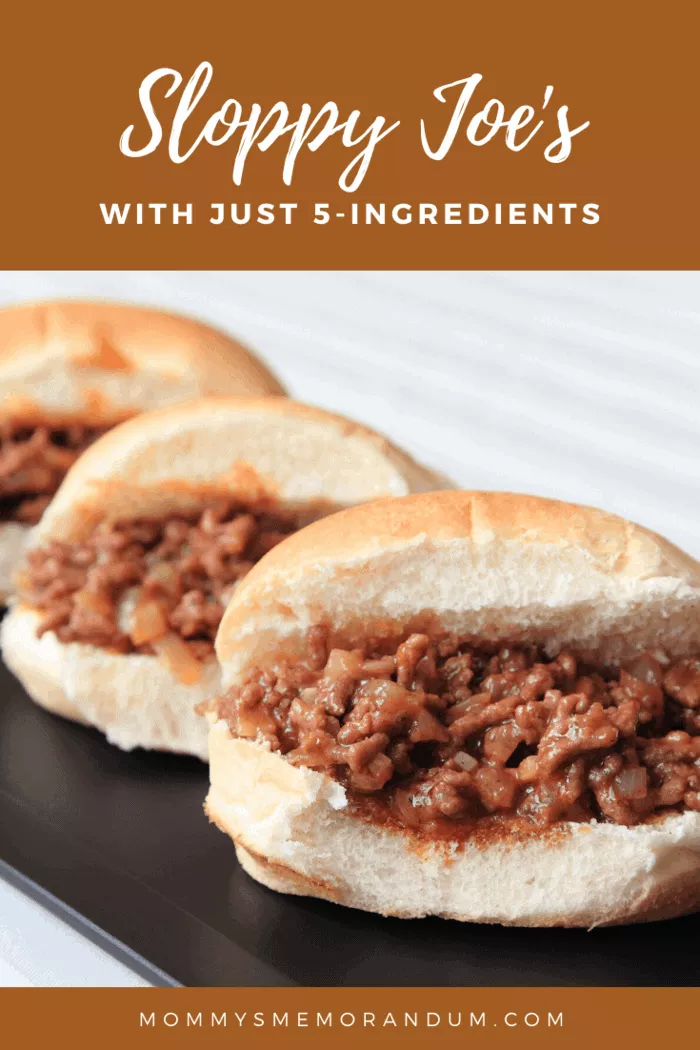 Origin of the Sloppy Joe:
Its origin is typically credited to Floyd Angell's Café cook, Joe, in Sioux City, Iowa.
He is said to have added tomato sauce to his "loose meat" sandwiches, which became popular.
There's a second legend to the origin.
The second one gives credit to Ernest Hemingway, who is said to have enjoyed Sloppy Joe's in Havana, Cuba.
He convinced his friend Joe Russell who has a bar named the Silver Slipper in Key West.
Apparently, the floor was always wet due to selling liquor and seafood, and the customers liked to talk trash to Joe about how sloppy an establishment he ran.
The legend says Hemingway convinced Russel to change the bar's name to Sloppy Joe's and serve the sandwich, which may have been inspired by the Cuban dishes Ropa Vieja and Picadillo.
The Silver Slipper (or is it Sloppy Joe's?) is one of the top places to visit while in Florida.
Whichever legend you choose to believe (I tend to be of the first origin of thought), it's hard to disagree that Sloppy Joe's are a delicious sandwich!
You'll find more dinner inspiration on our Pinterest Dinner Board!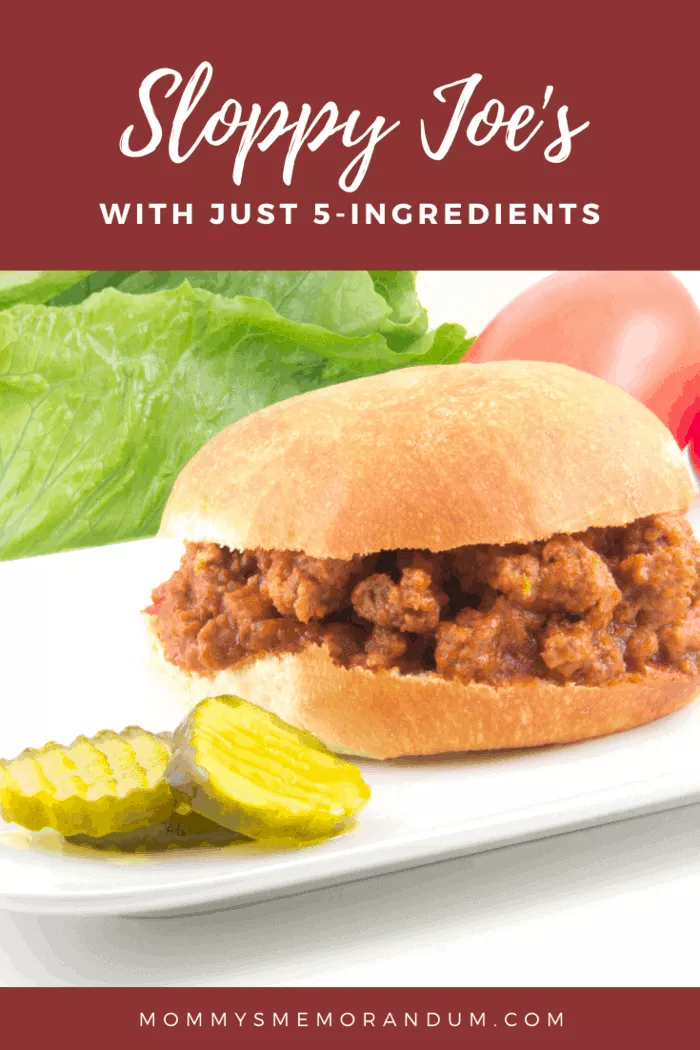 Sloppy Joes With Just 5 Ingredients
Prep Time: 5 minutes
Cook Time: 10 minutes
Total Time: 15 minutes
Serves: 4
Quick and Easy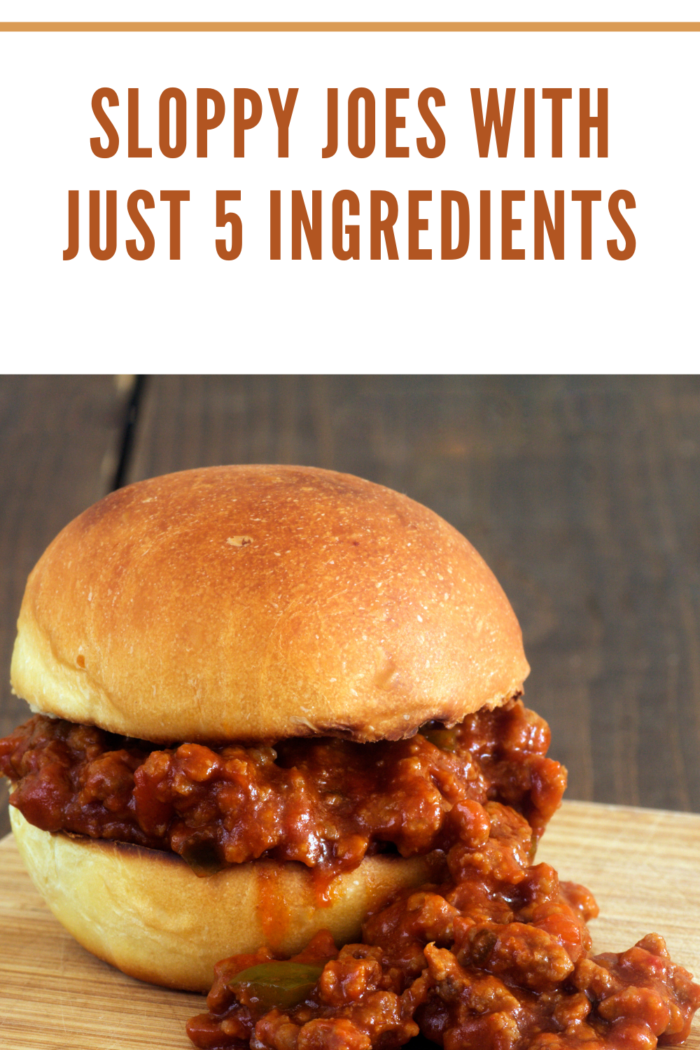 Sloppy Joe Sandwiches
Servings: 4 sandwiches
Prep Time: 10 minutes
Cooking Time: 15 minutes
Ingredients:
1 pound ground beef
3/4 cup ketchup
1/4 cup mustard
2 tablespoons brown sugar
2 tablespoons Worcestershire sauce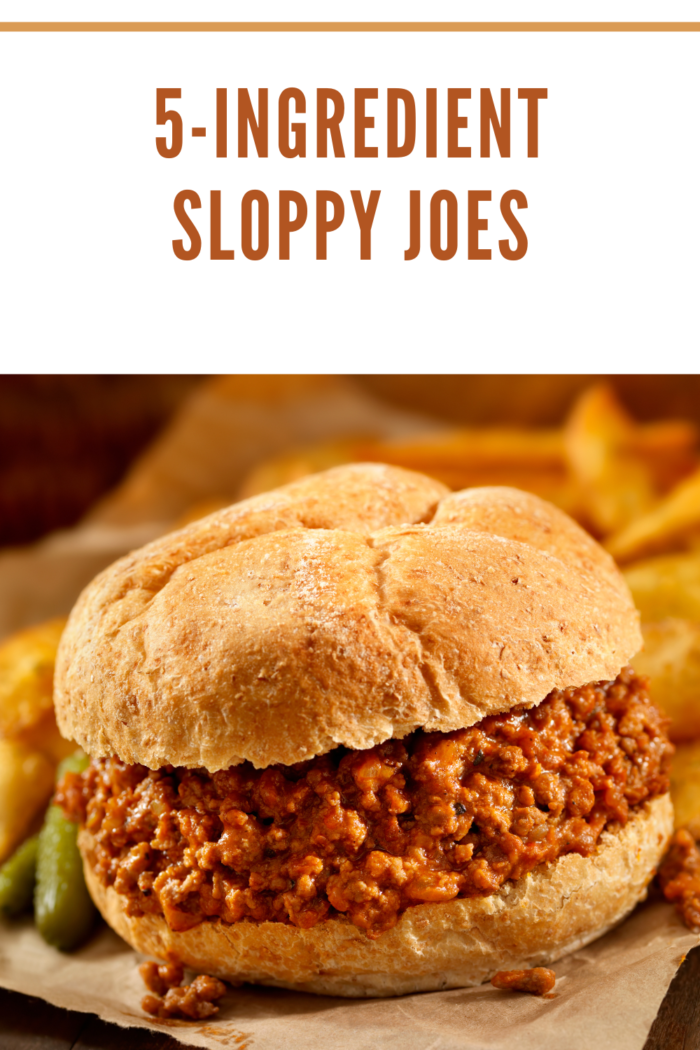 How to Make the Best 5-Ingredients Sloppy Joe Sandwiches:
Instructions:
Step 1 – Make the Sloppy Joe Mixture:
In a large skillet, heat over medium-high heat and add the ground beef.
Use a wooden spoon to break up the meat while cooking.
Brown the ground beef until it is fully cooked.
Drain any excess grease from the skillet.
Step 2 – Make Sloppy Joe Sauce:
In a small saucepan, combine the ketchup, mustard, brown sugar, and Worcestershire sauce.
Stir the sauce ingredients until they are well combined.
Heat the sauce mixture over medium heat until it is warmed through, which takes about 5 minutes.
Step 3 – Toast Hamburger Buns:
Preheat the oven to 350°F (175°C).
Place the hamburger buns face up on a baking sheet.
Toast the buns on the top rack of the preheated oven until they are warmed through and lightly crispy, approximately 5 minutes.
To prevent the buns from becoming too crunchy or hard after toasting, keep them in a nice basket with a towel over them, or wrap them in foil. You can toast the buns 30 minutes to an hour ahead of serving.
Step 4 – Serve:
Scoop the beef mixture onto each hamburger bun.
Serve the Sloppy Joe sandwiches immediately.
Step 5 – Store:
Any leftover Sloppy Joe mixture can be stored in an airtight container in the refrigerator for up to 3 days.
Step 6 – Make Ahead:
Consider making a double or triple batch of the Sloppy Joe mixture to freeze the leftovers.
Portion the cooked meat mixture into silicone cupcake molds and then place them in a freezer bag for easy storage.
Reheat the frozen Sloppy Joe mixture in a crockpot or skillet for a quick and convenient last-minute dinner.
Step 7 – Jazz It Up:
For added flavor and texture, consider incorporating the following ingredients while browning the meat:

1 small chopped onion
1 small chopped bell pepper
Additional spices such as chili powder, red pepper flakes, or your favorite BBQ sauce
A drizzle of olive oil for richness
Step 8 – Alternative Serving Ideas:
Instead of using hamburger buns, serve the Sloppy Joe mixture over rice or cauliflower rice for a low-carb option.
Step 9 – Quick Prep Option:
If you're short on time, you can use leftover marinara sauce instead of the ketchup and adjust the seasoning to taste.
Enjoy your delicious homemade Sloppy Joe Sandwiches with your favorite side dishes or a fresh salad!
FAQs for Sloppy Joe Sandwiches:
1. Can I use ground turkey or chicken instead of ground beef?
Absolutely! Ground turkey or chicken can be used as a leaner alternative to ground beef in this recipe. The cooking time may vary slightly, so ensure the meat is fully cooked before proceeding to the next steps.
2. Can I make the Sloppy Joe sauce in advance?
Yes, you can prepare the Sloppy Joe sauce ahead of time. Store it in an airtight container in the refrigerator for up to 3 days. When you're ready to use it, gently reheat the sauce on the stove over low heat until warmed through.
3. Can I freeze the Sloppy Joe mixture?
Definitely! You can freeze the Sloppy Joe mixture for future use. Allow the cooked mixture to cool completely before transferring it to a freezer-safe container or freezer bags. Label the container with the date, and it can be stored in the freezer for up to 3 months.
4. What are some creative topping ideas for Sloppy Joe Sandwiches?
While the classic Sloppy Joe is delicious on its own, you can get creative with toppings. Some popular options include shredded cheese, sliced pickles, chopped onions, coleslaw, sliced jalapenos, or even a fried egg for a hearty twist.
5. Can I make this recipe vegetarian or vegan?
Absolutely! To make a vegetarian version, you can use plant-based ground meat substitutes, such as soy-based crumbles or lentils. For a vegan option, ensure the ketchup and Worcestershire sauce are vegan-friendly or use suitable alternatives.
6. How can I adjust the sweetness of the sauce?
If you prefer a sweeter Sloppy Joe sauce, you can increase the amount of brown sugar slightly. Conversely, if you want a less sweet version, reduce the brown sugar or add a pinch of salt to balance the flavors.
7. Can I use different types of buns for the sandwiches?
Yes, absolutely! While traditional hamburger buns work perfectly, you can also try using brioche buns, ciabatta rolls, or whole wheat buns for a different taste and texture.
8. Is it necessary to drain the grease after browning the ground beef?
Draining excess grease helps reduce the fat content of the Sloppy Joe mixture. However, if you prefer a juicier and more flavorful result, you can leave a small amount of the grease in the skillet.
9. Can I adjust the spiciness of the Sloppy Joe Sandwiches?
Yes, you can easily customize the spiciness level. For a milder version, reduce or omit the red pepper flakes and use a mild mustard. For a spicier kick, add more red pepper flakes or a dash of hot sauce to the sauce mixture.
10. Can I make Sloppy Joe Sandwiches in a slow cooker?
Yes, you can adapt this recipe for a slow cooker. Brown the ground beef in a skillet as directed, then transfer it along with the sauce ingredients to the slow cooker. Cook on low for 4-6 hours or on high for 2-3 hours, until the flavors meld together.
Remember, cooking is all about experimenting and adapting to your taste preferences, so feel free to get creative and enjoy your Sloppy Joe Sandwiches in your own unique way!
Sloppy Joe's With Just 5-Ingredients
Today's Best Recipe is Sloppy Joes with just 5 ingredients. This easy sloppy joe recipe is a quick meal the whole family will enjoy.
Ingredients
1 pound ground beef
3/4 cup ketchup
1/4 cup mustard
2 Tablespoons brown sugar
2 Tablespoons Worcestershire Sauce
4 Hamburger Buns
Instructions
Make the Sloppy Joe: In a large skillet, over medium heat, brown the ground beef. Drain the grease. Add the ketchup, mustard, brown sugar, and Worcestershire Sauce. Stir until well combined. Heat over medium heat until warmed through, about 5 minutes.
Serve: Scoop meat mixture onto hamburger bun and serve.
Notes
Jazz It Up: Add 1 small chopped onion to the meat while browning.
Pro Tip: Toasting the hamburger buns in the oven at 350-degrees for 3 minutes will help keep the bun firm while eating.
Nutrition Information:
Yield:

4
Serving Size:

1
Amount Per Serving:
Calories:

519
Total Fat:

22g
Saturated Fat:

8g
Trans Fat:

1g
Unsaturated Fat:

11g
Cholesterol:

101mg
Sodium:

996mg
Carbohydrates:

43g
Fiber:

2g
Sugar:

19g
Protein:

36g
The Nutritional Information may not be accurate.

This recipe appears in Julee Morrison's The How To Cookbook for Teens
Help your teenager discover the joy of cooking and becoming self-sufficient.
Cooking provides curious teens with a fun, creative outlet while teaching them lifelong skills. With simple recipes and step-by-step instructions, this introductory cookbook for teens guides young chefs-to-be from the first day in the kitchen to cooking full, flavorful meals for the whole family.
What sets this cookbook for teens apart from other cookbooks for beginners:
Teen-friendly foods

―Your teen will discover 100 recipes to please their teenage palate, including Nachos, Sloppy Joes, Easy Shrimp Scampi, Mustard and Maple-Glazed Chicken.

Cooking fundamentals

―For teens just starting out, this cookbook teaches all the basics, like cooking techniques, prepping the kitchen, and tips on reading a recipe.

Built for trial and error

―This kids' cookbook encourages teen chefs to explore. Each recipe includes space to write down new ingredients; teens can experiment with flavors and textures and learn what worked (and what didn't!).
Transform your teen into a culinary whiz with this beginner cookbook written just for them.
---