Cherry pie is one of my favorites. I love it tart! The color is spectacular and the taste is pucker worthy with a release of sweetness.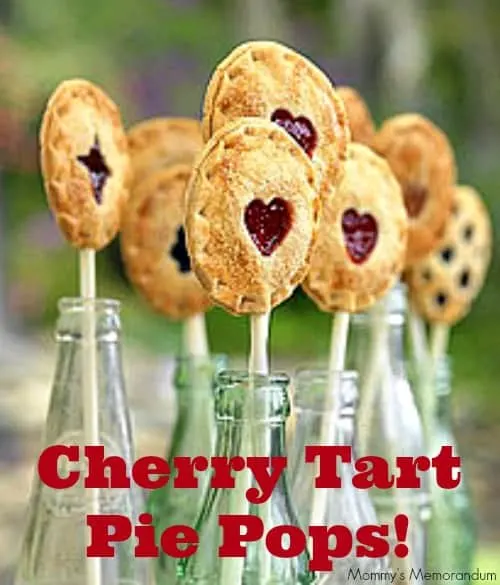 Cherry Tart Pie Pops Recipe Ingredients
1 recipe Homemade Pie Pop Crust (see below), or 4 unbaked store-bought
or homemade 9″ (23 cm)-diameter piecrusts
CHERRY FILLING
3 ½ C (580 g) pitted fresh sour cherries
6 tbsp (88 ml) freshly squeezed lemon juice
1 C (192 g) granulated sugar
½ C + 1 tbsp (59 g) Clear Jel, or 10 tbsp (94 g) cornstarch
1 ½ C (316 ml) cold water or cherry juice
¼ tsp ground cinnamon
¼ tsp almond extract
6 drops red food coloring (optional)
1 large egg white, beaten, for brushing
Coarse sugar, for garnish
Cherry Tart Pie Pops Recipe Directions:
Preheat the oven to 400°F (204°C). Grease and flour a large baking sheet.
To prepare the filling: Bring ½ gallon (2 L) of water to a boil. Meanwhile, wash the cherries under cold water in a colander, picking out any leaves or stems. Pit the cherries and place in cold water until just covered, with the 4 tablespoons(59 ml) of the lemon juice to prevent browning. Blanch the cherries by placing them in the boiling water and bringing it back to a boil for 2 minutes. Drain the cherries and keep them covered in a large bowl.
In a large pot, combine the granulated sugar, Clear Jel (or cornstarch), cold water (or cherry juice), cinnamon, almond extract and food coloring. Stir the mixture over medium heat until it thickens and begins to boil. Add the
remaining 2 tablespoons (29 ml) of lemon juice and, stirring, continue to boil for 1 minute.
Remove from the heat and fold the berries into the hot mixture, stirring gently. Let cool to room temperature. Transfer the mixture to a food processor or blender and pulse for 4 to 5 seconds. Set aside.
To assemble the pie pops: Flour both sides of the two piecrusts, then roll flat with a rolling pin. Using a 3-inch (7.6 cm) round cookie cutter, cut twenty-four rounds from the dough, twelve for the bottom crust and twelve for the top crust. If doing peek-a-boo, stamp out a heart peek-a-boo from each of the twelve top crusts using a heart-shaped Linzer cookie cutter.
Lay out the twelve bottom crusts on the prepared baking sheet. Brush each bottom crust with beaten egg white using a silicone basting brush. Press an 8-inch (20 cm)-long cookie stick firmly on top of the center of each bottom crust.
Dispense a 1 ½-inch (about 4 cm) dollop of cherry filling in the center of each bottom crust. Place a top crust over each bottom crust and press firmly around the sides only, sealing the filling inside.
Create a cookie stick dowel by cutting a 1-inch (2.5 cm)-long piece off the end of an 8-inch (20 cm) cookie stick. Use this dowel to crimp the sealed edges of the pie pop by pressing firmly on each side of the stick first, then
move counterclockwise around the edges. This will keep the stick from moving around once the pie pop is baked.
After each pop is sealed and pressed, carefully brush more egg white on each top crust, except over the filling inside the peek-a-boo opening.
Finally, sprinkle the top crusts with coarse sugar.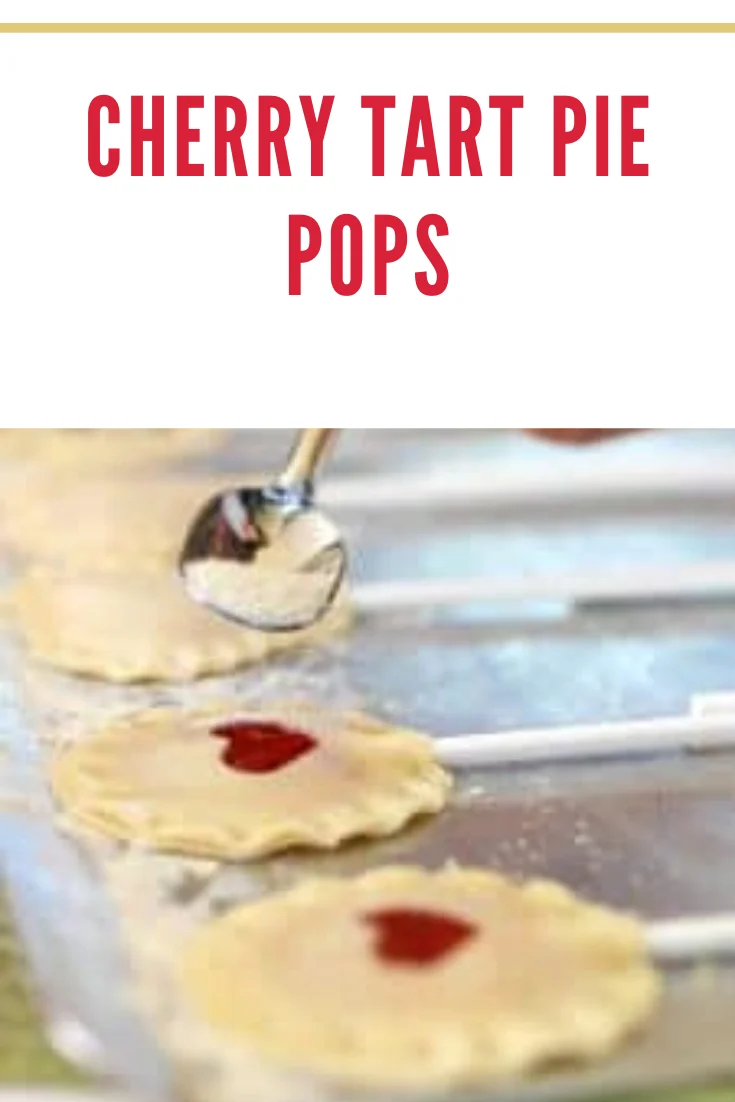 Bake the sheet on the center rack of the oven for 15 minutes, until the crust is nice and golden. Then place the individual pops on a cooling rack and let cool for at least 15 minutes before serving.
Homemade Pie Pop Crust
As with any great pie, we start with the crust. I've tried a few different recipes and always keep coming back to this one because it makes a nice even crust without lumps or inconsistencies, which can be an eyesore for pie pops. It's a universal recipe that works for all my vastly differing pops and is hearty enough to keep them secured on the stick (another important quality for pie pops). For some of the sweeter pies, where you would normally find a graham cracker crust, this crust is a great base for adding a garnish to give it that special taste without jeopardizing the stability of the pop. This is a great one to use for any pie pop recipe you find in this book. Happy baking!
YIELD: FOUR 9-INCH (23 CM)-DIAMETER PIECRUSTS
Homemade Pie Pop Crust Recipe Ingredients
5 C (630 g) unbleached all-purpose flour
2 tsp salt
4 tbsp (50 g) sugar
24 tbsp (340 g) cold unsalted butter, cut into small pieces
1 C (224 g) vegetable shortening, chilled and cut into small pieces
½ C (120 ml) cold water
½ C (120 ml) white vinegar, chilled
Homemade Pie Pop Crust Recipe Directions
In a food processor, blend 3 cups (380 g) of the flour, salt, and sugar until combined, about two 1-second pulses. Add the cold butter and shortening and process just until the dough starts to collect in uneven clumps,
10 to 15 seconds (there should be no uncoated flour).
Scrape the bowl with a rubber spatula and redistribute the dough evenly around the processor blade. Add the remaining 2 cups (250 g) of flour and pulse until the mixture is evenly distributed around the bowl and the mass of dough has been broken up (typically four to six pulses).
Empty the mixture into a medium-sized mixing bowl. Pour the cold water and vinegar over the mixture. With a rubber spatula, use a folding motion to mix the dough, pressing down on the dough until it is slightly tacky and sticks together.
Divide the dough into two equal balls and flatten each into a 5-inch (12 cm) circle. Wrap each in plastic wrap and refrigerate for 1 hour (or up to 48 hours).
Once thoroughly chilled, roll out the dough between two pieces of plastic wrap to prevent the dough from sticking to the counter (and your roller). This will also eliminate the need to add more flour. Using a tapered rolling pill will also help keep the roundness in each crust.
NOTE: If your dough has gotten too warm or sticky, slide it into the freezer for 10 to 15 minutes until it firms up again.
Recipes from EASY AS PIE POPS by Andrea Smetona
Page Street Publishing/November 2013
You can also try these easy cherry tarts using bread as the tart crust.