I received GH Cretors gourmet popcorn for review in order to facilitate an honest review.
🍿 Introducing GH Cretors Gourmet Popcorn: Elevate Your Snacking Experience! 🍿
Craving a snack that's a cut above the rest? Look no further than GH Cretors Gourmet Popcorn! Prepare your taste buds for an explosion of flavor and indulge in the ultimate snacking experience. With their artisanal craftsmanship and finest quality ingredients, they've perfected the art of popcorn.
🌽 Crafted with Care, Popped to Perfection 🌽
At GH Cretors, they believe in the power of tradition and time-honored techniques. Each kernel of their popcorn is carefully selected and air-popped to crispy perfection, ensuring a light and fluffy texture that melts in your mouth. From the very first bite, you'll savor the unparalleled freshness that sets their popcorn apart.
🌶️ Unleash Your Taste Buds with Flavorful Variety 🌶️
Prepare to embark on a journey of tantalizing taste sensations! GH Cretors offers an irresistible range of gourmet flavors that cater to every palate. From the classic, buttery richness of Caramel Corn to the tangy heat of Spicy Jalapeño Cheddar, their popcorn creations will take your snacking game to new heights. Feeling adventurous? Try their mouthwatering Chicago Mix, a delightful blend of savory cheddar and sweet caramel that will keep you coming back for more.
🌱 Natural Goodness, No Compromises 🌱
They understand the importance of wholesome snacking options, which is why GH Cretors Gourmet Popcorn is made with the finest, non-GMO corn. They source their ingredients responsibly, using real butter, high-quality cheeses, and natural seasonings to create a guilt-free indulgence you can enjoy. You can snack with confidence, knowing that their popcorn is free from artificial colors, flavors, and preservatives.
🎉 Snack Like a Connoisseur, Anytime, Anywhere 🎉
Whether you're hosting a movie night, cheering for your favorite sports team, or simply looking to satisfy your cravings, GH Cretors Gourmet Popcorn is the perfect companion. Packaged in convenient resealable bags, it's ready to accompany you on all of life's adventures. Share it with friends and family, or keep it all to yourself—we won't judge!
💥 Try GH Cretors Gourmet Popcorn Today and Elevate Your Snacking Game! 💥
Indulge in the epitome of popcorn perfection. Treat yourself to the luxurious flavors and unparalleled quality of GH Cretors Gourmet Popcorn. With every handful, you'll experience a symphony of taste that will leave you craving more. Elevate your snacking game and make every moment pop with GH Cretors!
Our GH Cretors Gourmet Popcorn Review
Oh, GH Cretors your gourmet popcorn makes my heart swoon! Your family has been popping corn long before I knew what popcorn was, but I've always been a fan of the popcorn machine Charles Cretor invented. Then, of course, there's the delicious product that the machine creates–and well, it's been love since the first bite!
How you do it, I'll never know. Not an "old maid" in the bag. I suppose this is what happens when you have a history in popping corn that dates back 125 years! Plus, the corn is plump and fluffy!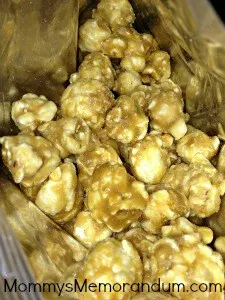 I'm pretty addicted to the use of real ingredients–holy cheese popcorn!
Move over Cracker Jack because GH Cretors is in the bag–not a box. Cretors ditched the peanuts and upgraded my taste with cashews AND almonds for amazing taste and texture that compliments the caramel coating.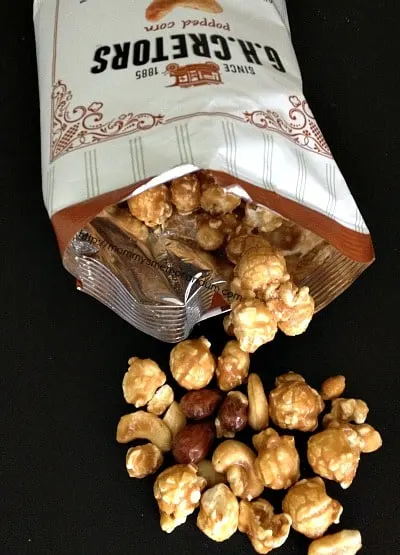 Gourmet Popcorn Flavors You'll Love:
GH Cretors Gourmet Popcorn offers a delectable variety of flavors that will satisfy every snacker's cravings. Each flavor is carefully crafted to deliver a unique taste experience.
Here are some of the mouthwatering flavors you can expect from GH Cretors:
Caramel Corn: A timeless classic, GH Cretors' Caramel Corn is a symphony of sweet and buttery goodness. Made with rich, creamy caramel coating each popped kernel, this flavor is a crowd-pleaser that never goes out of style.
Cheese Corn: GH Cretors' Cheese Corn is a must-try for cheese lovers. This savory flavor combines premium aged cheddar cheese with perfectly popped corn, creating a delightful blend of cheesy indulgence.
Kettle Corn: Experience the perfect balance of sweet and salty with GH Cretors' Kettle Corn. This flavor features a light, crispy coating of cane sugar and a hint of salt, providing a satisfying crunch with just the right amount of sweetness.
Chicago Mix: GH Cretors' signature creation, the Chicago Mix, is a harmonious blend of their famous Caramel Corn and savory Cheese Corn. This irresistible combination of sweet and savory flavors creates a snacking sensation that popcorn enthusiasts love.
Spicy Jalapeño Cheddar: For those who crave a kick of heat, GH Cretors' Spicy Jalapeño Cheddar is a flavor that delivers. Packed with zesty jalapeño and bold cheddar cheese, this popcorn will awaken your taste buds with its fiery and savory notes.
Olive Oil & Herbs: GH Cretors' Olive Oil & Herbs flavor offers a lighter, more sophisticated snacking option. Made with extra virgin olive oil and a blend of aromatic herbs, this popcorn delivers a delicate and flavorful experience.
Dill Pickle: If you're a fan of tangy and briny flavors, GH Cretors' Dill Pickle popcorn is a must-try. It combines the irresistible taste of crunchy pickles with perfectly popped corn, resulting in a unique and refreshing snacking experience.
These are just a few examples of the delightful flavors available from GH Cretors Gourmet Popcorn. Whether you prefer sweet, savory, bold, and spicy, GH Cretors has a flavor that suits your taste buds and elevates your snacking game.
Visit ghcretors.com, and learn more.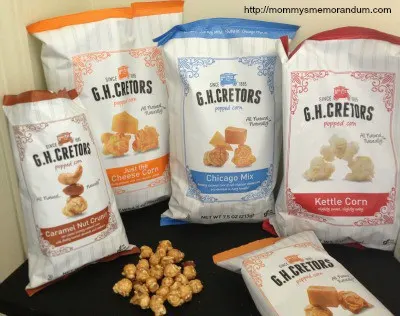 GH Cretors Gourmet Popcorn an Iconic Snack!
GH Cretors popcorn has achieved iconic status in the snacking world due to several key factors that set it apart from other popcorn brands:
Heritage and Tradition: With a history dating back to 1885, GH Cretors embodies a legacy of popcorn craftsmanship and innovation. Being one of the first popcorn manufacturers, the brand's rich heritage adds a sense of authenticity and timelessness to its products.
Artisanal Craftsmanship: GH Cretors takes pride in its artisanal approach to popcorn making. The popcorn is popped in small batches using hot air, resulting in a light and fluffy texture that is unparalleled. Each kernel is carefully coated with seasonings and ingredients to ensure even distribution, creating a consistently delicious snacking experience.
Unique and Irresistible Flavors: GH Cretors offers a wide range of flavors that cater to various taste preferences. From the classic and beloved Caramel Corn to the savory Cheese Corn and the iconic Chicago Mix, the brand has created flavor profiles that are unique and unforgettable. The combination of sweet and savory, as well as the innovative flavors like Spicy Jalapeño Cheddar and Dill Pickle, make GH Cretors popcorn stand out in the snacking aisle.
Quality Ingredients: GH Cretors is committed to using high-quality ingredients to create its popcorn. The brand emphasizes non-GMO corn kernels, real butter, premium aged cheddar cheese, natural seasonings, and no artificial colors, flavors, or preservatives. This dedication to quality ensures that each bite of GH Cretors popcorn is a wholesome and satisfying snacking experience.
Versatility and Accessibility: GH Cretors popcorn is a versatile snack that can be enjoyed on various occasions. Whether it's a movie night, a party, a road trip, or a simple indulgence at home, GH Cretors popcorn is a convenient and delicious option. The popcorn is packaged in resealable bags, allowing for easy snacking on the go or saving some for later.
Popcorn Innovations: Throughout its history, GH Cretors has been at the forefront of popcorn innovation. From Charles Cretors' invention of the first popcorn machine to the brand's continuous development of new flavors and snacking experiences, GH Cretors has consistently pushed the boundaries of what popcorn can be.
The combination of GH Cretors' rich heritage, artisanal craftsmanship, unique flavors, high-quality ingredients, versatility, and innovative spirit has made it an iconic snack that continues to captivate popcorn lovers and stands the test of time. GH Cretors popcorn embodies the perfect balance of tradition and innovation, delivering a snacking experience that is both nostalgic and exciting.
Get social with the Cretors on the G.H. Cretors Facebook Page.
About GH Cretors:
GH Cretors is a renowned gourmet popcorn brand that has been delighting snack enthusiasts for over 130 years. The company was founded in 1885 by Charles Cretors, who invented the first popcorn machine and revolutionized the way popcorn was popped and enjoyed.
What started as a small family business in Chicago has grown into a beloved popcorn brand known for its commitment to quality, craftsmanship, and unique flavors. GH Cretors takes pride in using traditional cooking methods and carefully selected ingredients to create popcorn that delivers an exceptional snacking experience.
One of the distinguishing features of GH Cretors' popcorn is the use of non-GMO corn kernels. The company is dedicated to sourcing high-quality corn that is free from genetically modified organisms, ensuring a wholesome and natural snacking option.
GH Cretors' popcorn is popped in small batches using hot air, resulting in light and fluffy kernels that are full of flavor. The company pays great attention to detail, ensuring that each kernel is coated evenly with delicious seasonings and ingredients, creating a delightful taste sensation with every bite.
What sets GH Cretors apart is its commitment to handcrafting its popcorn flavors. From the classic Caramel Corn to the savory Cheese Corn and the iconic Chicago Mix, each flavor is carefully crafted to perfection. GH Cretors also offers innovative and bold flavors like Spicy Jalapeño Cheddar, Kettle Corn, Olive Oil & Herbs, and Dill Pickle, catering to a wide range of taste preferences.
GH Cretors takes pride in using real butter, high-quality cheeses, and natural seasonings in its popcorn, ensuring a premium snacking experience without artificial colors, flavors, or preservatives. This commitment to quality has earned GH Cretors a loyal following of popcorn enthusiasts who appreciate the brand's dedication to creating exceptional gourmet popcorn.
Whether you're hosting a movie night, enjoying a snack at home, or looking for a unique gift, GH Cretors Gourmet Popcorn is the perfect choice. With its rich history, commitment to quality, and mouthwatering flavors, GH Cretors continues to be a leader in the gourmet popcorn industry, satisfying popcorn lovers with every crunchy, flavorful bite.
Get your hand in the bag and discover your gourmet popcorn flavor from GH Cretors!