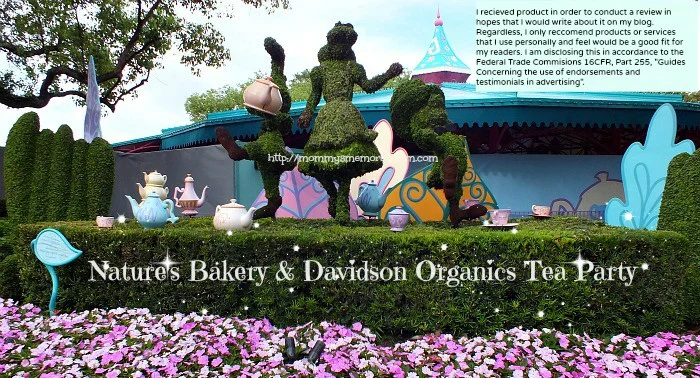 An All-Natural Tea Party!
Sometimes a snack transforms into a moment of divine, all-natural indulgence. Tea Parties are festive and fun. My girls each love them. A couple of years ago Miss M chose a Winter Wonderland Tea Party theme for her birthday bash. It was great fun. Sometimes I need something a little less elaborate.
Last week we were visiting Disney World. There was excitement and a lot of activities. I needed some downtime, so while the kiddos slept, I escaped with a tea party for one. It was the perfect way to relax and take some "me" time.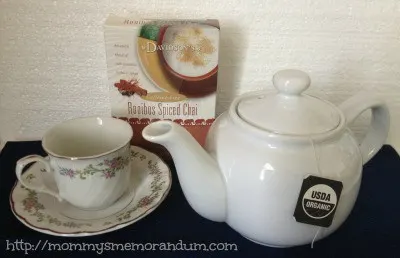 I recently discovered Rooibos tea so I was excited to try the Davidson's Organic Rooibos Spiced Chai Tea. A caffeine-free tea that offers a blend of flavors from organic cinnamon, organic cloves, natural spices, and organic rooibos. Oh, my! It was delicious. It was a warm indulgence.
All Natural Facts about Tea:
Did you know: After water, tea is the most widely consumed beverage in the world.
Tea was actually found by accident in 2737 BC. A leaf from a nearby bush dropped into the Chinese Emperor Shen Nung's cup of water!
In 1904, came the invention of iced tea. It happened at the St. Louis World's Fair,same place Waffles and Ice Cream were put together! The tea plantation owner, Richard Blechynden, salvaged his trip to the fair by icing his samples during a heatwave when no one wanted to taste hot tea!
Davidson's Organics has been creating unique specialty teas since 1976. All 200 varieties of their tea are pure, organic and fair-trade certified. They are a Kosher Certified company that maintains a strong social and environmental responsibility. No chemical residues ever is their commitment.
Tea through Davidson's Organics is offered as loose leaf or in bag form, allowing the consumer to pick their preference to indulge in brewing their guilty pleasure.
Nature's Bakery All Natural Fig Bars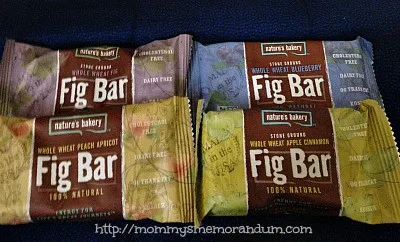 While I sipped a cup of Davidson's Organic rooibos spiced chai tea, I had to make a decision; which of Nature's Bakery Fig Bars to eat. I love fig newtons and Nature's Bakery offers a selection of flavors to tantalize your tastebuds: fig, peach-apricot, apple cinnamon, blueberry, and raspberry. I opted for the fig.
Let's talk about these fig bars. They were far more than I expected. Who knew a 100 percent whole-wheat snack could taste this good. I'm not kidding. Jam-packed with tasty fig filling! They have a texture like a chewy cookie!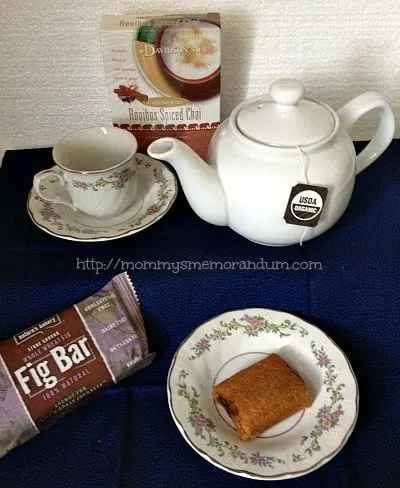 Inside the wrapper are two convenient bars. They are perfect for the pantry or a lunchbox. They are 100 percent cholesterol-free and dairy-free and Kosher certified.
A family-owned company, Nature's Bakery, offers all-natural snack food. They also support health-conscious living and active lifestyles.
Yeah, these all-natural fig bars are so good, I gobbled them up!
Whether its a tea party you seek or just a healthy, all-natural snack,
Davidson's Organics
and Nature's Bakery satisfy!