Waffles and Ice Cream Dinner with History on the Side
Sometimes we break the routine. I expect my kiddos to eat what is placed in front of them, with no complaints.
As a reward for eating well, trying everything at least once, and making dinner time a time of enjoyable conversation, we toss caution to the wind and serve up Waffles and Ice Cream.
It's not all fun.
Nope.
We have the requirement of learning something.
For this meal, we share the story of how the waffle cone came to be.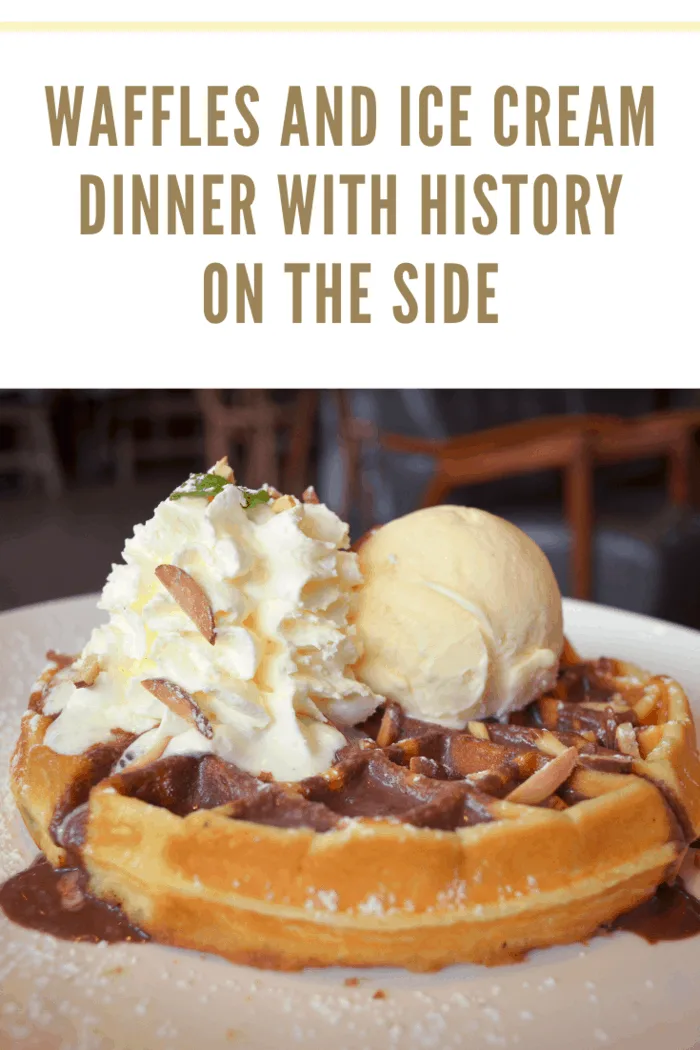 My kiddos tell it like this:
In 1904, at the St. Louis World's Fair, a man named Ernest Hamwi had a waffle booth.
Right next to him was Arnold Fornachu, serving ice cream from his booth. Fornachu failed to plan ahead and ran out of bowls for his ice cream.
Hamwi thought quickly and wrapped a waffle around some ice cream, creating the first waffle cone!
This week, our story and celebration were courtesy of Schwan's.
On top of dark chocolate and peppermint waffles, we scooped the creamiest, gooiest Berry Burst Frozen Yogurt.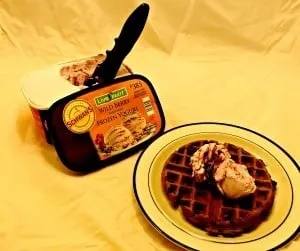 My sister and I couldn't believe all the gooey deliciousness that you could see!
Look at the berry ripple!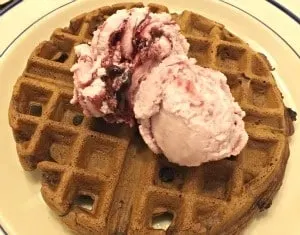 We all thought it was ice cream.
We all raved about the creamy texture.
We all were amazed at just how tasty it was!
After dinner, I looked at the carton and announced it was frozen yogurt.
The kiddos were shocked they couldn't tell the difference.
Schwan's frozen yogurt was an incredible addition to our meal.
Schwan's offers fresh, delicious foods to help you prepare healthy, fun, and delicious meals.
Make it easy to stick to your New Year's Resolutions with a range of comforting and healthy meals such as the Unbreaded Chicken Breast Filets and Mini Beef Pot Roast and sizzling Chicken Marinara & Tortellini and Southwest Fiesta skillet meals. To accompany the meal, add fresh veggies such as broccoli Florets or a Mediterranean Vegetable Blend, and finish off with guilt-free LiveSmart Ice Cream Sandwiches or Wild Berry Frozen Yogurt.
Schwan's has your whole family covered for a filling and healthy meal this January! For more information, please visit Schwans.com
Julee is a quirky, dorky, North Carolina Transplant with an appetite to taste the world, meets its desserts and blog about them. When she's not behind the computer you can find her playing with her family, reading a good book and celebrating the little things.
Disclosure of Material Connection: I received one or more of the products or services mentioned above for free in the hope that I would mention it on my blog. Regardless, I only recommend products or services I use personally and believe will be good for my readers. I am disclosing this in accordance with the Federal Trade Commission's 16 CFR, Part 255: "Guides Concerning the Use of Endorsements and Testimonials in Advertising.".