I received Davidson's Organic Classic Tea Sampler in order to facilitate this review.
Tea is a ritual. I love a cup in the morning to just relax and enjoy the beginning of the day. Sometimes that cup of tea is raised to a sunrise. Sometimes I arrive at work in time to walk the garbage to the back of the warehouse and sit on a wooden spool enjoying my tea and the family of deer that graze on the other side of the fence. Sometimes it's just me and my tea, nothing more. It's always a good cup.
I didn't create the ritual. It's been created over the years and all of the world. Black tea, blended teas and more. One of my favorite brands of tea is Davidson's it offers superior flavors and is all USDA certified organic and fair trad certified.
Davidson's knows tea drinkers drink tea not just for the enjoyment but for the benefits. They're committed to the flavor, the variety and maintaining the standards that make their tea a cup above.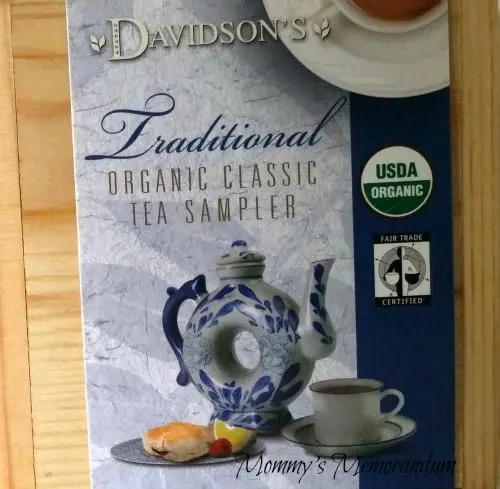 I really am a fan of Davidson's Organic Classic Tea Sampler.
It's the perfect sampler offering six assorted Classic Teas, each one USDA Certified Organic.
I can enjoy a different cup of tea every day.
The sampler is fun with a nice wooden box that opens to hold the six individually wrapped tea bags.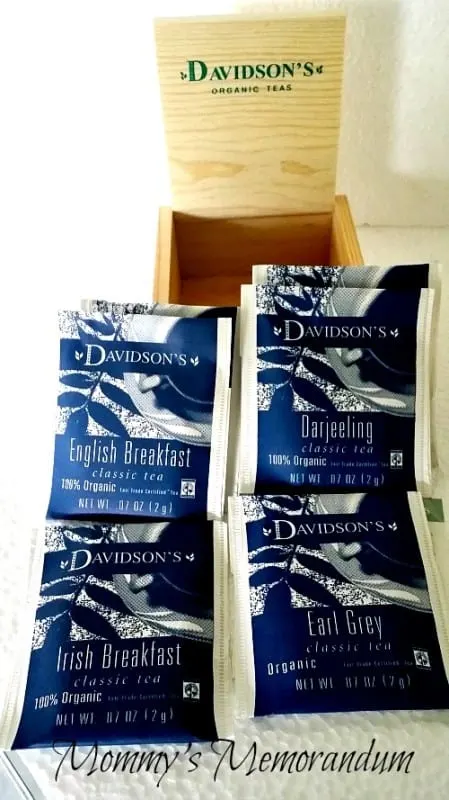 Traditional Black Teas like English Breakfast, Irish Breakfast, Darjeeling, and Earl Grey fill the wooden chest and it's compact enough I can put it in my purse to have tea wherever I am.
The pricing is just under $5.
Want a little more indulgence?
Add tea cakes like Donsuemor Desserts.
Take "Me Time" to a whole new level of enjoyment with the flavors of Davidson's Organic Teas.
They offer over 300 varieties, and there is one that's all about you!