Saturday we had a Winter Wonderland Tea Party to celebrate the Divine Miss M's Seventh Birthday.
She was ecstatic and loved that she didn't have to wait until her "real" birthday, New Year's Eve!
Someday, she'll read this article by Cosmopolitan and learn 11 things you only know if your birthday is on New Year's Eve.
Two weeks before the date, we sent out invitations:
Classic Teacups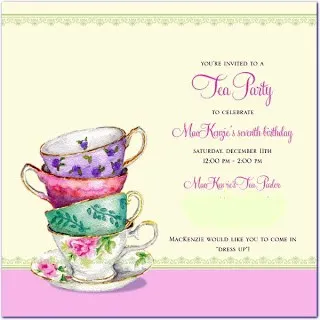 This invitation was the perfect start to our tea party. It set the tone for a sweet and ladylike celebration.
Tiny Prints backs all their invitations, greeting cards, business cards and personal stationery with a 100% satisfaction guarantee.
Once the invitations were out, we were in search of the perfect party outfit.
The Divine Miss M selected a tutu set from Mother Nature's Nursery Shop.
It was perfect with sparkling tulle in winter blues, aqua, and white.
The bow sash embroidered with her name and a shirt and hat coordinated to match.
Truly a fairytale outfit!
Then the big day arrived! We set the table with help from Taste of Home.
We used Mozaik party plates which coordinated perfectly with my Noritake Crestmont China Tea Cup and Saucers.
A silver tablecloth with snowflakes was a perfect canvas!
Each place setting also included one napkin that The Beauty Queen made and took Second Place in the Utah State Fair.
Zac helped embellish the serving dishes and teacups with Edible Snowflakes from Sweetdejavu.
These were impressive and gave such an elegant flair to the table!
Instead of tea we served Hot Cocoa with a swimming pool of Hershey's Syrup.
French Vanilla Marshmallows shaped like snowmen.
Finally, the table was complete.
With the tea party table set up, we set up the tea cakes and treats.
Petite Fours from The Swiss Colony
.
Snowflake Lollipop Favors from SimpleTastes.
Hot Cocoa Cones from Untie The Ribbons.
Candy Bar Wrappers personalized with her name and party theme, made by LetsPersonalize.
Peanut Butter and Jelly quarter sandwiches with picks of glittery snowflakes made by ScrapYourStory.
And Birthday Cupcakes with Gingerbread Girls and Boys gathered around a Frosty Snowman.
The Divine Miss M loves the square Apple Jack and Peel candle by Claire Burke so we used it as the hat for the finger food table.
It all came together beautifully for a festive table that The Divine Miss M was proud to share with her friends.
As the clock ticked down to the first guest's arrival.
The Divine Miss M changed into her party outfit.
Zac surprised his sister with an individual one of a kind gift bags for her party favors.
It was such a lovely gesture and such a perfect fit for the theme.
We hung a beautiful Birthday Banner in aqua and white with a glittered snowflake and plenty of ribbons made by ScrapYourStory.
Then a game of musical numbers.
As the bell rang announcing tea, fluffy Webkinz arrived to accompany the lovely little ladies.
Each girl made a whopping teacup of Hot Chocolate. Hot Cocoa topped with

marshmallows

, whipped cream, Hershey's syrup, and miniature chocolate chips.
Pinkies were up as they sipped their creations.
and feasted on their PB&J and Petite Fours.
It was elegant and fun and the girls enjoyed having tea in The Divine Miss M's Tea Parlor.
The conclusion of tea was the singing of Happy Birthday and blowing out the Birthday Candle.
As the party came to an end, The Divine Miss M sat on her Guidecraft Bench and opened presents.
It was truly a celebration of The Divine Miss M.