Did you know there are foods that increase your milk production?
Boost Milk Production Naturally
Tia and Tamera Mowry, from the 1990s, hit series, "Sister, Sister" have launched a new product line, NEED, which includes Milky!, a way to boost milk production naturally.
It's the first product in the NEED line.
A 2.5-ounce lactation-enhancing, herbal tea supplement created for moms choosing to breastfeed.
The product is already on shelves at Motherhood Maternity, A Pea in the Pod, and Destination Maternity.
NEED is a brand for new moms who want all-natural, quality products for themselves and their babies.
NEED products are never tested on animals – and are 100% vegan – made by nature, not chemicals.
Tamera Mowry-Housely revealed on Style Network's hit series, "Tia & Tamera", on the episode, "Twinventors", that she was concerned she would have difficulty producing enough breast milk for her son.
Something her identical twin Tia had experienced.
Tamera's maternity wellness expert recommended the celebrity mom-to-be drink fenugreek herbal tea.
The first weeks with your baby are the building blocks for producing a good breast milk supply.
The more often your baby breastfeeds, the more milk you make.
You may be able to boost your milk supply by pumping.
Each time milk is removed, either by the baby or through pumping, you make more milk.
It's supply and demand.
A product proven to boost milk production naturally:
Fenugreek has been tested through scientific studies to increase breast milk.
Many doctors encourage fenugreek to be added to a new mom's diet for an increased supply of milk within just a few days.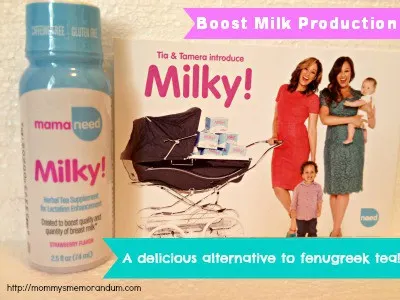 If you have ever tried fenugreek tea it's not necessarily pleasant.
Milky! is a delicious alternative to fenugreek tea.
It's all-natural with flavors of strawberries and ginger and just a hint of sweetness.
It contains fennel, chamomile, and Rooibos tea–all great things for mom's well-being.
Milky! is also made with fenugreek, a great source of vitamins, iron, minerals, and calcium.
Milky! A great way to boost milk production naturally!
Tia and Tamera partnered with a leading food scientist to refine their own unique formula into a quick and great tasting alternative to the fenugreek tea, neither cared for in taste.
When consumed twice daily, Milky! increases both the quality and quantity of breast milk a mother produces.
The container makes Milky! convenient on the ego or just around the home.
It's natural to be nervous about breastfeeding and producing enough milk for your little one.
Relax and try not to stress.
Stress is a culprit in hindering milk production.
Focus on bonding with your baby and if necessary, drink Milky! to boost milk production naturally.
The following are signs your baby isn't getting enough milk:
Poor weight gain.
It's normal for newborns to lose 5% to 7% of their birth weight in the first few days – some lose up to 10%.
However, these first few days, they should gain at least 0.7 to 1 ounce per day and be back to their birth weight by day 10 to 14.
If your baby has lost 10% or more of her birth weight, or she hasn't started gaining weight by days five to six, you should seek medical advice immediately.
Insufficient wet or dirty diapers.
The number of bowel movements and wet diapers your baby has per day is a good indicator of whether or not she is getting enough milk
Seek medical advice if you're concerned or if you have noticed her dirty nappies decreasing in wetness and heaviness.
Dehydration.
If your baby has dark-colored urine, a dry mouth, or jaundice (yellowing of the skin or eyes), or if she is lethargic and reluctant to feed, she could be dehydrated.
Fever, diarrhea, and vomiting, or overheating, are causes of dehydration in infants.
If you notice any of these symptoms, seek medical advice quickly.
You can learn more about Breastfeeding your newborn: What to expect in the first week on medela.com.
It appears Milky! may no longer be available.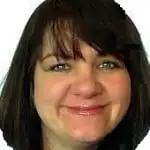 This post was written by:
.Julee Morrison is a quirky, dorky, North Carolina Transplant with an appetite to taste the world, meets its desserts and blog about them. When she's not behind the computer you can find her playing with her family, reading a good book, being a Bon Jovi fangirl, and celebrating the little things.