Introducing The Luxury of a Minky Couture Blanket: Experience Unparalleled Comfort and Elegance
Are you ready to indulge in the epitome of luxury and coziness? Look no further than Minky Couture Blanket. Immerse yourself in a world of unparalleled comfort and elegance with their exquisite collection of premium blankets.
Crafted with utmost care and attention to detail, each Minky Couture Blanket is a true work of art. They source only the finest materials to ensure a heavenly touch against your skin. Their blankets' plush, velvety softness will envelop you in a gentle embrace, making you feel like you're wrapped in a cloud.
Immerse yourself in their extensive range of captivating designs, each created to complement any interior décor. Whether you prefer a timeless classic, a contemporary statement piece, or a whimsical pattern, they have the perfect blanket to suit your style. From luxurious solid colors to enchanting prints, their collection offers something for every discerning taste.
Not only do Minky Couture Blankets provide unrivaled comfort, but they are also designed to stand the test of time. Meticulously crafted with the highest quality materials, these blankets are made to be cherished for generations. The durability and exceptional craftsmanship ensure that your blanket will remain as luxurious as the day you first snuggled up in it.
Imagine cozying up on a chilly evening with a loved one, enveloped in the warmth of your Minky Couture Blanket. Or perhaps you're enjoying a lazy Sunday morning, savoring a cup of coffee while being cocooned in sheer opulence. With our blankets, you can create precious moments of relaxation and indulgence, making every day feel like a special occasion.
The Luxury of a Minky Couture Blanket is not just a blanket; it's a lifestyle upgrade. Treat yourself or surprise someone special with a gift that exudes refinement and sophistication. Minky Couture blankets make the perfect present for birthdays, anniversaries, weddings, or any occasion that calls for a touch of luxury.
Don't settle for ordinary blankets when you can experience the extraordinary. Elevate your comfort and style with The Luxury of a Minky Couture Blanket. Discover the pleasure of ultimate softness, impeccable craftsmanship, and timeless elegance. Shop the collection today and experience the epitome of luxury for yourself.
Our Minky Couture Blanket Review:
I am a girl who loves a great blanket. My kiddos have each had a favorite, and I've been searching for one that just feels like an indulgence.
A blanket that I look forward to resting under whether I'm watching television, reading, blogging, or just wanting to take a much-needed nap.
When my Minky Couture blanket arrived out of the box, I thought it hollered "potential." In my arms, it shouted, "Luxury."
In the chair draped over me, it whispered, "Perfect"!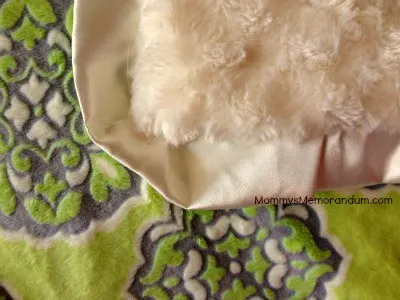 Minky Couture offers irresistible comfort from the blanket's softness, top, and bottom, allowing the day to fade away into luxury.
Every blanket is individually hand-made in the USA by a professional seamstress.
The stitching is tight, with no puckering.
The blanket is outlined with a satin border adding durability and beauty to the incredibly soft blanket.
Now, try adding that to a comfy sofa, and you're the queen of naps!
The luxury goes far beyond merely infant blankets.
Minky Couture recognizes that adults, teens, tweens, and everyone needs some wind-down TLC–they even have a giant blanket that comfortably wraps two adults into the comfort!
You'll love their luxurious blankets!
Minky is a fabric similar to fleece but much softer and smoother.
Think of the thickness like fleece but with the added softness of satin.
The high quality of Minky fabric prevents its colors from fading and its warmth from decreasing over time.
Just like the sizing, Minky Couture's designs are many.
From fun and flirty to colorful and chicer.
There is a print that will add drama, fun, and comfort to any room.
Minky Couture blanket is made with love and care, just as if your Grandma made it herself!
Over 70% of these Minky blankets are handmade by seamstresses in Utah.
Every blanket is created with the highest quality, 100% polyester Minky fabric, and 100% polyester faux fur fabric.
My only complaint?
This blanket is so incredibly comfortable that my children have abandoned their "my favorite" blankets and keep borrowing my Minky Couture!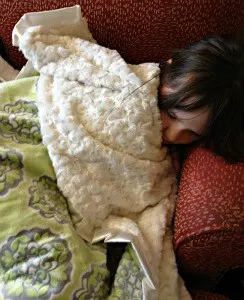 When they come home from school and need a power nap!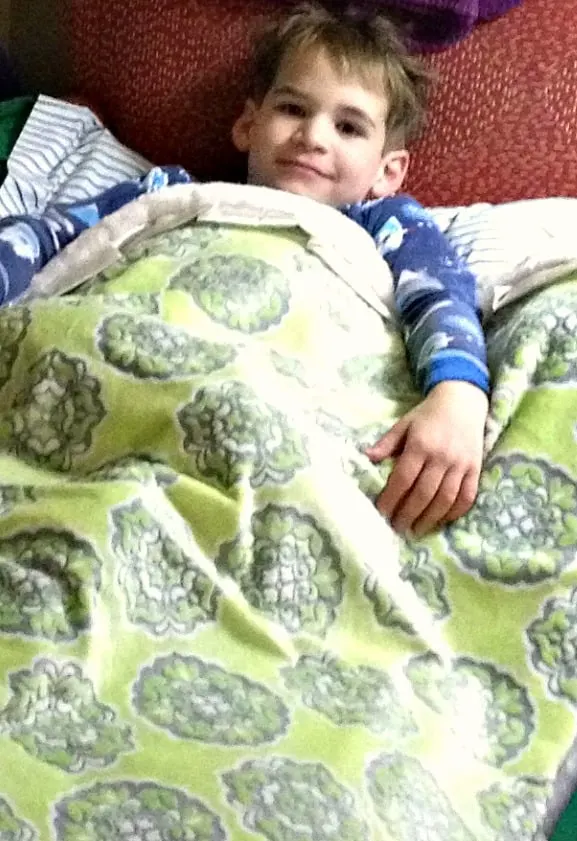 For TV Snuggling.
The blankets are great because they are extra soft- yet they don't get ruined in the wash!
They are completely washing machines safe, which is good because kids don't really keep things clean for long!
Here's how to wash a Minky Blanket:
Unlock the Secrets to Keeping Your Minky Blanket Fresh and Luxurious: A Complete Guide to Washing and Caring for Your Precious Blanket
Your Minky Blanket has provided you with countless moments of cozy comfort and unparalleled softness. To ensure its longevity and maintain its luxurious feel, it's crucial to follow the right washing and care instructions.
Here's a step-by-step guide on how to properly clean and care for your beloved Minky Blanket:
Machine Wash in Cold Water: When it's time to give your Minky Blanket a thorough cleaning, start by placing it in the washing machine. Opt for a gentle cycle and use cold water. This will help prevent any color fading or damage to the delicate fibers of your blanket.
Wash Alone for Optimal Results: To give your Minky Blanket the utmost attention it deserves, it is recommended to wash it alone. This will prevent any potential damage caused by other garments, zippers, or buttons that could snag or rub against your precious blanket.
Choose the Right Detergent: When it comes to selecting a detergent, opt for a regular liquid or powder detergent specifically designed for delicate fabrics. These detergents are formulated to be gentle on fabrics, ensuring a thorough yet gentle cleansing of your Minky Blanket.
Say No to Fabric Softener: While fabric softeners may be tempting to use, it's best to avoid them when washing your Minky Blanket. The luxurious softness of your blanket is achieved through its unique fabric composition. Fabric softeners can leave a residue on the surface, potentially reducing the softness and plushness of your Minky Blanket.
Drying: Hang and Fluff with Care: After the washing cycle is complete, carefully remove your Minky Blanket from the machine. Shake it gently to release any excess water. To dry your blanket, hang it on a clothesline or a drying rack, preferably in a shaded area away from direct sunlight. This will help preserve the vibrant colors and prevent any potential fading.
Air Fluffing: Once your Minky Blanket is thoroughly dry, it's time to restore its fluffy and voluminous appearance. Place the blanket in the dryer on an air-only or no-heat setting. The gentle circulation of air will fluff up the fibers, making your blanket as cozy and inviting as the day you first brought it home.
Remember, proper care is the key to preserving the beauty and softness of your Minky Blanket for years to come. By following these guidelines, you can continue to enjoy the luxurious comfort that only a Minky Blanket can provide.
Pamper yourself and indulge in the ultimate luxury experience with your freshly cleaned and meticulously cared-for Minky Blanket. Embrace the softness, revel in the comfort, and create memorable moments wrapped in the sheer opulence of your cherished blanket.
What Sizes Does a Minky Blanket Come In?
Discover the Perfect Fit: Explore the Wide Range of Sizes for Your Dream Minky Blanket
At Minky Blankets, we believe that comfort and luxury should be accessible to everyone, regardless of age or preference. That's why we offer a diverse selection of sizes, ensuring that there's a perfect Minky Blanket for every individual and occasion.
Let's dive into the various sizes available and find the one that suits your needs:
Infant Size (36×30 inches): Our Infant Size Minky Blanket is designed with the utmost care for your little bundle of joy. Measuring 36×30 inches, it provides the ideal dimensions for keeping your precious baby cozy and snug. Wrap your little one in a world of softness, and rest easy knowing they're surrounded by the gentle embrace of their Minky Blanket.
Cuddling Mini (10×18 inches): The Cuddling Mini is a miniature wonder that packs a punch of comfort in a compact size. With dimensions of 10×18 inches, it's perfect for carrying with you wherever you go. Whether you need a soft companion during travel or a comforting touch at your desk, the Cuddling Mini Minky Blanket is there to provide warmth and coziness on a smaller scale.
Doll or Pet Size: We understand that our beloved dolls and furry friends deserve the same luxurious treatment as we do. That's why we offer a special size specifically crafted for dolls or pets. Let your child's favorite doll or your furry companion experience the ultimate softness and comfort with their very own Minky Blanket, perfectly sized to suit their needs.
Adult Size (50×60 inches): Indulge in the pure luxury and embrace the generous dimensions of our Adult Size Minky Blanket. Measuring 50×60 inches, it's designed to wrap around you, providing ample coverage for the ultimate snuggle experience. Whether you're enjoying a movie night alone or sharing the warmth with a loved one, our Adult Size Minky Blanket ensures that comfort knows no bounds.
Monster Minky (60×72 inches): For those who desire an extra-large embrace, our Monster Minky Blanket is a true marvel. With its impressive dimensions of 60×72 inches, it wraps comfortably around two adults, creating a cozy haven for shared moments of relaxation. Embrace the boundless softness and immerse yourself in the sheer luxury of the Monster Minky Blanket.
But the Minky experience doesn't stop there! To complete your Minky collection, we also offer matching crib sheets and pillows, ensuring that your little one's sleep environment is a haven of softness and style.
Discover the perfect size for your needs and indulge in the plush comfort of a Minky Blanket. Whether you're looking for a snug fit for your newborn or a generous embrace for yourself and a loved one, our diverse range of sizes ensures that there's a Minky Blanket to suit every individual, doll, or pet in your life. Experience the extraordinary softness and create memories wrapped in the luxury of a Minky Blanket, tailored just for you.
Still can't find a design you want?
Minky Couture is happy to create a special custom blanket just for you.
Simply let them know your preferences, and they'll create the blanket!
Pricing is reasonable from $45 and up.
Want your own luxurious Minky Couture blanket?
This is the MOST incredible blanket!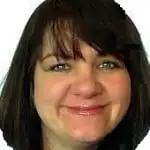 Julee is a quirky, dorky North Carolina Transplant with an appetite to taste the world, meets its desserts, and blog about them. When she's not behind the computer, you can find her playing with her family, reading a good book, being a Bon Jovi fangirl, and celebrating the little things.
Disclosure of Material Connection: I received one or more of the products or services mentioned above for free, hoping that I would mention it on my blog. Regardless, I only recommend products or services I use personally and believe will be good for my readers. I am disclosing this per the Federal Trade Commission's 16 CFR, Part 255: "Guides Concerning the Use of Endorsements and Testimonials in Advertising.".Julee Morrison