Since I've been an adult, Tide has been my laundry detergent of choice. Sure, we've tried other brands, but in the end, Tide finds its way back to our laundry room. Even in the 1990s when my mother was on a crusade to boycott companies, I had to draw the line when she suggested Proctor and Gamble, "I'm not giving up my Tide!" I remember rebelling.
Tide Coldwater Change to Cold Water and Save without Sacrifice! Review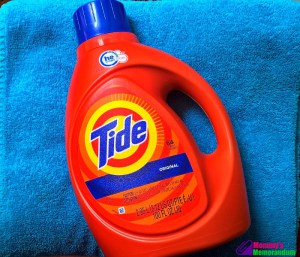 I'm one who enjoys the task of laundry. I sort, check the items for stains and pre-treat. I also tend to follow directions and wash on a variety of temperatures. I gave up my dryer for an entire month once to use the hot water and still meet our budget! Now, with the economy so uncertain, we've gone back to the rod in the laundry room so I can hang many of our items, and 90 percent of our clothing is washed in cold water.
Now, Proctor and Gamble come through for me with their Tide ColdWater detergent. It's encouraging me to keep doing what I have been doing and getting others to wash their clothes in cold water. It's conserving energy and saving money in utilities..and really, who doesn't appreciate savings?!
One day while doing laundry, I was reading the bottle and discovered it's also helping the environment right out of the factory by using 25 percent recycled plastic in the bottle and NO phosphates. I love that a company helps me meet my goals through their sustainability efforts (pg).
Tide Coldwater is taking on my laundry, even when one of the kiddos tries to do their own and doesn't check for stains. It is an effective cold water detergent. I am impressed by its cleaning power and love that there's an option for those who are going to cold water washing!
Tide Coldwater is on the shelves at major supermarkets nationwide. Pick up a bottle and see for yourself that Tide Coldwater has serious cleaning power!
You may be interested in learning how Tide stood up in our Which Laundry Detergent Works Best laundry lab.
*I received Tide Coldwater through Tide and SheSpeaks.com in order to facilitate and honest review. I was compensated for writing this post. However, the expressed opinions are my own and were in no way influenced by the sponsor. Others experiences may vary.