Discover the Ultimate College Cooking Companion!
Introducing "The Instant Pot College Cookbook" by Julee Morrison
Are you a busy college student juggling classes, assignments, and a social life while trying to eat delicious and healthy meals? Say goodbye to dining hall woes and boring takeout, because we have the perfect solution for you!
Unleash Your Culinary Creativity:
"The Instant Pot College Cookbook" is your ticket to culinary freedom! With over 75 mouthwatering recipes specifically designed for college students, this cookbook will turn your dorm room or apartment kitchen into a culinary haven. From quick and easy breakfasts to hearty dinners, satisfying snacks, and decadent desserts, you'll find a recipe for every craving and occasion.
Fast, Easy, and Nutritious:
No more slaving away in the kitchen for hours or resorting to unhealthy fast food. The Instant Pot, your new best friend, will work its magic to cook your meals in record time! With step-by-step instructions, cooking with the Instant Pot becomes a breeze, even for beginners. Plus, each recipe is crafted to ensure you get the balanced nutrition you need to power through those study sessions and late-night cramming.
Dive into a World of Flavors:
Are you tired of repetitive, bland meals? "The Instant Pot College Cookbook" will take your taste buds on an unforgettable journey. Explore an array of international cuisines, comfort classics with a twist, and clever one-pot wonders that will impress your friends and leave you craving for more.
Created for College Students:
Julee Morrison, a mom to college students herself, understands the challenges of balancing academics and a love for cooking. She shares her culinary expertise and time-saving tips with this cookbook to help you make the most of your college experience. Say goodbye to the stress of cooking and hello to culinary confidence!
Bonus Features:
Not only does "The Instant Pot College Cookbook" provide incredible recipes, but it also includes useful tips for grocery shopping on a budget, meal planning hacks, and suggestions for making the most of your Instant Pot. It's a comprehensive guide that will elevate your cooking game and help you make the most out of your college life.
Grab Your Copy Today:
Don't miss out on the ultimate college cooking companion! Order "The Instant Pot College Cookbook" by Julee Morrison now and transform your college kitchen into a hub of deliciousness. Whether you're a beginner or a seasoned chef, this cookbook is a must-have addition to your collection.
Available in bookstores everywhere and online. Grab your copy now and embark on a culinary adventure that will make your college years unforgettable!
The Instant Pot College Cookbook by Julee Morrison
If you've followed this blog, or my social media, you know I love my Instant Pot. That love has carried over to an Instant Pot College Cookbook.
Y'all! Today is the day I finally get to spill the beans!
I wrote a book!
It's called The Instant Pot College Cookbook: 75 Quick and Easy Meals that Taste Like Home. I'm so happy to be able to offer you all this resource.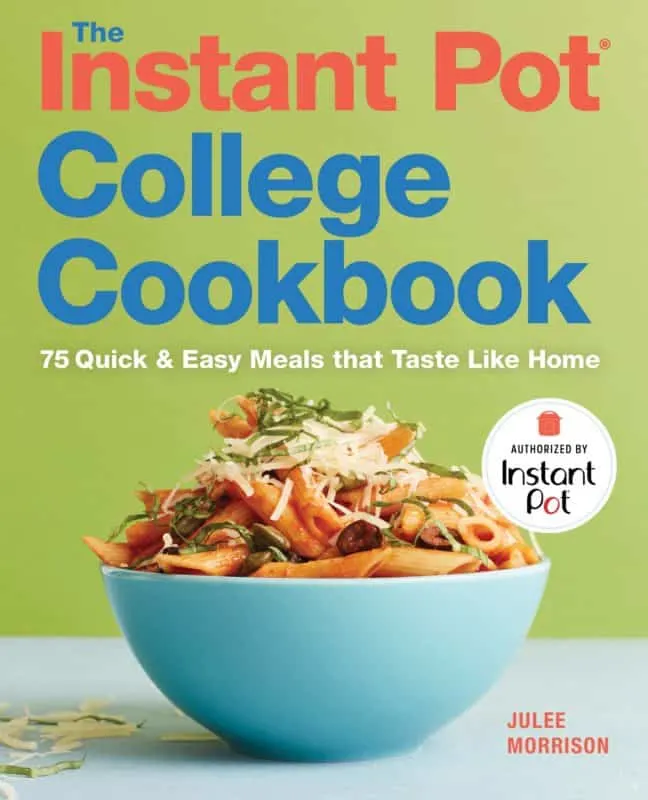 Writing a cookbook has been on my bucket list for a few years. This summer I had the opportunity to write my first cookbook. It showcases my favorite Instant Pot recipes and carries with it the love my mother brought to our food that I am now sharing with my own family.
It's geared for college students, but it is a cookbook for anyone.
The Instant Pot® College Cookbook includes:
Instant Pot® cooking 101 that explains pressure cooker settings for every type of food, tips, and FAQ.
75 home-style meals that include breakfast, everyday staples, soups and stews, meatless meals, poultry, pork and beef, dessert, and more!
Fool-proof recipes that combine quick prep times with easy-to-find and affordable ingredients to suit student schedules and wallets.
Save ramen for emergencies with quick and easy recipes from The Instant Pot® College Cookbook.
The Instant Pot® College Cookbook is the definitive dorm room solution for easy, homemade meals.
Cereal and pizza might be enough to sustain a crash study session, but the best brain food is a homemade meal. The Instant Pot® College Cookbook saves college students from four years of nutrient deprivation with quick and easy, budget-friendly meals.
From grab-n-go Breakfast burritos to late-night Macaroni and Cheese, this college cookbook contains 75 tasty meals that require no previous cooking or Instant Pot® experience to whip up. Using easy-to-find and affordable ingredients, The Instant Pot® College Cookbook saves students time and money too with good fast food that rivals any take-out menu.
Learn more about the book here: https://amzn.to/2DerUnQ