Introducing All Free Clear NEW Dryer Sheets and Fabric Softener!
Experience the perfect blend of freshness and sensitivity with our latest innovation. All Free Clear understands that every fabric deserves the utmost care, and that's why we've crafted our dryer sheets and fabric softener to be gentle on sensitive skin.
Key Features:
Hypoallergenic formula, free from irritating dyes and perfumes.
Infused with a delicate, soothing fragrance for a touch of natural freshness.
Reduces static cling and leaves fabrics feeling irresistibly soft.
Specially designed for all washing machines and suitable for all fabric types.
Dermatologist recommended, ensuring a safe and worry-free experience.
Upgrade your laundry routine with All Free Clear NEW Dryer Sheets and Fabric Softener, the perfect companions for a truly delicate touch on your clothes and linens. Embrace the comforting feel and subtle aroma, knowing your family's sensitive skin is cared for in every load.
Try it today and feel the difference yourself! Your laundry will thank you.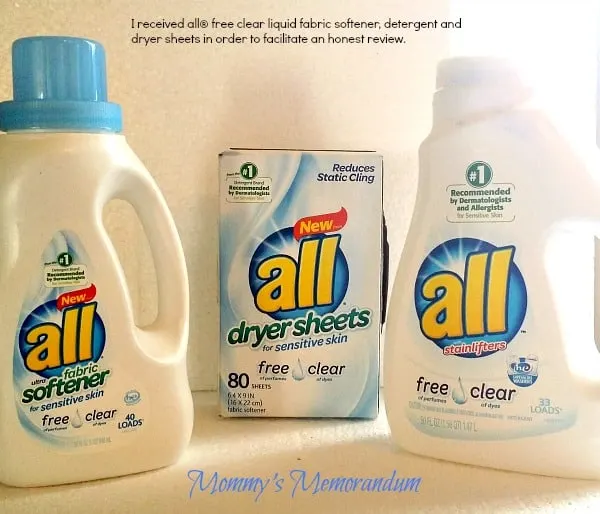 Our All Free Clear Laundry Detergent and Dryer Sheet Review
All Free Clear laundry detergent has been a detergent that I have used to help with Miss M's skin sensitivity. When I realized her skin was being irritated by her clothing, one of the things I did was wash her clothing separately in that overpriced baby detergent. It added extra work, having to sort her clothing from ours and then rinse the washing machine before running a load of clothes for her. Then I tried All Free Clear on a load for her and all was well.
Miss M is my priority and I was willing to do the extra work to ensure that her skin doesn't itch and irritate. I want her to be happy, healthy and comfortable in her own skin. All Free Clear was a time saver. I can use it on my entire family, making laundry day a breeze. All Free and Clear is free of any dyes and perfumes making it safe for sensitive skin.
ALL Free Clear is reasonably priced, especially compared to the baby brand I was using. It's about 12 cents a load. It's also the number one recommended detergent brand by dermatologists, allergists, and pediatricians for sensitive skin.
I'm so excited that in addition to the All Free Clear, now All Free Clear liquid fabric softener and dryer sheets have joined the All Free Clear family making the entire laundry process safe and free of the things that harm my child. I am loving these two new products. They make my regime complete and offer the soft, static free laundry I love, without adding the issues that irritate Miss M's skin. It's laundry All Free Clear!
Discover more about all of the all free and clear products through the All website. While you're there, grab some coupons and discover the difference of All Free Clear!
Why Your Family Will Love All Free Clear Laundry Detergent and Dryer Sheets
Families will love All Free and Clear laundry detergent and dryer sheets for several compelling reasons:
Hypoallergenic and Gentle on Skin: All Free and Clear products are specially formulated to be hypoallergenic, making them perfect for families with sensitive skin or skin allergies. They are free from irritating dyes and perfumes, ensuring a gentle and non-irritating experience for everyone, including babies and those with skin sensitivities.
Safety and Peace of Mind: With All Free and Clear, families can feel confident that their laundry is free from harsh chemicals and allergens. The dermatologist-recommended formula provides an added layer of assurance, allowing parents to trust that they are using a safe and reliable laundry solution for their loved ones.
Suitable for All Fabric Types: All Free and Clear laundry detergent and dryer sheets are designed to work effectively on all types of fabrics. Whether it's delicate baby clothes, everyday wear, or heavily soiled sports gear, these products can handle it all, ensuring a thorough and efficient clean every time.
Fresh and Clean Results: Despite being free from perfumes and dyes, All Free and Clear products don't compromise on delivering fresh and clean laundry. The detergent effectively removes stains and odors, while the dryer sheets help reduce static cling and leave fabrics feeling soft and pleasant to the touch.
Convenience and Ease of Use: All Free and Clear laundry detergent is compatible with all washing machines, making it convenient for families to incorporate into their laundry routine. The dryer sheets are simple to use and provide an additional layer of softness and freshness to clothes and linens.
Trusted Brand: All Free and Clear is a well-established and trusted brand known for its dedication to providing gentle yet effective laundry care. Families can rely on the brand's commitment to quality and safety.
Overall, families will love All Free and Clear laundry detergent and dryer sheets because they offer a perfect balance of efficacy, gentleness, and peace of mind. It allows them to prioritize the well-being of their loved ones without compromising on cleanliness and freshness.