I received GuruNanda's Honeycomb Essential Oil Diffuser and line of essential oils in exchange for this post. My love for aromatherapy and opinions remain my own.
Our house is part of the "latest trends in aromatherapy."
We use diffusers to make our home smell good, to soothe and reset.
There's a new product line that's bridging the gap with the best ingredients at the best prices for aromatherapy.
Meet GuruNanda.
This article is not medical advice, it is meant only to share my obsession with one of my favorite things, essential oils!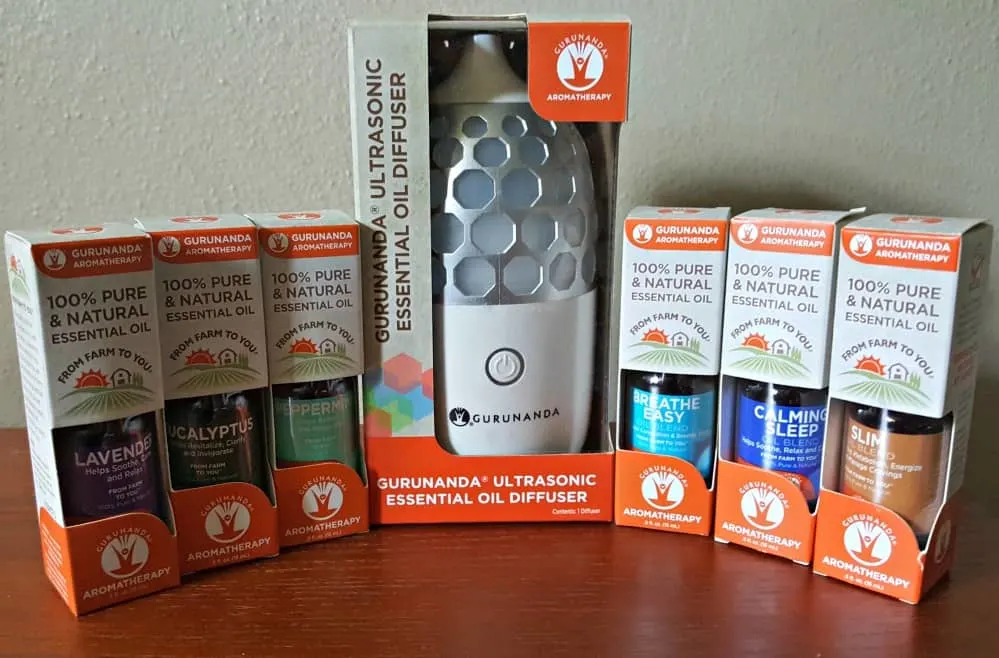 Aromatherapy just got easier with this easy-to-use, all-natural home aromatherapy system.
It is designed to deliver specific health benefits depending on the particular essential oil chosen.
It can also be used as a healthy and natural alternative to air freshener sprays which often contain chemicals.
It is designed to deliver specific health benefits, boosting the immune system, and more depending on the particular essential oil chosen.
It can also be used as a healthy and natural alternative to air freshener sprays which often contain chemicals.
Brand Description
When Puneet Nanda started this company, GuruNanda, he made two promises:
Every drop of oil carrying his family name would be 100% pure – nothing added, nothing removed.
The brand would be a conduit for positive change in the world.
These two promises certainly encompass the Cruelty-Free promise.
They are hyper-focused on the quality of their Aromatherapy products, where they come from, the purity, and humanity of the harvest. T
Gurunanda brings you the purest oils – crafted and curated with your wellness in mind.
Let's talk about the system.
Gurunanda is available in the pharmacy section of select Walmart stores nationwide, making it easy to find, and select oils of your preference.
The system is comprised of ten different Essential Oil Singles and an accompanying professional-grade diffuser.
Let's talk about essential oils.
These premium botanical oils are sourced from responsible growers around the world and are 100% pure and natural, therapeutic grade.
These are all things that are important to me.
We use oils on a daily basis and believe GuruNanda produces the best essential oils.
There are many benefits of essential oils.
Try these essential oil diffuser recipes.
These unique essential oil blends can be used for aromatherapy, diffusing, massage, beauty & skin care.
The Gurunanda line of oils has a great selection of oils, each with its own scent and result:
This is an incredible essential oil collection.
Whether you are looking for the therapeutic benefits of essential oils or
Lavender:
Lavender Oil is one of the most popular and versatile essential oils; calms relaxes and soothes with its herbaceous/floral aroma.
Lavender essential oil relieves stress, fatigue, depression, and headaches with just a few drops of lavender.
You can also use lavender oil as a facial toner by mixing 2 drops of lavender oil with 1 teaspoon of witch hazel.
Lavender has been deemed non-toxic for any kind of pet by the Pet Poison Helpline.
Eucalyptus:
a fresh, penetrating aroma that clarifies, invigorates and revitalizes
reduces fevers and fights viruses
Tea Tree:
cleanses, purifies, and renews; also known for its antiseptic properties.
inhibits bacteria and fights infections
Frankincense:
It's what the Wise Men gave to the baby in the manger.
And at the end of the day, if it was good enough for baby Jesus, I'm in.
This oil centers focus and help you relax with its sweet balsamic aroma.
Diffusing frankincense is an excellent way to naturally purify the air while enjoying all of the aromatic benefits.
Frankincense has been deemed non-toxic for any kind of pet by the Pet Poison Helpline.
Here are some of our favorite diffuser blends featuring Frankincense Essential Oil:
Namasté: 4 drops Lavender, 3 drops Frankincense and 2 drops Sandalwood.
Carolina Forest: 4 drops Cedarwood, 3 drops Frankincense, and 2 drops Valor
Citrus Oils:
Orange:
Orange essential oil can be used for a variety of applications that range from lifting mood and reducing stress to adding a fresh, citrusy aroma to a room.
Lemon:
Like the warm sunshine and another extremely popular essential oil, Lemon, is known for its detoxifying, cleansing, and refreshing properties.
This essential oil clears your nasal passages and allows for steady breathing
Lemon essential oil has been deemed non-toxic for any kind of pet by the Pet Poison Helpline.
Grapefruit:
Delicate citrus scent.
Drops of grapefruit oil energize, refresh and uplift.
Himalayan cedarwood:
A few drops of oil balance, calms and grounds
Rosemary:
this herbal aroma helps focus, renew, and aids digestion
is a nontoxic way to clean surfaces or air
Patchouli:
A rich, musky, earthy scented oil that refreshes and uplifts, and is also thought to help soothe dry skin.
Peppermint:
Peppermint Essential oil offers a fresh cool scent that invigorates and refreshes.
Breathe it in for mental alertness.
It reduces coughs, sinusitis, runny nose, and throat infections–it is a secret weapon against flu season.
It also works great with a few drops of peppermint and carrier oil for pain relief on tired, sore muscles.
Should I Dilute Essential Oils Before Applying to the skin?
Since essential oils are highly concentrated, it's highly recommended to dilute them in a carrier oil before applying them to the skin. The most common safe dilution rate is 2%
Each GuruNanda Essential Oil Single contains one pristine botanical oil.
There is nothing synthetic or adulterated.
I love that the line has a variety from citrusy and musky to herbal and floral.
The singles come in a 1/2 ounce amber glass bottle and a suggested retail of $5.94 each.
Each bottle has a dropper included.
How many drops are in 1 milliliter?
There are approximately 20 drops in 1 milliliter.
This measurement should be considered an estimate.
Not all essential oil drops are equal; differences in viscosity will impact the volume of oil that holds together in a drop.
The line also includes GuruNanda Essential Oil Blends.
These are expert combinations of 100-percent pure essential oils, built on the synergies among individual ingredients and their potential to achieve a specific result.
There are four formulas in the GuruNanda Essential Oil Aromatherapy Blends line:
Calming Sleep:
This is a great blend.
A few drops of essential oil in a diffuser or one of my favorite ways, a couple of drops added to roller bottles and rubbed on the bottom of my feet, comforts and relaxes, soothes and helps improve and accelerates sleep using a blend of lavender, marjoram, and chamomile.
Thrive:
This is my favorite blend.
Thrive energizes, purifies, and boosts immunity.
It is a perfect blend of clove, lemon, cinnamon, eucalyptus, and rosemary.
Slim:
the perfect adjunct to a healthy diet and exercise regimen.
It supports healthy metabolism, boosts energy, manages cravings, improves circulation, and helps remove toxins using a blend of black pepper, grapefruit, cinnamon, lemon, peppermint, and ginger.
Breathe Easy:
a natural remedy for nasal congestion and better overall respiratory health, and works great for allergy symptoms.
this formula contains a blend of eucalyptus, peppermint, tea tree, basil, and rosemary essential oils.
The blends also are packaged in a 1/2 ounce glass amber bottle with a suggested retail price of $5.94 each.
Use the Gurunanda Singles of Blends with GuruNanda's Honeycomb Diffuser, ($19.88).
The number of drops is up to you–and that makes aromatherapy a great thing.
The aromas soothe, energize, uplift, and create a spa-like ambiance in any home or office.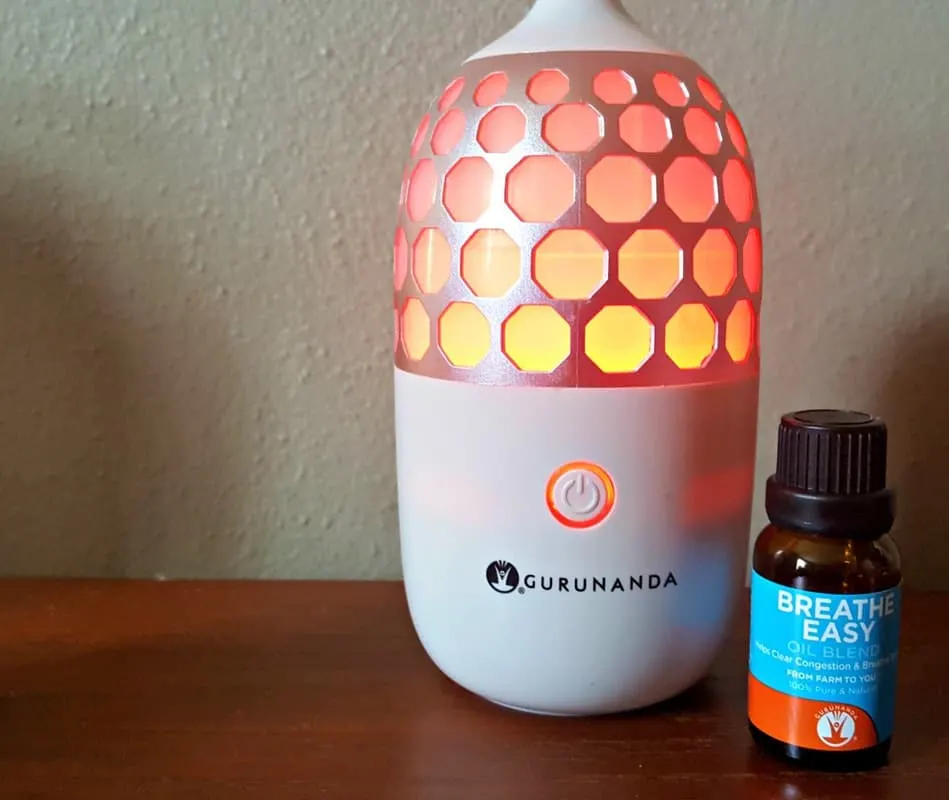 The different essential oils in this kit can also be mixed with a carrier oil (such as sweet almond) and massaged into the skin, used in the bath, or added to water to use as a room spray.
I found setup to be easy.
Out of the box I simply had to plug in the cord to the back of the diffuser and then into the wall outlet.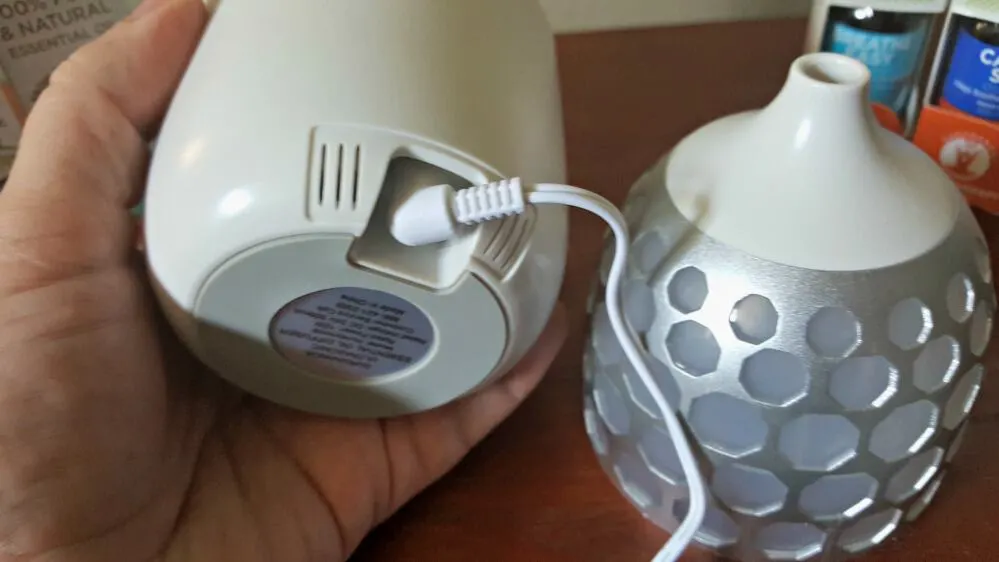 Next, I added water to the fill line marked inside the GuruNanda Diffuser.
Can You use tap water in your diffuser?
We use warm tap water in our diffuser because it includes natural minerals that help the water diffuse into a vapor better than distilled water.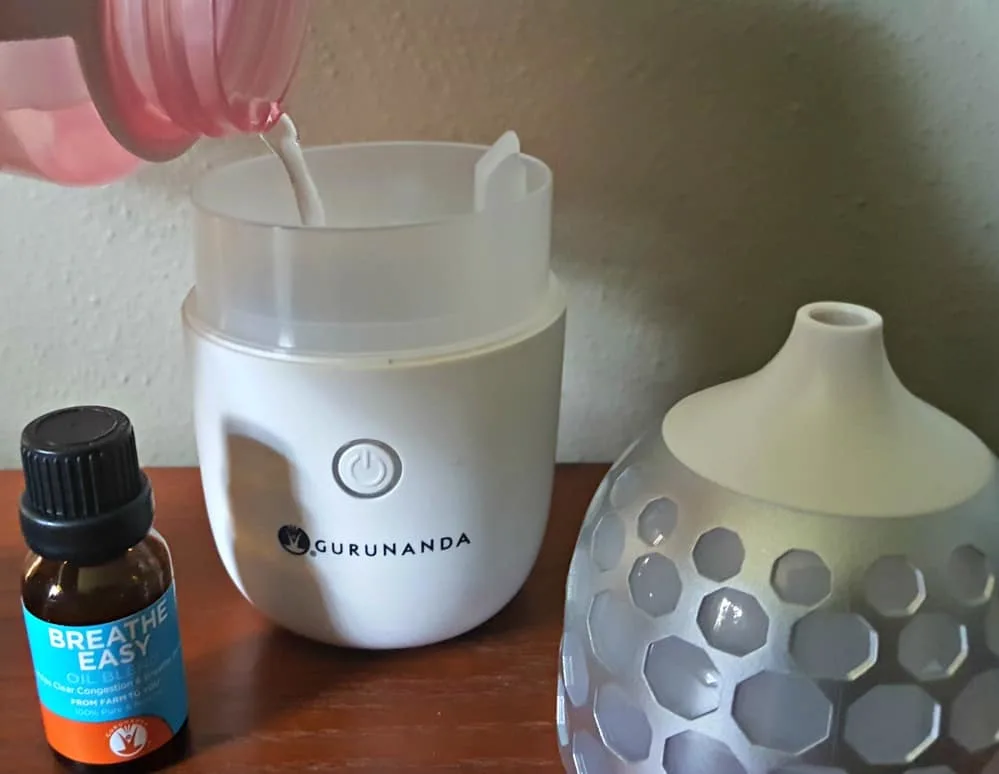 Then I made the selection of the GuruNanda Essential Oil I wanted.
I chose to use Breathe Easy.
My seasonal allergies are wonky after walking the dogs.
I added a couple of drops to the water in the diffuser.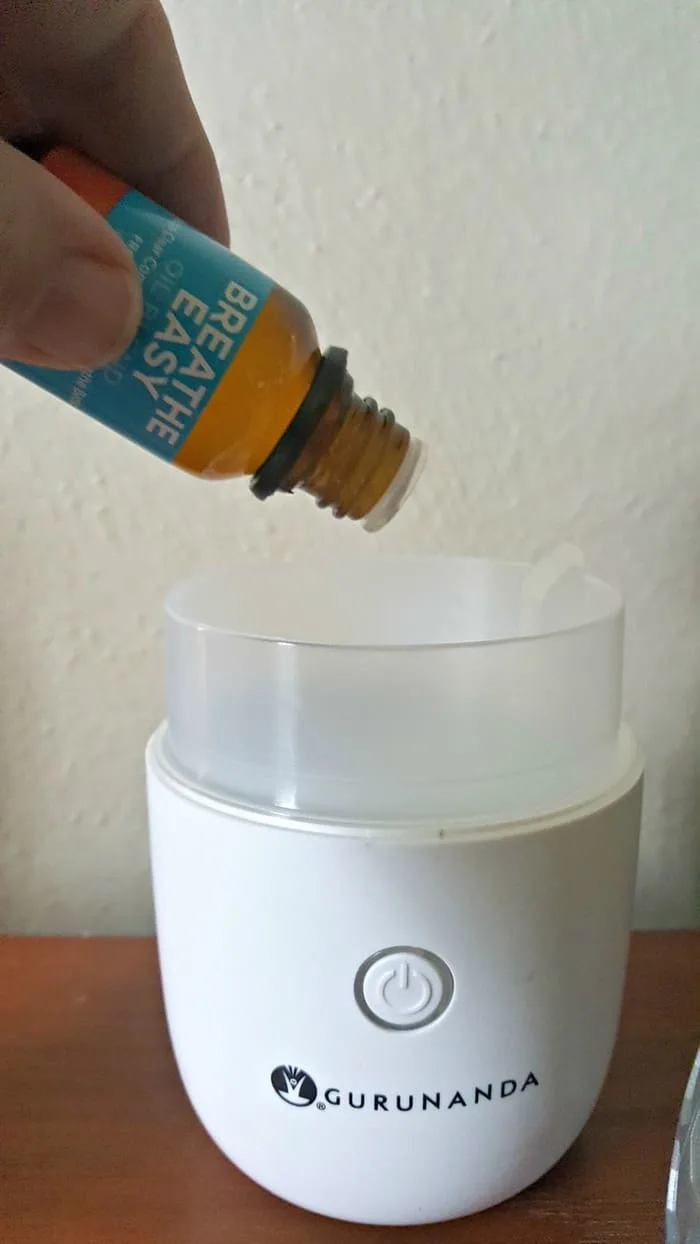 The Gurunanda Honeycomb diffuser is created especially to disperse fine particles of the essential oils into the air.
The diffuser is easy to use, won't heat the oils or compromise their potency.
The diffuser also turns off automatically when the water level is low and has two settings: intermittent and continuous (up to 3.5 hours) so it's perfect for everyday use.
I love the visual element.
It plays into the sensory experience. It's attractive and modern and features a soft, soothing LED color changing light.
Take a peek:
The GuruNanda Honeycomb Diffuser has a suggested retail price of $19.88.
Don't settle for expensive, cheaply made, synthetic ingredients when it comes to aromatherapy, choose GuruNanda and create an "atmosphere" to boost mood, energy, and mental focus, improve sleep and make your house smell amazing.