Your baby's first birthday is a great milestone, and every parent desires to celebrate it in the best possible manner. We cover your child's first birthday gift ideas that are sure to please and create lasting memories of this special day.
So that everyone can cherish it for years to come; it feels as if it belongs more to the parents than the child.
Your little one is turning 1, and with that, you, too, are completing one year of parenthood, especially if it's your first child.
This being the first-ever birthday, you are on your toes to celebrate it in the best possible way.
After you are all set with the venue arrangements, the décor, and placing the order for a customized theme cake, you will need to put together the gift items you will be giving for your child's first birthday.
Here are some of the popular toys in the world which are fun, and you will love them.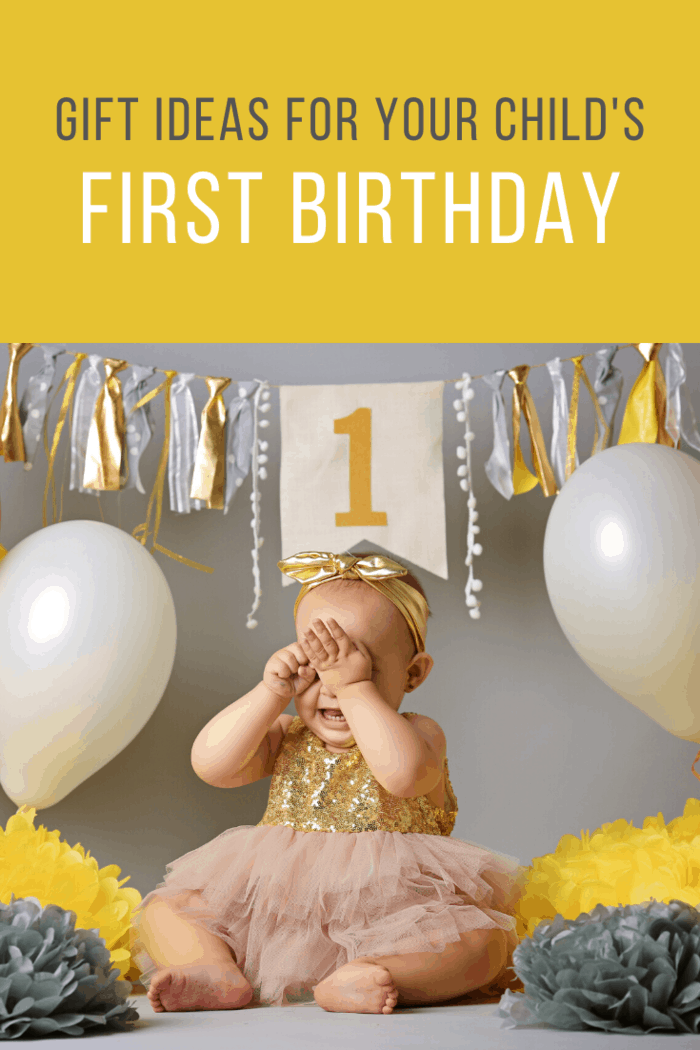 Now is the time to gear up so that you can maximize the productive and pleasurable experience of parenthood that lies ahead with your child entering toddler age.
This is when kids are most observant, interactive, and explorers by nature.
Parents looking for the most age-appropriate gifts face difficulty deciding what to buy for a special occasion.
People have emphasized the value of playing in a child's life from the early years.
Your child needs to develop skills through playing and other similar activities.
Gift Ideas for Your Child's First Birthday
The Value of Playing
"As a parent, you are your child's very first and favorite playmate."
Playing is vital for a child's development.
Children play without any thoughts of a reward and are ready to explore by default.
Early childhood playing increases the development of many cognitive and no cognitive skills.
Playing also helps young children's brains develop and enhance their language and communication skills, contributing to their overall social, physical, and emotional well-being.
By this age, most babies have figured out sitting, crawling, and pre-walking (being on the verge of learning how to walk).
They're more mobile, alert, and exploratory than they ever were.
At this stage, a child grows in his physical, emotional, behavioral, heuristic, cognitive, imaginative, and five sensory developments.
Playtime is indeed special.
Not only is it fun, but it is vital to children's development.
It is their way of learning about the world.
They try out new skills, explore through their imagination, and learn about relationships with other people.
Therefore, selecting your child's gift based on their experiences is ideal, especially if it aids their skill development stage.
Keeping all these associated factors in mind, we have rounded up gift ideas for your child's first birthday: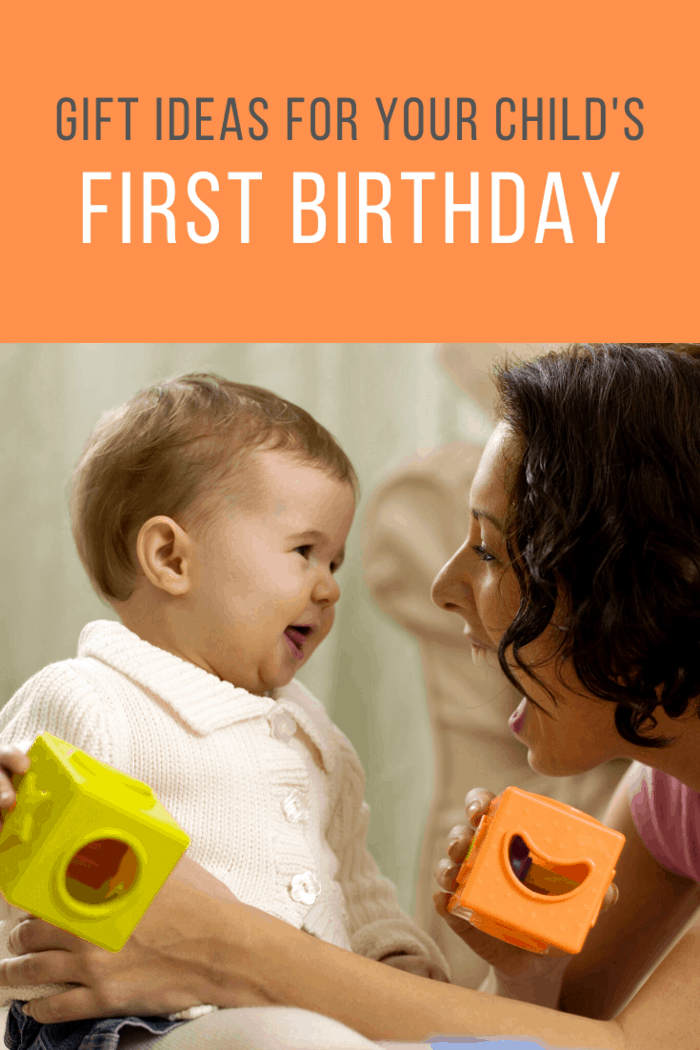 Textured Books
Textured books are excellent for kids to develop their sight and touch skills.
Various books are available in the market, designed with many themes in mind.
Some have features of protruding animals, their body parts and skin textures sticking outside of the pages, transporting the kids to an amusement park.
The visuals bring out their imaginative thinking in the best possible way.
The best feature of these toddler books is their easy maintenance, especially washable ones.
They can keep your child busy while you give them a bath.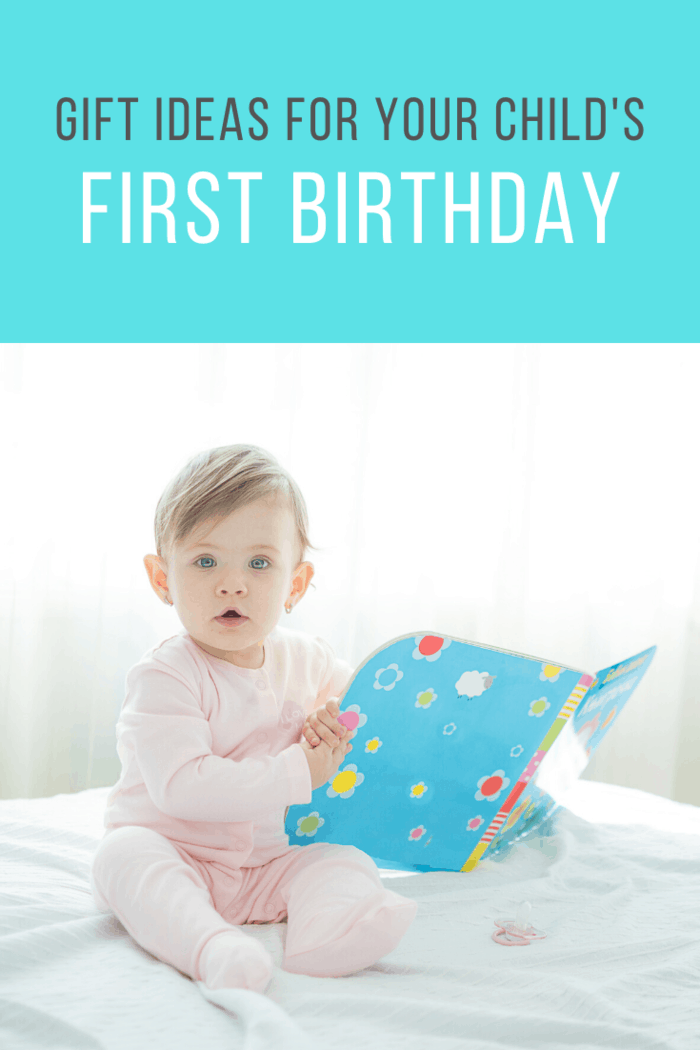 Plush & Beanie Toys
Plush and beanie toys are always a good idea to gift a 1-year-old child.
Moreover, parents can have a great collection of unique pieces apart from the usual teddy bears.
Sometimes, they can be a cute addition to the child's nursery.
It could also be an awesome new-born toy with a cuddly feel.
Such toys help build a child's recognition of soft and hard textures.
Apart from that, the vibrant colors attract the child's attention and help bring positivity by lifting his mood.
Beanie toys help in developing a sense of throwing, falling, and exercising grip.
This gives the child a sense of hold without letting it fall.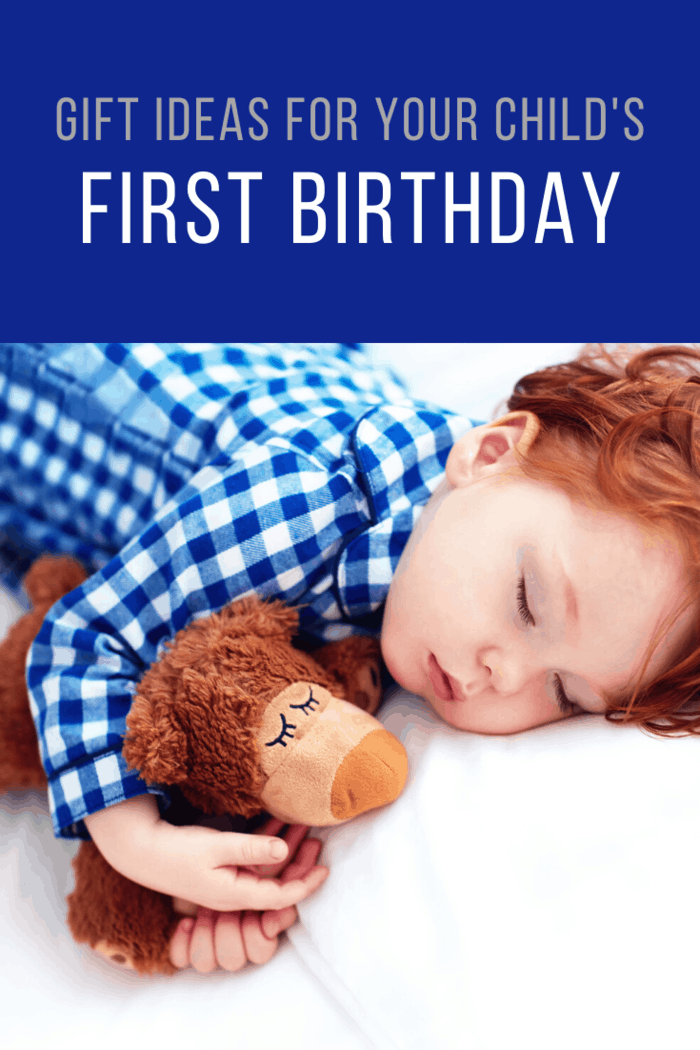 Baby's first-year photo art
Birthdays are to welcome a new year and to cherish the memories you have built with your child during the past year.
An excellent gift for your child could also be your baby's first-year photo art.
According to NY Mag, you can customize the past 12 month's photographs of your child as a picture collage framed beautifully on one of your walls.
It will not only add to the aesthetics of your house but will also create a warm, meaningful feeling of a home.
The transition in your child can often be hard to keep track of.
Therefore, it's important to preserve them as a gallery wall.
Looking at them could be a trip down memory lane and make all the past events even more special.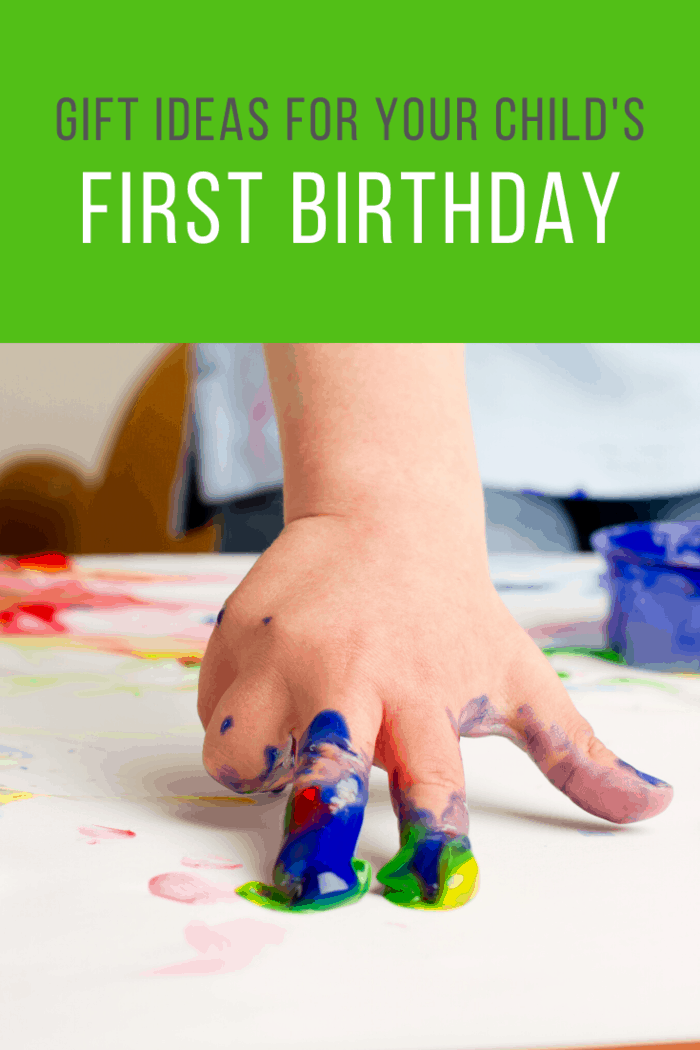 Family fists sculpture
According to The Bump, one of the latest trends and everyone's favorite is to gift your family, partner, children, and friends in the form of sculptures.
These are not the traditional sculptures that you are familiar with. But these are hand and foot impressions made through casting.
They could be your baby's feet or hands on the day he or she was born.
It could be one with the entire family; parents are holding hands with their child, and even your pet could be a part of it.
Since it is unique and thoughtful, it could be a fantastic gift for your child's first birthday.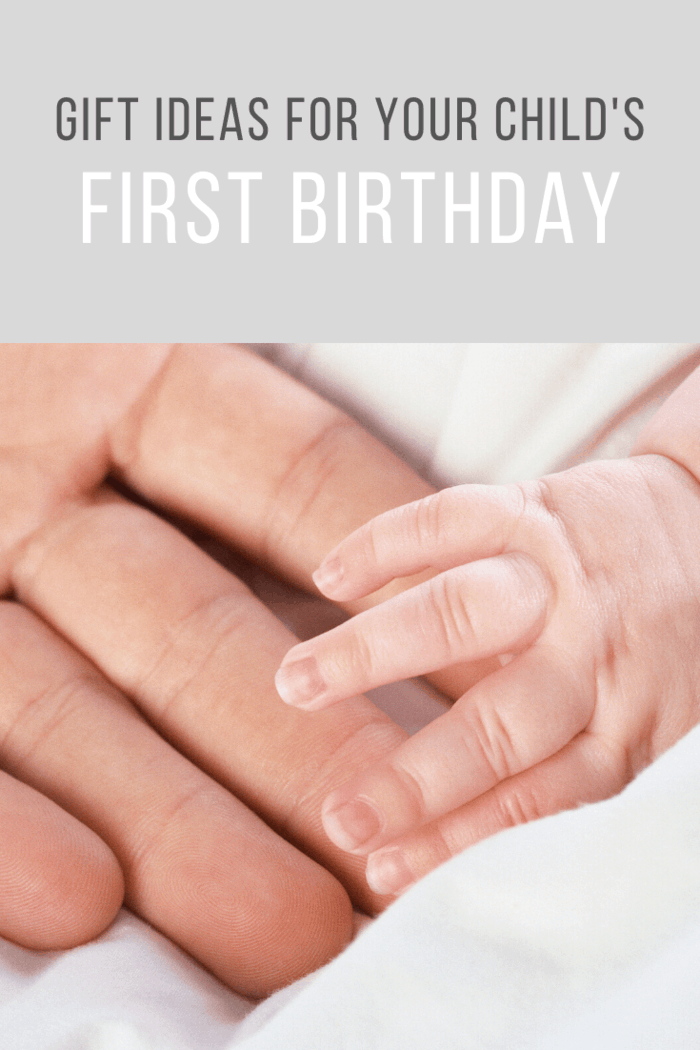 Felt food sets
The time of your child role-playing as Dora the Explorer has already started.
Every activity is a new way to explore and register new things.
Felt food Toys could be an exciting gift for your toddler and help you feed them better.
Since they are curious about every little detail, it can be a smart way to develop their interest in food, especially vegetables and fruits.
Felt food toys are available in various food combinations, like pizza, sushi, sandwiches, and various fruits and vegetables.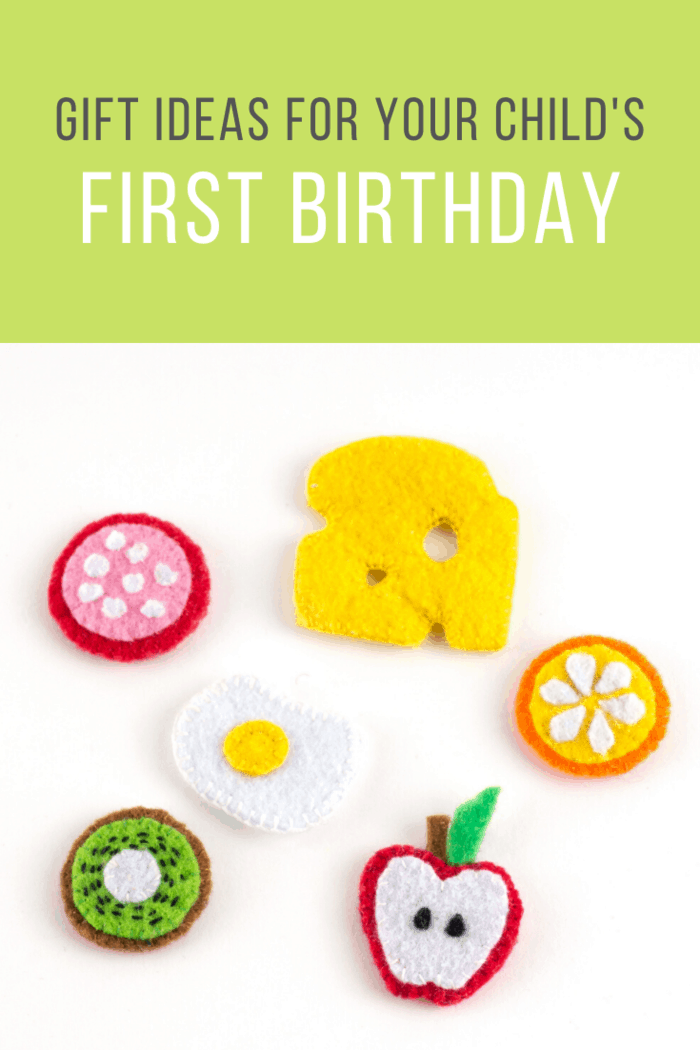 Kids Fun Stacker
Stacking and shape-sorting toys allows toddlers to recognize several shapes, colors, and sense for different-sized objects.
It helps the child in the identification of small objects versus large-size objects.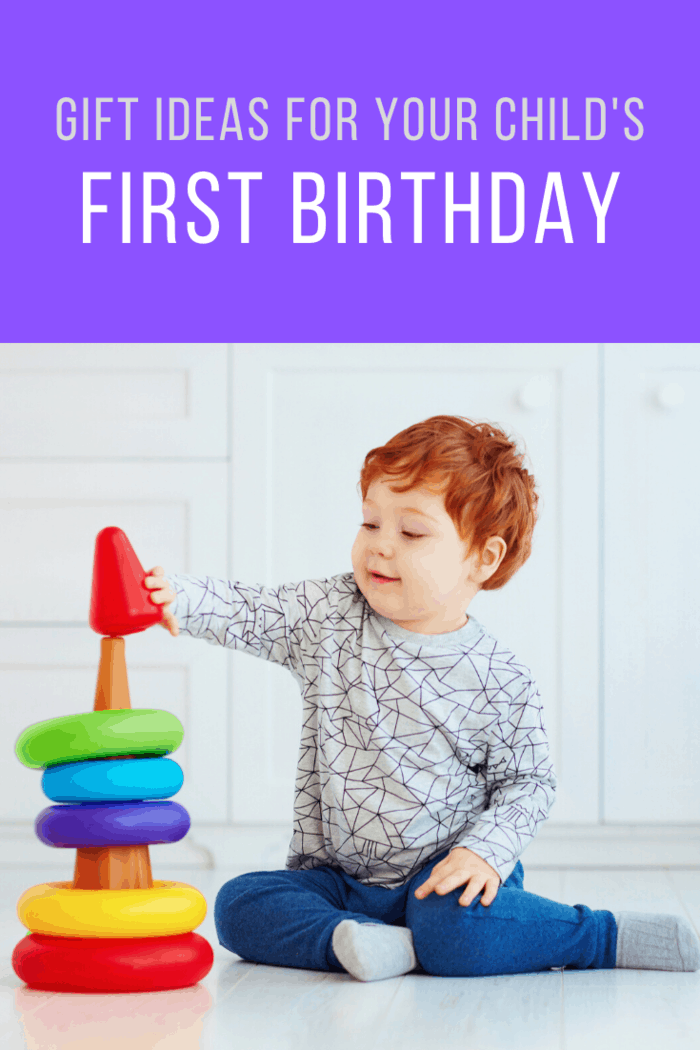 The Final Word on Gifts for Your Child's First Birthday:
As much as you emphasize choosing a thoughtful gift, it is even better if you focus on its practicability.
Toys that are not just about having fun but are educational and encourage mobility will help shape your child's preferences from the very early years.
Toys like Lego blocks and books can help build your child's motor skills and enhance their sense of recognizing colors, patterns, and textures.
The above suggestions are all great gifts ideas for your child's first birthday.