Millions of people spend their time, effort, and energy improving the function and appearance of their homes. Sometimes, this involves renovation projects on a large scale. Other times, this entails repair and deep cleaning. If you love home remodeling along with the thrill of taking the look of a home to the next level, then a career in home renovation may just be for you.
If you're looking to shift your career to home remodeling, here are some jobs that may suit your interests and skills:
General Contractor
Think of this profession as the manager for any home renovation or building project. They are the people in charge of hiring all the suppliers and subcontractors to get the job done.
If you want to become a general contractor, you'll need at least a high school diploma along with years of experience in the construction industry. You'll also need to enroll in the appropriate training courses and pass the contractor exam to obtain the necessary license.
Interior Designer
This person produces the design of interior spaces of a business or home. A designer may be responsible for choosing accessories, flooring type, paint colors, and other design elements.
An interior designer has the artistic ability to create a room design that's pleasing to the eye. It's also essential for a designer to have excellent people skills, communicate effectively, work well under pressure and meet the deadlines set by the client.
If you want to become an interior designer, you'll need to hold a bachelor's degree or an associate's degree in interior design. Interior design programs usually cover topics, such as computer design techniques, business management principles, texture choosing, and color matching. Comprehensive programs prepare students to work for design companies or launch their own businesses.
Certification or licensing may be required for interior designers in some states. If you're looking to become a successful interior designer, you may need to go through the Interior Design Experience Program (IDEP) offered by the National Council for Interior Design Qualification (NCIDQ). This program provides students with mentoring, work experience, and education that prepares them for taking the NCIDQ exam or entering the workforce. The NCIDQ is a national licensing examination required in some states.
Carpet Installer
This professional may install various types of carpeting in businesses, offices, and homes. Some job responsibilities of a carpet installer include finishing, laying, cutting and measuring carpet.
Carpet installers typically learn the trade through on-the-job training. Many begin in this career with little to no knowledge of the trade. What's more, employers may not require a high school diploma. If you like carpets and laying them out in homes, this career path may be for you.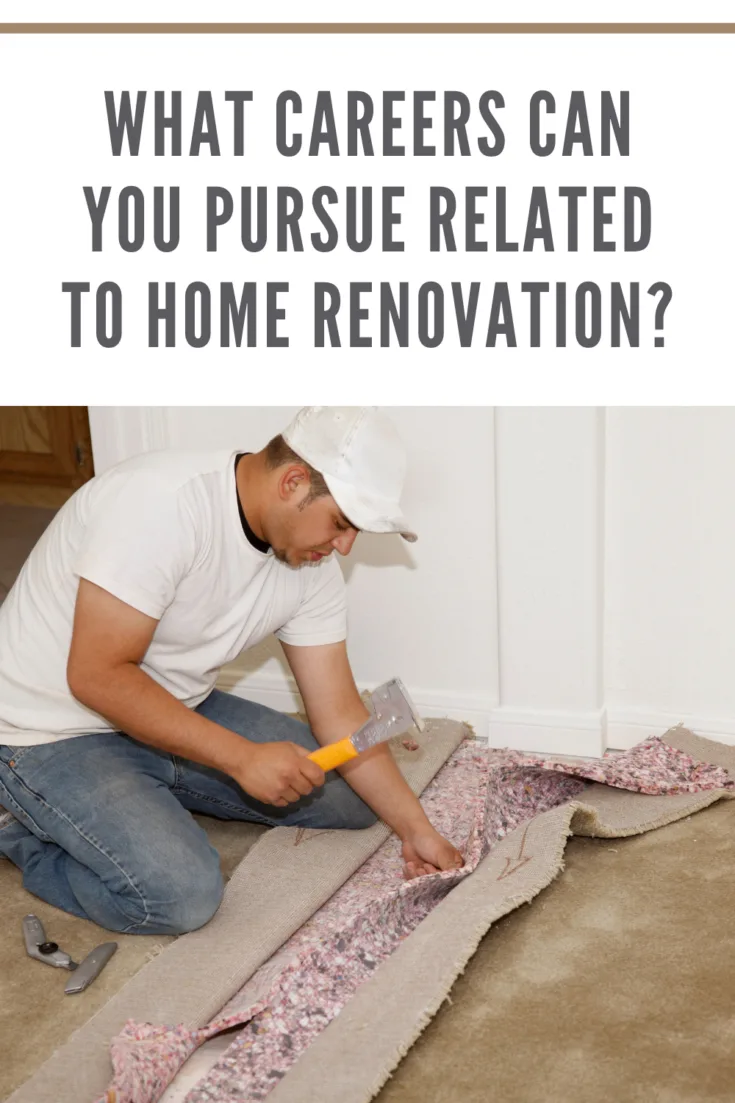 Carpenter
This person is responsible for building wooden structures, including window frames, doors, and walls. A carpenter may also lay hardwood flooring, as well as build staircases and cabinets. Although each carpentry job is unique, carpenters follow the same general procedure for all types of work. This professional uses a blueprint as a guide to building a particular structure or item. The next steps include joining pieces together, cutting the material, marking, and measuring.
If you want to be a carpenter, you'll have to be accurate in whatever project you take on, work independently and pay attention to detail suggests Chron. Clients generally evaluate carpenters by their professional skills instead of formal education.
Learning carpentry skills has three general paths. Aspiring carpenters can enter apprenticeships, enroll in a technical or vocational carpentry program or learn everything there is to know on the job.
Technical or vocational programs in carpentry provide classroom training together with some hands-on training. This kind of program may provide courses in specialty trades, flooring, cabinetmaking, remodeling, and maintenance. Graduates obtain a degree, diploma, or certificate in carpentry.
Students in apprenticeship programs can attend classes while also working as carpenter's assistants. This program usually takes three to four years to finish. Employers, professional organizations, universities, and colleges offer apprenticeships.
Drywall and Paint Technician
This kind of technician is responsible for the installation and finishing of the drywall on interior walls and ceilings. They also paint, texture, and finish drywall.
Paint and drywall technicians may also perform light carpentry and insulation work as needed. This career in home renovation plays an important role in making sure that job sites are ready for trim and finishing.
Gutter Foreman
This type of foreman handles the precise installation and crafting of gutters. They usually have a background in construction, metals, or maintenance of gutter equipment.
Turn your passion for home remodeling into something profitable by pursuing one of these six career paths. Whatever choice you make, remember to adhere to proper planning and safety protocol. Your goal is to make sure that you do a job well done in every project you accommodate.
---
Resources:
https://www.internzoo.com/career-shift/