Buying oils in bulk can be beneficial to many entrepreneurs or business owners whose main income stream may come from the production and distribution of related products.
Throughout recent years, people have become more aware of the products they buy, where they are sourced from, what they are eating and what they are putting into their bodies. The ongoing green movement has swept the population, and many people are choosing alternative options for their food, clothing, and beauty and care routines.
These products are typically organic natural and are not heavily influenced by man-made products. Business owners worldwide have flocked to cash in on the increased demand for these products, and the need to buy oils in bulk has steadily increased accordingly.
Buying oils in bulk allows businesses to manufacture products using these as their baseline and allows them to do it on a large scale to meet the high demand from consumers who are looking for natural and organic products.
Many products such as soap, skincare products, hair products, and much more use these oils as a baseline, and if you are in these industries, then it only makes sense to buy oils in bulk for manufacturing and distribution.
If you are thinking of entering these industries, but don't know where to start, read on.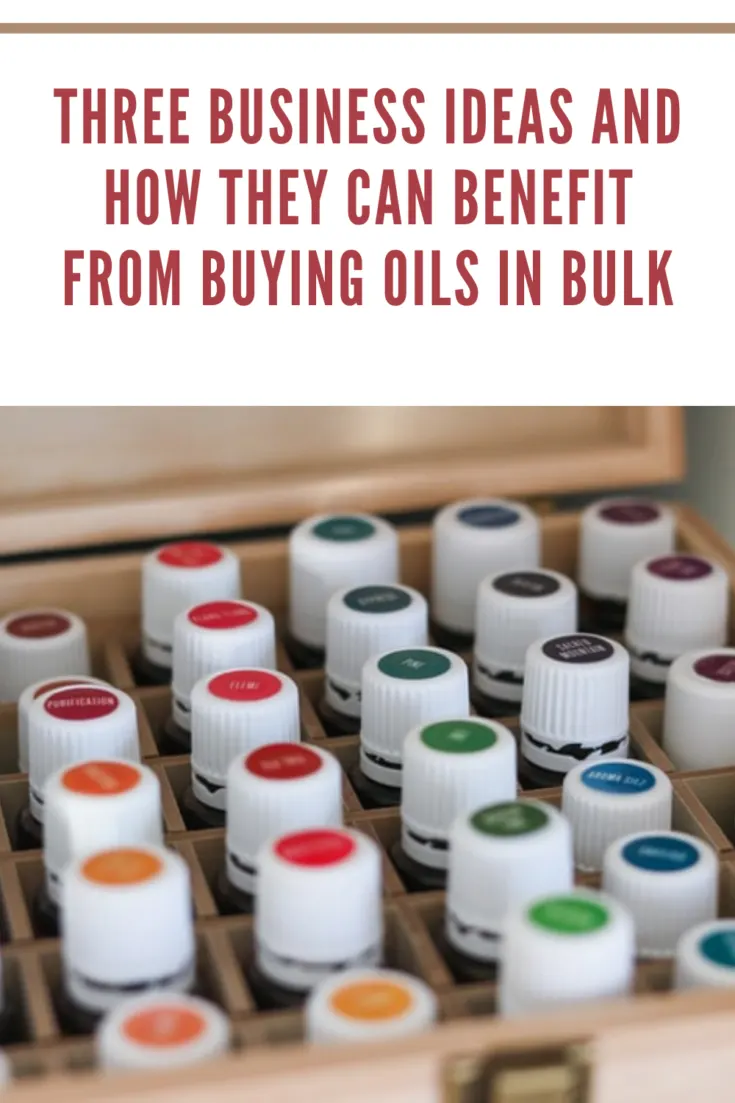 Starting a Business
While we have mentioned buying oils in bulk for your business, perhaps you are looking to get into these industries before you do so. You have by now probably realized the high demand for products of this nature and wish to share your knowledge and cash in on this demand and demographic.
You need to think of an idea in which you can use oils in bulk to manufacture products that would appeal to the green movement demographic.
If you can't think of anything, here are some ideas.
Soap Supplier
When buying oils in bulk, manufacturing soap becomes much easier. To develop soap that would appeal to a certain demographic, it must be made of organic materials that do not have harsh chemicals or man-made influences.
Because of this, shares Overstock, essential oils are often your best bet to give the user of your soap health and skin benefits while also bringing about a nice scent and aroma packed into one product. To manufacture soap on a large enough scale, it is very important to have a reliable supplier of the materials required.
By buying oils in bulk, you ensure that you have the ingredients needed beforehand, which can ensure smooth production and the assurance that your products will be developed.
Soap is something that everyone needs and uses, both for hygiene and the scent and aroma, and is, therefore, a lucrative market to enter.
Hair and Skincare Products
Buying oils in bulk is perfect for the production of hair and skincare products. This is primarily because of the scale of production required for these products. You have the materials ready to produce them and the essential oils effectively being the product itself.
These oils will have many skincare and hair benefits attached to them by themselves, and putting them in with other organic products means that the product basically makes itself. Buying oils in bulk means that you can manufacture your products in bulk, as you do not need much to be able to produce large quantities of hair and skincare products.
This industry is also a huge one, and people worldwide have always been interested in taking care of their looks. Because of this, the industry has a huge demand for organic products as people are looking for products that are not harsh on their bodies while still providing the benefits. By buying oils in bulk, you are ensuring you can produce products for a demographic with very high demand and always will have a high demand.
Essential Oil and Extract Supplier
This is the most prominent business idea for buying oils in bulk. An essential oil and extract supplier will provide these products to consumers who want small quantities for their own use, mixing, and methods.
This industry has blown up in recent years, and people are now using these products for just about everything. Buying oils in bulk will be able to ensure that you have the products required at the ready to distribute to consumers for a profit.
Often, businesses will run out of stock and will not be able to supply their hungry demographic, and they can lose money as a result. By buying lots of oils in bulk, you can assure your consumers that you will always have stock ready for them and make a good profit in doing so.
You know you will always have business and demand because of the high demand for these products and their many uses and applications.
The Benefits of Buying Oils In Bulk
Cost Effective
Buying oils in bulk will help you to save costs in the long term. It is well known within the business world that buying materials in large quantities would be cheaper than buying them individually, and the same principle applies to buying oils in bulk. Doing so will allow you to save money on the sourcing and manufacturing of your products, and this money can be distributed into other parts of your operation that suit you best. The goal for any business is to minimize costs and maximize profits. By buying oils in bulk, you are being cost-effective and allowing for the best possible outcome in terms of profits.
---
Resources:
https://www.health.qld.gov.au/news-events/news/using-essential-oils-safely
https://www.freshworks.com/freshcaller-cloud-pbx/call-routing/cost-efficiency-blog/