I enjoy cooking. I remember watching my mom and grandmother cook when I was little. I even recall getting to cook in the kitchen under supervision. I felt empowered. Now TIME for Kids: Kids in the Kitchen Cookbook offers fun recipes for kids to make, offers recipes, tips, and facts for kids to make snacks, breakfast, and more.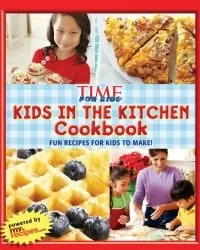 This is a great starter cookbook for those learning their way around the kitchen. The cookbook is 160 pages and well-organized. The recipes are all kid-friendly, like Cheesy Roll-Ups Pigs in a Blanket, sloppy joe sliders, chocolate chip cookies, and quesadillas. There's more "grown-up" food with clever touches like Meat-Loaf Mugs, even ethnic foods like Mexican posole soup and Healthier options like frushi (fruit sushi).
I love that the recipes have, at most, ten ingredients-most have fewer making it easy for Mom on shopping lists and organization. The instructions are concise, simple, and easy to follow. Unlike my more "grown-up" cookbooks, this book offers a full-color photograph with every recipe–something my children absolutely think rocks the book. It also inspires them to present their food and enjoy it before it even reaches their mouths.
I love that the book is hardback with a hidden spiral ring binding, allowing the pages to rest flat for easy reference as the children navigate the kitchen and prepare the dish.
I also love that this book teaches children short-cuts to help them enjoy the journey. Many of the recipes call for prepared ingredients, taking time out of the creation yet still offering the satisfaction of having created a meal and not just breaking open a box and placing the plastic tray in the microwave. It's a great start the children can build their skills from and discover what they enjoy eating and creating.
This book belongs in every kitchen where children are–whether it is used by the children or just by a mom for younger children, these dishes are sure to be asked for again and again by children. Young chefs will be proud of their creations and Mom will be proud they require minimal supervision.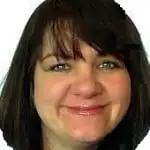 Julee is a quirky, dorky, North Carolina Transplant with an appetite to taste the world, meets its desserts, and blog about them. When she's not behind the computer, you can find her playing with her family, reading a good book, being a Bon Jovi fangirl, and celebrating the little things.
Disclosure of Material Connection: I received one or more of the products or services mentioned above for free in the hope that I would mention it on my blog. Regardless, I only recommend products or services I use personally and believe will be good for my readers. I am disclosing this in accordance with the Federal Trade Commission's 16 CFR, Part 255: "Guides Concerning the Use of Endorsements and Testimonials in Advertising.".Julee Morrison