What kiddo can resist the cleverness and tasty treat of pigs in a blanket?!
You don't need to call it a party, but if you're serving Pigs in a blanket, it will feel like one.
They are the perfect food for family game nights, an ugly sweater party, or even a viewing party.
No one can get enough of the classic pigs in a blanket and they are SO easy to make.
Level up any meal or event with this easy go-to cheesy roll-up pigs in a blanket recipe.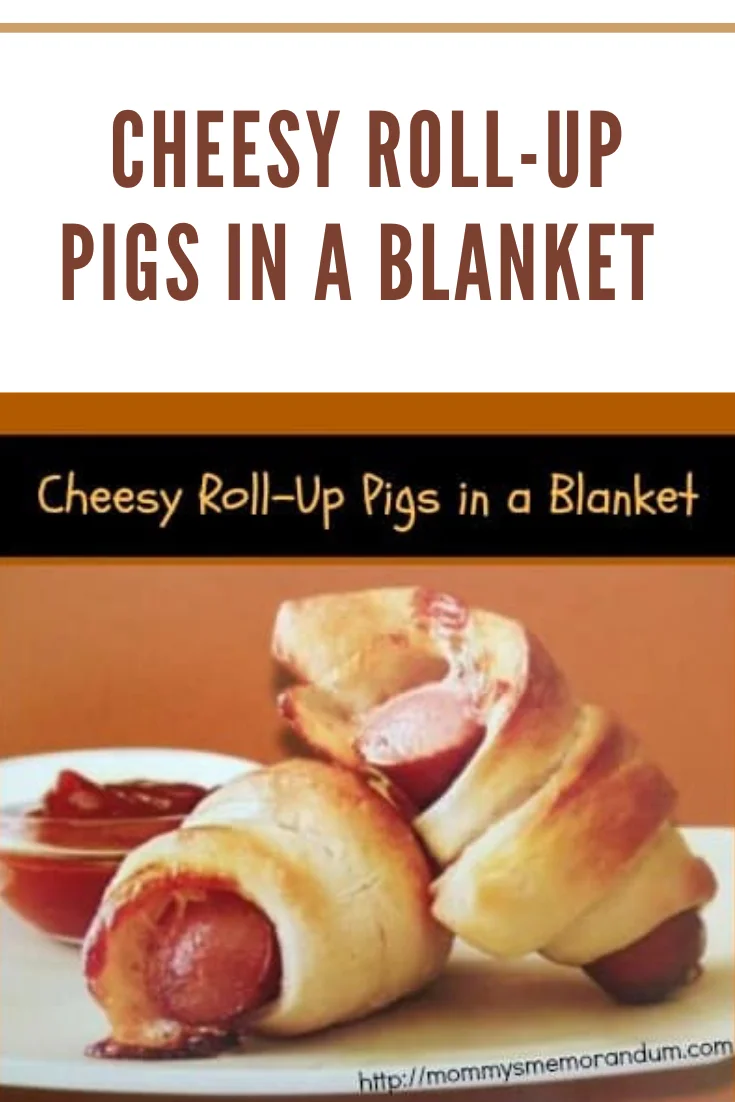 What should I serve these Cheesy Roll-Up Pigs in a Blanket?
Sure, there's ketchup, but try these with a good grainy mustard or aioli, ranch dressing, barbecue sauce, and more.
What can I use instead of Pizza dough?
I think the Pizza dough is classic, but you can also use the crescent dough, puff pasty, or biscuit dough.
You'll need to allow time for the puff pastry to thaw if you opt for this dough.
You can even make your own pizza dough or bread dough.
What else could I add to elevate these Cheesy Roll-up Pigs in a blanket?
If you're fancy like that, we suggest adding everything bagel seasoning, brushing with garlic butter before baking, using coarse sea salt, poppy seeds, granulated onion or sesame seeds. You could even try shredded Parmesan. Now, I'm hungry!
Opt for cocktail weiners instead of the traditional hotdog.
You can even use different types of sausage such as spicy andouille. Just make you're buying precooked meats.
Ingredients:
Blankets:
6 oz. pizza dough
1-1/2 oz. mozzarella cheese, shredded
The Pigs:
4 turkey or beef hot dogs, halved crosswise
Cooking spray
Dipping Sauce:
2 Tbsp. ketchup
1 Tbsp barbecue sauce
1 tsp prepared mustard
How to Make Cheesy Roll-up Pigs in a Blanket
The Blankets:
Preheat oven to 425 degrees
Let dough stand, covered for 20 minutes.
On a lightly floured surface, roll the dough into a rectangle, 12-inches long and 4 inches wide.
Cut the dough into four smaller rectangles
Cut each of these rectangles in half diagonally to form 8 triangles
Divide cheese evenly among dough triangles, placing it in the center of the wider ends.
The Pigs:
Place a hot dog half at the wide end of each triangle and roll it up toward the small end, pinching the ends to seal. Repeat until all are prepared
Coat the baking sheet with cooking spray. Arrange rolls on the baking sheet and bake in preheated oven for 12-minutes
Dipping Sauce:
Combine ketchup, barbecue sauce, and mustard, and stir until well blended.
Excerpted from Time for Kids: Kids in the Kitchen Cookbook © 2013 Time Home Entertainment. May not be reprinted without publisher's permission.