Today's Best Recipe is Meatloaf Mugs.
Make meatloaf night something the kiddos will talk about with this meatloaf mug recipe.
Individually portioned meatloaves in the convenience of a mug.
We love meatloaf at our house.
I make Instant Pot Meatloaf and Stuffed Meatloaf.
This Meatloaf Mugs Recipe is a fun way to serve dinner.
You'll find more dinner inspiration on our Pinterest Dinner Board.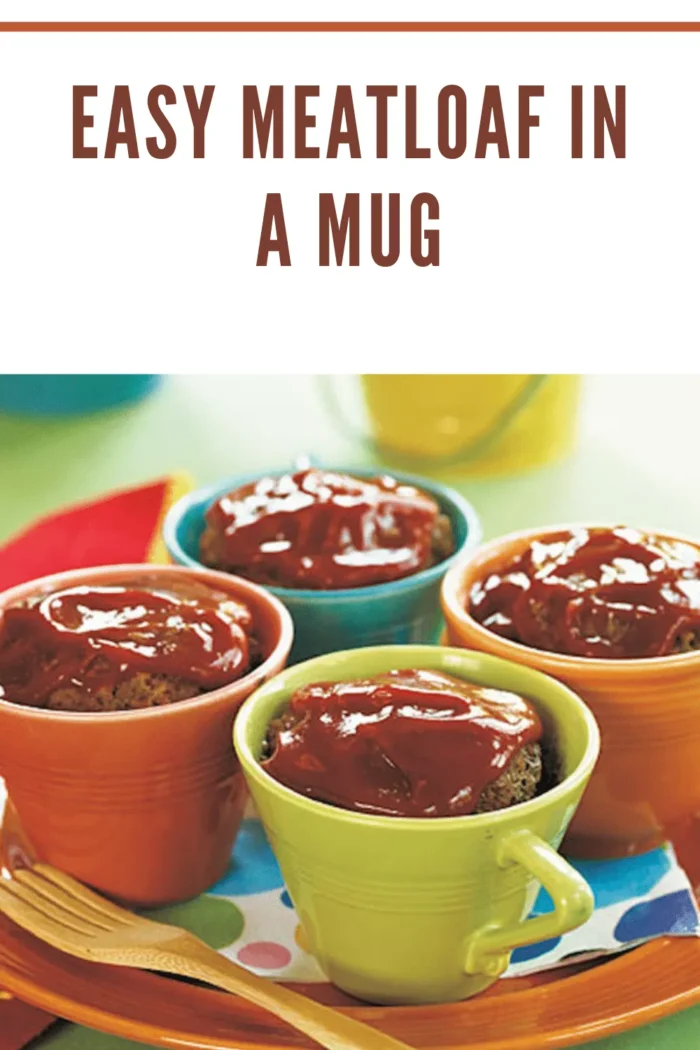 MeatLoaf Mugs Recipe Ingredients:
1 pound ground beef, extra lean
1/2 cup quick-cooking oats
1 large egg
1 (5.5 oz) can vegetable juice
1/4 cup green onions, finely chopped
1/4 cup carrots, finely chopped
1/2 tsp. salt
1/4 tsp. pepper
1/4 cup ketchup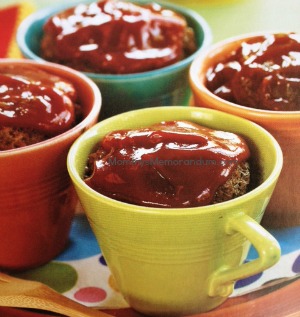 How to Make Meatloaf Mugs:
Stir together beef, oats, eggs, vegetable juice, onions, carrots, salt, and pepper in a big bowl
Divide the mixture evenly into four portions.
Shape each portion into a ball.
Place each ball into an 8-oz. microwave-safe coffee mug
Line the bottom of the microwave with a sheet of waxed paper in case juices from the meatloaves bubble out.
Place mugs in a circle on top of the waxed paper.
Cover mugs with another big sheet of waxed paper.
Microwave for 11-minutes on medium-high.
Check for doneness by cutting into meatloaves with a knife and fork. If any are still pink inside, microwave them for 30 seconds more and check again for doneness.
Carefully remove each mug from the microwave using oven mitts.
Divide ketchup evenly on top of the meatloaves; cover with waxed paper and let stand 2 minutes.
Microwave Cooking Tips:
When cooking more than one individual item, they should be placed in a circular arrangement with a space between them. Rearrange the items from the outside to the center during cooking to promote even cooking.
Always allow foods to stand to complete cooking when removing them from the microwave. The time will depend on the surface area and the density of the food item.
What to Avoid in the Microwave:
There are some basic things to avoid when using a microwave.
Never use metal pans or dishes with a metallic trip, handles or screws, paper-covered metal twist ties, or foil-lined packages. Do not use Melamine dinnerware.
A rule of thumb for plastics is if it is dishwasher safe, it should be okay in the microwave for shorter cooking times. Never use plastic for tomato-based foods or those with a high fat or sugar content.
How to Clean the Microwave:
Always clean the microwave after each use. You can use a damp paper towel to wipe down the inside. For messier microwaves, place 1 cup of water in a microwave-safe bowl, add 1 drop of dishwashing liquid. Place in microwave uncovered for 5 minutes. Let sit in the microwave for 3 minutes and then remove the dish and wipe inside of the microwave with a damp cloth.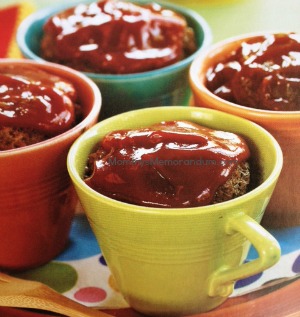 Meatloaf Mugs Recipe
Additional Time:
2 minutes
Make meatloaf night something to talk about with this meatloaf mugs recipe. Delicious meatloaf in the convenience of a mug.
Ingredients
1 pound ground beef, extra lean
1/2 cup quick-cooking oats
1 large egg
1 (5.5 oz) can vegetable juice
1/4 cup green onions, finely chopped
1/4 cup carrots, finely chopped
1/2 tsp. salt
1/4 tsp. pepper
1/4 cup ketchup
Instructions
MeatLoaf Mugs Recipe Directions:
Stir together beef, oats, eggs, vegetable juice, onions, carrots, salt, and pepper in a big bowl
Divide mixture evenly into four portions.
Shape each portion into a ball.
Place each ball into an 8-oz. microwave-safe coffee mug
Line the bottom of the microwave with a sheet of waxed paper in case juices from the meatloaves bubble out.
Place mugs in a circle on top of the waxed paper.
Cover mugs with another big sheet of waxed paper.
Microwave for 11-minutes on medium-high.
Check for doneness by cutting into meatloaves with a knife and fork. If any are still pink inside, microwave them for 30-seconds more and check again for doneness.
Carefully remove each mug from the microwave using oven mitts.
Divide ketchup evenly on top of the meatloaves; cover with waxed paper and let stand 2-minutes
Excerpted from Time for Kids: Kids in the Kitchen Cookbook © 2013 Time Home Entertainment. May not be reprinted without publisher permission