Today's recipe is this easy recipe for Southern Chocolate Gravy is a rich, delicious chocolate gravy.
Think about it.
Chocolate.
Gravy.
Chocolate gravy.
It's a southern thing.
You want it right now.
We serve it over warm biscuits straight from the oven.
It's also good on pound cake, ice cream, angel food cake, strawberries, and more.
My kiddos love it.
In fact, MacKenzie loves it so much that in second grade, when her class was creating a cookbook to celebrate the culture of ethnicities in her class and asked to bring a recipe that was from your heritage, MacKenzie said, "Chocolate Gravy."
When I explained we weren't from the south, she said, "we are if that's what it takes to get that chocolate gravy recipe."
There was no need to argue, she wanted southern-style chocolate gravy, and so I gave her the recipe for the school cookbook.
Origin of Chocolate Gravy
In all actuality, I think the Chocolate Gravy origin may be indigenous to the Appalachian area.
Though I have also heard it called Soppin' Gravy further south into Mississippi and Alabama.
Some people have said it comes from Spanish Louisiana and Tennessee fused with Mexican Style breakfast chocolate.
The Oxford Encyclopedia of Food and Drink in America theorizes that chocolate gravy could have been preserved from Spanish colonies on the East Coast in the 16th and 17th centuries by the mixed-race ethnic group known as the Melungeons.
Growing up, I lived in Appalachia.
It's a region where the biscuits melt in your mouth, and the word gravy is southern for the stuff made in mee-maw's kitchen in her favorite skillet and thickened to a smooth sauce that smothers everything.
It's a term that works for savory or sweet gravy.
This brings us to my introduction to biscuits with chocolate gravy.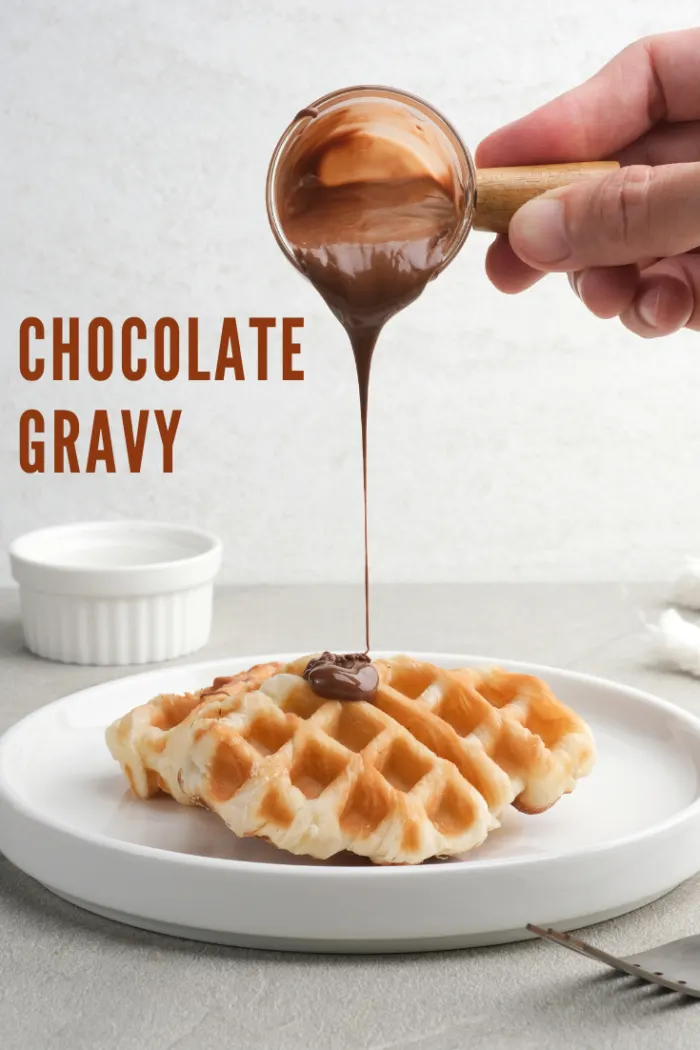 What is Chocolate Gravy?
The basic ingredients in chocolate gravy are flour, cocoa powder, fat, and sugar.
You'll find chocolate gravy on Sunday morning in the Appalachian Mountain region or the Missouri Arkansas Ozarks, most commonly in the Southern United States.
I use warm milk to make my chocolate gravy, but some recipes use water.
I think the milk gives it a more rich, silky texture and flavor.
You can substitute almond milk, coconut milk, or any nut milk.
You may also want to check out my Pinterest Breakfast Board for other great breakfast foods like this recipe for Appalachian Chocolate Gravy.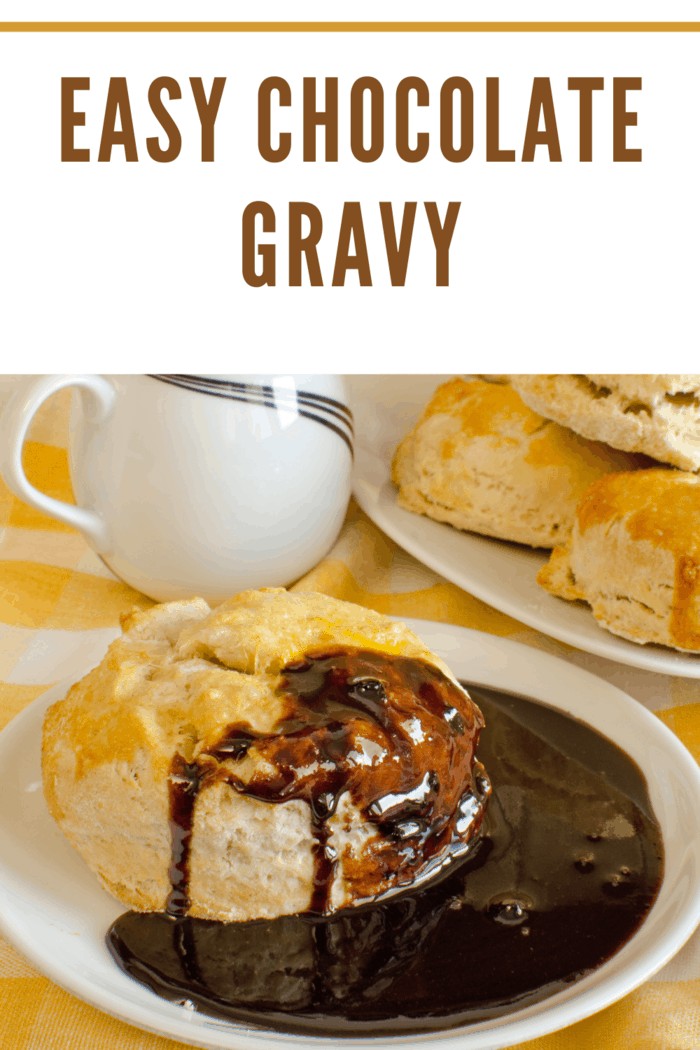 My First Experience with Chocolate Gravy
The first time many people hear of chocolate gravy is that Biscuits and Chocolate Gravy was a regular menu item at Graceland, requested by the King, Elvis Presley.
My first experience with chocolate gravy was when I was in eighth grade. I spent the night at my friend Angie's house.
We woke up to her mom making biscuits with chocolate gravy.
The kids were all so excited. It was like Christmas for them.
I gathered it was something they only had for special celebrations.
I could only ask, "What is chocolate gravy?"
Sometimes there's sweet gravy for special occasions–or Sunday morning.
It was the morning I realized not all gravy is made with meat.
This Chocolate gravy easy recipe comes together fast.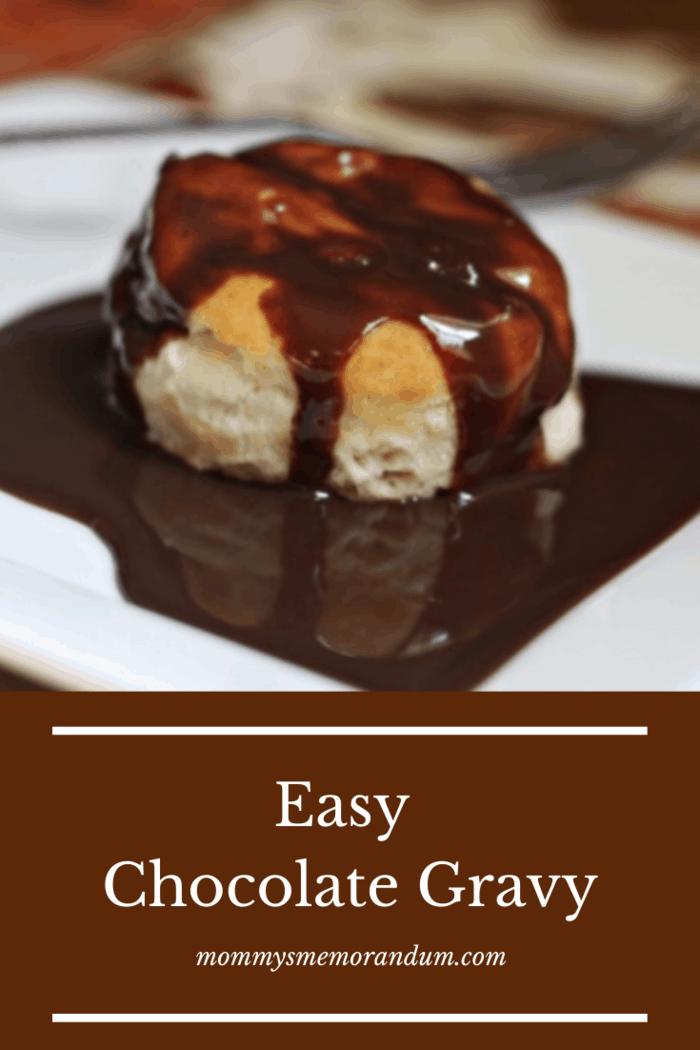 Here is how to make chocolate gravy.
If I may offer you one word of advice, it would be STIR.
Keep stirring with a wire whisk for a smooth, rich gravy.
It also helps keep the chocolate gravy from scorching.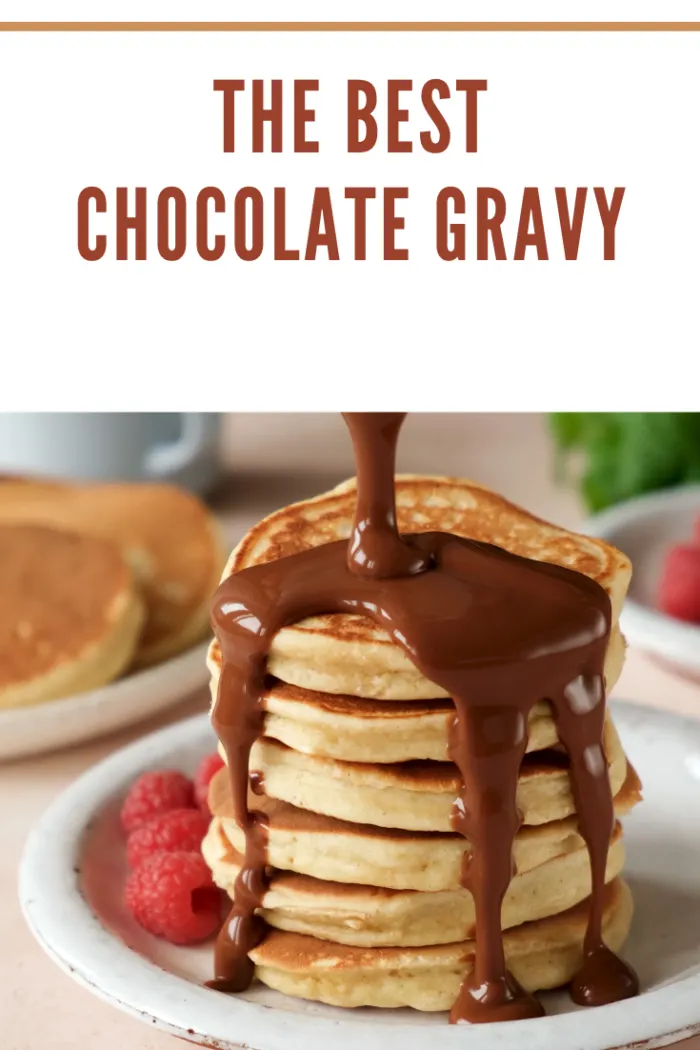 Chocolate Gravy Easy Recipe Ingredients:
1/4 cup unsweetened cocoa powder (I use Hershey's cocoa. I've also made chocolate gravy with Ovaltine.)
1 cup of sugar
3 Tablespoons all-purpose flour
1/4 teaspoon salt
2 cups whole milk, warmed
4 Tablespoons unsalted butter, cubed and chilled
1 teaspoon vanilla extract
Hot biscuits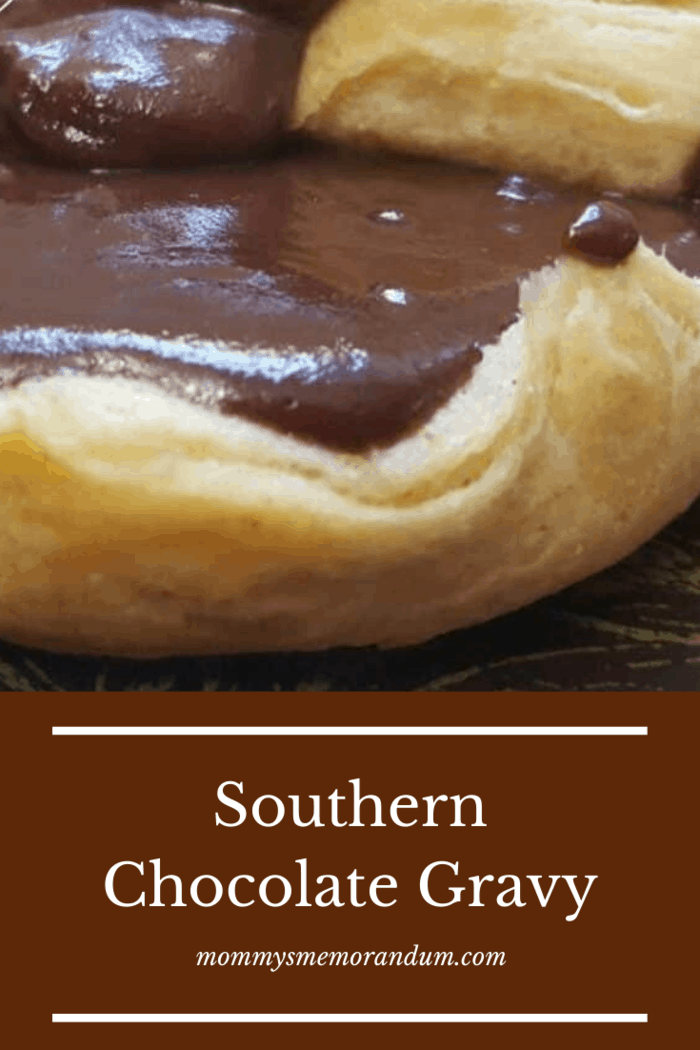 How to Make Chocolate Gravy Recipe Directions:
Combine dry ingredients: cocoa powder, sugar, flour, and salt in a skillet and stir until well combined.
Over medium heat, begin stirring the dry mixture and slowly add the warmed milk in a slow and steady stream, whisking constantly.
Stir until it is thickened to desired consistency.
Remove from burner and add butter and vanilla and whisk until well blended.
Serve chocolate gravy over warm biscuits.
You can garnish with fresh fruit like strawberries, berries, peaches, etc.
Give it a try.
Store any leftovers in an airtight container in the refrigerator for up to two days.
MacKenzie still loves her chocolate gravy so much so that it was the must-share with her first boyfriend, Cooper.
She thought it was the best idea, and he thought it the worst–but to be fair, he only ate chicken nuggets.
This easy chocolate gravy spooned over hot biscuits at our house is the words of love and all things good.
It's a celebration meal, a special treat, and plain old' Appalachian comfort food.
Bacon:
Some folks like to make chocolate gravy and then, at the very end, stir in crumbles of crisp bacon.
Learn how to make perfect bacon in the oven.
Chocolate Gravy Recipe
Tender, buttery biscuits enrobed in dark, rich puddles of creamy, chocolate gravy. Maybe it's Willy Wonka-inspired, but Biscuits and Chocolate Gravy is actually a delicious breakfast treat!
Ingredients
1/4 cup cocoa powder
1 cup granulated sugar
3 Tbsp. all-purpose flour
1/4 tsp. salt
2 cups whole milk, warmed
4 Tbsp butter, cubed and chilled
Hot biscuits
Instructions
Combine cocoa powder, sugar, flour and salt in a skillet and stir until well combined.
Over medium heat, begin stirring the dry mixture and slowly adding the warmed milk in a slow and steady stream, whisking constantly.
Stir until it is thickened to desired consistency.
Remove from burner and add butter and whisk until well blended.
Serve over hot biscuits.
Nutrition Information:
Yield:

6
Serving Size:

1
Amount Per Serving:
Calories:

310
Total Fat:

12g
Saturated Fat:

7g
Trans Fat:

0g
Unsaturated Fat:

4g
Cholesterol:

29mg
Sodium:

251mg
Carbohydrates:

47g
Fiber:

1g
Sugar:

38g
Protein:

4g
Nutritionl information may not be accurate