Halloween is my favorite holiday and I go all out with this Instant Pot Foot Meatloaf Recipe.
It doesn't matter what you call it: footloaf, Halloween meatloaf, meatloaf shaped like a foot, meatloaf for Halloween, gory meatloaf, the family is going to think you're amazing!
It's easy to make and so much fun!
Browse all of our Halloween recipes right here.
There's something frightfully fun in the mix to make your dinner or seasonal festivities special.
You may also want to check out my Pinterest Halloween Food board for more great recipes like this meatloaf feetloaf!
Who can resist a foot-shaped meatloaf complete with gory blood detail?!
It's a sight to behold and will have everyone in the spirit of the festivities.
It's easy to make, here's how.
Using this Instant Pot Meatloaf Recipe, mix up your meatloaf.
Here's what you'll need at a glance:

Instant Pot Meatloaf Recipe Ingredients:
2 lbs hamburger

1 1/2 cups of Panko crumbs (you can use any bread crumbs)

1 cup Parmesan Cheese

4 large eggs

1 clove garlic, minced

1 teaspoon of McCormick's Montreal Steak Seasoning

1 teaspoon salt

1 teaspoon pepper

5 whole almonds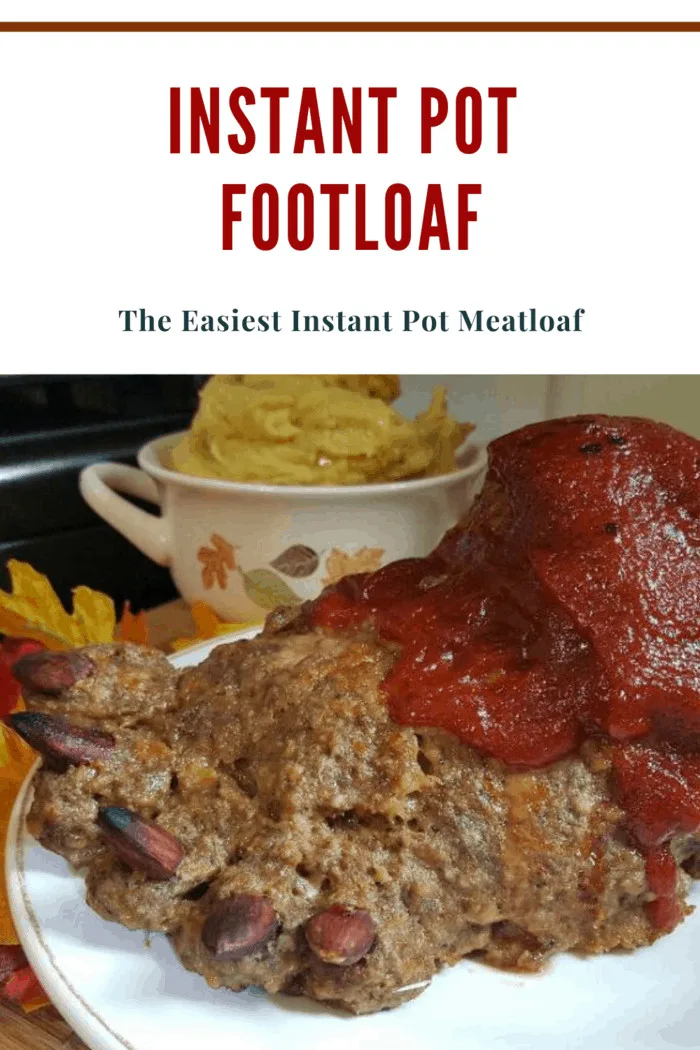 Instant Pot Meatloaf Recipe Red Meatloaf Sauce Ingredients:
5 teaspoons brown sugar

2/3 cup of ketchup

1 tablespoons dry mustard

2 teaspoons Worcestershire sauce

1 cup beef broth
1 bag small golden potatoes
Reserve 1-1/2 cup of the meat mixture.
How to Make a Foot Loaf in the Instant Pot
Shape the remaining meatloaf into an oval.
PRO Tip:

Use a butter knife to trace a circle that will fit in your Instant Pot on a piece of foil so you know how long your foot meatloaf can be to fit in nicely.

Once you have your oval, measure one cup of your reserved meatloaf and add to the larger end of the oval to shape the ankle and part of the leg.
Create a "bowl" in the top to hold the sauce.
With the remaining meat mixture, create five meatballs getting smaller in size, for the toes.
Place the meatballs on the narrower end of the oval for toes.
Shape the toes by pinching and patting the meat mixture.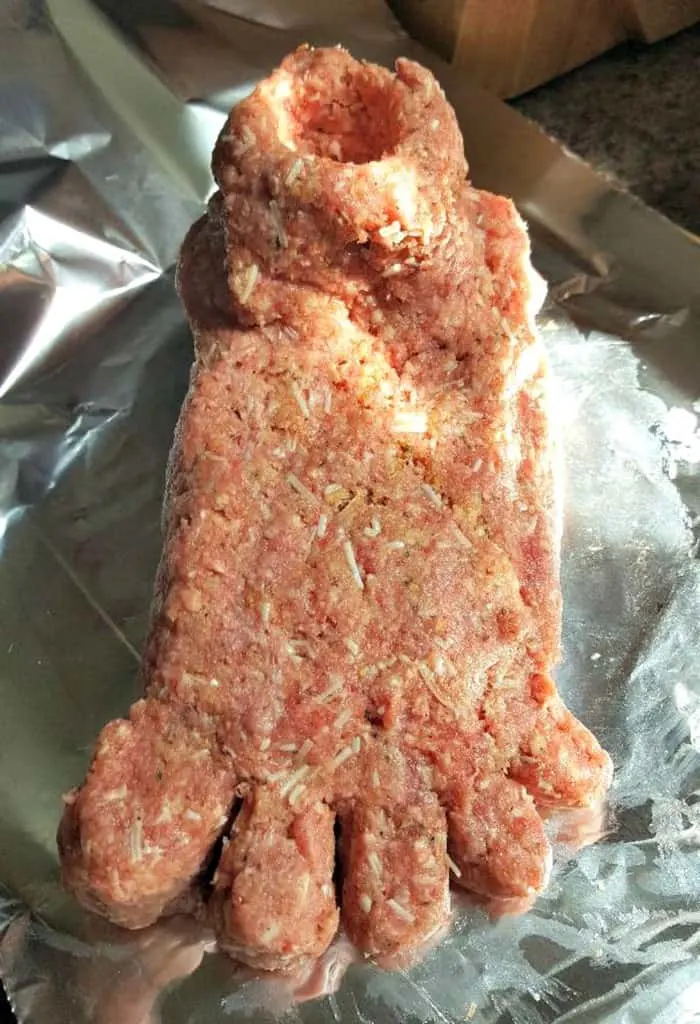 Add one almond to each toe for the toenail.
Make the Sauce:
Mix up your sauce (it will serve as the gore!)
Add the Potatoes:
Add potatoes to the bottom of the Instant Pot.
They will be mashed potatoes in the end.
Place trivet that came with Instant Pot on top of potatoes.
Add one cup beef broth to the pot.
Add the Foot Loaf:
Now place your foot of meatloaf into the Instant Pot.
Fill the cavity of the "leg" with one-half of the sauce.
Cook:
Place lid on Instant Pot and press Manual for 25 minutes.
Quick Release when beeps.
Use foil to lift the foot meatloaf out of Instant Pot and place it on a cookie sheet.
Add More Sauce:
Add remaining sauce to the "leg cavity" and let drip down.
Use a spoon to place sauce around the ankle for an especially gruesome effect.
Broil (Optional):
Place under the broiler for 5 minutes.
KEEP AN EYE ON IT, it may not need a full five minutes.
You just want it to get "sticky".
Remove from broiler and plate.
Make Mashed Potatoes:
Remove potatoes from Instant Pot, place in a bowl, add a stick of butter and splash of milk, and your blender to make mashed potatoes.
Enjoy!
When you're finished, why not give your Instant Pot a deep clean.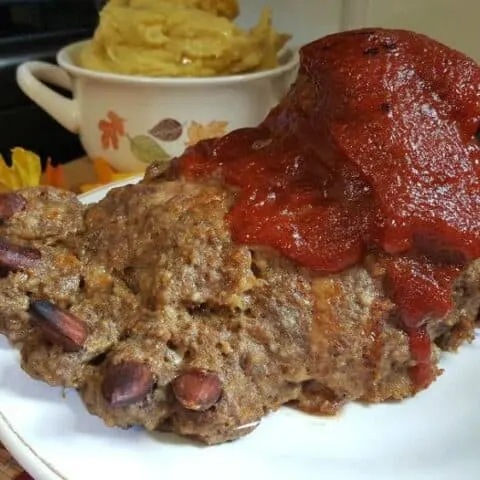 Instant Pot Foot Meatloaf Recipe for Halloween Fun
Ingredients
5 tsp brown sugar
2/3 cup of ketchup
1 tbs dry mustard
2 tsp Worcestershire sauce
1 cup beef broth
1 bag small golden potatoes
Nutrition Information:
Yield:

8
Serving Size:

1
Amount Per Serving:
Calories:

56
Total Fat:

0g
Saturated Fat:

0g
Trans Fat:

0g
Unsaturated Fat:

0g
Cholesterol:

0mg
Sodium:

311mg
Carbohydrates:

13g
Fiber:

1g
Sugar:

7g
Protein:

1g
The Nutritional Information may not be accurate.