We all love cookies, and most of us have a weakness for chocolate chip and oatmeal cookies. These cookies remain a childhood delight, and even grownups cannot say no to them. And just one is never enough. This Chocolate Chip Cherry Cookies recipe combines the two classic cookies-chocolate chip and oatmeal–and add a dash of cherries to it for a moist, chewy and delicious cookie option.
So, today we will make something which is not only healthy but also gives our taste buds something to cheer about. We will bake cherry-chocolate chip oatmeal cookies. Even if the cherry part does not appeal to you, you will be glad you made them after you finish baking this cookie.
The best part about this cookie is that its three main ingredients – oats, chocolate, and cherries – balance each other out. The oats give chewiness to the cookie, and we all know the benefits of chocolate. And this is where cherries come in. The tartness of the cherries counter-balances the chocolate. So in the end, the cookie is just too delicious to put away.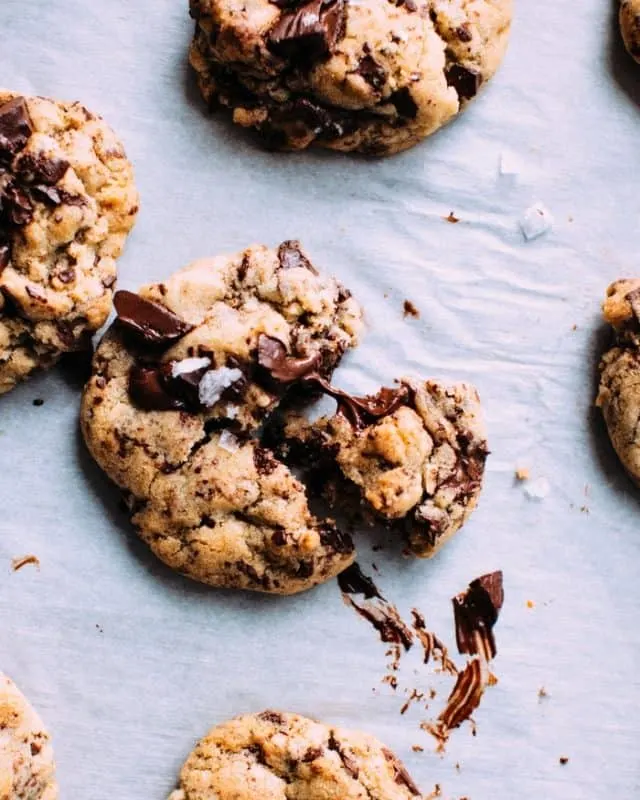 Ingredients:
1-3/4 cup flour
1/2 teaspoon baking soda
1/4 teaspoon salt
1/2 cup unsalted butter
1/2 cup sugar
1/2 cup dark brown sugar
2 eggs
1 teaspoon vanilla extract
1 cup cooking oats
1 cup semisweet chocolate chips
1 cup dried tart cherries
1/2 cup slivered almonds
3/4 teaspoon ground cinnamon
How to Make Chocolate Chip Cherry Cookies
Before mixing any ingredients, preheat the oven to 350* F. Line two baking sheets with parchment paper and set it aside. Meanwhile, soak some cherries in water for about 10-15 minutes. In a bowl, beat together the butter, sugar, and dark sugar until creamed. Add the eggs and vanilla to this mixture and blend it till it is light and fluffy. In another bowl, mix the flour, baking soda, and the salt. Add the egg mixture to the flour and chocolate chips, grounded cinnamon, cherries, and almonds. Beat the mixture so well that all the ingredients are mixed well. Set aside the dough to chill for about an hour or two.
Now, shape the dough into a 1-inch ball with your hands and place in on the baking sheets. Flatten the dough balls with your fingers and make sure that they are placed two-inch apart on the baking sheet. Now put the baking sheets with the dough in the oven and bake it for 15-20 minutes at 350*F until golden. Take the cookies out with the baking sheet and put them to cool. The cookies will become crispy and firm as they cool.
When the cookies are ready to serve, you can add cherry juice as frosting on it. Moreover, these cookies are not only amazing to taste; they are full of nutritional value. Each cookie has around 150 calories, 2g of protein, and 23g of carbohydrate. So, there is no need to worry about your health. You can enjoy these cookies any time you want. You can bake them and store them in an airtight container for more than a week.
You may also enjoy these classic chocolate chip cookies.