Creamy Candy Corn Pudding Delight: A Fall Festive Treat
Embrace the essence of autumn with the Creamy Candy Corn Pudding Recipe, a delightful creation that perfectly captures the spirit of the season. Whether you're seeking a delectable dessert to savor on a crisp fall evening or a whimsical addition to your seasonal soirée, this pudding is bound to become a crowd-pleaser.
A Seasonal Delight: As the leaves turn vibrant hues and the air grows crisp, there's something enchanting about diving into a dessert that celebrates the flavors and colors of fall. The Creamy Candy Corn Pudding is a playful masterpiece that brings a touch of fun to your table. While candy corn itself might evoke polarized opinions, this pudding finds universal appeal, weaving together a symphony of colors and textures that enchant the senses.
Colors That Captivate: It's not just about the flavors; it's the captivating combination of colors that makes this dessert truly stand out. Butterscotch pudding serves as the canvas for this masterpiece, allowing the vibrant hues of candy corn to come to life. The hues of yellow, orange, and white meld together in a mesmerizing dance, reminding us of the beauty that autumn brings.
Beyond Butterscotch: While butterscotch lends a rich and comforting flavor, the beauty of this dessert lies in its adaptability. Choose your favorite lightly colored flavored pudding to infuse your creation with a unique twist. Whether it's vanilla, banana, or even white chocolate, the choice is yours, and the result will be equally stunning.
Crafting with Convenience: The recipe calls for instant pudding, ensuring ease and efficiency in the kitchen. However, for those who relish the art of culinary creation, experimenting with homemade pudding can elevate this dessert to new heights. Infuse your own signature flavors and textures for a truly customized indulgence.
A Cauldron of Creativity: As Halloween approaches, the Creamy Candy Corn Pudding takes its place among an array of bewitching delights. Peruse our collection of Halloween recipes, each concoction designed to add a sprinkle of magic to your dining table. From spine-chilling appetizers to enchanting desserts, these recipes ensure your seasonal festivities are nothing short of memorable.
In the Spirit of the Season: As darkness falls earlier and a sense of mystery envelops the air, there's an unmistakable thrill in crafting dishes that mirror the ambiance of the season. The Creamy Candy Corn Pudding captures the essence of autumn, offering a burst of flavor and visual delight that adds a layer of enchantment to your gatherings.
Discover More Enchantment: For more Halloween culinary inspiration, journey through our Pinterest Halloween Food board. Uncover an array of recipes that evoke the spirit of the holiday, each dish an invitation to explore the whimsical and the eerie in the realm of cuisine.
In the world of fall desserts, the Creamy Candy Corn Pudding Recipe stands as a testament to the artistry that can emerge from the kitchen. From its captivating colors to its heartwarming flavors, this creation has the power to transform any occasion into a celebration of the season. Whether it's a quiet night in or a festive gathering, indulge in the magic of autumn with every delightful spoonful.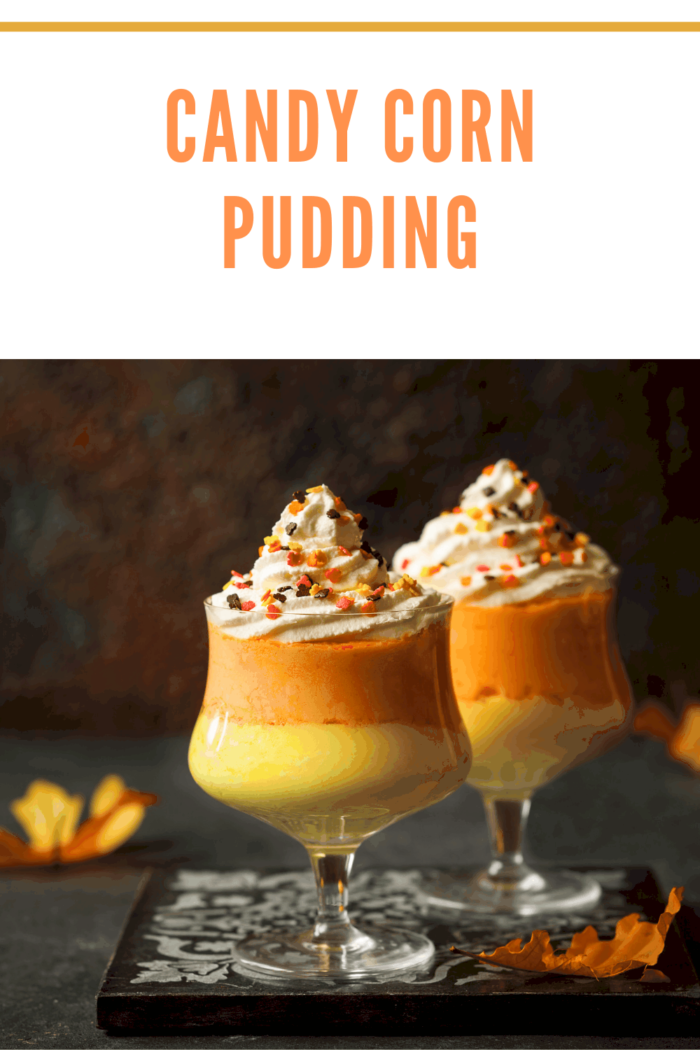 Candy Corn Pudding Delight
Prep Time: 15 minutes
Refrigeration Time: 1 hour
Servings: 6
Indulge in the playful layers of vibrant colors and delightful flavors with this Candy Corn Pudding Delight. A treat that brings together the classic charm of butterscotch and the creamy allure of banana, all adorned with a whimsical touch of candy corn. This recipe is an irresistible twist on traditional pudding, perfect for any festive occasion.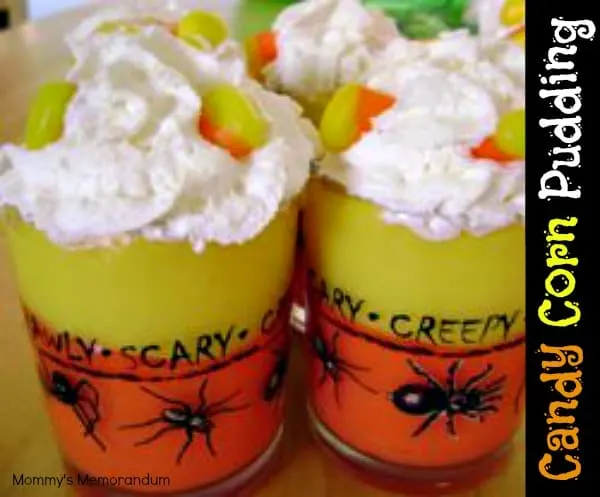 Ingredients:
1 box (4-serving size) butterscotch instant pudding (85g)
4 cups milk (960ml)
Red Food Coloring
Yellow Food Coloring
1 box (4-serving size) banana cream instant pudding (85g)
1 cup whipping cream, whipped (240ml)
Candy corns
How to Make Candy Corn Pudding
Creating the Butterscotch Brilliance: a. In a mixing bowl, prepare the butterscotch instant pudding according to the directions on the box, using 2 cups of milk. Whisk until the mixture is smooth and velvety. b. Add 20 drops of red food coloring and 25 drops of yellow food coloring to the butterscotch pudding, giving it the iconic candy corn hue. Stir well to evenly distribute the colors. c. Place the bowl in the refrigerator and allow the mixture to chill for at least 30 minutes, allowing the flavors to meld.
Crafting the Banana Cream Bliss: a. Meanwhile, in another mixing bowl, prepare the banana cream instant pudding using the remaining 2 cups of milk. Mix until the pudding is rich and creamy. b. Introduce 20 drops of yellow food coloring to the banana cream pudding, lending it a delightful sun-kissed shade. Stir thoroughly to achieve a uniform color. c. Keep the banana cream pudding in the refrigerator, preserving its freshness until assembly.
Assembling the Delightful Layers: a. Take clear cups or glasses, creating a canvas for your artful dessert. b. Begin with about ¼ cup (60ml) of the sunny banana cream pudding, allowing it to create the base layer of the masterpiece.
Crafting the Candy Corn Pudding Towers: a. Now, gently layer about ⅓ cup (80ml) of the captivating butterscotch pudding atop the banana cream layer. The hues will harmonize, creating a captivating transition. b. With an artistic touch, dollop about ⅓ cup (80ml) of whipped cream atop the butterscotch layer, introducing a luscious cloud-like texture.
Finishing Flourishes: a. Crown your creation with a joyful garnish of candy corn, adding a touch of whimsy and a pop of color to the dessert canvas.
Expert Tips:
For a velvety-smooth texture, ensure that you whisk the pudding mixtures thoroughly, eliminating any lumps before refrigeration.
Experiment with different ratios of red and yellow food coloring to achieve your preferred shade of candy corn.
Storage and Leftovers:
Store any remaining Candy Corn Pudding covered in the refrigerator for up to 2 days. However, the vibrant layers are best enjoyed fresh.
FAQs for Candy Corn Pudding Recipe:
(Frequently Asked Questions):
Q: Can I use non-dairy milk for this recipe? A: Yes, you can use non-dairy milk alternatives like almond milk or soy milk. Just make sure they are unsweetened for the best results.
Q: Can I make this recipe ahead of time? A: While it's best to enjoy this dessert fresh, you can prepare the individual pudding layers ahead of time and assemble them just before serving for the optimal texture and appearance.
Q: Can I skip the food coloring? A: Absolutely! The food coloring adds the candy corn visual appeal, but if you prefer a more natural look, feel free to omit it.
Q: Can I substitute whipped cream with another topping? A: Certainly! Whipped cream adds a light and airy texture, but you can also use alternatives like whipped coconut cream or a dollop of Greek yogurt.
Q: How do I prevent the candy corn from getting soggy? A: To keep the candy corns crunchy and vibrant, add them as a garnish just before serving. This ensures they retain their texture and add a delightful crunch to each bite.
Q: Can I use different flavors of instant pudding? A: Absolutely! While butterscotch and banana cream create a candy corn-inspired look, you can explore other flavors for a unique twist. Consider flavors like chocolate, vanilla, or even pistachio.
Q: Can I make this recipe in a larger batch for a party? A: Of course! Simply scale up the quantities of the ingredients to accommodate the number of servings you need. Prepare the layers in advance and assemble them when you're ready to serve.
Q: How can I make the whipped cream topping? A: To make whipped cream, use cold heavy cream and beat it with an electric mixer until soft peaks form. You can add a touch of sugar and vanilla extract for flavor if desired.
Q: Can I use fresh fruit as a garnish instead of candy corn? A: Absolutely! Fresh fruit, like orange segments or banana slices, can provide a delightful and healthier alternative to candy corn as a garnish.
Q: Can I use this recipe for a Halloween party? A: Certainly! This colorful and playful dessert is a great addition to any Halloween-themed event, adding a touch of whimsy to your celebration.
Q: Can kids help with making this dessert? A: Absolutely! Kids can have a blast helping with assembling the layers and decorating with candy corn. It's a fun and interactive activity for the whole family.
Alternate Names:
Tri-Color Pudding Parfait
Festive Candy Corn Dessert
Layered Autumn Delight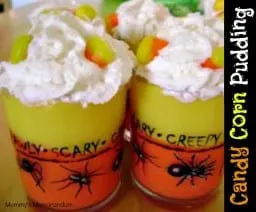 Candy Corn Pudding
Additional Time:
30 minutes
Today's Best Recipe is Creamy Candy Corn Pudding Recipe is so much fun for a fall dessert or party treat! It's easy to make and tastes delicious! Let's face it, candy corn has some serious lovers and some serious haters, but everyone LOVES this candy corn pudding. It's more the color combination that creates this fun pudding dessert than the flavor.
Ingredients
1 box (4-serving size) butterscotch instant pudding
4 cups milk
Red Food Coloring
Yellow Food Coloring
1 box (4-serving size) banana cream instant pudding
1 cup whipping cream, whipped
candy corns
Instructions
Make butterscotch pudding as directed on the box, using 2 cups of milk. Stir in 20 drops of red food coloring and 25 drops of yellow food coloring.
Refrigerate for 30 minutes.
Make banana cream pudding as directed on the box, using the remaining 2 cups of milk. Stir in 20 drops of yellow food coloring.
Refrigerate until ready to use.
Place about ¼ cup banana cream pudding at the bottom of each clear cup or glass.
Top each with about ⅓ cup butterscotch pudding and about ⅓ cup whipped cream.
Garnish with candy corn.
Nutrition Information:
Yield:

8
Serving Size:

1
Amount Per Serving:
Calories:

259
Total Fat:

15g
Saturated Fat:

10g
Trans Fat:

1g
Unsaturated Fat:

5g
Cholesterol:

50mg
Sodium:

169mg
Carbohydrates:

25g
Fiber:

0g
Sugar:

18g
Protein:

6g
The Nutritional Information may not be accurate. This website provides approximate nutrition information for convenience and as a courtesy only. Nutrition data is gathered primarily from the USDA Food Composition Database, whenever available, or otherwise other online calculators.