🎉 Experience the Timeless Elegance of a Vintage Tea Party! 🎉
Step into a bygone era and immerse yourself in the delightful world of the Vintage Tea Party by Carolyn Caldicott. Prepare for an enchanting journey that combines the grace of yesteryear with the indulgence of a modern-day celebration. This is your invitation to an unforgettable event filled with elegance, nostalgia, and delectable treats.
You'll love the book Vintage Tea Party by Carolyn Caldicott for several reasons:
Nostalgic Charm: The book captures the essence of a bygone era and transports readers to a time of elegance, grace, and refined social gatherings. It evokes a sense of nostalgia and allows readers to experience the enchantment of vintage tea parties. Picture yourself transported to a charming garden adorned with delicate lace, vintage china, and an abundance of blossoming flowers. The Vintage Tea Party captures the essence of a bygone era, where refinement and sophistication were at the forefront of every gathering. With every sip and every bite, you'll experience the elegance and grace that define a vintage tea party.
Culinary Delights: Carolyn Caldicott's book offers a treasure trove of vintage recipes, from delicate finger sandwiches to exquisite pastries and cakes. The book provides detailed instructions and insights into the art of preparing these delectable treats, allowing readers to recreate the flavors and aromas of a bygone era in their own homes. Savor the exquisite flavors of handcrafted pastries, dainty sandwiches, and delectable cakes, each meticulously prepared by the talented Carolyn Caldicott. A passionate connoisseur of vintage recipes, Carolyn will treat you to an array of mouthwatering delights that harken back to a time when every bite was a moment of pure bliss. Indulge in the nostalgia of homemade preserves, freshly baked scones, and delicate finger sandwiches made with love and attention to detail.
Attention to Detail: Carolyn Caldicott's passion for all things vintage shines through in her meticulous attention to detail. From table settings and decor to styling tips and attire suggestions, the book guides readers on how to create an authentic vintage tea party experience. It provides inspiration and practical advice for crafting a visually stunning and immersive event.
Inspirational Ideas: Vintage Tea Party is not just a recipe book but also a source of inspiration for hosting memorable tea parties and gatherings. Readers can discover unique and creative ideas for themes, invitations, music, and entertainment, helping them to plan their own vintage-inspired events with flair.
Sense of Community: The book fosters a sense of community among tea party enthusiasts. It brings together individuals who share a love for vintage aesthetics, culinary arts, and the joy of hosting delightful gatherings. The book's engaging narrative and inviting photographs create a connection among readers, making them feel part of a larger community that appreciates and celebrates the vintage tea party culture.
Overall, Vintage Tea Party by Carolyn Caldicott captivates readers with its nostalgic charm, culinary delights, attention to detail, inspirational ideas, and sense of community. It appeals to those seeking to embrace the elegance of the past and create memorable experiences that blend tradition with modern-day indulgence.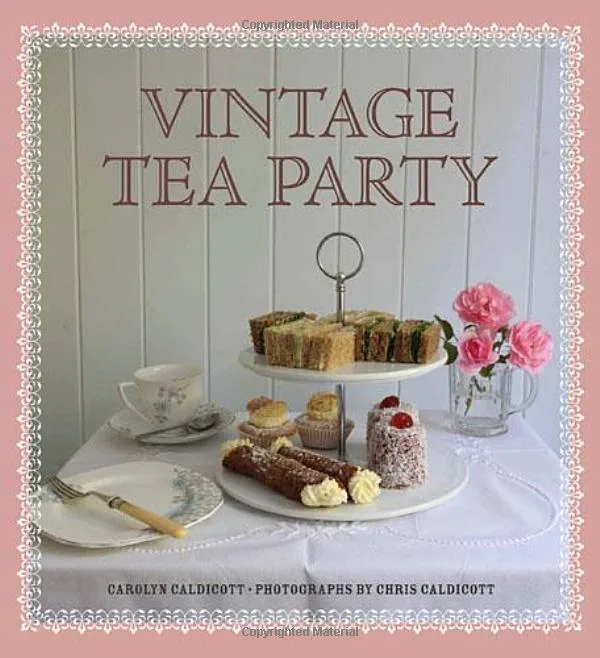 Our Vintage Tea Party Review
There is something about a tea party. It doesn't seem to have an age requirement. My girls have loved them since they were small and my Grandma has no issues joining them every once in awhile. We've been drooling through the pages of Vintage Tea Party by Carolyn Caldicott, who once ran a cafe in London's Covent Garden, with Chris Caldicott, who took the photographs for the book.
While our Winter Wonderland Tea Party was fun and made The Divine Miss M feel like a true Princess, tea parties can be a simple, everyday moment shared with a book or friends.
The pages are like being invited for tea with a dear friend. It is an occasion with much anticipation and even a touch of romance. There are teawares posed and baked goods captured in close-ups. Cottages along an English Countryside or just a meadow of flowers. It's the core of a tea party, whether it be solo or among friends.
The book flows easily, and rather than just offering a suggestion, Caldicott goes into detail about "Where to Find the Vintage Look." It's simplistic advice, check with family first. Charity shops are a great alternative if that doesn't generate a few pieces. I love that this is entertaining on a budget. It inspires my girls, who love the eclectic look of many pieces all combined.
My girls loved the chapter about how afternoon tea came to be. For those, who don't know, it was created by Anna, Duchess of Bedford. She was at constant battle with a "sinking feeling". Caldicott writes, "Fortified by her tasty repast, she soon decided to share the experience with her lady friends by sending out invitations for "Tea and a walk in the fields"".
The book is thorough and includes the basics of preparing and selecting a good tub of tea, recipes (my favorite) for cakes, finger sandwiches, and more.
The girls and I found it interesting all the variations of tea. The Divine Miss M has even proposed we forfeit our dinner ritual and instead call it "High Tea" where it's all the elegance and "a much more generous meal." She's even solved the where problem by insisting it is a Fireside Tea. Thankfully, Dad and Li'l Man aren't much for Tea Parties…so High Tea will wait until they leave one weekend and it's just us girls!
This is a stunning book that is sure to delight tea or vintage lovers alike!