Alice Through the Looking Glass guide on How to Plant the Perfect Tea Party!
Welcome to the enchanting world of Miss M's Winter Wonderland Tea Party! When she turned seven, Miss M had a dream to bring the magic of winter and the elegance of a tea party together in a celebration like no other. Her vision came to life, and the event was an overwhelming success, leaving everyone spellbound by the enchanting atmosphere.
Since that unforgettable day, we couldn't resist hosting a few more small tea parties, each one filled with joy, laughter, and the warmth of cherished company. Now, as we gather once again, we have an exciting reason to rejoice! We are celebrating the Blu-ray release of the mesmerizing movie, "Alice Through The Looking Glass."
This celebration comes with an exciting addition – a whole array of new activities and a special video that will guide you on how to host the PERFECT TEA PARTY! With Alice's whimsical world as our inspiration, we promise an experience that will transport you to a realm of imagination and delight.
So, join us as we embark on this delightful journey, sipping tea, engaging in lively conversations, and relishing the joy of being surrounded by friends, both old and new. Welcome to Miss M's Wonderland, where magic, tea, and camaraderie intertwine to create memories that will last a lifetime. Let the tea party begin!
Alice Through the Looking Glass How to Plant the Perfect Tea Party!
Indulge in the wondrous world of tea parties with a touch of fantasy, just like the one you witnessed in "Alice Through The Looking Glass." Follow the expert tips of Pilar Hamil, the esteemed general manager of Disneyland Hotel and a tea master accredited by the INTERNATIONAL TEA MASTERS ASSOCIATION, and get ready to host the perfect tea party that will delight your friends and family.
First, let's set the stage for an enchanting tea gathering. Adorn your table with a pristine white linen tablecloth, a vase brimming with fresh flowers, and elegant place settings that include a teacup with its saucer, a soft white cloth napkin, a plate, a teaspoon, a fork, and two knives—one for delectable clotted cream and the other for delectable jam.
To truly immerse yourself in the spirit of the event, dress the part! Wear something special, perhaps accessorized with a set of pearls or a fabulous hat reminiscent of the whimsical Mad Hatter's style.
Now, let's dive into the art of teatime etiquette. As the gracious host, pour your guests' tea first, reserving the final pour for yourself. When stirring your tea, do so gracefully without creating any clinking sounds, then place the spoon back onto the saucer. And remember, elegance is key, so always tuck your pinky in while savoring your tea.
Perfect tea preparation is an art in itself. Begin with high-quality water, opting for bottled spring water or filtered water. Ensure the appropriate temperature for steeping the various tea types: 200-212°F for black tea, 150-180°F for green tea, 150°F for white tea, and 200°F for red tea. The steeping duration varies as well: 3-5 minutes for black tea, 2-3 minutes for green tea, 1 minute for white tea, and 5-8 minutes for red tea. In a teacup, use one teaspoon of loose-leaf tea for every 6 ounces of water, and if you're brewing in a teapot, add an extra teaspoon of tea to maintain the same flavor intensity.
Now, let's tempt your guests with a tantalizing array of treats, presented elegantly on a three-tier server. On the top tier, serve classic black currant scones alongside clotted cream and an assortment of jams, perhaps even including a delightful lemon curd.
The middle tier showcases an array of delectable finger sandwiches. Embrace traditional English cucumber sandwiches, egg salad sandwiches, and smoked salmon sandwiches to please every palate.
Finally, on the bottom tier, bring forth an assortment of sweet endings. Satisfy your guests' sweet tooth with miniature cakes, delectable French macarons, luscious chocolate-dipped strawberries, delightful fruit tarts, or the ever-beloved traditional British shortbread biscuits.
With these tips, you are now equipped to create a truly magical and memorable tea party experience. So, invite your loved ones to partake in this fantastical afternoon tea journey, where the aroma of tea, the beauty of decor, and the deliciousness of treats will transport you all to a realm of enchantment and joy. Embrace the charm of Alice's world, and let your tea party unfold like a delightful fairytale come to life.
Download Your Guide to How to Host the Perfect Tea Party Now
alice in wonderland perfect tea party

Alice through the Looking Glass Review
There's something about the Yesterday-and-tomorrow-but-never-today idea. I'm not sure Alice Through the Looking Glass capitalizes on this theme. Six years later, Tim Burton's Alice in Wonderland's sequel arrives. Sadly, the acclaimed director is missing.
I also think that Lewis Carroll's classic featured TIME as perhaps the protagonist. I didn't feel the Alice Through the Looking Glass spotlighted this.
My family watched it together. Thankfully, I found it less violent than the Alice in Wonderland. There is one death that my children and I laughed about because someone's "time" is literally up!
The film is dedicated to Alan Rickman, the voice of the blue butterfly (and former Blue caterpillar). It made me miss his voice and wish there were just one more bedtime story.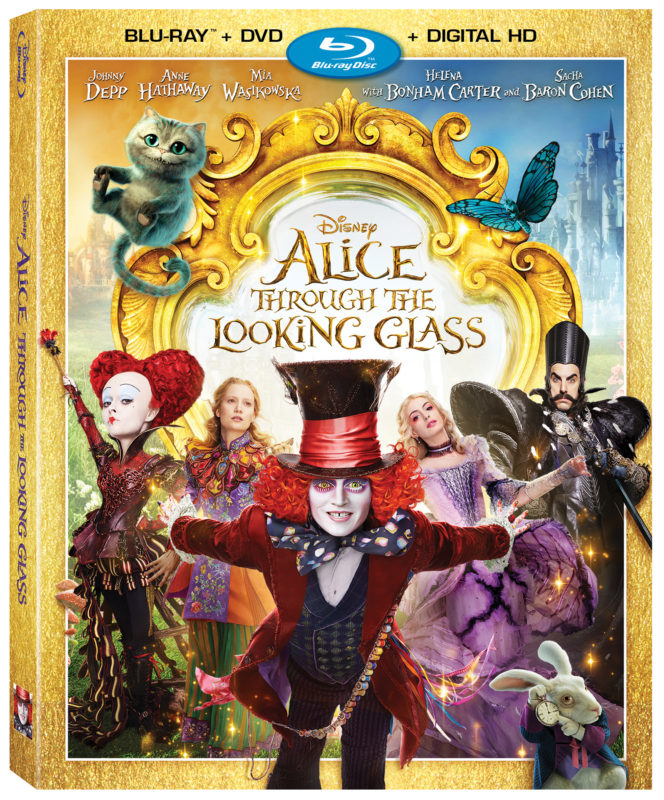 I think Alice comes through as a character with courage and determination. I think about the time in which she was created, a time of curtsies and hat tipping, yet she was not the typical 19th-century woman. By all standards, for the time, she was a pioneer who dreamed of captaining her father's cargo ship, turning her nose up to the gala balls. She faced fear in the face, especially on her sea voyage.
Now returning, she learns the man she once was engaged to, Hamis, has driven her mother in debt as punishment for jilting his affections.
Alice returns to Underland by way of the mirror, rejoining her friends the White Queen and the Mad Hatter. Hatter lost his "Muchness" and is on the verge of death, driven mad by the thought that his family, who we all know perished to the Jabberwocky, may still be alive.
The White Queen hatches a plan to steal the time-traveling chromosphere from Time himself to save the Hatter. The only catch, it must be done by someone outside Underland.
The imagination is a wild thing, and Lewis Carroll seemingly took it from our heads and cast it into words through his stories. There can be no easy way to make a film of the topsy-turvy world created by Carroll, but I think Disney does a fair job of trying.
It was a good night.
Enjoy these great bonus clips of Alice Through The Looking Glass.
Hatter's Costume
You might also enjoy these
Alice Through the Looking Glass FREE Printable Activities